Aside from the rushed plotting of Episode 7, Our Flag Means Death's second season has been an enormous triumph. In a rallying, hilarious, and heartbreaking finale, the series by David Jenkins solidifies itself as one of the highlights of the year. Our Flag Means Death Season 2 Episode 8 refuses to pull any punches and ends on a note befitting all of its characters, even as we mourn one in particular who has become the beating heart and soul of the series. Written with a level of definitiveness as a means to offer closure if the series is to be unjustly terminated after only two seasons, "Mermen" begins with something silly and ends with something sweet.
Major spoilers for Our Flag Means Death Season 2 Episode 8 below
But it's that middle marker and Con O'Neill's performance that we're going to be thinking about for a while. Izzy, over the course of the second season, has been the undeterred MVP. No small feat, considering the substantial talent on the roster and the comedic abilities of often scene partners Rhys Darby and Taika Waititi. Yet, watch him lay to scathing waste their adversary with only his words in the finale, croon an Edith Piaf number in Episode 6, or mourn and rejoice in found families in Episode 4, and you'll see an extraordinary range.
It's why his death, in retrospect, is foretold. Of course he'd be the one we lose. As the last real link to Blackbeard's past and the character who has undergone the most drastic, seamless transition throughout the two seasons, he was bound to this fate. The old guard paving the way to the new. But Izzy isn't simply used as fodder to inflict pain or inspire growth. He's his growling self until the end, as he mocks Prince Richard's inability to grasp what makes piracy so beloved by those who make up crews. It's not about glory, but about belonging, he tells the Prince who believes he's won. It's not about killing, but about finding a family they'd kill for, and about "letting go of ego" for something larger.
That something is the crew, who will bear witness to a death and a marriage on their ship. The entire episode is splendid, even with that air of finality. Blackbeard returns to piracy momentarily for the sake of saving Stede before the two decide to remain on land as innkeepers per their once, humble dream. But Izzy's death and the emotional devastation it causes indicate the strong character work and writing the series has possessed since the very start. Izzy and Blackbeard have a warped, abusive past, one where Izzy admits to stoking the others' darkness. As was the case in the season one finale, Waititi surprises here with the depth and heartbreak he conveys as Blackbeard. Though after delivering career-best performances in Our Flag Means Death, perhaps it should stop being so surprising.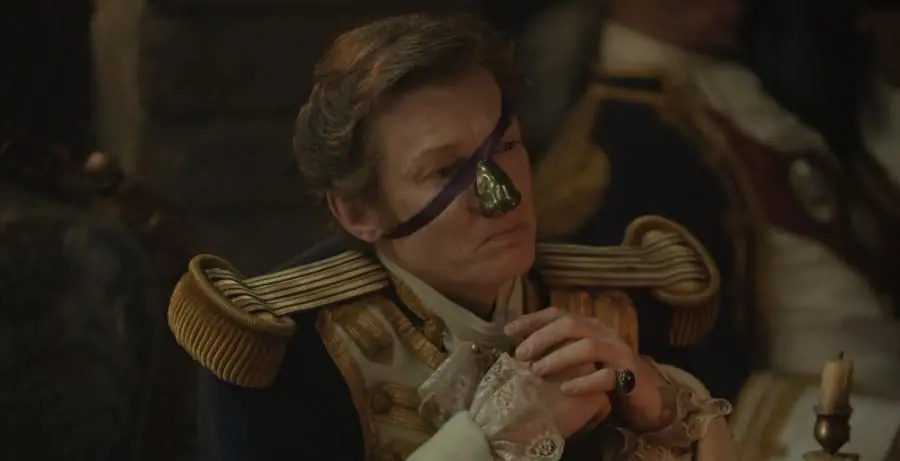 The crew doesn't get as much to do in the finale with more time spent on closing up Ed and Stede's chapter. For all the praise Neill and Waititi deserve, Darby too continues to deliver hilarious work as Stede, a character of contradictions that Darby has expertly mastered. His confidence and affability spell out this character's nature in a single line when telling a disheartened Zheng (Rubio Qian) at the start of the episode that he's been a failure all his life. He's privileged and assured in his shortcomings but persistently assumptive of his capacity for growth. Darby delivers his lines with deep curiosity that touches on the character's innocent perspective on the world.
Quian as Zheng has been a season highlight as well, bringing a sardonic nature to a character who, under the rough exterior, is just looking for praise and the comfort of camaraderie. She finds that, seemingly, in Olu (Samson Kayo), though the season never delved too deep into that romantic entanglement.
And for all of the many positives of the superb second season, those positives also highlight the main inevitable drawback. We simply want more time with these characters. Due to how Max released the episodes, with three for the premiere and then two at a time, the entire season has only spanned the course of a month. The love story between Stede and Blackbeard is given a certain amount of closure—a greater happy ending than I've come to expect after decades of queerbaiting and other detrimental, derogatory depictions of LGBTQ+ relationships on television. Our Flag Means Death doesn't just climb over that low bar. Instead, it far surpasses it, demonstrating the ease with which queer stories are able to be told. But while Stede and Blackbeard are given their happy ending, and the rest of the Revenge sets sail again, it would've been nice to have spent even more time with the eclectic crew.
Our Flag Means Death Season 2 Episode 8 showcases the natural beauty of the on-location shooting in New Zealand that helped bring the series to greater, vibrant life. Tender and sweet with enough of an emotional wallop to bruise, the Season 2 finale delivers an assured sense of finality, even if we get to set sail with these characters again. The finale captures all that makes the series such an engaging, heartfelt, and hilarious watch, as we watch these characters stumble yet grow stronger and more assured by the day due to the extraordinary company they keep.
By refuting a fear of sincerity, Our Flag Means Death maintains its warmth with the right amount of vulgarity and humor and balances them all in an action-packed, romantic finale.
Our Flag Means Death Season 2 Episode 8 is available now to stream on Max.
Our Flag Means Death Season 2 Episode 8
TL;DR
Our Flag Means Death Season 2 Episode 8 refuses to pull any punches and ends on a note befitting all of its characters, even as we mourn one in particular who has become the beating heart and soul of the series.