D*cks: The Musical (yes we're using a star to appease Google), A24's first musical directed by Larry Charles and written by its stars Aaron Jackson and Josh Sharp, is one of the oddest, irreverent, see-it-to-believe-it spectacles in recent memory. Its synopsis does it little justice: identical twins brothers Craig (Sharp) and Trevor (Jackson) are two massive d*cks who just so happen to meet when the branches of the company they work for merge. They start off as bitter enemies but quickly realize they have more in common than they think upon discovering they're twins and hatching a Parent Trap plot to get their parents back together. Also, their CEO is Megan Thee Stallion. Also, it's a musical.
No number of words can prepare you for the experience that is watching D*cks: The Musical. It's satirical in nature, with lyrics so literal they'll eventually cease to hold any meaning. The biggest laughs are huge but the misses are perhaps bigger. It's thoroughly entertaining though, with a strong opening and ending weighed down by a repetative and too-long middle. In all, D*cks: The Musical deserves to be seen widely just for the spectacle alone. Nobody should have to bear being the only one among their friends who has borne witness to CEO Megan, the Sewar Boys, and the other several complete and utter oddities of this movie that can't be named because they are so shocking you wouldn't even believe it.
But let's at least talk about the Sewar Boys. These two gruesome puppets are surely among the movie's most memorable aspects. And even still, trying to describe them goes beyond the pale. They're the objects of the twins' father Harris' (Nathan Lane) great affection and take up a proportion of the movie's screen time and post-viewing nightmares equal to their uniquely grotesque design and purpose—which is to say: quite large. They make the boys' mom Evelyn (Megan Mullally) seem nearly normal by comparison, and she's a complete recluse who talks to inanimate objects, has a bizarre voice that makes understanding many of her lyrics difficult, and seems to have a rather selective memory.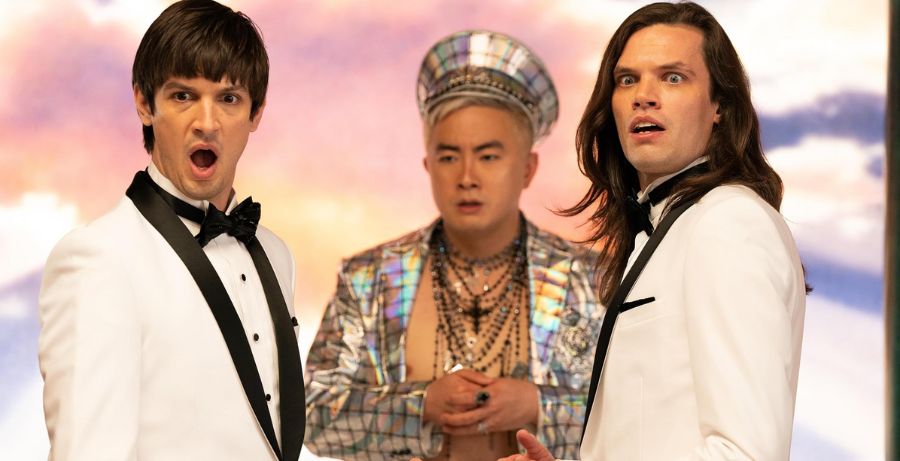 Yet, the family is still kind of a match made in heaven for one another. They're all terrible people and absolute weirdos spearheaded by the twins themselves. When we first meet them, they're parading down the street singing a song essentially declaring themselves the most well-endowed and manliest men to ever live. Even total evisceration and emasculation by their CEO doesn't deter them after Megan gets to perform one of the movie's top two songs. It's impressive that their ongoing schticks about who's the bigger man, or that they look absolutely nothing like each other but keep mixing up even their own names, manage to run throughout the whole movie without really getting old. It's the smaller moments of humor that engendered the biggest laughs out loud more often than the big setups that overused profanity for shock rather than substance.
It's really the smallest details that worked the best all around. The lone background dancer that appeared out of nowhere to steal the end of a musical number, the facial expressions all over Jackson at every moment, the random little cameos from famous actors, and one extremely Nathan Lane-specific joke were consistently crowd-pleasing moments, especially compared to Bowen Yang's confusing role as both narrator and character. The narrator's parts always felt completely forced and unnecessary, whereas the character moments were some of the brightest in the whole movie.
D*cks: The Musical is one of the strangest displays of creativity and spectacle committed to screen all year, and probably long before that. It has to be seen to be completely believed, and people should absolutely see it. They should just expect to be shocked, appalled, offended, and maybe even a little bored or displeased at times throughout the movie. But to be a part of the oddity and the excitement of the movie's highs makes its lows worth getting past.
D*cks: The Musical is playing now in select theaters.
D*cks: The Musical
TL;DR
D*cks: The Musical is one of the strangest displays of creativity and spectacle committed to screen all year, and probably long before that.