The chaotic and all-powerful jujutsu sorcerer Satoru Gojo (sometimes romanized as Gojou) is a fan favorite in Jujutsu Kaisen. With some of the most beautiful eyes in anime and a demeanor that lets you know exactly where you stand, he's a character that carries the weight of the jujutsu society on his shoulders and, over the course of his life has changed from thinking about humanity with apathy to wanting to protect the youth of his young students, Yuji Itadori, Nobara Kugisaki, and especially Megumi Fushiguro (who he saved from the Zenin Clan).
While it's easy to look at Gojo in Jujutsu Kaisen and think, "damn, he's hot" or "damn, he's unhinged," mangaka Gege Akutami has created a character with depth that studio MAPPA has brought to life in Jujutsu Kaisen Season 2's first cour, "Hidden Inventory / Premature Death" which is known as Gojo's Past Arc in the manga. We've been able to see his growth as a character in the anime through Jujutsu Kaisen 0: The Movie through his bond with Yuta Okkotsu and glimpses of his past with Suguru Geto as well. Along with all of his chaotic humor in the face of death, here's everything you need to know about Gojo in Jujutsu Kaisen. If you keep reading, you want to know more, and more comes with spoilers.
Who is Satoru Gojo in Jujutsu Kaisen?
Voiced by Kaiji Tang in the English dub and Japanese seiyuu Yuichi Nakamura, Satoru is the pride of the Gojo Family. The first person to inherit both the Limitless and the Six Eyes in 400 years, he is a level of power that is hard to quantify but best explained in his exchanges when he refers to walking through the world as if he's surrounded by ants. Despite his power, though, Gojo isn't a jujutsu sorcerer for hire, a rarity among special grade sorcerers. Instead, he works as a teacher at the Tokyo Jujutsu High and uses his influence to protect and train the core characters of the series, trying his best to protect their youth, but mostly in vain. Ultimately, Gojo's endgame in Jujutsu Kaisen is to reform the jujutsu world from the bottom up through education by investing his time and talent into a new generation of sorcerers.
What makes Gojo interesting in the Jujutsu Kaisen series is his ability to oscillate between nonchalant and playful towards his students and friends to an unsympathetic and cruel man towards sorcerer executives and his enemies. A common misconception is that Satoru Gojo doesn't care about the opinion of others, and while that is true at some level, this powerful sorcerer carries more guilt than you would think.
Is it arrogance or is it competence? It's hard to tell from time to time for Gojo. While he knows he is above everyone else in the jujutsu world, it doesn't mean he feels nothing or that he lacks a moral compass like Sukuna. After Toji Fushiguro killed Riko, he carried Riko's corpse to give her a proper burial. He was shaken immensely when Geto descended into a murderous rage and never fully recovered. Gojo's grief may not look the same, but it's there.
What are Gojo's Cursed Powers?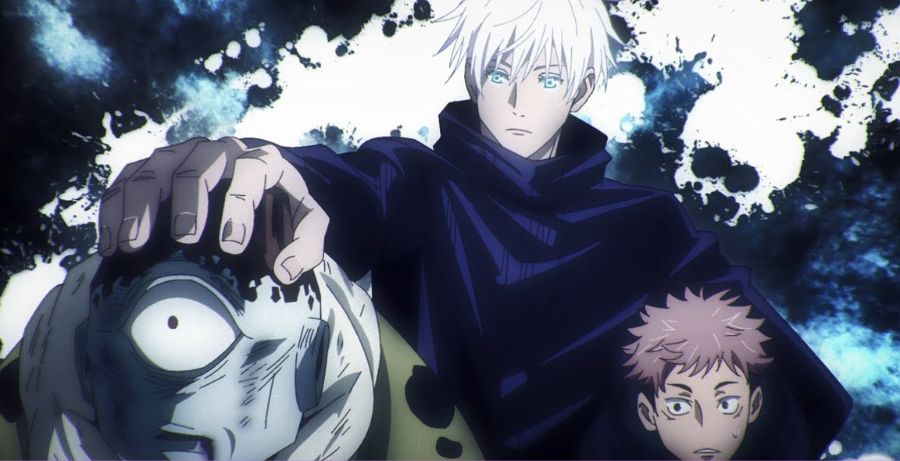 Even among the special-grade sorcerers, Satoru is known to be the strongest sorcerer in the series, holding both immense amounts of cursed energy and a dangerously powerful technique that hasn't been seen for generations. He can fight from a considerable distance, in close quarters, and literally bend infinity to his will. They don't make them like him. No one can seemingly match his skill level in the current storyline except for the King of Curses, Sukuna—and even then, it's a tough battle.
If you've watched the series, you'll notice that Satoru Gojo kind of just does what he wants. A master of martial arts and wedding a frenzied fighting state, the Six Eyes allow him to view the world at an atomic level making his reflexes unmatchable. He has immense speed, ultimately allowing him to use negative space as much as space occupied by combatants. With all of that power, Gojo uses it to impact his goal to change Jujutsu society from the bottom-up, bending the executives of Tokyo Jujutsu High and society at large to his will, his power too imposing to put any limits on. This allows him to save both Yuta and Yuji from untimely fates.
When it comes to his overall power, Satoru Gojo's curse energy manipulation comes from his Limitless Technique and Six Eyes. Because of these two techniques, both inherited, he contains an immeasurable amount of cursed energy which he can manipulate at will. Black Flash is the easiest manifestation of his cursed energy that creates a spatial distortion, creating a harder hit upon impact.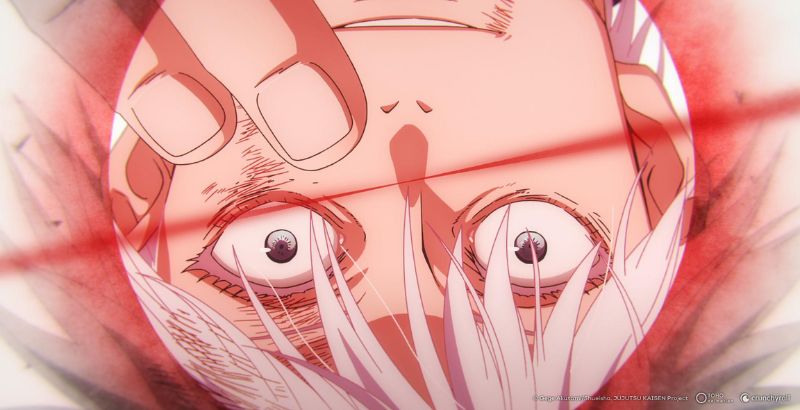 His limitless technique is also his flashiest. At the Limitless base level, this innate technique gives Satoru Gojo complete control over space. While it may look like he uses this to stop objects in midair or launch them, he is actually bending infinity around himself to be a barrier between his body and objects or a propelling force for them. While some have criticized the exposition of Jujutsu Kaisen, Season 2's exploration of Gojo's power in episodes two and three gives the anime audience much-needed information on just how powerful Gojo is, which continues throughout the rest of Cour 1 as he debuts Cursed Technique Blue, Red, and his Hollow technique Purple. The final episode of the "Hidden Inventory" series of episodes showcases the first time Gojo mastered his reverse curse technique against Toji with devastating effect.
But the most stunning visual of Satoru Gojo's power in animation from studio MAPPA has to come from his Domain Expansion: Unlimited Void. In terms of raw strength, Satoru's domain is equal to Sukuna's Malevolent Shrine on the inside, although in the upcoming Shibuya Arc fans will get to see how it holds up. Unlimited Void restrains opponents' thought processes and actions by bombarding them with infinity over and over again as he creates infinite amounts of finite space around him—see the comedic fight with Jogo in Jujustu Kaisen Season 1 for the scale of Gojo's domain expansion.
MAPPA has been able to capture Gojo's hand-to-hand combat prowess in bursts and show audiences exactly why he is the strongest jujutsu sorcerer with capabilities that take down powerful curses and cursed spirits with and without physical contact. But he wasn't always the strongest. At one point, he had an equal, and it was his best friend.
What is Gojo and Geto's Relationship?
There is quite a bit of canonical backing for the idea that Gojo and Geto are more than just close friends, particularly the use of the song "Ao No Sumika (Where Our Blue Is)" as Cour 1's opening theme and the promotion of the season as Gojo and Geto's Blue Spring. Why? Well, in Japan, Blue Spring (or Seishun) is used to denote the days of youth, but more specifically, young love and the intense feelings that arrive with coming-of-age moments. Seishun is a common trope in the manga, particularly in romances, and when you add in the fact that the songwriter, Tatsuya Kitani, of "Where Our Blue Is" has said that the song is written from Gojo's point of view towards Geto, which, when including the word "koi" which is used to talk about romantic love, well, the math is in fact matching.
That said, even if you are a SatoSugu denier, the core of Jujutsu Kaisen Season 2 is about exploring the relationship between the pride of the Gojo family and the one person that he can see on his level, Geto. That equality is one of the things that bond them through respect and friendship, and watching each other break in different ways is emotional storytelling that adds a much-needed depth to the anime series. While Jujustu Kaisen 0: The Movie was a hard push towards exploring curses, love, guilt, and the complex emotions that come with surviving, Season 2 of the anime offers up a reason as to what Gojo and Geto parallel the young Yuta's relationship with loss.
While you can easily map the intense importance that the duo means to each other and the intimacy that they share as either platonic or romantic, they are the strongest relationship that Akutami writes, and in the anime, we've seen MAPPA expand on this focus through how the studio adapted the Gojo's Past Arc in Cour 1 and the glimpses given the 'Jujustu Kaisen 0' film.
But it's what has yet to be adapted that seals the grief that Gojo feels for losing his friend in the feature film, and the pain of seeing him back to life in the mainline anime series. During the Shibuya Arc, we'll get to know the reality of who Geto has become, stitches and all. But with that, we also see Gojo's anger at seeing it all or rather seeing past it. Particularly the line "My six eyes tell me you're Suguru Geto but my soul knows otherwise!"
How Big a Role Will Satoru Gojo Play in Jujutsu Kaisen Season 2?
If you're a Gojo fan, get ready for the pain train. Jujutsu Kaisen Season 2 has been dedicated to Gojo and his relationships with people like Geto as well as teaching the audience how this mentor came to see the world. Now, we're in Cour 2 of the season and it's all about the "Shibuuya Arc" which is filled with Gojo's failings, fears, and makes the god-like sorcerer more vulnerable than we've ever seen him. This season is all about Gojo and it's going to be one of the last times see him for a good while—the Prison Realm is waiting.
---
Love him or hate him, Satoru Gojo has a lasting effect on the story of Jujutsu Kaisen, and not just in the manga chapters that have yet to be adapted. With an extensive amount of pride, immense strength, and his own idiosyncracies, Gojo is the core of Jujutsu Kaisen Season 2, and it's with reason. In him, we get the chance to explore change, betrayal, and grief in a way the main anime series hadn't been able to. Oh, and the guy loves kids. Who would have thought?
Jujutsu Kaisen Season 2 is streaming now on Crunchyroll with new episodes of Thursday into the Fall season.