Jujutsu Kaisen Season 2 has been a wild ride, especially as the series has hit the Shibuya Incident Arc—the one that manga readers have been waiting to see animated. And one of the stars of Cour 2 is Ryōmen Sukuna, not Yuji Itadori. While the world of Jujutsu Sorcerers attempts to eat his severed cursed fingers, which are now some of the most cursed objects in the world, he is ready to play and torment anyone in his path.
But who is he? How strong is he? And how much of a fighting chance does our Tokyo Jujutsu High Crew have against him and his power? And, of course, here is your obligatory spoiler warning.
Who is Ryōmen Sukuna?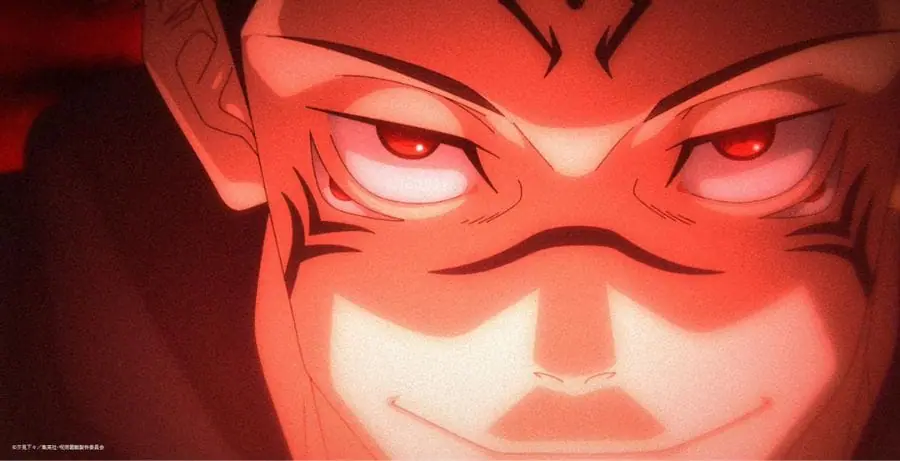 To put it simply, Sukuna is the King of Curses, the strongest sorcerer to have ever lived in his day during the Heian Era of Japan, also known as the Golden Age of Jujutsu. Selfish, cold-hearted, and absolutely sadistic, Sukuna stands apart from other villains in the series because of how bad he truly is. Not moved to act by anything other than the sheer need for power and his own enjoyment of other's pain, Sukuna doesn't have a sob story or even a redeeming quality (unless you count being really hot).
But Sukuna's existence requires Yuji to live. During Jujutsu Kaisen Season 1, we see Sukuna's power to manipulate when he pulls out Yuji's heart and forces him into a Binging Vow in order to keep living. His legendary power is also the reason why Mahito's group seeks him out and puts Jujutsu Tech in their crosshairs in order to bring forward the Age of Curses.
What is His Connection to Yuji Itadori?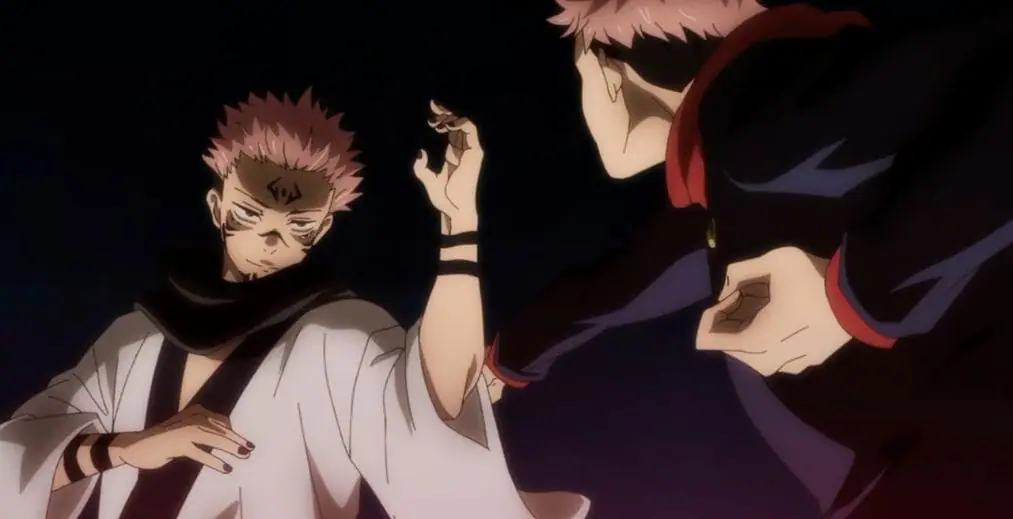 After ingesting one of Sukuna's cursed fingers, Yuji Itadori becomes the host for Sukuna or rather a living incarnation of him. The two don't just share a mind but when Sukuna takes control, Yuji's body changes because he is a finger bearer. Yuji grows a second pair of eyes on his cheeks, and a second mouth on his hand, and Gege Akutami (the series creator) even took out Yuji's heart to show the power and danger that Sukuna poses to the story and to Itadori's life.
However, Yuji's own cursed strength has turned Sukuna's reincarnation from having free reign of the world into being trapped in a teenage cage. During Shibuya, Yuji's body winds up having consumed 15 fingers and Sukuna doesn't have to be stuck anymore. In fact, his power is needed to defeat Mahoraga after overwhelmingly defeating Jogo.
How strong is Sukuna?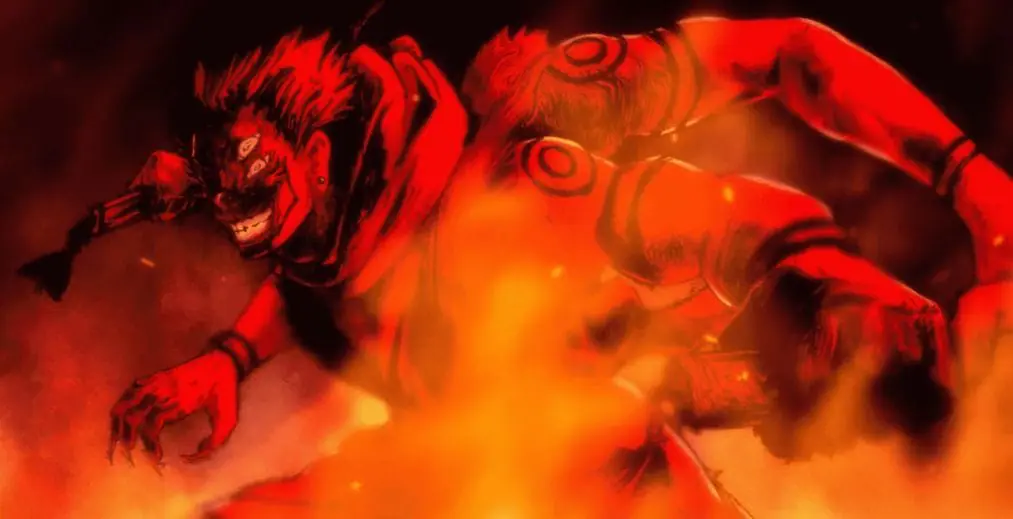 In the Golden Age of Jujutsu Sorcery, Sukuna was the icon of strength, with every sorcerer attempting to fight him and take his title: King of Curses. To put in perspective, while Toji Fushiguro, Mahito, Suguru Geto, and Tengen have all made their stakes as different secondary antagonists of the series, Sukuna is the biggest baddie of all and the primary source of conflict, whether it be directly or because of those in search of acquiring his fingers.
He was so powerful that when he died, his body was split into twenty indestructible fingers. His fingers act as cursed objects that, once ingested, will give Sukuna the opportunity to reincarnate. Having four arms, it isn't just Sukuna's domain expansion that you have to worry about—although Malevolent Shrine rivals even Satoru Gojo's domain expansion—it's also his skill in physical, hand-to-hand combat. Even when weakened in Yuji's body and unable to access the entirety of his cursed energy, Sukuna is capable of great feats of strength as something just beyond a special grade.
Like the rest of the cast of characters in Jujutsu Kaisen, Sukuna also has extreme durability, reflexes, and speed that make him formidable at all times. His innate technique is currently unknown but he is able to turn his cursed energy into slashing attacks like Dismantle, Cleave, and Spiderweb that cuts enemies down in one hit—like we see in Jujutsu Kaisen Episode 39 with the Twins, Nanako, and Mimiko. He also has the ability to manipulate flames but those powers aren't as on display as the rest. Additionally, Sukuna's reverse cursed technique in order to heal his body.
Then, of course, there is Malevolent Shrine, his domain expansion that is terrifying. Unlike domain expansions of other characters, Sukuna does not create a separate space for him and his opponent to inhabit with a barrier. Instead, his shrine decimates the landscape. While the guaranteed hit's effectiveness and maximum radius grows once a Binding Vow is entered by allowing an escape route, there is truly no escape from his power.
What is the King of Curse's Goal For the World?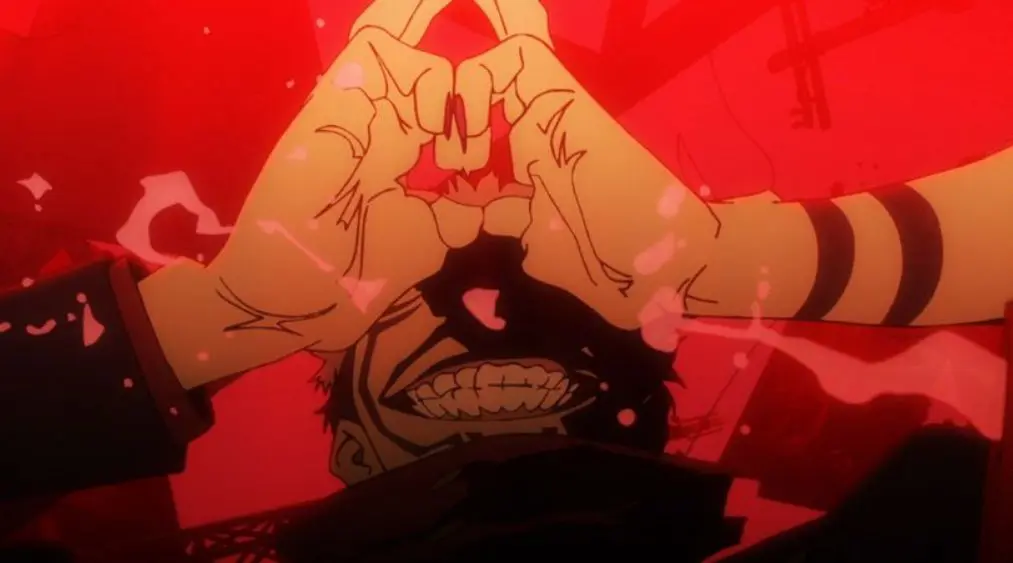 Yeah, this is simple. He wants to decimate it. Whether it's his innate domain, superhuman strength, or Malevolent Shrine, every single power in Sukuna's arsenal is destructive first. His goal is to move beyond being a cursed spirit and a legend of the past and into being alive again, fully reincarnated and with complete control of his host through idle transfiguration. He just wants to live again, but with that comes a lot of death under his feet.
How big a role will Sukuna Play in Jujutsu Kaisen Season 2?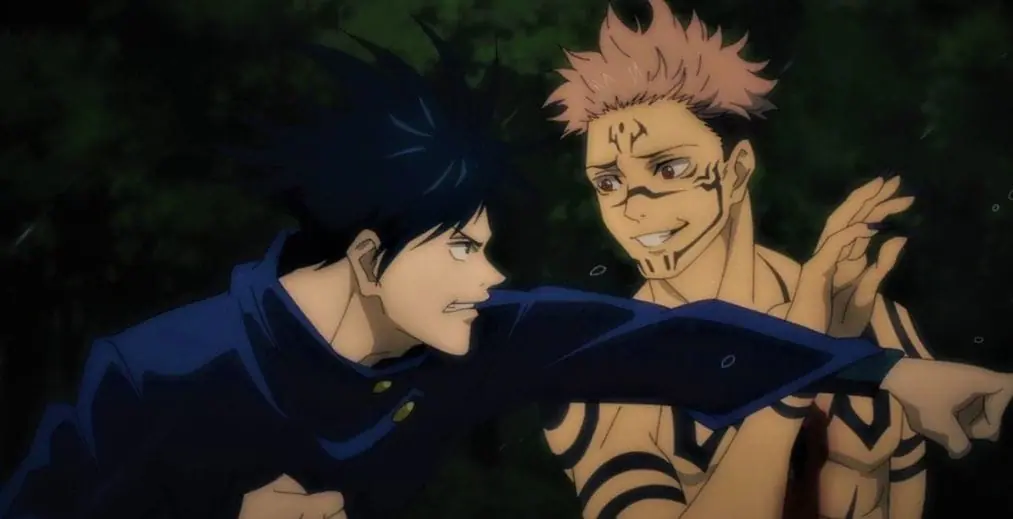 Sukuna's fight with Megumi Fushiguro in Season 1 of the series doesn't seem like a large moment in the moment, but it will become one of the largest moments of the series and ultimately lead to one of the shocking developments of the next arc of the series, The Culling Game Arc. With so many people vying to be Sukuna's vessel, you won't be ready for when Megumi's body becomes a target.
Most of the destruction to happen in Shibuya comes from Sukuna whose inability to see humans as little more than insects means that he has no care to how much he destroys. In Jujutsu Kaisen Season Episode 17, "Thunderclap Part 2," showcases the devastating power of Malevolent Shrine and it's terrifying. With his domain expansion alone able to destroy a radius of up to 200 meters, there really is no such thing as precise destruction with him.
Sukuna's violence will shape not only the landscape of the Jujutsu world but also the future of Yuji Itadori, who has to live with the death that his body has caused. With the temperament of a brat and the aspirations of an emperor and lacking a soul, Sukuna is the future of the series.
---
Jujutsu Kaisen Season 2 is streaming now, exclusively on Crunchyroll.