Gege Akutami's best writing has been around Suguru Geto and Satoru Gojo's youth and how they broke in different ways. Known as "Gojo's Past Arc" in the manga, Jujutsu Kaisen Season 2 began its first cour with the "Hidden Inventory / Premature Death" Arc of the series that dove into Geto and Gojo's past, which was briefly explored in the Jujutsu Kaisen 0: The Movie. While he appeared sporadically in Season 1, the first six episodes of MAPPA's Jujutsu Kaisen anime dove into two characters beautifully, and Geto's importance still isn't done.
If you're looking for more information on Suguru Geto, we've got you covered with this dive into the character that takes into account the anime and slight spoilers from the manga. Jujutsu Sorcerer supremacist or broken man? Well, why not both? If you keep reading, you want to know more; more comes with spoilers.
Who is Suguru Geto in Jujutsu Kaisen?
Known as the most evil curse user of all time, Suguru Geto (voiced by Takahiro Sakurai and Lex Lang) is both a protagonist and an antagonist in the Jujutsu Kaisen series as well as its prequel Jujutsu Kaisen 0. He was originally Masamichi Yaga's student at Tokyo Jujutsu High with Satoru Gojo, Shoko Ieiri, and Kento Nanami. Deeply skilled, Geto was one of the strongest curse users in school and, in general, the only equal to Gojo's Six Eyes powers.
But where Gojo saw humans as ants, Geto saw the non-curse users as people to protect. In fact, he often disagreed with Gojo's arrogance and pride, opting for a more monkish attachment to life and others. That kindness began to die when Riko Amanai, Master Tengen's Star Vessel, was killed by Toji Fushiguro right in front of him.
Immediately after Amanai's murder, Geto attempted to hold on to his beliefs, stopping Gojo from killing members of the Star Religious Group because Jujutsu Sorcerers needed a reason to use their power in that way. But that belief faded, and Geto began to break. As he embraced being alone, separated from his best friend, he had to face the darkness of curses alone.
Eating the curses in the world, exorcising the world, cleansing the world, Geto began to carry all of those emotions in him and then began to see the evils humans were committing, particularly against curse-users. Their evil, he learns from Yuki Tsukumo, is why curses form, why the world is rotting, and why he begins to break.
Taking Yuki's teachings to heart, Geto begins to equate evil with weakness and that weakness with humanity. All of which morphs into a deep-seated hatred of humanity. To eradicate cursed energy, he would have to eradicate non-sorcerers, leading to an incident where Suguru massacred over a hundred civilians in a single night.
Before his apparent death, Geto took in sorcerers who had been harmed by non-sorcerers or were dedicated to his cause, beginning with Mimiko and Nanako Hasaba. Channeling religious motives and structure, Geto is able to become a well-known exorcist among the non-sorcerers, eating their curses and taking more power into himself, hating them throughout the entire process.
There is no defense for Geto's deeds or belief in Jujutsu Sorcerer's place in the world over non-sorcerers. But Akutami's work on the character, realized in the anime by studio MAPPA, is one of watching a person unravel. Geto's mind and beliefs warp under the pressure of his power and the world around him. The purpose of Suguru Geto isn't to be evil. It's to serve as a point to understanding choices and the way someone can break. In response, Satoru Gojo became protective of the youth around him, a teacher dedicated to saving them and undoing the loss he felt when Geto turned.
What are Geto's Cursed Powers?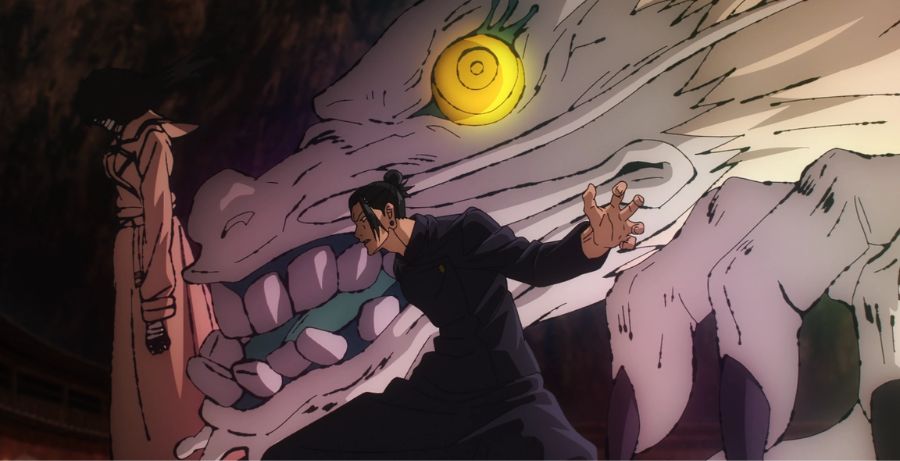 As the worst curse user of all time in terms of danger to society, Suguru Geto is also one of the most powerful, just one of four special-grade sorcerers during his time. Geto is a master of hand-to-hand combat despite the fact that he uses curses as shikigami. Traditionally, sorcerers who use shikigami are beholden to them, using them to fight their battles and struggling at close-quarters combat. However, Geto knows both.
That said, Geto's cursed power is his ability to manipulate curses. His innate curse technique is Cursed Spirit Manipulation, which allows him to control the curses he's acquired in his body. When he exorcises a spirit, Geto transforms cursed spirits into small orbs, which he then eats with no consequences. But it's not just the spirits he finds in the world that have latched onto places. Instead, he can consume all and any curses so long as he kills their masters first.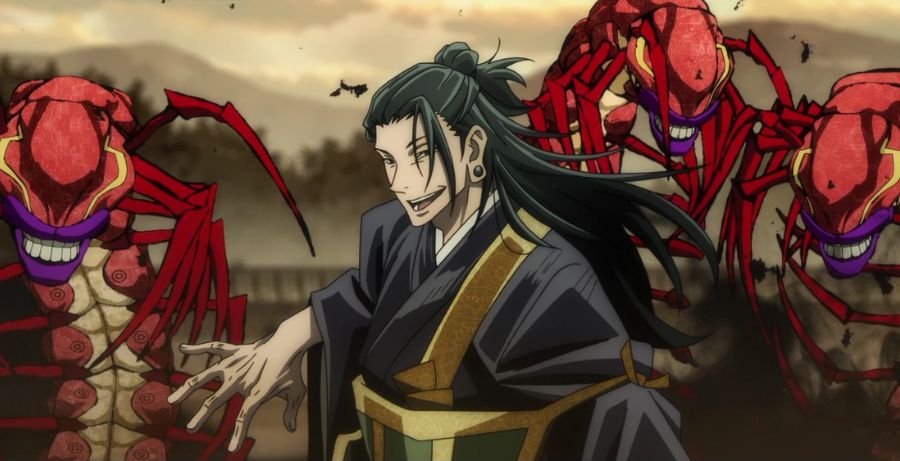 From his innate skill, Suguru Geto contains immense cursed energy in his body and a gaggle of spirits that manipulates at will, as mentioned before. That said, the mountain of cursed energy he controls isn't just used in shikigami form by calling forward the spirits to fight for him. He can also imbue weapons with his energy, making them far more deadly.
Most importantly, however, Suguru Geto can use his Maximum Technique, which calls forth Uzumaki. This powerful attack pulls together all of the curses in his body, manipulating them into one spirit, unleashing a powerful attack.
Additionally, his immense energy allows him to read the flows of cursed energy from other curse-users, which allows him to target them, manipulate their powers, and take them for his own—as we see in the Jujutsu Kaisen film with Yuta Okkotsu.
What is Gojo and Geto's Relationship?
There is quite a bit of canonical backing for the idea that Gojo and Geto are more than just close friends, particularly the use of the song "Ao No Sumika (Where Our Blue Is)" as Cour 1's opening theme and the promotion of the season as Gojo and Geto's Blue Spring. Why? Well, in Japan, Blue Spring (or Seishun) is used to denote the days of youth, but more specifically, young love and the intense feelings that arrive with coming-of-age moments. Seishun is a common trope in the manga, particularly in romances, and when you add in the fact that the songwriter, Tatsuya Kitani, of "Where Our Blue Is" has said that the song is written from Gojo's point of view towards Geto, which, when including the word "koi" which is used to talk about romantic love, well, the math is, in fact, matching.
That said, even if you are a SatoSugu denier, the core of Jujutsu Kaisen Season 2 is about exploring the relationship between the pride of the Gojo family and the one person that he can see on his level, Geto. That equality is one of the things that bond them through respect and friendship, and watching each other break in different ways is emotional storytelling that adds a much-needed depth to the anime series. While Jujustu Kaisen 0: The Movie was a hard push towards exploring curses, love, guilt, and the complex emotions that come with surviving, Season 2 of the anime offers up a reason as to what Gojo and Geto parallel the young Yuta's relationship with loss.
In fact, in Geto's fight with Yuta, his anger comes directly from the assertion that love can yield great power. In the final moments of the film, we see a dying Geto speaking his last words to his former best friend. They find solace in each other, the past behind them, and set up to mourn what they've lost.
While you can easily map the intense importance that the duo means to each other and the intimacy that they share as either platonic or romantic, they are the strongest relationship that Akutami writes, and in the anime, we've seen MAPPA expand on this focus through how the studio adapted the Gojo's Past Arc in Cour 1 and the glimpses given the Jujustu Kaisen 0 film.
But it's what has yet to be adapted that seals the grief that Gojo feels for losing his friend in the feature film and the pain of seeing him back to life in the mainline anime series. During the Shibuya Arc, we'll learn the reality of who Geto has become, stitches and all. But with that, we also see Gojo's anger at seeing it all or rather, seeing past it. Particularly, the line "My six eyes tell me you're Suguru Geto, but my soul knows otherwise!" Gojo's mourning of Geto in the manga speaks volumes about the connection the pair shared.
How Big a Role Will Suguru Geto Play in Jujutsu Kaisen Season 2?
We've already seen Suguru Geto's importance explored in Cour 1 of Jujutsu Kaisen Season 2. His relationship with Gojo is a foundation for how the main mentor of the series sees the world. His importance from the past will translate into the future of the series as we head full throttle into the Shibuya Incident Arc in Cour 2.
Having died in Jujutsu Kaisen 0: The Movie, his presence throughout the current anime series is suspect, marked strongly by the stitches on his forehead and a completely different demeanor than we've seen across the other parts of the story. While the world believes that Suguru is himself, Gojo knows better.
Without fully spoiling Season 2's largest reveal, I'll leave you with one word: Kenjaku.
---
Suguru Geto is one of Jujutsu Kaisen's most compelling characters who complicates Jujutsu Society in a way that ripples beyond himself and into the main story. Gojo is shaped by it, and his actions toward Yuta and Yuji Itadori are driven by Geto as well.
Jujutsu Kaisen Season 2 is streaming now on Crunchyroll, with new episodes airing every Thursday.