Pinocchio is one of the most adapted stories in history. From animated films to series and live actions, now it's come to video games (if you don't count the Sega Genesis movie tie-in game from Disney). Developed and published by South Korean studio NEOWIZ, Lies of P takes players through a soulslike fantasy that embraces a steampunk aesthetic to tell a frenzied puppet story that uses the concepts of the source material in twisted mechanical ways that stand out against the plethora of iterations.
While the story is more of an inspired take on the story than a straight adaptation, NEOWIZ has used the basics of Calo Collodi's timeless story to build something new from the parts while offering a thankful note at the beginning of the game to the maestro himself. In Lies of P, you play as the titular P as you move through the once-beautiful city of Kra. Once the city relied on the puppet industry to keep this way of life and to thrive economically, now the puppets have gone into a frenzy, murdering the inhabitants of Krat. From that violence, humans have also risen to fight back.
And you? Well, you're somewhere in the middle, too human to be a puppet but still a boy filled with mechanical organs. But despite his outward appearance, P is the puppet creation of Geppetto, and now, you journey through Krat, attempting to find your creator and finally become a human.
Lies of P is a beautiful and maniacal world. Krat is designed with the Belle Epoque era in mind. The city itself is now covered in blood, nearly destroyed, and dangerously filled with frenzied puppets that were once the reason for the city's success. The level design of each area is robust, offering different paths to take and explore. While the game doesn't have much verticality in its design, the developers at NEOWIZ still make sure that no matter where you point your camera, there is something eerie and filled with lore to see. From the details of the posters to the bodies on the street, the dark city of Krat is terrifyingly beautiful by embracing the uncanny valley that puppets offer when it comes to the characters that inhabit it.
Lies of P presents a narrative that uses tension to build suspense and horror at the same time. Krat is an expressive and elegant world when it comes to architecture. Every building and facade makes P feel increasingly small, a toy in a grand land with obstacles to overcome. The violence in the world captures the twisting story perfectly. As P becomes more human over the course of the game, the juxtaposition between Krat and the bosses becomes larger. NEOWIZ cares deeply about the visual storytelling in Lies of P as much as it does the written narrative. Not a single wall or path is empty of narrative importance. Unfortunately, the game's dialogue doesn't seem to keep pace at all times. However, it's unclear if it's the localization of certain dialogue that causes elements of jarring tonal difference in scenes.
Even with those hiccups, the game's integration of choices during dialogue adds an immersive element that feels like a tangible realization of becoming more human along the way. Some choices are simple lies, like the very first one you tell to enter Hotel Krat, claiming to be human, but others have emotion attached to them. When you meet NPCs some can be soothed by your lies, or you can choose to relay the truth and unabashedly point out the grim world around you—all of which impact your playthrough as you gain humanity points along the way.
But your choices aren't the only ways that you can gain humanity points. The game also features some simpler events that allow you to gain humanity points and become a real boy. The first is by using gestures, which each illicit different responses from the various NPCs and situations that interact with the world in a more immersive way. Additionally, you can also listen to records in the Hotel Krat. Not only do you get to hear some of the game's phenomenal music choices, but you also get the chance to become a little more human along the way by appreciating the arts.
The beauty of this game can't be denied, and the developer's ability to use the game's art and animation to teach the player about the world and the mechanics of bosses is a hallmark of fantastic designs. The world of the game is rich and dynamic, but so are the character designs. From trash mobs to mini-bosses and main bosses, each level is filled to the brim with dynamic enemies that keep changing as you progress in the story.
Just when you think you've gotten the hang of enemies, more crop up, changing your strategy and keeping you engaged in the game. That dynamism when it comes to enemy type is what ensures that you stay engaged in the game, while the ability to either fight or run past bosses offers an enticing dilemma based on your play style. Add in that some enemies are human and move differently than the puppets you fight, and the changes in mechanics allow you to keep learning.
When it comes to embodying the action of a soulslike RPG game, Lies of P excels with customizable and dynamic combat that shines. While the game initially locks you into one of three classes, as you clear different chapters and find new weapons, you're able to adjust your playstyle. While it may be frustrating in the beginning, the amount of weapon customization and the customization element of the P Organ system work to let you pick the playstyle that best works for you.
There are essentially four elements of customization that factor into combat: Weapon type (which can be altered when assembled into new versions), your Legion Arm, P's attributes, and P's organs. While some combat elements can be changed at any Stargazer (NEOWIZ's equivalent to FromSoftware's fires), like your Legion Arm or assembling new weapons, other things, like upgrading your existing weapons and your skills, can only happen in the Hotel Krat, the last safe haven in the city. In order to help with this, you're able to use a pocket watch to teleport directly to the hotel and then teleport to any Stargazer when you're ready to get back in action.
When it comes to customizing your play, you rely on the weapons you pick up while defeating enemies and searching Krat's different zones, sometimes solving puzzles and opening hidden areas along the way. From those weapons, you can choose to upgrade them as is, or you can assemble new weapons by taking the hilt of one and the blade of another. With great swords, standard swords, fire daggers, police batons, axes, and more, there is a lot to learn how to use. Each one affects your swing speed and the radius in which you do damage, which you should take into account based on the enemies you're fighting, especially for boss battles.
In addition to the two main weapons you can equip and rotate through, P also has a Legion Arm that serves as his secondary weapon. From strong punches to a harpoon and different elemental blitzes and more, the Legion Arm, when used effectively with the right element against an enemy that is weak to it, can make a three-hit kill into a one-hit, like the electrical blitz against a base-level puppet. Learning how to use your Legion Arm can affect a fight directly, especially when you learn how to use the kinds of Legion Arms to exploit different enemies in different zones.
Next, you have P's attributes. The easiest of the customization to navigate, you use the Ergo you collect from killing enemies and find in the world to upgrade each of your six attributes: Vitality, Vigor, Capacity, Motivity, Technique, and Advance. These upgrade standard abilities like health, stamina, and defense but also offer some unique attributes like upping your weapon ratings based on how it scales for each attribute. By managing this, and well, not just pumping Vitality (health) like me, you can increase your preferred weapon's damage scaling by leveling up the corresponding attributes and making a path for you to finish off enemies even quicker.
Finally, you have the P-Organ. Accessible once you find Gepetto, the P-Organ allows you to enhance P by customizing how you want to play. Here, you're able to use Quartz collected in your journey to level up and change certain abilities. The P=Organ is defined by Attack Type, Survival Type, Ability Type, and Item Type. Each of these impacts your play style and, when leveled to what you need, can help make a well-rounded character, or in my case, a character with enough sustainability to survive my horrible guarding ability. Additionally, while the P-Organ allows you to change things about P, like how many cells you can hold to regain health, you can also impact the enemies in the game like elongating staggering windows.
Truly, the player has everything they need to craft a balanced combatant, but more importantly, you can play P as you see fit. Balance, when judged against the player's choices, is how Lies of P helps you learn as you grow. Every single one of the customization options is nearly essential to utilize, especially as you learn each of the core mechanics associated with different enemy types. Some of them reappear, and others are wrapped into new enemies as well.
That said, unless you're overwhelmed, most mobs are easily dispatched, but for me, a person still new to the genre, offered the ability to get used to newly assembled weapons and practice guarding. While some low-level enemies jump out from a corner and pull out a fun jump from the player, they're mostly harmless if you don't get overwhelmed. This may seem like a knock on the game, given the genre, but it isn't. While most soulslike games present absolute danger with every enemy encounter, Lies of P saves much of that for the boss and gives you ample tools to overcome it all intuitively. This makes the game a great entry point into the genre while still honoring what came before.
Additionally, the Fable Arts allows you to fill up a gauge that unleashes a flurry of attacks that deal extra damage. While a properly timed attach with a full gage can help, one of the best ways to deal with a smaller enemy (boss, mini-boss, or otherwise) is to use a flurry attack from behind. For many of the human enemies, this is the number one way to take them down, even if you have to keep dodging.
The hardest parts of Lies of P's combat are obviously going to be the boss battles. My own count on one of the bosses at about the 12-hour mark of the game came up on 19 tries. Like any good soulslike, Lies of P is able to make this repetitive failure feel like growth and not a punishment. While a death usually means you lose all of the Ergo you've accumulated up until that point and are left in the spot where you died, this isn't the case with a proper boss battle. Instead, your Ergo is left right outside the arena, allowing it to be easily collected in some cases, well, in most cases, a quick path back to the hotel once you collect it to spend it on upgrades for your weapons or your attributes.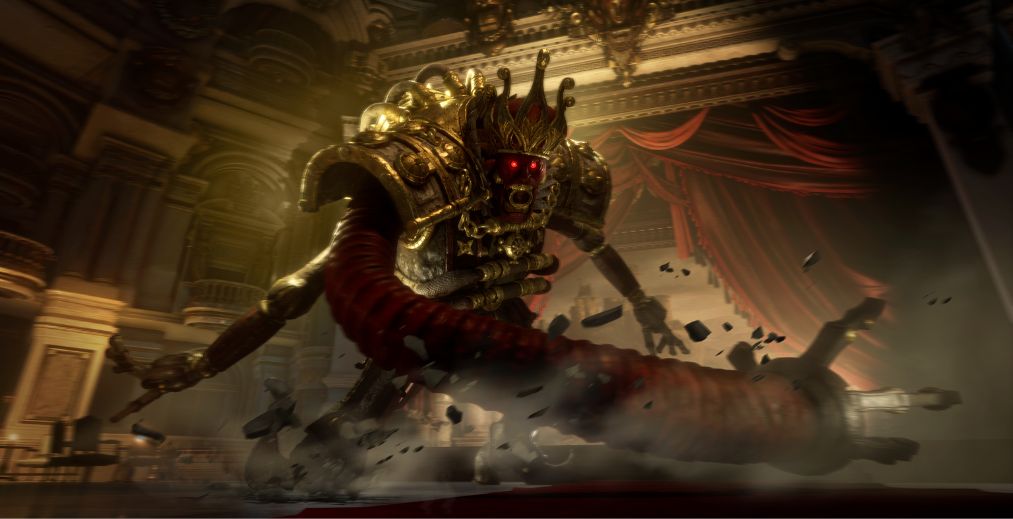 Additionally, I didn't beat a single boss alone once offered the chance to exchange star fragments for a Specter to accompany me. Assistance in battle isn't a new concept, but it is one that Lies of P does well, even if it's a little too much at times. While the Specter's ability to pull and hold aggro is beneficial, it does sometimes eliminate a lot of the challenge from a boss fight depending on how much damage you deal, especially if you can attack the boss from behind. That said, that's a good thing, and ultimately, with a high-damage boss that is using an element that causes increased damage taken, a Specter will help even the playing field, and while I breezed through a couple of bosses with their help, for others, there is no way I would have defeated them without a Specter.
Like any soulslike, the combat heavily relies on dodging at the right times, finding the right location on an enemy to strike, and, of course, the ability to parry, or in this case, perform a Perfect Guard. In performing one, you'll be able to block Fury Attacks, which can only be blocked with the Perfect Guardd, and regain health. That said, if your timing is off, and with no telegraphed moves other than the Fury Attack, there will be missed ones, and you will lose health. In addition to gaining health back with a guard, you're also able to stun enemies, which can cause one of two outcomes in the ability to perform Groggy or Fatal attacks, both of which deal more damage and push you to pay attention to every element of the enemy and the visual prompts on the screen.
Outside of the combat, Lies of P also manages to build some thoughtful puzzles seamlessly into the game, giving the player some much-needed engaging reprieve from combat if needed. These come in the form of riddles and cryptic vessels. As you move through the world you'll hear phones ring, and when answered you'll listen to the King of Riddles. While some are relatively straightforward, others are more intriguingly designed. By solving the riddles, you receive keys that allow you to open Trinity Sanctums that offer up rewards you won't find in the rest of the world. As for cryptic vessels, you'll find them, bring them to Venigni in Hotel Krat, and then complete the quests given to you by following the clues.
Lies of P is a large game. Beautifully animated and designed, it manages to keep you engaged beyond just the combat as more surprises are revealed the longer that you play. While some elements of the puppet aesthetics aren't necessarily original, and those who have played Bloodborne will see similarities, Lies of P is a gorgeously grim experience that offers difficulty and magic through immersive and dynamic gameplay with enough content baked in to make replayability a must.
Lies of P is available on PlayStation 5|4, Xbox One, Xbox Series X|S, and PC.
Lies of P
TL;DR
While some elements of the puppet aesthetics aren't necessarily original, and those who have played Bloodborne will see similarities, Lies of P is a gorgeously grim experience that offers difficulty and magic through immersive and dynamic gameplay with enough content baked in to make replayability a must.