Blasphemous II is developer The Game Kitchen's sequel to their critically acclaimed fan-favorite side-scrolling metroidvania Blasphemous. Several players loved the game and sang its praises when it launched in 2018. After playing the game and experiencing all it has to offer, it's easy to say that fans of the first game will find that the sequel blows their expectations out of the water. And while the game isn't perfect, it provides an impeccable experience with new and returning elements.
Blasphemous II takes place after the events of the first game and follows the returning main character, The Penitent One, a warrior trapped in the endless cycle of death and rebirth. This time, The Penitent One awakes to a new quest from the heavens. A foul curse known as The Miracle has fallen upon the land of Cvstodia, and it threatens to birth an unknown foreboding entity. It's up to them to stop it, but first, they'll have to go through all the Mirracle's Guardians.
While having some confusing elements and hard-to-grasp themes, the game's narrative is still simple to follow. The story's timeline is told clearly to the player via several cutscenes and character narrations. Between each mission, players will also meet several characters too keen on telling you about themselves, the state of the world, and their opinions of other events happening in the game. Some will ask you to help them acquire items, while others will help you fight your foes along your journey, should you choose the right dialogue options. Additionally, every character in the game is fully voiced, from bosses to NPCs, and the English and Spanish voice cast do a fantastic job of breathing life into the characters.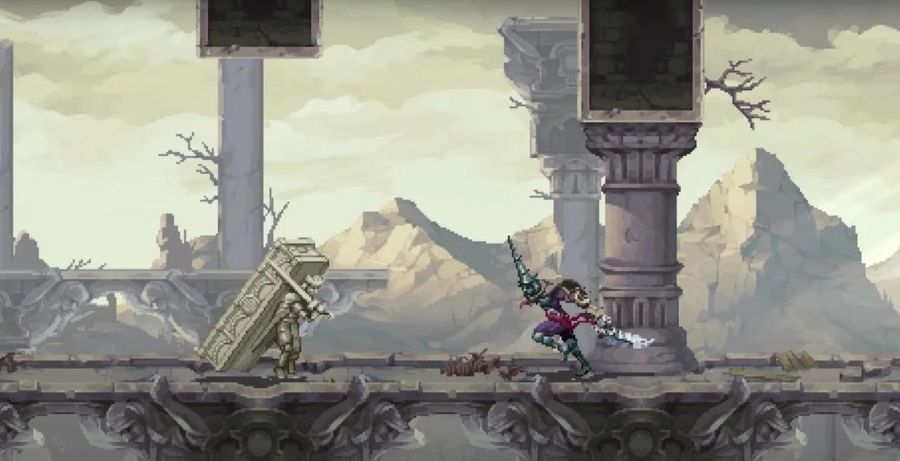 Essentially, every aspect of the game exists for a reason, and it doesn't hesitate to explain to players what's happening and why it's happening, which is greatly appreciated. The overall narrative and world-building are incredible, and the sequel did an even better job showcasing it.
In terms of gameplay, Blasphemous II is one of its genre's most satisfying and rewarding games. The game begins by letting players pick and test out one of three weapons to start with. Each weapon has its advantages and disadvantages. The fastest blades in the game, the Sarmiento & Centella, can dispatch enemies quickly and get a few shots in while avoiding damage. Veredicto, on the other hand, is a giant swinging hammer.
It's the complete opposite of the former, as it's slower while dealing more damage, and missed shots are punished more. However, while using every weapon gets the job done and depends on your playstyle, players will need specific weapons to progress past some parts of the game, but none are a bad choice for combat. Additionally, players have access to many tools to customize their combat build. This includes Relics, Rosary Beads, Prayers, and Sword Hearts, all of which give you additional advantages from basic stat boosts like more defense and attack to more specific upgrades like more fire damage and more damage when using a particular weapon.
The game will also throw players several types of puzzles and enemies to defeat, all having different gimmicks and ways to beat them. Blasphemous II's difficulty mainly comes from the many difficult situations players will encounter and the sheer number of enemies they have to keep up with and learn how to avoid or defeat. This is why, unlike many challenging games, dying in Blasphemous never feels unfair, and every time it seems like you're in an unfair situation, it's the game trying to teach you enemy patterns and how to surpass its hurdles. This is also why satisfaction and gratification are unmatched once a player manages to defeat a challenging boss or solve a specific scenario.
A highly noticeable aspect of Blasphemous II is its beautiful visuals. The game starts with one of its many beautifully animated cutscenes that, while short, are highly impressive and are vibrant, crisp, smooth, and evoke an eerie feeling unlike in any game I've played. Its other visual elements are also no slouch either, as its character designs are incredibly unique and faithful to its catholic medieval themes, and its art direction is quite atmospheric, with several levels sporting an otherworldly gothic theme.
Performance-wise, the game runs smoothly on PC, with no glitches, framerate dips, or lag throughout the game time. Though it should be noted that the PC version doesn't have any video options like options to adjust the video quality and framerate or any advanced options, the game can also run smoothly on any decent PC. Other than that, the sequel is not very long, as it took me about 8 hours to beat while playing casually, so anyone expecting a lot of content here may be disappointed.
Blasphemous II is a fantastic game that meets expectations as a fan of the first game and leaves the player satisfied and engaged throughout. If you're a fan of souls-like Metroidvanias, aren't afraid of a challenge, and are looking for a unique experience, then I highly recommend Blasphemous II.
Blasphemous II will launch on August 24 for PlayStation 5, Xbox Series X/S, Nintendo Switch, and PC via Steam.
Blasphemous II
TL;DR
Blasphemous II is a fantastic game that meets expectations as a fan of the first game and leaves the player satisfied and engaged throughout.