Enter a realm of magic, mystery, and epic adventures as Baldur's Gate 3 arrives in its full glory. Developed by the renowned Larian Studios, this long-anticipated RPG takes players on a journey through a fantastical world, building upon the success of their previous hit, Divinity: Original Sin 2. From the humble beginnings of Early Access in 2020, the game has evolved into a sprawling and immersive experience, promising over 100 hours of captivating gameplay. It's time to embark on a grand quest, where the roll of the dice can determine the fate of your epic tale. Welcome to the world of Baldur's Gate 3.
The character creation process closely followed traditional D&D, providing a wide range of races and classes, along with exceptional appearance customization options that allowed for representation and personalization. With 12 classes to choose from (warlock, wizard, sorcerer, rogue, monk, ranger, paladin, bard, fighter, druid, and barbarian), players can make their dream fantasy character. As a dark-skinned Latino with curly hair, I am often stuck never quite having my skin tone, my hair, or even my nose match up. However, in Baldur's Gate 3, I was able to make a high elf in early access that looks like me which I never thought I would be able to say. I wish there was more body diversity outside of just skinnier or more muscular, I appreciate the level of detail that goes into the little things like skin tone and hairstyle.
No RPG is complete without companions. Companions in Baldur's Gate 3 are thoughtfully designed with romance options available for all genders, while interactions with camp companions and NPCs enrich the overall narrative. The central story focused on the quest to find a remedy for the tadpole in the player's skull, but players can enjoy the freedom in shaping their journey through D&D-based mechanics, where dice rolls determine outcomes, adding unpredictability and strategic depth to gameplay. Further, players even have the ability to play the game one of the seven potential companions which can take the pressure of the in-depth character creations and ability choices.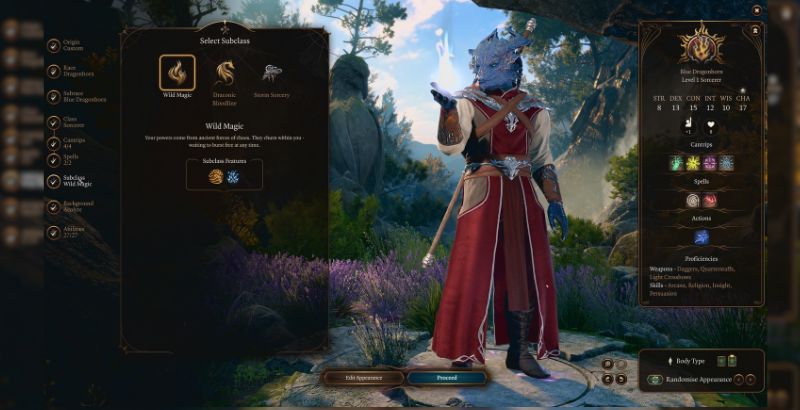 The dice rolls in Baldur's Gate 3 faithfully mimic the excitement and heartbreak of playing around a DnD table. Throughout my playthrough this week, I encountered numerous situations that offered entirely new experiences, all determined by the roll of the dice. While the characters and places I encountered remained largely the same, the reactions of NPCs to me and my party, as well as the overall outcome of conversations, were influenced by previous progress in the storyline. This system gave my choices significant weight, as a single bad or good roll could dictate which parts of the game I would get to explore and which situations might lead to certain doom. The unpredictability and consequences made every decision feel genuinely impactful, fostering a sense of adventure and excitement akin to a true D&D experience. Notably, my encounter with the character Gale was entirely different in the full release, where I had previously missed meeting him during Early Access due to a failed strength save.
This time though, Gale approached me and requested my assistance. Having learned from past experiences not to be too trusting, I decided to delve deeper into his mind. I was aware of the potential consequences if I failed the roll, but I took the risk anyway. Unfortunately, I rolled a 2, and my attempt was unsuccessful. However, luck was on my side as I had previously helped a gnome during my playthrough, and as a result, one of my party members awarded me with Inspiration. This allowed me to reroll the failed ability check, and this time, I succeeded in uncovering the truth behind Gale's words.
Emboldened by the revelation, I dared to push further in the conversation, leading to a critical roll that would determine whether Gale would stay with my party or depart. Fate seemed unkind, as I rolled a 1, and Gale left the party, never to be seen again. While a brief conversation in my 30 hours of game time this week, the conversation exemplified the game's depth, as the same storyline could lead to drastically different experiences.
The ability to quick save at any moment in Baldur's Gate 3 grants players the freedom to replay scenarios or combats and explore boundless possibilities. I personally utilized this feature when I accidentally triggered a fight with creatures far more powerful than my party, resulting in their tragic demise and my swift defeat. However, I can see how some players might use this function to ensure scenarios unfold exactly as they desire, and that's perfectly acceptable. This feature allows players to tailor the game to their liking, enhancing the overall experience.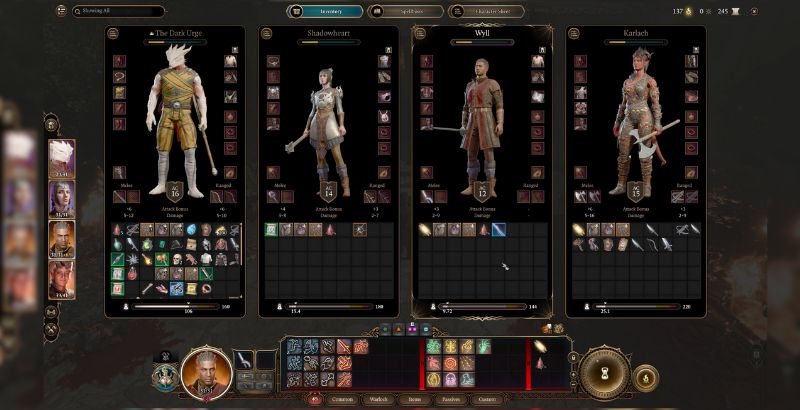 Even in the face of losing companions in combat, the game offers options to prevent permanent loss. A character named Withers appears in your camp, providing the opportunity to resurrect any fallen party member for a mere 200 gold. This affordable cost allows players to bring back a comrade who couldn't be saved in the heat of battle. For instance, I vividly recall the horror of watching a goblin shove two of my party members off a cliff without any chance to save or heal them.
Had I survived that encounter, I might have utilized Withers' services. However, players who prefer to stick to the events and not resurrect fallen allies have the freedom to do so. Moreover, if players find themselves missing a particular role in their party, Withers offers mercenary-style replacements, offering a way to supplement the loss of a companion due to death or differences in opinions. This versatile approach allows players to tailor their stories, crafting unique and personalized experiences throughout their journey in Baldur's Gate 3.
For players who prefer a more confrontational approach, they should be prepared for the consequences of their actions in Baldur's Gate 3. The game introduces an impressive improvement in AI for combat encounters. Even on the middle difficulty setting, I found myself facing tough challenges by level 3. The AI's unpredictability turns every encounter into a thrilling chess match, where you must carefully manage your resources like spell slots, actions, bonus actions, and movement.
Unlike a traditional Dungeons & Dragons session, where the Game Master can adapt combat in real-time to prevent total party wipeouts, Baldur's Gate 3's AI is less forgiving. Thankfully, the game offers the flexibility to adjust the difficulty at any time, allowing me to lower the difficulty for challenging battles and raise it again afterward.
Combat in Baldur's Gate 3 truly delivers the challenge one would expect from a Dungeons & Dragons encounter. Every action you think is possible can be executed, either by you or the AI, making every fight engaging and dynamic. The environment plays a crucial role in battles, leading to unexpected and memorable moments. I was shocked when a goblin used its turn to shove my companions into a chasm, permanently removing them from the fight and life. Sometimes, the combat can be so daunting that it's easier to find alternative solutions, such as negotiating through conversations where successful rolls still reward XP.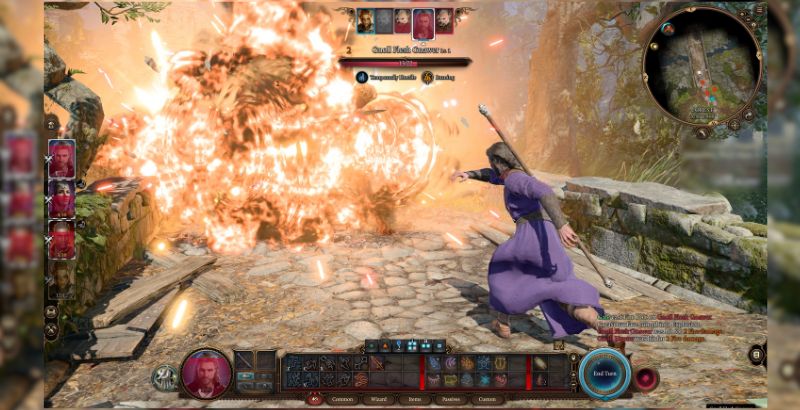 For players new to the world of Dungeons & Dragons, Baldur's Gate 3 might present a learning curve. Regardless of whether you choose a spellcaster or a physical attacker, there are numerous abilities to learn and consider for both combat and role-playing situations. With the promise of 12 levels at launch, investing time in researching your class and abilities might be beneficial if the tutorial doesn't give all the information you need. Additionally, the equipment system can be overwhelming, especially for those who enjoy looting. Managing to carry weight and finding vendors to sell items can be challenging, particularly if you've made enemies early on. While this kind of learning might seem daunting in other games, Baldur's Gate 3's roots in the 5th edition rules of Dungeons & Dragons make it a natural part of the experience.
For players who feel overwhelmed, seeking out YouTube videos or written guides to understand Baldur's Gate 3's 5E system might be helpful. The game also provides flexibility through Withers at your camp, allowing you to respect your character and companions, ensuring you're never locked into your choices. Moreover, players can choose from premade characters, offering an easy way to jump into the action without delving into character creation. With the game's wealth of options, Baldur's Gate 3 caters to players with different levels of experience and preferences, making it an immersive and enjoyable RPG experience.
The extensive character creation system and the freedom it offers are merely the beginning. As the world evolves across different acts, the boundaries of possibilities seem to expand endlessly. Just when you believe you've encountered the grandest moments of your adventure, the game surprises you with more depth and excitement. While you may be a minor player in a sprawling war beyond your understanding, the choices you make carry the weight of entire realms, shaping the landscape and influencing a diverse cast of characters you encounter. This is why detaching from the world of Baldur's Gate 3 is such a struggle. The allure of the next adventure, the next NPC, and the next character-driven moment is ever-present, making the anticipation for the story's next revelation too irresistible to ignore, even after hours of play.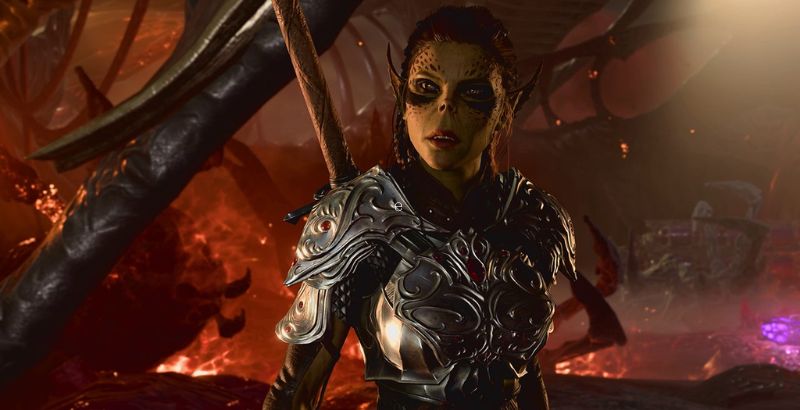 However, for all its magnificence, Baldur's Gate 3 does suffer from some persistent issues which keep it from achieving perfection. The sheer scope of the game can sometimes work against it. Even for seasoned RPG players, the combat system can be challenging to grasp. It's not just the turn-based mechanics but also the overwhelming array of possibilities at your disposal. Building your character and companions is one thing; utilizing them effectively in combat is another.
I've spent many more hours enduring prolonged battles against waves of enemies, only to narrowly lose or mistakenly cast a spell that backfires on my own team. While the complexity of building a battle into a chess match is dynamic, it's hard to deny that some of these moments were deeply frustrating, particularly when I had forgotten to save prior to a crucial battle or at a pivotal moment where I took a calculated risk. The AI wields just as many tools as the player and isn't hesitant to exploit every trick in the book. Learning the game's mechanics takes time, making Baldur's Gate 3 a game that's not suited for the impatient. The tutorial does its best to provide a basic understanding, but players are largely left to refine their own playstyles.
Furthermore, certain quests and puzzles can prove tough at times. Beyond a journal entry, dialogues, and a small icon on the map, most of the exploration and puzzle-solving falls squarely on the player and their subsequent dice rolls. In many ways, some of the side quests and puzzles can be unforgiving, leaving me stumped and unable to progress on more than one occasion. While failing to obtain items or pieces of lore from such instances didn't seem to hinder my story progression, it still left me with a sense of missing out, given the impact of nearly every bit of dialogue and interaction. It would be beneficial to introduce a difficulty setting that not only aids in combat but also addresses puzzle and exploration challenges. While adjusting combat difficulty can alleviate some of its complexity, a similar option for puzzles and exploration would broaden Baldur's Gate 3's reach to a larger audience.
Despite these issues, I consider them minor in the grand scheme of the experience. Even with a high skill ceiling, Baldur's Gate 3 offers numerous mechanics to counteract any mishaps. Clever strategies or applying prior knowledge from past experiences during dialogue can help avoid many combat encounters. The game's scaling compensates for the initial weaker stages and is bolstered by players' growing understanding of their characters and companions after hours of teamwork.
Withers, who appears at your camp, can resurrect any fallen companion and even provide a temporary replacement if you prefer not to resurrect or if companions choose to leave. The Inspiration mechanic, earned through specific interactions, grants players the chance to reroll failed ability checks. The ability to quick save at any moment allows players to revisit and explore different outcomes. For everything else, the Baldur's Gate 3 community is as supportive as the Dungeons & Dragons community, generating a wealth of guides, YouTube videos, and communities to aid players of all types and sizes.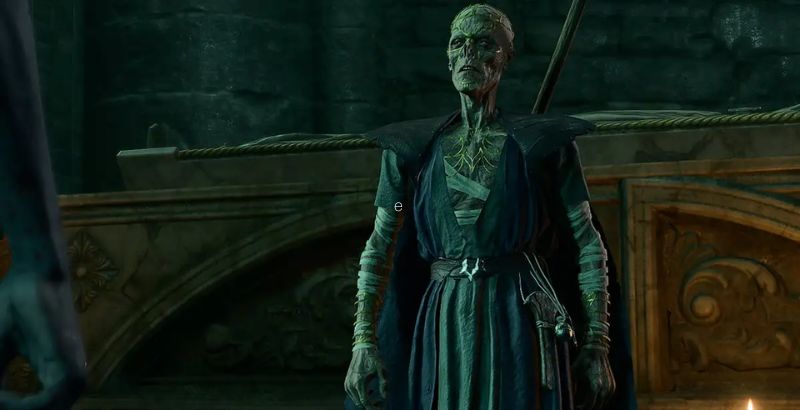 From my perspective, much of my enthusiasm for Baldur's Gate 3's greatness stems from watching my partner play the game. Like me, she grappled with many of the aforementioned challenges. However, with my guidance, these challenges became more manageable. Guiding her through her playthrough not only allowed us to spend quality time together but also enabled me to share the insights I wish I'd known when I started, enhancing her experience, much like in a tabletop game. Now, I'm as excited about how her decisions will impact her game as I am about my own. While she's only scratched the surface with her initial hours of play, it reaffirms how vast and varied everyone's Baldur's Gate 3 experience will be.
Ultimately, Baldur's Gate 3 empowers players to become the Game Masters of their own journeys. Despite its steep learning curve, the game excels in delivering a role-playing experience like no other. Your journey is uniquely your own, from the character you create to your chosen playstyle. Whether you leave your destiny to the whims of the dice or leverage the game's mechanics to your advantage, you enjoy the same freedom as the finest MMOs and sandbox games offer. With Larian Studios' commitment to ongoing support and the absence of microtransactions, players can anticipate being immersed in this adventure for as long as they wish, shaping their legend within the world of Baldur's Gate 3.
As I delve deeper into Baldur's Gate 3's full release, I find myself eagerly anticipating more of this vast world. My experiences with the story and characters have been drastically different from what I encountered in early access. The prospect of exploring various game files to experiment with different classes, interact with missed companions, and witness the world's dynamic changes based on my choices as a player excites me. Larian Studios' commitment to regular updates assures me that any issues players may encounter will be swiftly addressed, enhancing the longevity of the player experience. For anyone who appreciates high fantasy and RPGs, There's a certain magic surrounding this game.
Baldur's Gate 3 deserves the title of Game of the Year, plain and simple. Having sunk around 100 hours into the game since its launch, and with the city of Baldur's Gate still a distant sight, it's a challenge to tear myself away from the captivating narrative I've woven. Both my impressions from the early access phase and my time with the full release have remained consistent: the game is a masterpiece.
Baldur's Gate 3 is available now on PC and on PS5 in September 2023.
This review was updated and scored after first being published as a review in progress.
Baldur's Gate 3
TL;DR
Baldur's Gate 3 deserves the title of Game of the Year, plain and simple. Having sunk around 100 hours into the game since its launch, and with the city of Baldur's Gate still a distant sight, it's a challenge to tear myself away from the captivating narrative I've woven. Both my impressions from the early access phase and my time with the full release have remained consistent: the game is a masterpiece.