Hello Kitty Island Adventure is a cozy and epic joining of Sanrio and open-world gaming. Described as a combination of Breath of the Wild and Animal Crossing, this Apple Arcade exclusive from Sunblink is a large world. With the driving motto of "Small gift, big smile," Sanrio is a cultural touchstone, and in this game, players get the chance to talk to, make friends with, and adventure the world of brand with Hello Kitty, Karumi, Aggretsuko, and more.
We got the chance to talk with Chelsea Howe, Chief Product Officer of Sunblink about the complexity of adapting an iconic IP to a game, the importance of creating an inclusive and cozy game without sacrificing adventure, and ultimately, what it's like to be a part of a longstanding and joyful legacy.
With classic life sim and cozy elements reminiscent of Animal Crossing or Cozy Grove, Hello Kity Island Adventure wants players to get creative with a unique, Sanrio-style original avatar and get to know iconic Sanrio characters like Kuromi, Badtz-Maru, Cinnamoroll, Chococat, and Aggretsuko. Share gifts, complete quests, and participate in island activities to deepen your bonds. Spruce up cabins to attract new visitors from among Hello Kitty's many friends. Create a stylish wardrobe all your own, solve mysterious puzzles, cook delectable recipes, collect friendly critters and fish, and explore the island solo or with a friend to unearth the many secrets of a massive in-game world.
Chelsea Howe explained the responsibility and care that went into creating Hello Kitty Adventure Island and the importance of honoring the characters that Sanrio has created. "It's like a huge responsibility and honor like first and foremost," Howe starts, "Of course when they said they were making a Hello Kitty game that was, you know, a bit of Breath of Wild or a bit of Animal Crossing, I was like, 'Oh my God, that's perfect!' That's the games I love and who hasn't kind of heard of Hello Kitty…I do think one thing very, very special about this game that we've created is that you're going to get to actually engage with these characters in a way that most people never have."
And Howe is right. While Sanrio has branched into some elements of gaming in the past, a true open-world game with both social sim and adventure values is a giant first. She continued, "There's never been a Sanrio game like this. You've never been able to go in and like talk to the characters and gift them and get to know them and play their stories. And I think that's special, not just for people who are new to the brand but even for existing fans. So much of Sanrio is through these short, fantastic little glimpses into their world. But this is the first time where you really get this kind of sustained envelopment in the world of, you know, Hello Kitty and then all of her various friends."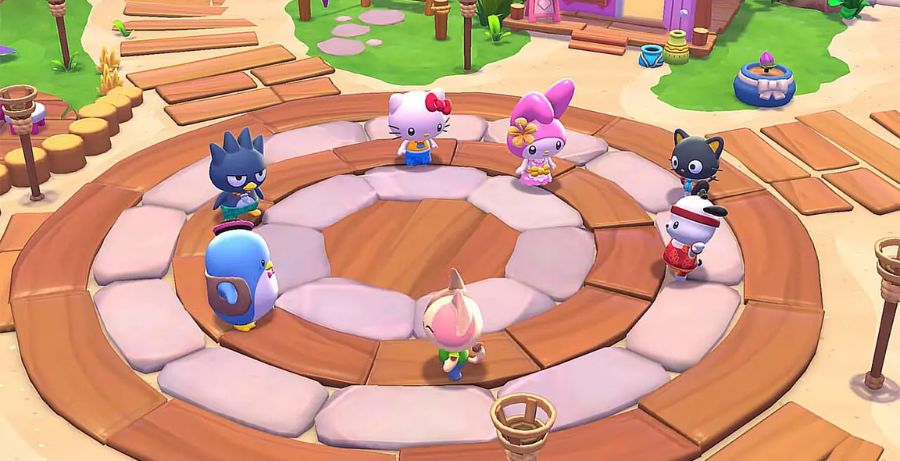 Having a larger story for Hello Kitty and her friends is fantastic for any Sanrio fan, but more importantly, Sunblink has made sure to take into account every kind of player as well. Specifically, with an all-ages approach, players are allowed to pick their ways to play with options provided to them throughout the game. Howe explained balancing coziness with some elements of strategic play like puzzles.
She said, "I think for us, it was really important to have the depth there for the people who wanted it and to provide shortcuts and opt-outs for the people who did so like. One of our examples is the haunted house. It's something that you encounter relatively early on in the game, and it's the first kind of Introduction to slightly more traditional adventure-type gameplay. And Karami, who loves spooky things, is there alongside you. And if you're stuck trying to get through a different room in the Haunted Mansion, you can just go to Karami. And she'll help you get through it. You can literally just say, "Hey, can you solve this for me" and Kuromi is like, "I got you, bestie!" This gives you a way to progress and to continue to enjoy the world without necessarily needing to engage in something that is, you know, beyond what you want to take on."
With this approach for all ages and skill levels, Sunblink chose a platform that would be ad-free and allow younger users to partake. Howe explains the choice to be an Apple Arcade exclusive game, "Apple Arcade made so much sense for this kind of game. They're no micro microtransactions no ads, but they still allow you to do the kind of consistent, ongoing living world type of game development. That gave us huge freedom to focus more on the characters and the stories and the world and the richness and to not be bound so tightly to [the question of ] what are people going to pay for? Or how are we going to trigger their need to make a microtransaction."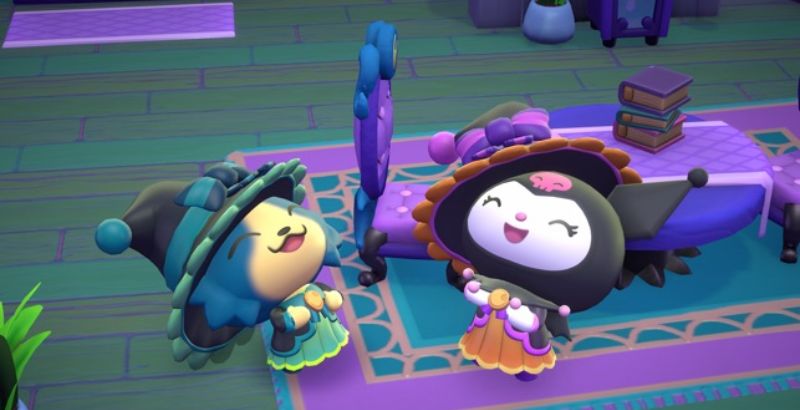 How touches on an important point. Free-to-play games often rely on a micro-transaction ecosystem to keep their live service running, but when targeted toward other audiences, it's hard to square the two. Something more and more developers have to contend with. How continues, "[Hello Kitty Island Adventure] is a live service free to play game, but with no microtransactions…that was basically a dream come true. It also really fits into the idea that Sanrio was all about this kind of, you know, friendship and family-friendly. Apple Arcade is all about being family-friendly since it's all-ages…I don't think we could have made this same game if we had been on a platform where you know, free-to-play or microtransactions were the dominant model."
Finally, when asked about what she and Sunblink hoped that players would take away from Hello Kitty Island Adventure, Chelsea Howe said, "I want them to feel warm and excited. Excited for all the possibilities, excited to build out their friendships, and also just like they've got a little dose of sunshine. Hello Kitty's world is charming, it is heartwarming, it is wholesome. I hope that it's just a little opportunity for people to immerse themselves in that and get their little dose of happiness for the day."
Hello Kitty Island Adventure is available now on Apple Arcade via iOS devices.
This interview has been edited for length and clarity. To listen to the full interview hit play on the audio below.