With the race to save Saturo Gojo still on, Yuji Itadori (Junya Enoki) rushes to save his teacher from the Prison Realm. But his progress is stopped short as he runs headlong into Choso (Daisuke Namikawa, take op.Destiney), who is looking to avenge the brothers Yuji helped kill in Jujutsu Kaisen Season 2 Episode 13, "Red Scale."
This episode's singular focus is on the fight between Choso and Yuji. While the two have never met, Choso's rage towards the protagonist assures that this fight will be one of the most intense the season has delivered thus far, and that's saying something. Every element in Jujutsu Kaisen Season 2 Episode 13 feels like it had been designed to build up the moment's intensity. For the most part, they succeed.
The first element I want to discuss is the episode's coloring. This episode is awash in red between the emergency lighting and Choso's blood manipulation techniques. The prevalence of the color feeds into the anger and tenseness of the fight, almost like it is an outward manifestation of Choso's feelings.
The visual elements that feed into the episode's core focus continue with the fantastic cinematography and choice of locations within Shibuya Station. While the initial confrontation between the two occurs in a more open area, allowing both combatants plenty of room to maneuver, Yuji lures Choso into a restroom at Mechamaru's suggestion to gain tactical advantage. When the fight shifts to the far more confined space of the bathroom, the camera work does a great job of emphasizing how tight the space is. This builds the energy of the battle, as both fighters are trapped together.
The final major element of the Jujutsu Kaisen Season 2 Episode 13's intensity is the superb animation. Every attack by both parties is presented with a sense of lethality. That one stray mistake could end either combatant's life is easily believable. This is especially true for Choso's blood manipulation, which never stops being visually engaging as the curse user shifts between different forms of his trademark technique.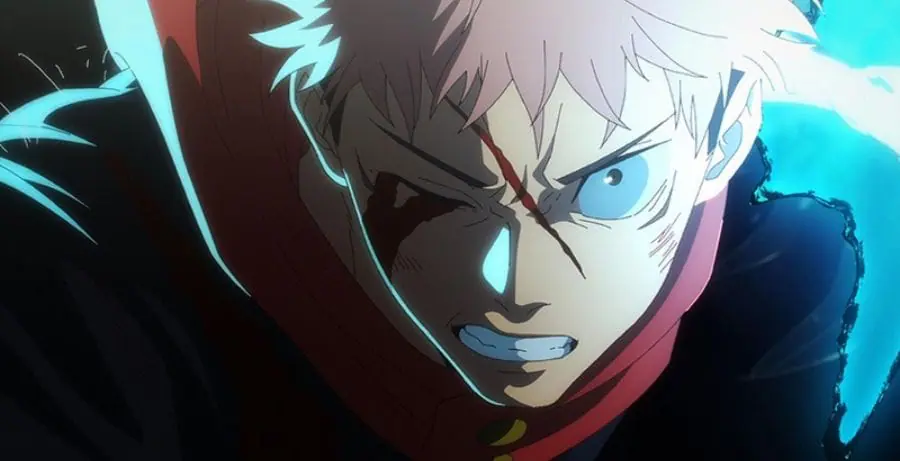 The last place where this episode manages to build its atmosphere is in the voice work. While Enoki and Namikawa provide plenty of emotion in their presentations of Yuji and Choso, respectively, just how emotionally charged their characters have become is further highlighted by the excellently delivered lines of Yoshitsugu Matsuoka (Gamera: Rebirth) as Mechamaru.
As the lingering conscience of an already dead man, Mechamaru keeps a far calmer disposition throughout the episode, as there is no personal threat to him. This level of presence helps to call attention to just how pitched the emotional states of the others are.
While all of these elements come together to build a ton of dramatic tension, there is one spot where the narrative stumbles. Through some clever strategizing on the part of Mechamaru, Yuji is able to lure Choso into a position where his blood manipulation powers cannot be properly utilized. This forces Choso to enter hand-to-hand combat with Yuji.
Given that the episode bluntly states that Choso has little combat experience and that Yuji is an absolute beast once he gets an opponent into melee range, one would expect Choso's number to get punched pretty quickly. However, Jujutsu Kaisen Season 2 Episode 13 doesn't go that way. Instead, it allows Choso to keep up with Yuji blow for blow while he pulls together alternate ways to utilize his techniques as he strives to defeat Yuji.
In the past, Jujutsu Kaisen has done a fantastic job of keeping its characters feeling like they have boundaries and limits that work within the confines of their world. How Yuji initially removes Choso's technique from the equation here is a great example. However, how well Choso fares against Yuji after what seems like his key weapon is removed from the battle feels like a disservice to Yuji. Rather than a creative win for Choso, it feels more like the narrative simply decided Yuji had to lose. For many series, it wouldn't be nearly as noticeable. But due to how well this one has managed to avoid this feeling of forced outcomes in its fights, it feels glaring.
Despite this single complaint, Jujutsu Kaisen Season 2 Episode 13 manages to deliver a brutally tense episode of combat that is flavored by the personal nature of its combatants' motivations. Even if the outcome feels forced, the path to get there is worth every moment.
Jujutsu Kaisen Season 2 Episode 13 is streaming now on Crunchyroll.
Jujutsu Kaisen Season 2 Episode 13
TL;DR
Despite this single complaint, Jujutsu Kaisen Season 2 Episode 13 manages to deliver a brutally tense episode of combat that is flavored by the personal nature of its combatants' motivations.