Sleepwalking, if you stop and really think about it, is a terrifying premise. You move, you talk, you eat, maybe you forget something in the fridge that doesn't belong there, and you do it all unbeknownst to you. But what happens to the person that you terrorize while you're asleep? How do you atone for the actions you don't remember, and how do you even begin to get better? That's essentially where SLEEP, the directorial debut for Jason Yu, thrives as it answers these questions.
SLEEP follows idyllic and loving Hyun-su (Lee Sun-kyun) and Soo-jin (Jung Yu-mi), a married couple expecting their first child. With a plaque on their wall reminding them that they can accomplish anything so long as they're together, the audience gets to see just how far that one wooden sign will take them. They joke, they laugh, and they're excited to begin the next chapter of their life, but then, Hyun-su begins to sleepwalk.
At first, his nighttime activities are just weird, kind of cute, and humorous. Quickly, though, Hyun-su begins to terrorize his wife as unintended violence begins to come into play. The sharp descent doesn't break apart the couple, though. As the deranged activities span eating raw meat and almost throwing himself out of a window, their relationship begins to strain under the weight, especially when Soo-jin gives birth. As Hyun-su grows as a threat, Soo-jin digs her heels in, sure that they can break the REM disorder, while her mother pushes her to see a shaman.
Jason Yu understands how deftly to explore people as much as build horror and scares that are rooted in making the audience deeply uncomfortable. In neatly packaged three acts, divided by title cards that define the chapters, director Yu crafts a quick and intimate descent into madness by centering Hyun-su and Soo-jin. They are never detached from one another. They are glued to each other, supportive, their marriage oscillating between the reason for their ire and the reason they get through it. As much as SLEEP is a ghost story, it's also about the things we do for love and the torture we will endure in order to remain with a spouse instead of "quitting."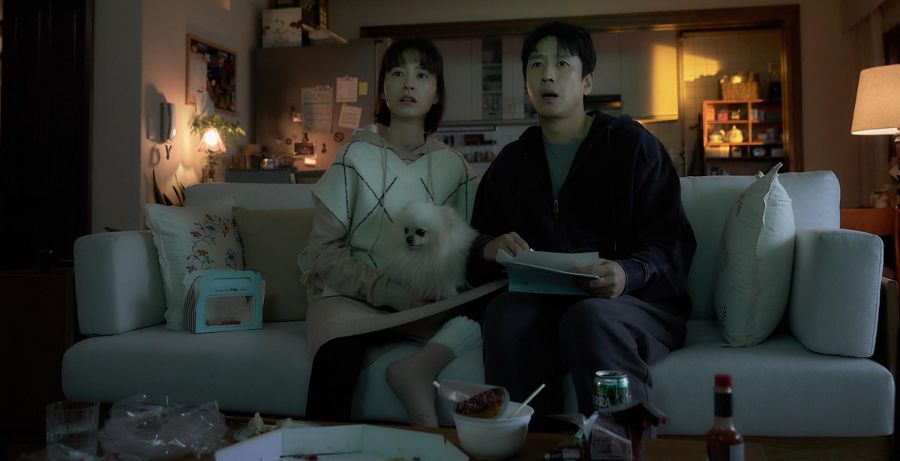 While the tension between them grows, Soo-Jin begins to stay up for days on end with no sleep out of fear that Hyun-su may turn on their infant daughter. As Soo-jin, Jung Yu-mi is effectively given three different roles to play, shaped by her experiences becoming more desperate and more aggressive as the film continues. As she begins to crack, the couple try their hardest to hold strong and to do so together, even as the situation becomes more and more untenable.
The film moves between two reasons for the nighttime terrors: it's a disease or it's a ghost. Truthfully, though, the answer doesn't matter as the once-happy couple begins to split from sanity while choosing to stay together to the detriment of their physical and mental health. By focusing on their marriage and the way in which they dedicate their lives to each other, Yu is able to raise the stakes each night, and by the time they break in the last act, add a mountain of emotional depth.
A simple film that doesn't hide behind effects work, SLEEP takes full advantage of its powerfully talented leads. Lee Sun-kyun and Jung Yu-mi have acted together a number of times before, and as a married couple, they are believable in an almost unquantifiable way. It's not just the way that they talk to each other through the scripted dialogue but the glances they share, the small touches, and how they share a space that builds a dynamic chemistry that makes the film's twists and impact all the more intense.
Taking place primarily in one location, director Jason Yu is able to use the apartment's rooms and doors to great claustrophobic effect, making what you can't see as rich and fulfilling as the things you can. As a directorial debut, Yu has shown his attention to using a small budget to be innovative, thoughtful, and excel.
SLEEP is an intimate horror story that has two endings depending on which path you choose to believe. The ghost could be real, or Hyun-su could be making the choice to never abandon his wife's side. It's a testament to how strong the script is that no matter the reality, it still resonates.
SLEEP screened as a part of Fantastic Fest 2023.
SLEEP
TL;DR
SLEEP is an intimate horror story that has two endings depending on which path you choose to believe…It's a testament to how strong the script is that no matter the reality, it still resonates.