Home invasion movies are my jam. Usually shot in a single location with tension ramped up by increasing desperation, this sub-genre is one that excels because it shatters safety in the most intimate of places. Add in an alien invasion to the home invasion narrative trappings, and, well, it's No One Will Save You.
Written and directed by Brian Duffield, No One Will Save You is a Hulu exclusive film from 20th Century Fox that kicks off the spooky season on the platform with an unsettling look at an alien invasion that just so happens to be a home invasion, too. A captivating sci-fi psychological thriller that relies on visual narrative more than dialogue, it follows Brynn Adams (Kaitlyn Dever), a creative and talented young woman who's been alienated from her community.
Stuck in the past and lonely, she hasn't allowed hope to disappear. Instead of her community, Brynn finds solace within the walls of the home where she grew up for better or worse. Then, her safety is shattered when she's awakened one night by strange noises from decidedly unearthly intruders. Jumping into action, Brynn fights off her extraterrestrial intruder only to draw the attention of more in a fight that forces her to deal with her past.
No One Will Save You keeps you on the edge of your seat and does so by using limited dialogue. Instead, Duffield deftly crafts a visual narrative. This film is all about showing, not telling. While that does lead to some confusion in the film's final act, it offers a level of visual storytelling I haven't seen in a long time. No One Will Save You also features music by composer Joseph Trapanese, whose work is engrossing. Additionally, the film is able to capture the deep, dangerous, and terrifying range of alien sounds that cuts through silence like a knife.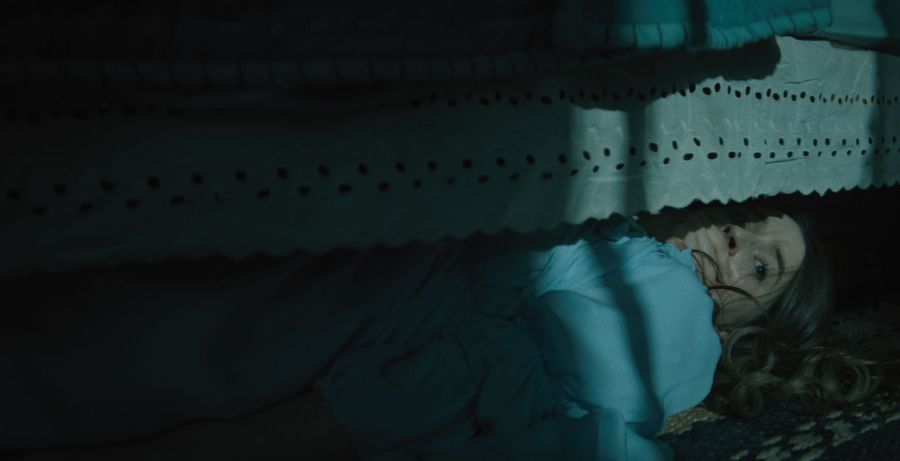 The aliens in the film are boring at first. They're the stereotype of little grey men with large eyes, skinny bodies, and big heads. As antagonists, they're basic and easily dispatched. In fact, at the start, the aliens are so deeply uninteresting that its only intimidating when not shown directly as Brynn tries to evade being found in her own home.
But the unassuming visuals lull the audience into a sense of safety before it yanks it all away, making the creature design become more deeply unsettling each time we see the aliens in subsequent scenes until they're just an ugly embodiment of uncomfortable with ever-elongating limbs, a grimace that sticks, and body movements that scrape the bottom of the uncanny valley. Duffield's vision here is shockingly executed.
Home invasion or alien invasion, it all makes an impact that embraces horror and sci-fi in equal measure. That said, I recommend entering No One Will Save You with little to no information. This allows for the film's tension and resolution to develop beyond just Brynn's push for survival as the fights with the aliens become more an more intimate and she's forced to confront the past.
No One Will Save You is a gorgeous film and an atmospheric one that trusts its audience to solve the story without heavy exposition. As Brynn learn and the aliens continue to learn more, so do you, and it twists exceptionally well to keep you guessing up until the last moments.
No One Will Save You is streaming on Hulu September 22, 2023.
No One Will Save You
TL;DR
No One Will Save You is a gorgeous film and an atmospheric one that trusts its audience to solve the story without heavy exposition.