Alan Wake is a horror institution. The original game helped define horror on a console generation, and after 13 years, it's back. But rather than be trapped by its legacy, Alan Wake II (Alan Wake 2) builds on itself, putting narrative first and using a dual protagonist structure to make gameplay innovative, immersive, and ultimately offer a payoff for both returning and new fans alike. Developed by Remedy Entertainment and published by Epic Games, Alan Wake 2 is a visual feat that uses a key cinematic quality to tell its story.
When a string of ritualistic murders threatens Bright Falls, a small-town community surrounded by wilderness, Saga Anderson (Melanie Liburd), an accomplished FBI agent, arrives to investigate. As she enters the idyllic town of Bright Falls, Saga recognizes that this small-town murder investigation isn't what it seems. With mysterious pages from a manuscript detailing her movements and actions, monsters, and a waitress in the diner who claims that Saga is blocking out some traumatic memory, it's clear that something is bubbling under the surface of Cauldron Lake.
But playing through Saga's shifting case isn't all Alan Wake 2 has to offer. While Saga pushes her ability to solve impossible cases to the limit, Alan Wake (Ilkka Villi/Matthew Porretta) is trapped in the Dark Place. A prolific horror writer who disappeared 13 years ago, he is trapped in a nightmare beyond her world, writing a dark story in an attempt to shape the reality around him and escape his prison.
Both desperate for answers and escape, the dual protagonist structure is always at the forefront of gameplay. Saga and Alan's mechanics are similar. Starting with what they use for plotting devices for story progression, they each have boards that make narrative progression immersive and tactile. For Saga, she has her version of Sherlock's Mind Palace with her Mind Place, which allows her to profile suspects and victims alike and plot out the clues she finds on her Case Board, connecting them to other events across the story (as well as keeping track of collectibles like Alex Casey lunchboxes and Cult stashes).
As for Alan, he has his Writer's Room, a place where he is trapped, writing a new novel that will never come, looping through the Dark Place by projecting a version of himself out. Here, he uses a Plot Board that holds his clues. However, instead of being a stagnant web of clues, Alan can use the board to switch the reality around him to represent the people and places in time that he unlocks. With two similar mechanics, players immediately understand how to work both characters, but by giving the different boards unique impacts on gameplay, there is immediate reward and diversity of gameplay when switching between Saga and Alan.
These aren't just places of respite. While both respective places allow you access to a map and a nice calm spot, they don't pause your game, which makes utilizing them an exercise in patience and strategy. This is especially pertinent to Alan, who needs to flip the realities of different scenes multiple times, generating new enemies each time. Whether you're playing on Story, Normal, or Hard, timing is of the utmost importance.
Additionally, both characters have their own buff systems that allow you to increase skills and stats in helpful ways. For Saga, you can find and equip charms that give her different ability tweaks. Placed on a bracelet given to her by her child, the charms represent elements of Saga and the game, and can make a big difference. The charms are also a way to push you to explore side-content, like solving puzzles in the world or, more specifically, the Nursery Rhyme puzzles unique to Saga. This system pushes the player to explore while also rewarding them for doing so. You can also collect Alex Casey lunchboxes, which are scattered across each location. Each lunchbox has Manuscript Fragments, redeemable for weapon upgrades in your Mind Place.
For Alan, you can use your flashlight to find arrows on the walls, which will direct you toward glowing spirals of words. These are Words of Power and are key to making your time in the Dark Place easier. While Saga has weapon upgrades and three charm slots, Alan has significantly more Words of Power upgrades, matching the more difficult environment that you're in while playing through his story. Additionally, a word of caution: don't hold RB when shining your light at the circles. You'll just deplete your battery and wind up in a tough situation (like I did). Instead, simply shine your flashlight on the circle until the prompt comes up and you have access to a new upgrade in the Writer's Room. And make sure you invest in having your flashlight recharge when you kill an enemy… that's important.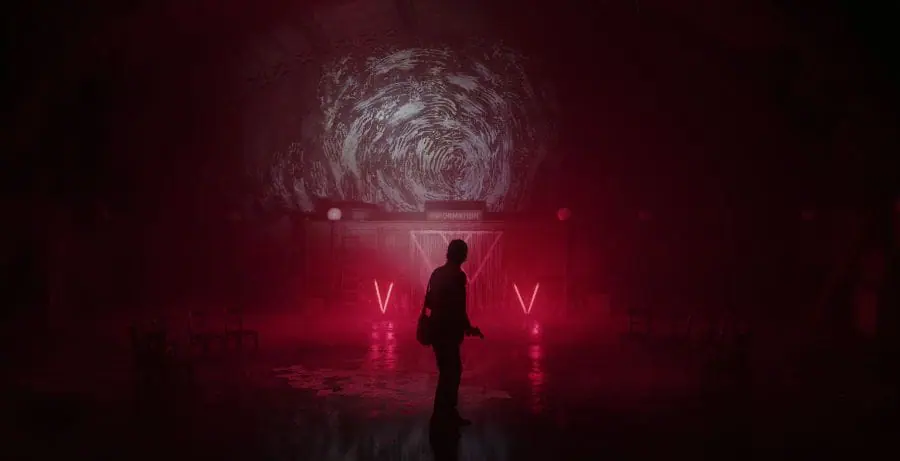 While the difference between the two is very outright, with Alan's story being confined to his time in the Dark Place and Saga's happening after Alan escapes in the present day, Remedy has managed to balance them against each other and create an impact for both that works both independently and together.
With Saga, players get to experience a horror-tinged detective story well-informed by the noir genre. Using a cadence familiar to those who know the crime genre, the horror elements often take a backseat to the mystery Saga is trying to solve. Sure, Saga has moments of horror, with jump scares sprinkled in from the quick live-action flashes of Mr. Scratch or Nightingale and other dark things, but the tension in Saga's story is built up slowly.
Expertly crafted with pacing in mind, playing as Saga allows you to become familiar with Bright Falls, Watery, and the people around you. As much as we learn about Saga, her mysterious connection to the area, and her relationship with Alex Casey (Sam Lake/James McCaffrey), she learns even more about the world around her and the lore she is stepping into. Saga peels back layers of the town. As it forces her to open up and confront the supernatural and her own fears, the story tightens its grip on the player. It's clear in Chapter 2 that Saga's story will have horror in it. I mean, what else do you call a giant, undead, literally heartless monster chasing you down? But her horror is a slow-burning one that she unlocks as she progresses in the narrative.
This isn't a bad thing. Saga offers a reprieve from some of the intense stress that you feel while playing as Alan, looping through the same areas, playing with more restrictive abilities, and moving almost exclusively through darkness. As Alan, the only reprieve you have is the cinematics when you enter the green room in order to start the next part of the story. Alan's story may feel repetitive by design, and this builds frustration, but it's the kind that pays off. With the spliced-in jumpscares causing confusion in already disorienting maps, the challenge in Alan Wake 2 is the Dark Place. It's unrelenting and entirely unforgiving, causing you to invest way more time in inventory management and item usage than you do when playing as Saga.
Where Saga is about learning about her surroundings, Alan is about learning about himself and the Dark Place he's wound up in. Alan's story is intimate. His primary focus early on is finding Alice and having to confront the violence that Mr. Scratch, the Dark Presence's version of himself, has committed against his wife. Alan's search for answers is deeply rooted in this interpersonal story, managing to yield anxiety-fueling results that really help the game earn its horror label, both from a psychological perspective and in a much more straightforward way.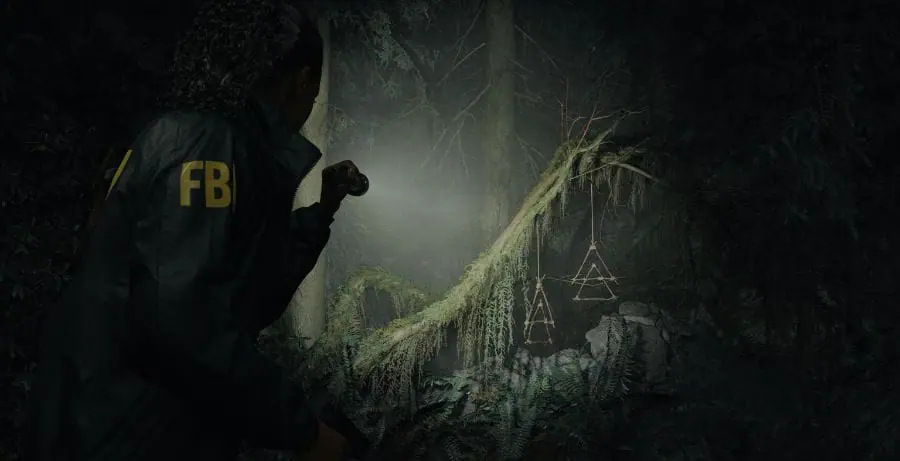 The way that Alan and Saga push and pull between separate realities in Alan Wake 2 is to be commended, and not just in how their gameplay balances against one another. They allow new audiences a vehicle to learn about Alan Wake. Without ever having to play the original game, as Saga, you learn about Alan's past and the story itself, all through her character. It may seem small, but by choosing a dual protagonist structure in which either one can be played at any given time and at the player's pace, new and old fans get the chance to explore the game on their own terms.
Once both characters are in play, there isn't a single moment where the narrative feels dominated by the other. Instead, they feel like two anchors holding an almost chaotic mystery in place with tethers connecting them. Even as Saga moves deeper into Alan's nightmares and reality, they are two halves of a whole. United in the pages of a horror story and by the need to confront supernatural darkness to save the world, they work effectively in telling the story regardless of the order in which you progress each one, at least up until where I am, nine hours into the game. They are both heroes, grounded by darkness and mystery, which have helped them quickly become standout characters in the larger pantheon of horror games.
Alan Wake 2 is defined by chapters that feel almost like episodic television in how they end and switch with a fantastic soundtrack in between. The game isn't hiding its cinematic inspiration, whether it's the Oh Deer! Cafe that looks very close to Twede's just outside Seattle (used in Twin Peaks), or the choice to use live-action footage in the game. Remedy lays their respect and love of film out for the player to see and recognize instantly.
That said, the use of live-action segments for cinematics, television spots, and images can be jarring at first. However, the ambition behind this multi-medium take on storytelling is a triumph. Always narrative-driven, usually funny, and always twinging with horror, the live-action elements of Alan Wake 2 are how to use real footage without losing a video game and the uniqueness of the medium in the mix. With the segments, particularly during Wake's second large mission (you will know the scene when it happens), Remedy takes a huge risk, and it pays off in spades.
The use of live-action footage isn't Remedy's only mixed-media achievement. The studio has also crafted a bevy of original Chapter Songs that tell the story of Alan Wake 2 in small musical moments. Played at the end of chapters, these closing songs encapsulate what the player has just experienced. Accessible in Saga's Mind Palace at any time, the songs allow you to revisit the story periodically. They hold as much weight as the pages of the manuscript you collect throughout. But the songs aren't just for you to experience, one is the key to Saga's past in a way that unfolds brilliantly.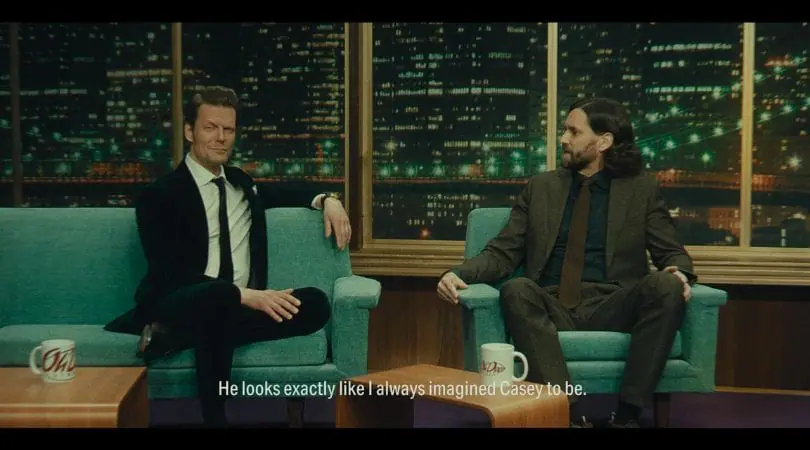 It's hard to tell that this is Remedy Entertainment's first survival-horror game. Collectibles, dynamic level design, and stellarly paced inventory management all show how deeply the developers understand that horror isn't just in the shocking moments. It's in the resource management when your flashlight runs out of batteries and you've solved a Nursery Rhyme riddle, unleashing a slew of Taken on your location. It's in the way the Overlap levels shift your perspective and disorient you. It's the stress of needing to clear every room before moving to the objective if only to stock up on resources. Horror is making your player so unsafe in the environment that they begin to move against the walls of a room to keep their back secure. Remedy understands horror in a way that showcases a love of the pantheon of games in the genre and cinema all the same.
While much of Alan Wake 2's success comes from the fearlessness of trying something unique, building on mechanics from the first game while presenting a new experience, the beauty of this game is also something to be called out. While the high-fidelity graphics may make a computer seem like it's ready to explode (which is why I had to review this on the Xbox Series X instead of my PC, as planned), on console, the textures, light production, and amount of detail put into character designs is something extraordinary. Using actors as base models for characters, Alan Wake 2 executes close-to-life renderings, which is a feat not to be ignored. This is especially true with Saga. As a Black woman, the importance of lighting her skin and ensuring hair texture looks as detailed and as real to life as Alan's was a must, and Remedy achieved that. To the texture and materials teams and to the lighting teams at Remedy's: bravo.
But Saga isn't just beautifully created. She's also dynamically written. While it is true that both Saga and Alan are thoughtfully crafted in their own separate but overlapping intimate mysteries, Saga's situation in the larger aspect of Norse mythology is wonderfully developed. Saga is a hero; she has power, and in some ways, she is more powerful than Alan Wake himself.
There is a weight to her as the woman moved by a love for her daughter and struggling to find out her past that captures the importance of motherhood to strength. Some may think that "strong female characters" mean that they are void of emotional ties, but that's not Saga. Her maternal love is what gives her resiliency and keeps her moving forward when the world around her is literally crumbling and shifting into something that she does not know.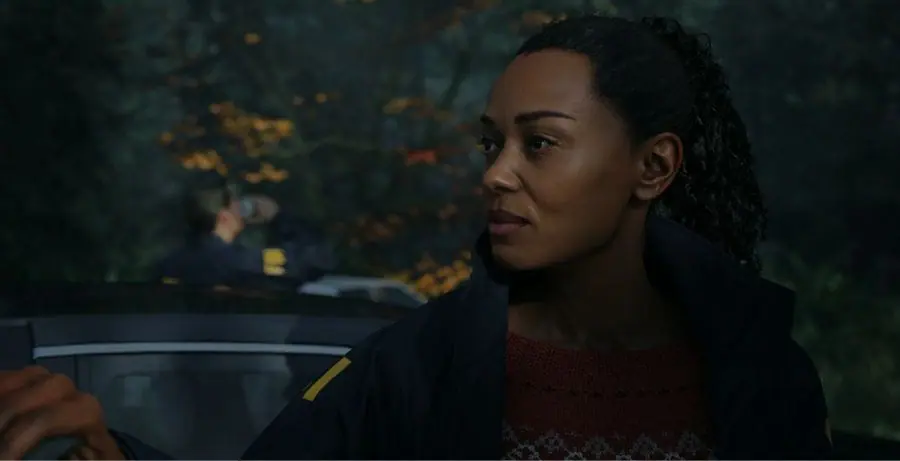 The ways the Dark Place and the Pacific Northwest have been brought to life are so stark in contrast that it's impossible to compare, and yet both feel whole and dynamic. The New York that isn't New York marking the setting for the Dark Place is cloaked in darkness and mystery and sounds of emptiness, mixed with the shadows calling Alan's name in distorted voices.
It's immediately terrifying and filled with anxiety. On the other hand, Cauldron Lake's forest is lush, deep, and dark in a natural way that hides its horrors in the sounds of nature. The terror of the Taken or cultists cut through it sharply, making you jump. The difference in the locations couldn't be further from each other, and yet, the environmental art doesn't feel as if it's created for two different games. The environment also allows Alan Wake 2 to pull from multiple horror film inspirations—The Blair Witch Project and The VVitch, to name two.
From a technical standpoint, however, my problems with running the game didn't stop once I switched to the console version. I had three full-game crashes, all of which happened in between saves and made me lose a lot of time. And more annoyingly, I had audio-dropping issues that happened after I skipped cinematics or used quick resume to pick up where I left off in the game, which would force me to restart the entire game again. So, it's easy to say that there is room for improvement in the performance aspect. This and this alone keeps the game from getting a perfect score but I wish I could grant it that.
That said, if you look past those performance issues, the game is a fantastic success from a studio not known for survival horror. As a sequel to an iconic game, Alan Wake 2 had a lot of weight to carry. When you add the fact that this comes after 13 years of expectations and legacy, it would have been easy to buckle. But it doesn't. Alan Wake 2 repeats history and has easily become one of the best horror games out there. Narratively, visually, and mechanically, Alan Wake 2 is what horror should be.
Alan Wake 2 is available on PlayStation 5, Xbox Series X|S, and PC via the Epic Games Store October 27, 2023.
Alan Wake II
TL;DR
Alan Wake 2 repeats history and has easily become one of the best horror games out there. Narratively, visually, and mechanically, Alan Wake 2 is what horror should be.