This interview has been edited for clarity and length. You can listen to the full audio of the interview here.
Alan Wake II is already set to be one of the top games of the year. With layered horror storytelling and a mixed-medium approach to game design, this sequel to 2010's Alan Wake carries on the legacy of one of gaming's biggest horror-mystery icons. Developed by Remedy Entertainment and published by Epic Games, we got the chance to talk with Creative Director Sam Lake and Game Director Kyle Rowley about Remedy's first survival horror game and revisiting an IP 13 years later. Additionally, we discuss Saga's importance and the uniqueness of bringing in another protagonist hero alongside your titular character and making her just as important.
Saga Anderson (played by Melanie Liburd) is Remedy's newest heroine. As an accomplished FBI agent with a reputation for solving impossible cases, she arrives to investigate murders in the small town community of Bright Falls in the Pacific Northwest. Ritualistic in nature, Anderson's case spirals into a nightmare when she discovers pages of a horror story that starts to come true and questions how it may be connected to missing writer Alan Wake, whose own dark story eerily mirrors her own. Over the course of the game, you unravel the mysteries still remaining in Bright Falls, meet old faces, and learn what exactly has happened since Alan Wake disappeared 13 years ago.
---
BUT WHY THO: My first question is actually about what it's like coming back to one of horror's largest gaming legacies 13 years later, how does it feel?
SAM LAKE: Ah, it's been a long journey getting here. So, we are happy and excited. It's always nerve-wracking to release something that you've been working on for so long, exposing it to everybody. And it's been a lot of work. So, [we're] feeling pretty exhausted.
BUT WHY THO: One of the things that struck me about Alan Wake II is the cinematic quality of the game. And what I mean very specifically is the light production on the game, particularly with Saga as a main character who is in a lot of dark scenes but is never washed out. That's something that not every [creative] can do perfectly: making sure characters with different skin tones are lit well in the same scene. But when we get the chance to see her, especially in the gameplay elements, we never lose her in the dark atmosphere of the game. What was it like creating these [visually dark] scenes while also taking into account Saga's identity?
SAM LAKE: Lighting overall is an important part of this experience, of course, because this is Alan Wake, and light and darkness play such a big key role, dramatically and visually. We have a wonderful Art Director, Janne Pulkkinen, and there was already a kind of interface when we were constructing this and creating the vision for [Alan Wake II]. We wanted to stylize [the game] in a strong way, drawing from very stylized lighting inspired by art-house cinema or horror films, flash photography, and these kinds of things. There was a lot of thought and discussion put into lighting, including making sure that that hero character, Saga, specifically comes across in a really good way.
KYLE ROWLEY: Yeah, we did. We've updated our technology in terms of hair, for example, which I think was very important for this particular game because of Saga. Our character team has done an amazing job. Our animation team and lighting team, they're all awesome. [We are] very happy with how it came out.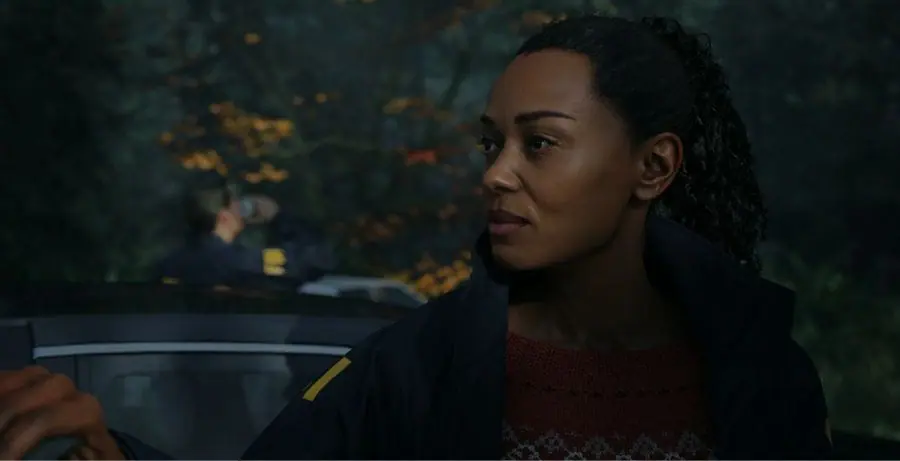 BUT WHY THO: One of the reasons [Alan Wake] is a horror icon in gaming is not just the mechanics, but also because of the storytelling. When you pull that into a dual narrative with two characters that work side by side, how did you decide on Saga as our heroine? Did you think at all about the fact that there really aren't many women of color in horror and video games? Were you thinking about that and the milestone that this sets for people who could identify with Saga?
SAM LAKE: Yeah….first of all, Remedy has been around for 28 years. And if we go back through all of our games, it's a big deal for us to add a hero character in our games. There are quite a few through the years and then, more than anything for us, it is important that we are expanding our roster of heroes and finding new ideas to bring into it.
With Saga, we really wanted a modern hero character to bring in. It also starts with the story and storytelling. This is called Alan Wake II, but this is just as much a story about Saga and she is just as important in this as Alan Wake, the title character, is. She is exactly the character she needs to be for the story to be told…A lot of thinking has gone into creating her as a character. And this being a horror story with a lot of psychological horror aspects to it as well, we are learning about her, and she is learning about herself and her backstory—it's all very much part of the narrative.
BUT WHY THO: One of the things that I've been blown away by with the video game is the different levels of visual narrative that are being used to craft different elements of horror, like atmospheres, light, and sound. But also jumpscares! You all have done an amazing job with effectively using [them]. And I wanted to know when you're crafting the horror with so many layers to keep in consideration, what were some of your inspirations? And how did you make sure every element was unified?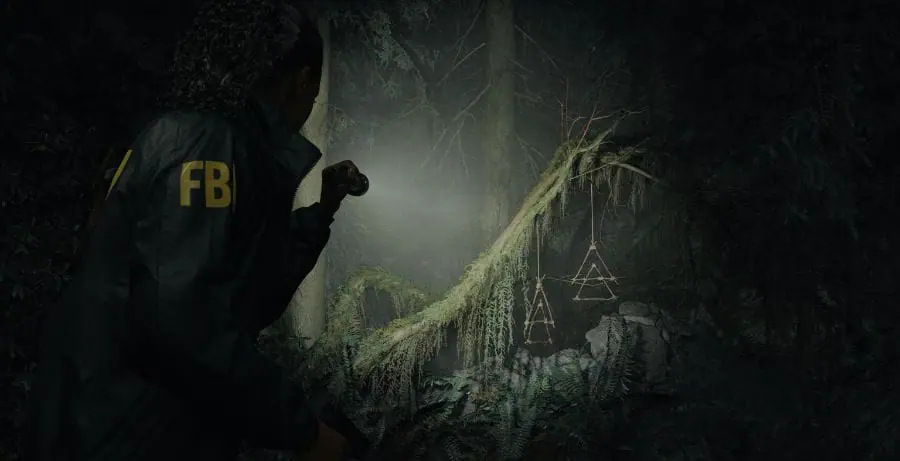 KYLE ROWLEY: This is the first time we've ever made a horror game. We've got some horror elements in some of our other games, and Alan Wake touched on that a bit. I think that when we were thinking about what kind of horror we wanted to create, we looked at what kind of horror we enjoy, not just in games, but also in other mediums in pop culture. For me personally, if I look back to horror games, things I've really enjoyed, Silent Hill was one of the ones that stuck out to me from a personal perspective, because it's less about the second jumpscares that get layered on top of each other. It's not about roasting the player out. It's all about the atmosphere, that sense of dread, the feeling that something's not quite right. We felt that that kind of lean as an inspiration worked very well with Alan Wake because it's more psychological. The narrative is like a more fundamental part of that horror experience.
I think it's important that we keep the player on their toes throughout the experience, but also, from the start of the game to the end of the game. What's the horror that you get from the start to the end? And what are the kind of questions that you ask yourself when you finish the game, like on a narrative level? And a lot of that comes from inspiration like A24 movies like Hereditary and Midsummer from Ari Aster, and [Robert Egger's] The Lighthouse and The VVitch, you know, those more modern horror films, which are more focused on the story and the narrative and characters and they go atmospheric…Those are the influences that we've been thinking about when trying to build Alan Wake II, but we do have jumpscares, as you say. They're a way to relieve a bit of the pressure. But we still want that sense of dread throughout the whole experience.
SAM LAKE: And a lot of it goes back to the idea of stylization and bringing together different mediums to build this experience. So using live-action and a lot of the horror flash visions that we are bringing in to show you and signify that the supernatural darkness is turning its attention towards you. All of that is stylized, live-action content that we have shot along the way.
KYLE ROWLEY: Yeah, I think one of the key things about the Alan Wake IP as well is that we didn't want to be like pure horror, like wall-to-wall horror. We wanted levity. So this is something that we there was even small town Americana quirky characters that you can have a conversation with, you can talk to people. We have quirky live-action footage that you can go check out. So I think that differentiates us from other kinds of horror games. We do have that kind of levity as well.
SAM LAKE: And for us, that also makes the world more believable and makes you care about the characters more when they are threatened by the horror [around] them, then it's all the more horrifying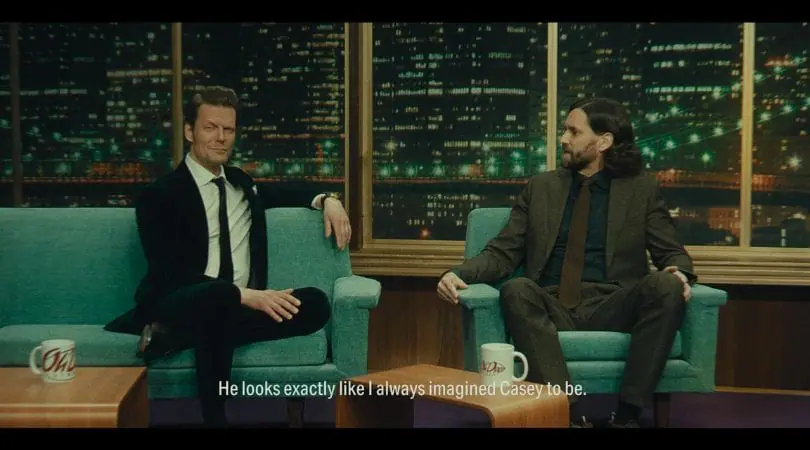 BUT WHY THO: One of the other things that intrigues me with a lot of IP is not just that a sequel game is a continuation of an existing story that plays to existing fans. But it also can be the first time somebody forms a new Alan Wake memory. What does it mean for Remedy to be creating potentially somebody's first exposure to the character in a new generation? What does it mean to let this be a gateway for new audiences who haven't met Alan before?
SAM LAKE: Yeah, for us, that was one of the first important discussions starting to work on this, that the fact is, it's been over 10 years, since the first game. So even if this is a sequel, it needs to be something that new players can easily hop into and enjoy. It could not be something that where the original Alan Wake—and this being a Remedy connected universe experience, meaning that it is drawing from Control—it can't be so that you would be required to do homework and play the earlier games. [Alan Wake II] has been designed with that in mind. It's a big game, bigger than anything we have ever created and it is standalone enough so that you can come in without knowing anything…You will be able to understand what's going on and what's happening there. Saga plays a role in this as well.
She is a new hero character who has not experienced the supernatural before the beginning of this game, and she's an FBI agent coming to investigate these ritualistic murders in a small town setting. Then, when the supernatural starts to creep in, she is adjusting, and she is learning, and with her, all of [the] players [are too], through her point of view [they] are learning about this as well. So it's been an interesting balancing act. We wanted this to work for somebody who doesn't know anything. And yet, it is a Remedy-connected universe crossover experience. It is a sequel to Alan Wake. So for returning fans of the previous games we've done, there is a ton of material to be discovered under the surface when you dig in and when you explore threads that we are picking up and continuing. It's kind of like optional story content that connects it back to many, many other things.
BUT WHY THO: For each of you, what do you want people to take away from the game when they roll credits? What do you want people to feel?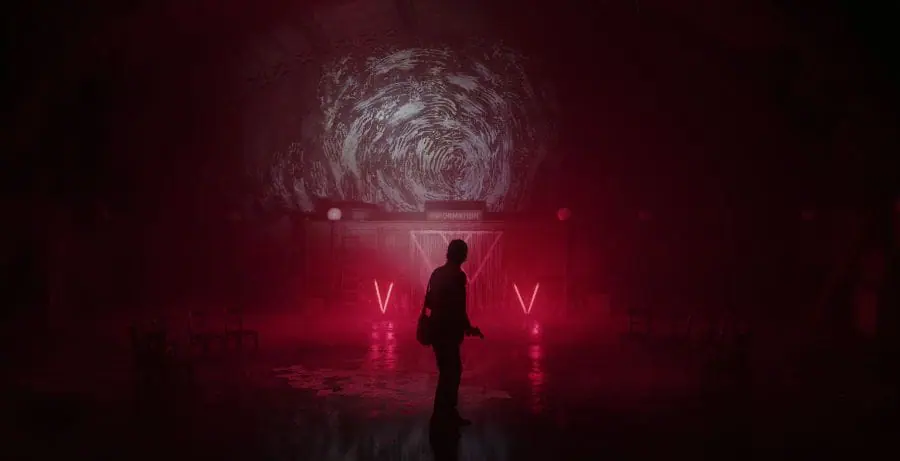 KYLE ROWLEY: I think for me, it kind of comes back to what we're talking about with horror. I would really like people to come away from the experience thinking and having it be an experience [that] kind of lingers in their mind, you know? Something that you think about after you finish it when you're having a shower or whatever. Mostly, it gets in your mind, and you're thinking about, "Okay, I'm going to play through it again," and you get a new perspective or a new context for the information game presented. So something that is longer lasting basically in people's thought process. I think that would be good for me.
SAM LAKE: I like that it is, by design, a very dense experience and we are giving a lot of control in the player's hands. They can essentially choose their own pacing…You can keep on playing as Saga until almost the end and then switch to Alan Wake and follow after, or vice versa, or keep switching between the characters. How it's been built, you will get different perspectives into things depending on the places where there are connection points, and on which side you read first. So, hopefully, it is something that motivates players to go back in and try it again. And maybe they missed something entirely on their first playthrough.
If we go back to the original Alan Wake and how he begins it, we have the Stephen King quote there about not explaining things and that's part of the poetry of fear. Alan Wake continues from there, saying that the unanswered mystery is what stays with you the longest and what you will remember.
In the end, this has been very much a part of crafting this experience. You will get plenty of answers to things that people may want answers for, but plenty of new questions as well, and fragments that you can keep, piecing together yourself to form your own theory. I would be really, really happy if people came out of this and it sticks with them…
---
Alan Wake II is available now on PlayStation 5, Xbox Series X|S, and PC via the Epic Games Store.