When watching David Yates' Pain Hustlers, it's not hard to ask why it wasn't made as a documentary instead—a question its flaccid mockumentary opening elicits and the rest of the tasteless experience reinforces. What would have been a prescient Big Pharma exposé is undone by an amalgamation of tired choices. Yates blends star power and multiple styles to evoke hard-hitting influences like Erin Brockovich and The Wolf of Wall Street, but his approach thoroughly lacks a pulse, taking us through familiar beats with little personality. As a result, the Netflix Original movie Pain Hustlers not only needs a higher dosage of fresh ideas, but a new prescription altogether.
The film's woes stem from its overstuffed screenplay, which centers on Liza Drake (Emily Blunt). Drake is a determined single mother who lives in her sister's garage with her mother (a criminally underused Catherine O'Hara) and her unruly daughter Phoebe (Chloe Coleman) who is battling seizures. Liza's desperation underpins the film, especially when she's evicted and forced to live in a noisy motel that carries the risk of sparking more epileptic episodes. She's in desperate need of a break, which comes to her in the form of the brash and cocky Peter Brenner (Chris Evans) who runs into her at a strip club she works at as an exotic dancer.
The two begin talking and he's immediately impressed, offering her a job that will put six figures into her bank account by the end of the year. It sounds too good to be true, and at first, it is, as he works at a struggling pharmaceutical company founded by Jack Neel (Andy Garcia). The startup sells fentanyl, which they promote as a non-addictive, fast-acting pain relief medicine for cancer patients. The only reason the drug hasn't taken off is due to predatory competitors, who keep doctors prescribing their medication by effectively bribing them. Liza's natural talents not only allow her to close a few sales but also start a pharmaceutical empire, one that helps usher in the opioid epidemic.
Pain Hustlers is nothing we haven't seen before, as it navigates a familiar rise-and-fall narrative. But the plot beats feel distinctly like items on a checklist being crossed off rather than genuine, earned moments. The story is full of Jordan Belfort-esque speeches, cutthroat sales pitches, and prolonged montages of hedonistic partying, but none of it feels earned. It's clear the film is trying to channel both the flair and edginess that Martin Scorsese brought to such stories, but in Yates' hand, it lacks substance. Resulting in an experience that struggles to generate interest, even in its wildest moments. It's no surprise that it runs out of steam in its first hour.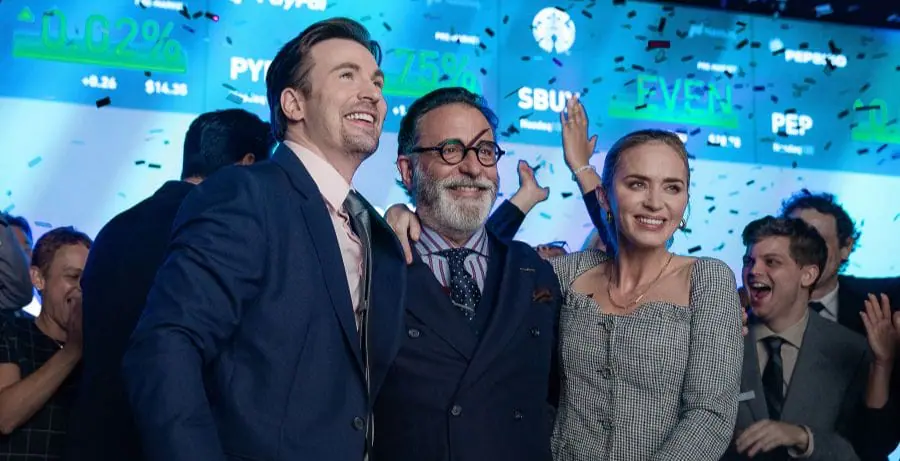 Moreover, Yates struggles to gain any empathetic footing to ground these sequences at all, caught between condemning the inhumanity of these companies and basking in their decadence. Instead of unfolding as a subversive critique, Pain Hustlers feels like it's cashing in on the tragedy of its true story, much like how its subjects do on the pain of their customers.
Similarly, the sonic and visual design of the film falters. On top of being blandly shot and lit, Yates employs a bevy of technical choices that undermine the emotional core of the experience. At each turn, viewers are greeted with eye-rolling freeze frames and juvenile sound cues (including an obnoxious "cha-ching" that feels ripped straight from a cheap soundboard), which feel like last-ditch attempts at injecting vigor and character into an otherwise lifeless experience. Couple that with long stretches of unnecessary voiceover and Pain Hustlers quickly begins to test its audience's patience.
If there is a reason to watch Pain Hustlers, it's Emily Blunt. She injects the surface-level proceedings with nuance, deftly tapping into Liza's moral reckoning with the source of her newfound wealth. She believes she's giving people, like her daughter, a chance at a life without pain, but is quick to ignore the other malady she is spurring on. Blunt has a clear understanding of the material without ever overplaying it.
The same can't be said of the rest of the cast. Evans, who has recently endeavored to subvert his clean-cut, Captain America image, brings forward his most cartoonish attempt yet. Though his performance is armed with some great one-liners, it never rises above being a caricature of Leonardo Dicaprio's Jordan Belfort. Garcia's presence adds little to the narrative, while O'Hara is primarily an afterthought, relegated to a third-act plot device. It's as lacking as an ensemble can get.
As a cinematic experience, Pain Hustlers struggles to justify its existence. It's the kind of movie best left on in the background as a tepid conversation starter that would have been more powerful and revealing as a documentary.
Pain Hustlers is streaming on Netflix on November 3, 2023.
Pain Hustlers
TL;DR
As a cinematic experience, Pain Hustlers struggles to justify its existence. It's the kind of movie best left on in the background as a tepid conversation starter that would have been more powerful and revealing as a documentary.