I was hesitant coming into Killers of the Flower Moon. Whether for runtime or concern that Martin Scorsese would do justice to the very real story of the Osage, I wasn't excited to sit down for the film. But once it started, I was unable to move or look away. Directed by Martin Scorsese and written by Scorsese & Eric Roth based on David Grann's best-selling book of the same name, Killers of the Flower Moon is an epic western crime saga that stars Lily Gladstone, Tantoo Cardinal, Leonardo DiCaprio, Robert De Niro, Jesse Plemons, John Lithgow, Brendan Fraser, Cara Jade Myers, JaNae Collins, Jillian Dion, William Belleau, and Tatanka Means.
Centered around one couple, Earnest Burkhart (Leonardo DiCaprio) and Mollie Kyle (Lily Gladstone), Killers of the Flower Moon is a story that may begin by looking at love, but quickly shifts into looking at racist greed. Based on a true story of the murders in Osage County (Fairfax, Oklahoma), the film tracks the suspicious murders of members of the Osage Nation, who became some of the richest people in the world overnight after oil was discovered on their land. But with that black gold came white people like William Hale (Robert DeNiro) who wanted it for their own.
While it is hard to watch the violence against the Osage (especially given my own identity) and specifically Osage women, Scorsese is not a voyeur so much as he is a man holding his audience to the brutality inflicted on the Osage people. More specifically, the white men who fetishize Native women only to throw them away and who murder them. They are villains and they are never depicted without guilt through Scrosese's eyes. This is clear from the beginning of Killers of the Flower Moon until the powerful end. "These blankets are a target," Mollie says to her sister and the audience and that is shown.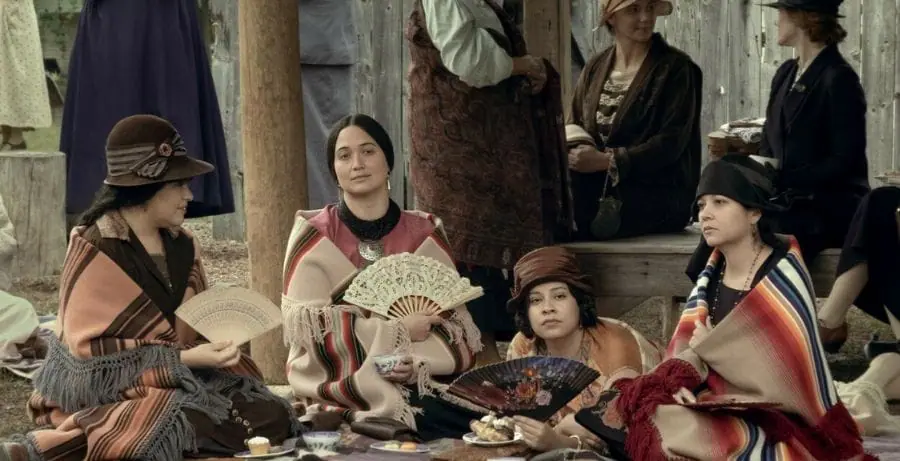 There are a number of scenes that are hard to watch but for the people who were really murdered in Osage County, their killer's violence has been glossed over for too long. Scorsese could have just used passive images of funerals and an approach signifying the loss of life as simple deaths. Instead, Scorsese shows that they were murdered and they were indisputably the victims of racist violence simply because they were successful.
With the inclusion of the Tulsa Race Massacre, which occurred during the time period of the film, it is clear in no uncertain terms that the racist power grabs were fueled by the constant dehumanizing of the Osage, regardless of whether these men learned their language or married into the families. There is no stone for the white people of Fairfax to hide under, and the villainy and evil are not contextualized in anything other than their racism and their greed. In one moment, towards the film's end, we see Earnest in a room filled with the white faces of power in the town. In shadow, in darkness, they stare with a presence akin to a predator. They're hungry and greedy and Scorsese presents them in their evil.
Forgiveness is not an option in this film, nor is apologetics for its leading male figure who stands in his guilt and remorse that does not erase his crime nor keep him from continuing to harm his wife. DiCaprio's Earnest is as much at fault as the King even though he was a pawn, as is anyone complicit in standing by and watching violence as a cog in the machine and ignoring it.
The true standouts of this film are the Native women at its center: Minnie (Jillian Dion), Reta (JaNae Collins), Anna (Cara Jade Myers), Mollie, and their mother Lizzie Q (Tantoo Cardinal). The largest among them being Gladstone's Mollie, earning her spot in cinematic history with her resilient, intimate, and powerful performance. She puts her whole self into the moments of grief, wailing in pain; her voice is still ringing in my ears. As a character, Mollie is determined and dedicated to her people. Knowing that she is fully well in danger, her vulnerability is present even in moments of strength.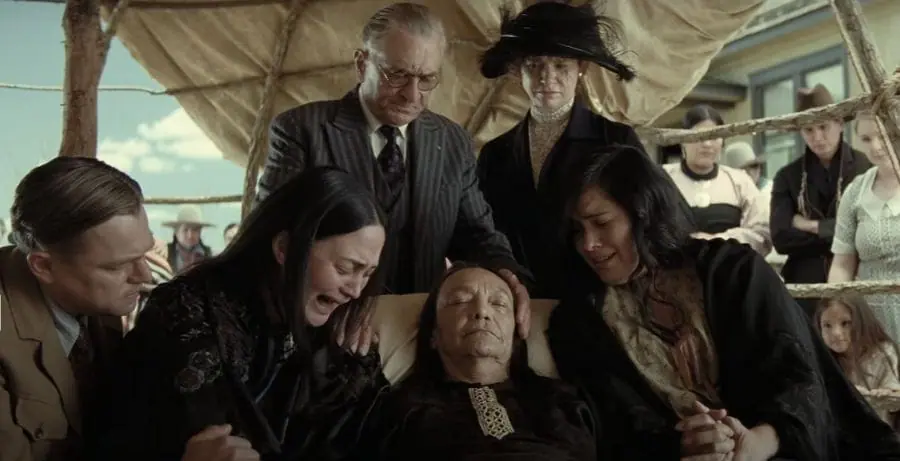 She is a woman steeling her heart after constant heartache and abuse. Her inner monologues cut deep and as the white faces in Osage County grow in number, her words call out. Forced to bear the weight of a grief no one person should feel but to also summon justice, Mollie is now one of cinema's greatest heroines, and in being a reflection of history, hers is a story that many should hear more about beyond celluloid. If anything, Gladstone's portrayal of Mollie should encourage viewers to see the real woman not just the one that is portrayed on screen.
It is clear that Killers of the Flower Moon is made for white audiences. Earnest, a man who conspired and acted to kill his wife's entire family and other Osage, is given a thread of remorse and love to hang himself with, and Scorsese uses it to point at the audience and show the face of complacency, a face they may wear. Earnest claims loves his wife, but the other Osage, they're fodder for his greed. He is the face of continuing to watch and make choices that let racism unfold and violence happen. Mollie's rejection of Earnest even after he "tells all the truths" is clear. It's a condemnation of complacency and the role it plays in violence against the oppressed.
Scorsese didn't make a film that completely centered Mollie, despite Lily Gladstone's Oscar-worthy performance. He made a film to put a white audience into Earnest's shoes and point out how violence festers and is allowed to consume oppressed communities whole. When you enter Killers of the Flower Moon understanding this, it becomes something like a tool, which there is absolutely space for.
In order to showcase the lengths that these white men went to steal and the depth of their violence, the film uses the entirety of the three-hour and thirty-minute run time. No corner is cut, and every injustice is laid bare for the audience to see. It is rare to see reverence given to Native women and even rarer to have their abuse called out so distinctly. With the last words of the film, "There was no mention of the murders," Scorsese and Roth issue a condemnation of the history books.
Killers of the Flower Moon is a gorgeous film with expert usage of black and white as well as color. The attention given to each murder and the time spent showing the viciousness of the murders in Osage County is not done for spectacle. No, it's done to leave the audience aware of the pain inflicted on the Osage, and by allowing it to stand out against Scorsese's usual style of filmmaking is a choice that offers weight. Additionally, the usage of real photographs of Osage people, of the Tulsa Race Massacre, and more allow the film to not just represent history in a time capsule but call out to it as well.
It's rare for a film to come along at this runtime and make every minute earned, but Killers of the Flower Moon does just that. There is nothing I would take away, nothing I would cut, and that is an achievement. The only thing I would change is to have more Mollie, to have more of her story and where it intersects. But that is a story for an Osage to tell.
Killers of the Flower Moon is playing nationwide on October 19, 2023 and streaming on Apple TV at a later date.
Killers of the Flower Moon
TL;DR
It's rare for a film to come along at this runtime and make every minute earned, but Killers of the Flower Moon does just that. There is nothing I would take away, nothing I would cut, and that is an achievement.