Yearly updates for sports video game franchises face the challenge of developing and releasing a brand new game in 12 months while trying to avoid just being a full-priced roster update. With NBA 2K24, the developers at Visual Concepts of 2K Games hope that New-Gen cross-play, all-new gameplay tweaks, and some updates to other game modes will be enough to entice fans, both new and old.
The pinnacle of professional basketball video games, NBA 2K24 once again lets players take to the courts as their favorite teams and players from across the sprawling history of the NBA. Players can either head straight to the floor for a one-off game between two teams of their choice or play a variety of game modes designed to immerse players in the whole basketball experience. Familiar modes like MyTEAM, MyCAREER, and MyNBA return with tweaks under the hood, like the ProPLAY animation update.
The core component of NBA 2K24 is the gameplay itself, and that's where the ProPLAY update is extremely important. Instead of using motion-captured footage from a handful of actors, ProPLAY captures real-life footage and moves to give what 2K calls the most authentic experience to date. It definitely lives up to those lofty expectations, too, feeling as fluid and realistic as ever. Players flow across the court to the basket, and it doesn't take long to get a good handle on playing like your favorite players in the NBA.
Some of the realism does make the gameplay slower, a long-standing consequence of sports games aiming for more realistic gameplay, so the faster-paced arcade-style gameplay is virtually nonexistent now by choice. Lowering the difficulty does simplify some of the new moves and controls, giving that more classic, fast-moving gameplay some players might be looking for. Still, as a whole, it mostly aims to be as realistic as possible, which inevitably leads to a much slower pace with more deliberate actions.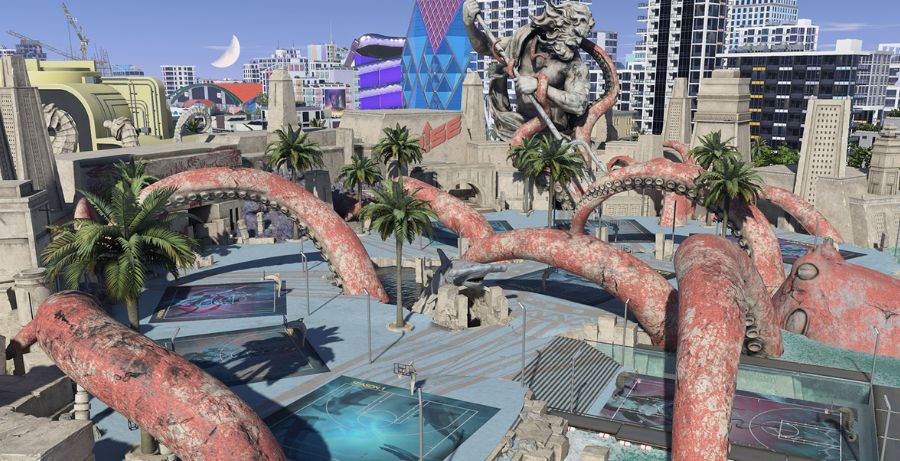 The most popular mode in NBA 2K24 is the MyCAREER mode, and it's clear that most of the attention to detail was applied here. Players create their own NBA prospect and can choose a custom build or model their new player based on a current NBA star. These choices affect the potential skill levels and playstyle for the created player as they grow throughout their career, so choose carefully.
Once a player is created, they are tossed right into The City, the main hub of the MyCAREER mode. The City is billed as a massive and vibrant location full of non-player characters and online avatars from other players. This beachfront city features all sorts of sidequests and streetball games that players can engage in as they build the reputation of their character.
The only real issue is The City is an absolute slog to traverse and looks incredibly outdated for a New-Gen game. Competing in small-scale games on the blacktop can help improve your character, but it's a challenge to want to do so when playing in The City feels so bad. The City does feel a bit more manageable than it was in NBA 2K23, but it still has a long way to go before it's something players will actively look forward to spending time in.
A slight change in the MyCAREER mode is the actual player storyline. Instead of taking on the role of a plucky underdog, players are placed in the shoes of an up-and-coming superstar destined for greatness. The plotlines now deal with handling the pressure and living up to the hype of stardom instead of trying to prove people wrong. It's a small but welcomed refresh to a storyline that had become tiresome in recent years.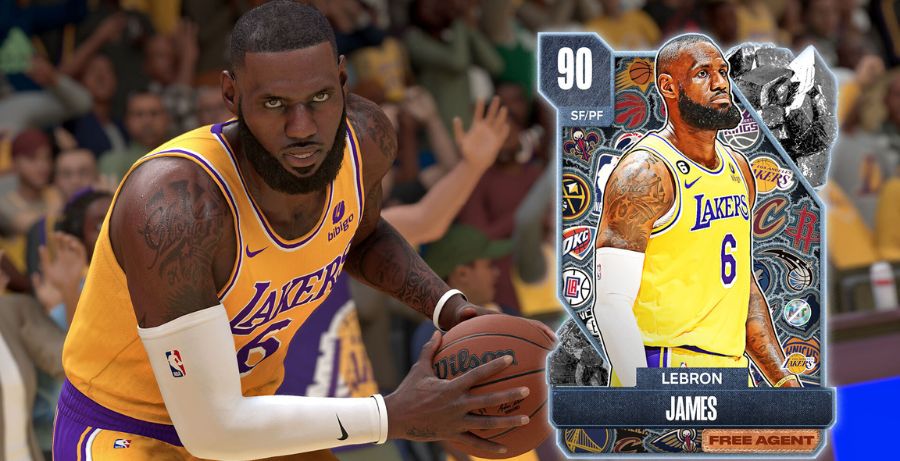 MyTEAM is 2K's answer to EA's Ultimate Team and MLB The Show's Diamond Dynasty, where players unlock players via cards that can be bought, sold, and upgraded to create the ultimate fantasy team of basketball legends. The core gameplay loop of unlocking new cards to improve your team remains largely untouched, although a new player market has been introduced to allow players to buy the player cards they are looking for instead of just relying on luck in opening packs. There is also a new Salary Cup mode that limits players to fielding a team under a certain salary cap, theoretically keeping the teams as even as possible, and takes place over three two-week rounds each season. There hasn't been a chance to see how this mode will play out in practice yet, but in theory, it sounds like an interesting addition to help keep MyTEAM from feeling as frustrating.
The addition of the player market highlights the problem of MyTEAM still being 2K's cash cow which promotes an absurd amount of spending to build a better team. There are plenty of options to painstakingly grind out points to buy new cards or packs, but why do that when you could spend real-life cash to either gamble on card parks or pay the market price for a specific player without the hours of effort? It would have been nice to see the game move away from these microtransactions instead of embracing them even more, but it is not surprising considering how much the mode brings in each year.
MyNBA allows players to take control of their favorite NBA franchise from one of five eras across the history of the NBA. Choosing from the Magic vs. Bird era, Jordan era, Kobe era, Lebron era, and the modern era allows players to play as some truly legendary teams. Having the choice to either re-live your favorite team or player's success or change the entire era and send it in a new direction is a great option to have and is quite fun in practice, too. Hopefully, future games will add even earlier generations to the MyNBA mode, but for now, the five available ones are more than enough to satisfy.
New to MyNBA is the MyNBA Lite mode. MyNBA Lite is a simplified MyNBA mode that takes away many salary and trade rules and simplifies others to facilitate some of the best scenarios players can dream up. Want to put together the ultimate dream team without caring about the cost? MyNBA Lite is the perfect place to do so. It is great to finally have a more streamlined MyNBA mode that gets players straight to the fun instead of being a full management simulator, and it's a change the mode has needed for some time. Future games should look to add older eras to the MyNBA Lite mode as well, allowing for even more options for players to enjoy.
Replacing the Jordan Challenges from the last game comes the new Mamba Moments, honoring cover athlete Kobe Bryant, who tragically passed away in a helicopter crash along with his daughter Gianna in 2020. Kobe is widely considered one of the greatest to ever play the game of basketball, and these Mamba Moments let players re-live some of his most iconic highlights from across his 20-year career. The moments are not too challenging but are fun and rewarding to play through. More of them for different players, too, might have been nice, making the mode more expansive than just focusing on one player a year, but it was nice to get to play in Kobe's shoes in NBA 2K24.
The WNBA is also present in NBA 2K24 in The W and MyWNBA modes, their versions of MyPlayer and MyNBA. Unfortunately, neither of these modes is as fully fleshed out as their NBA counterparts and sometimes feels like afterthoughts. The player creation system in The W isn't nearly as robust as it is in MyPlayer, and MyWNBA does not feature other eras or the Lite mode that makes MyNBA feel refreshed. NBA teams and players have done a lot to promote the WNBA over the years, but NBA 2K24 falls short in bringing it to players at home the same way it does for the NBA.
NBA 2K24 features revamped gameplay through ProPLAY and small game mode tweaks that make it a worthwhile upgrade. Not everything is perfect, and there is still so much room for growth in future games, but NBA 2K24 is a promising step forward in a franchise that has been complacent in recent years without any real competition.
NBA 2K24 is out now on PlayStation 4, PlayStation 5, Xbox Series S|X, Nintendo Switch, and PC.
NBA 2K24
TL;DR
NBA 2K24 features revamped gameplay through ProPLAY and small game mode tweaks that make it a worthwhile upgrade. Not everything is perfect, and there is still so much room for growth in future games, but NBA 2K24 is a promising step forward in a franchise that has been complacent in recent years without any real competition.