Strong Girl Nam-soon started strong with the introduction of our main cast of characters, with Nam-soon and her family standing out among the pack. Who can blame them, though? This eccentric family is full of charm, zany power levels, and personalities all possessing a heart of gold. Now that Nam-soon (Lee Yoo-Mi)has a brutal awakening as to what South Korea has in store, what is next for our heroine? Strong Girl Nam-soon Episodes 3-4 features a much-needed reunion and the set-up for the next phase of the series focusing on the drug trade.
Episode 3 starts off with Nam-soon accidentally meeting up with her father, Gang Bong-go (Lee Seung-joon), who immediately emotionally crumbles when he's face to face with his daughter. This near-reunion is thwarted by fate when Nam-soon gets a phone call from Lieutenant Gang Hee-sik (Ong Seong-wu), who shares that the scammer from Episode 2 has been found as has her passport and belongings. With this news, she runs to the station, leaving her awestruck father behind.
It's a busy episode for the strong girls. The threat of charges has been levied against Nam-soon for her actions against the volunteers from the previous episode, but she's unapologetic. It is through this incident that the police officers are awed by footage taken of Nam-soon during the fight. She's like a supergirl, and Hee-sik easily can see the potential behind her spying on him a couple of nights prior.
Keeping to the police action of Episode 3, Nam-soon's grandmother, Gil Joong-gan's (Kim Hae-sook), finds herself at the station after flipping a rude person's car upside down. It is here we get more backstory behind her legacy. In a flashback sequence, in 1983, we see a much younger Joong-gan beat up entire gangs to make things safe again for the local meat district. With her trade centering around meat, the connection is clear on how she's made her reputation and fortune.
This leads us to an amazing cameo from both Park Bo-young and Park Hyung-sik, who reprise their roles as Go Bong-soon and Ah Min-hyuk respectively. Bong-soon finds herself held for questioning in the Gangnam police station. Min-hyuk is there to bail her out. The exchange reaches Joong-gan's ears, and the two strong women have a quick heart-to-heart. Considering the slowly escalating crime in Gangnam, methinks this may not be the last we see of either Bong-soon or Ah Min-hyuk.
More movement is made towards the drug plotline in Strong Girl Nam-soon Episodes 3-4. In Episode 3, Hee-sik and his squad, after learning of a woman they inspected coming from Mongolia dying, start diving deeper into how the drug is delivered. They also learn that the drug suppresses appetite over time after discovering there is no food in the dead woman's apartment. But that's not the only thing distracting him in this episode. Nam-soon is at the forefront of his mind. More specifically reuniting her with her mother.
While looking into the passengers from Mongolia, he puts in a request to locate missing persons that would have been around 6-10 when Nam-soon says she was lost. When a record comes back with Nam-soon's name, Hee-sik is able to find her parents. Someone wants to interfere with this reunification — Lee Hwa-ja (Choi Hee-jin). Having gotten a taste of the high life, Hwa-ja will do anything in her power to squash any possibility of having it taken from her. This despite the fact that both Joong-gan and Hwang Geum-joo (Kim Jung-eun) already deduced that Hwa-ja is lying.
Learning that the real Nam-soon has set up ger in the middle of a public park, Hwa-ja takes her gang to destroy it. Nam-soon spies it using her supervision and tries to stop the destruction. Instead, she has to fight these baddies for disturbing her temporary home yet again. While the gang gets their comeuppance, Nam-soon and her new buddies, Ji Hyun-soo (Joo Woo-jae) and Noh Son-saeng (Park Gyeong-ree), are now back to being homeless again. Hee-sik, magically, witnesses the fight and offers Nam-soon a temporary place to stay. Hyun-soo and Son-saeng are left to fend on their own, which is kind of a butt move on Hee-sik's part.
All of this ultimately culminates in a call from Hee-sik to Geum-joo to arrange the reunion between her and Nam-soon. But it doesn't quite go as expected. On her way to the meet-up, Nam-soon hears the sound of sirens and runs over to discover a fire (conveniently accidentally set by someone on that mysterious drug) and the sound of screaming children in a building. Here is where we see Nam-soon's endurance tested. As she pushes herself repeatedly, actress Lee Yoo-mi easily captures the wear and tear of exhaustion on her poor body.
Geum-joo sees her efforts from afar and rushes to try to save her. Just as they see each other eye-to-eye at the top of the building, a dramatic burst of flame pushes Nam-soon out. They both fall dramatically to the ground, and that's where Episode 3 stops.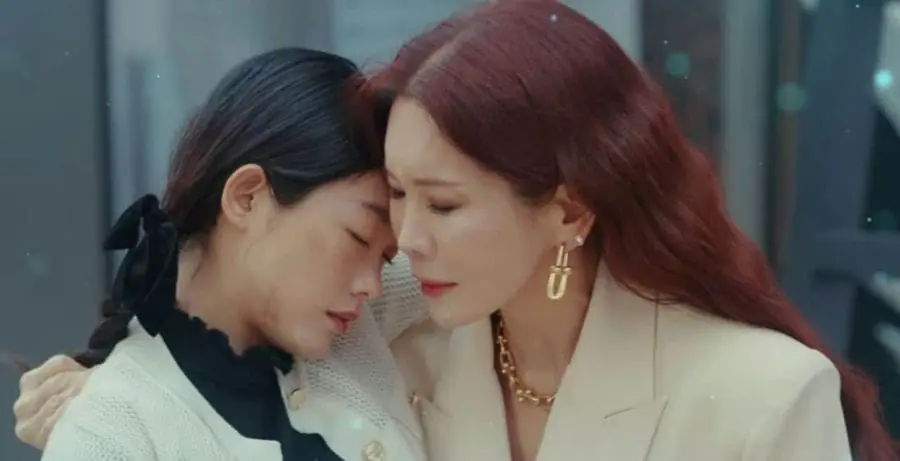 Strong Girl Nam-soon Episode 4 starts off right where things left off — dramatics. With some questionable body wire-work placement (gravity works against Yoo-mi in this visual set-up), the heartfelt reunion between daughter and mother is complete. For the bulk of the episode, we watch as Nam-soon reunites with her family, starts acclimating to their lifestyle via a makeover, and the subsequent pros and cons of everyone being together again.
Starting with the pros, because of their positive involvement in her journey, Geum-joo locates Hyun-soo and Son-saeng to reward them. Giving them both a substantial amount of money and a place to stay, the homeless couple's fortune changes overnight due to the kindness they showed to Nam-soon early on. No longer having to worry about where their next meal will come from or where they will rest for the night. So far a good shift in luck for honestly one of my favorite couples out there.
As for the cons, Hwa-ja's deception has been revealed, forcing her to go on the run and change her identity. This leads her to one of Ryu Shi-O's Doogo warehouse factories. Now that they've opened up jobs for women at the warehouses and masks are more widespread, she can easily hide her face with no problems. Unfortunately for her, later on in Episode 4, she comes close to meeting Nam-soon and Hee-sik face-to-face as they go undercover to find drugs.
This leads to the messier part of Strong Girl Nam-soon Episode 4. While the reunion of the family is central to the episode, here is where Strong Girl Nam-soon not so gracefully transitions into focusing more on the drug plotline it's been working into the series. It comes in bits and pieces until the last quarter of the episode, but after discovering that one of the dead woman's masks from the previous episode dissolves into a powder once exposed to liquid, Hee-sik and his squad determine the source as being from Doogo.
Because of Nam-soon's incredible strength and Geum-ju's invested interest in figuring out the increased drug trade in Gangam, Nam-soon going undercover to help out Hee-sik makes sense. It also builds in easier opportunities to build up a potential romance between the two. Considering how Hee-sik is now constantly thinking of her and Nam-soon commenting on his handsomeness earlier on, it seems like a recipe for success.
Most distractingly, but also most hilariously, the writers have thrown in a sideplot in Strong Girl Nam-soon Episodes 3-4 of her working on set to make money. While it served a purpose in Episode 3, in Episode 4, it distracts more than anything and makes the episode drag longer than it needs to. That's not to say the humor isn't well-executed, but the sidebar into the plot point isn't helpful for the flow.
There's still not a whole lot revealed about our resident baddie, Byeon Woo-seok's Ryu Shi-O, in Strong Girl Nam-soon Episodes 3-4. But we do get a little bit more to work with and form a picture. After a meeting with Geum-joo at The Heritage Club, it's revealed that both of them are the only "new money" members, meaning they are self-made. We also learn that his company (similar to Temu or Amazon) is about to open up further into the market, so there's more pressure for expansion. His announcement that the company will hire female workers is a marketing strategy, but also a lure to find Nam-soon. He's not entirely certain that what he saw is real, but he's determined to find out. This will likely set up a future conflict between the two in later episodes.
Strong Girl Nam-soon Episode 4 ends with Nam-soon and Hee-sik breaking into a Doogo warehouse late at night. Given Nam-soon's lack of subtlety and Hee-sik likely not knowing what to expect from her ever, it seems likely that the two are going to fumble the bag in the upcoming episodes. That and a possible first round of showdowns between Nam-soon and Shi-O.
Strong Girl Nam-soon Episodes 3-4 has a lot going for it plot-wise. There's a lot to appreciate with the writers not dragging out the reunion between Nam-soon and her family compared to other series. Wrapping up this point so quickly allows for other avenues to be explored. In this case, the team can pivot entirely to the Doogo-focused drug storyline and subsequently, the development of Nam-soon's and Hee-sik's relationship.
The humor of the series continues to be top-notch, with the buddy comedy as well as poking fun at the specificities of honorifics in Korean playing a huge part in the jokes onscreen. As someone who has been dinged for getting titles and such wrong in languages, it was a moment that many will relate to. Not as successful are the jokes poked at Nam-soon's brother's weight by Bong-go. It's 2023. Do we really need to body shame still?
While Strong Girl Nam-soon Episodes 3-4 readies us for what is to come. The humor continues to stay its course, barring some cringey fat jokes. Nam-soon and her family are beautifully eccentric, with each one being as memorable as the next. With the set-up in place for some high-intensity stakes in the following episodes, will the humor and good will continue to stick around? We'll just have to wait and see.
Strong Girl Nam-soon Episodes 1-4 are now available on Netflix, with new episodes airing on Saturdays and Sundays.
Strong Girl Nam-soon Episodes 3-4
TL;DR
Strong Girl Nam-soon Episodes 3-4 has a lot going for it plot-wise, but it's readying us for what's to come.