I have never cared about Elvis Presley or the Presleys in general. As American icons, I understand their impact but I have never been moved by them. Then I sat for A24 and Sophia Coppola's Priscilla, a biopic adapted from the autobiography entitled Elvis and Me by Priscilla Presley and Sandra Harmon. Too often, men who become icons have their rough edges smoothed. Priscilla lays one bare: his marriage and romance with a 14-year-old Priscilla Beaulieu.
That said, the film doesn't approach their marriage and relationship as anything other than love. One that was acknowledged by everyone around them as a bad idea, but love nonetheless. The film doesn't try to hide her age, in fact, it does the opposite, calling attention to it throughout and never removing it from the forefront of the film, primarily in how it played into allowing Elvis to exert control over her life. Her hair, her clothes, her ability to work.
It's jarring to see the love grown from Priscilla being asked by a man to attend a party at Elvis Presley's house, a man who is already a meteoric rock-and-roll superstar. What begins as a crush develops into something more as they spend more time alone and more time together as Elvis bears his soul to the child. He says he needs her for his mental health, using his vulnerability and loneliness as a key to Priscilla's heart.
Sofia Coppola uses reality to make her audience uncomfortable, always calling to her age, in her clothes, her nails, and her approach to the world. Coppola tells the unseen side of a great American myth in Elvis and Priscilla's long courtship and turbulent marriage, from a German army base to his dream-world estate at Graceland, in this deeply felt and ravishingly detailed portrait of love, fantasy, and fame.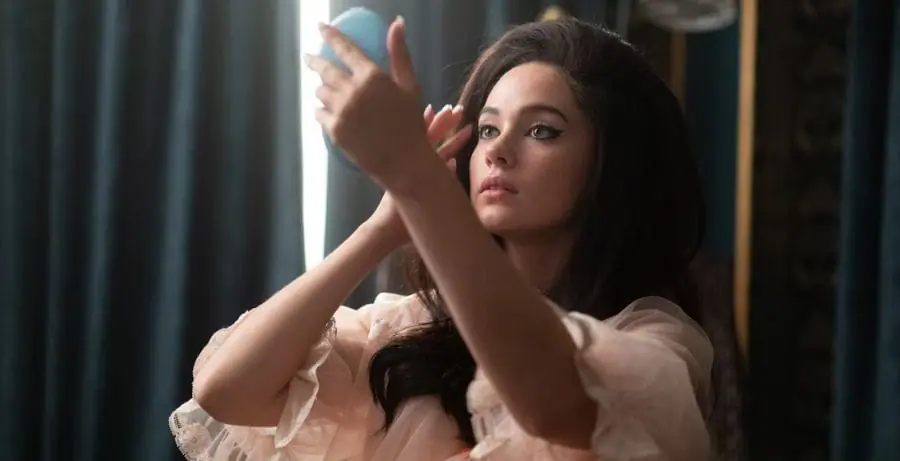 As Priscilla, Cailee Spaeny is a quiet storm of emotion. Pulled by the world but trying to hold onto anything that can be her own, we watch Spaeny expertly move from school girl to mother and the stages in between. Spaeny understands how to act with no dialogue, with some of the film's most impactful moments coming while surrounded by quiet. Whether it's Priscilla putting on make-up to give birth or sitting in different places in Graceland awaiting a man whose presence is always requested but hardly granted.
For his part, Jacob Elordi is charismatic, endearing the audience immediately with his height and demeanor. His drawl moves from charming to menacing as we see him explode at Priscilla. His height moves from being attractive to intimidating. A chameleon takes on the shifting vision of her husband as it degrades with the years in their marriage.
The most effective choice in Priscilla was the choice to cast the leads. While the real-life Elvis was 6'0″ and Priscilla was 5'4," that six-inch difference is made gargantuan by casting the couple as 6'4″ and 5'2." This drastic height difference makes it so that Priscilla seems child-like and doll-like throughout the entire film. To be dressed and put on a shelf, only to be taken down and played with when Elvis desired.
Seen as a child and as a toy throughout her marriage, the frustration she carries is deep, but her love for the man who claims to need her is deeper. In one moment, she is infantilized, and in another, she is asked to carry the burden of Elvis's mental health. But she is never seen as a woman with needs, wants, or a future.
Even in the moments when the young girl tries to make herself look older, it doesn't work. This allows the audience to stay in a level of discomfort as they watch the relationship in front of the disintegrate. The only time she begins to look mature is when she begins to move out from under her husband's thumb. That said, the costuming of the film, by Stacey Battat, presents a beautiful element of visual narrative design as Priscilla introduces brash patterns into her wardrobe, one of the things Elvis hated to see her in. Priscilla's clothes become small acts of agency, small reclamations of the self that grow over time.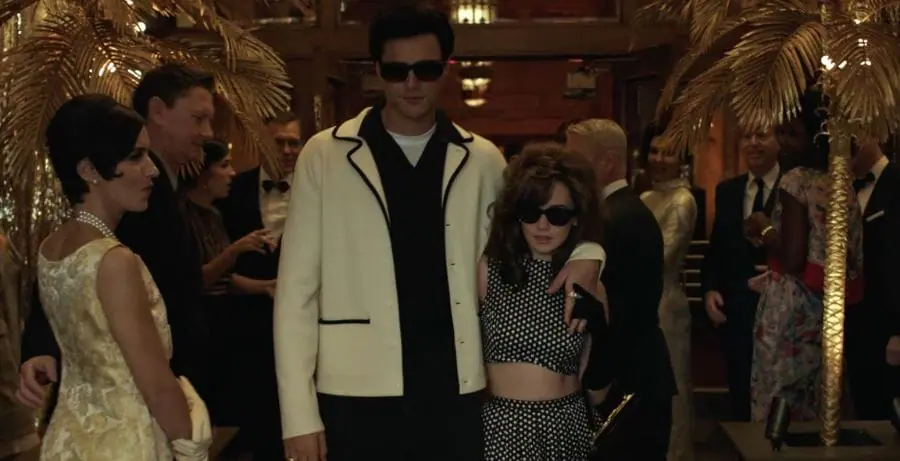 This biopic captures love, but it also captures the somber loneliness of that love. Priscilla is moved through the world for the first two acts, propelled for or by others, and that's by design to highlight the control others exerted on her. Sofia Coppola captures that emptiness beautifully in pastels and with grand spaces.
And yet, while the film captures Priscilla's sorrowful heart, Coppola also captures the love. It's the ability to capture the love that makes the film all the more gutting as we watch Priscilla try hard to hold on to who she is in her marriage. They love each other, but nothing in their histories or their futures was right. The ability to craft a love story that is both uncomfortable and sincere and troubled and empty is a difficult task, but Coppola takes Presley's life in all of its complexity and lays it bare.
Priscilla excels in the intimacy it puts on display in quiet moments of our lead alone. Alone in a large room surrounded by beautiful things. Alone on a bed shutting the door to drown out the noise. While some may be underwhelmed by Coppola's measured approach that stands in exact opposition to the loud and glamourous identity prescribed the Presley name, it's the perfect way to interrogate the life of a woman held in place by misogyny as much as love.
Never once does the film feel voyeuristic; instead, it feels as if the audience is living inside Priscilla's head. Watching everything unfold through her perspective, holding onto hope despite the narrative and violent moments of anger that erupt and make you question Priscilla's safety. To do this, we see Elvis shift over the course of the film, becoming more and more unbearable as the charm and glamour fall away. I would say that we watch Priscilla fall out of love with Elvis, but instead, we watch her fall in love with herself, choosing herself instead of him for once in the film's finale.
No part of me expected to become enamored with Priscilla's story, but this eponymous film did just that. It pulled me into her life as much as her love, her loneliness as much as the sparkle, and when she found her liberation, I sat there in silence. Priscilla is epically melancholy and wholly beautiful.
Priscilla is playing nationwide on November 3, 2023.
Priscilla
TL;DR
Priscilla is epically melancholy and wholly beautiful.