Sofia Coppola is one of the most established filmmakers of her generation. With a proclivity toward stories about girlhood/womanhood and the expectations that come with it, she hones in on the isolation borne from it. She's spent her career using the artifice and stereotypical touchstones of girlhood — lace, frills, the color pink — as her cinematic weapon. With her latest, the quietly powerful Priscilla, in theaters, we've ranked all eight of the feature-length films by Sofia Coppola.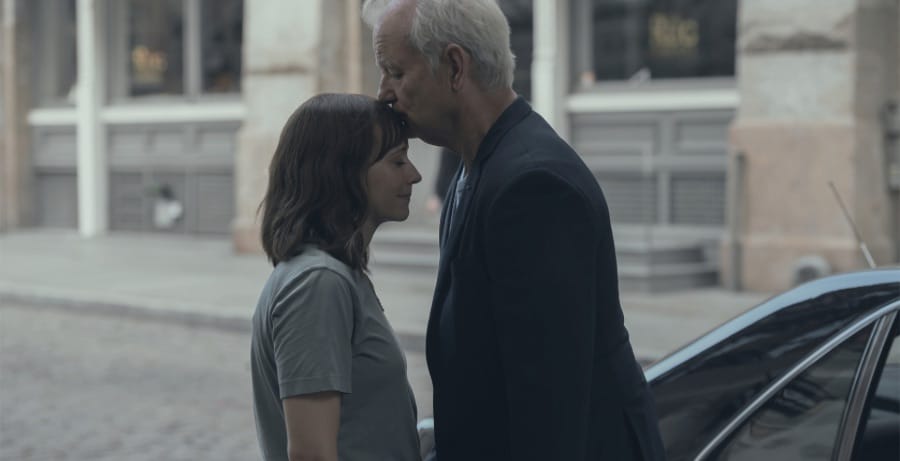 Bill Murray and Rashida Jones star in this aimless comedy written and directed by Sofia Coppola. One of the very few — if not only — films by the director to fall flat, the film fails to distinguish a necessary angle or tone to drive the story. Jones plays a young mother who reconnects with her father, Murray, a "larger-than-life-playboy" as they engage in escapades throughout New York City. Aiming for an effervescent, madcap tone as the two seek to expose a potential extramarital affair, the story overstays its welcome with a less-than-engaging chemistry between Jones and Murray. At the very least, as always when it comes to a Coppola film, it looks great.
7. The Bling Ring (2013)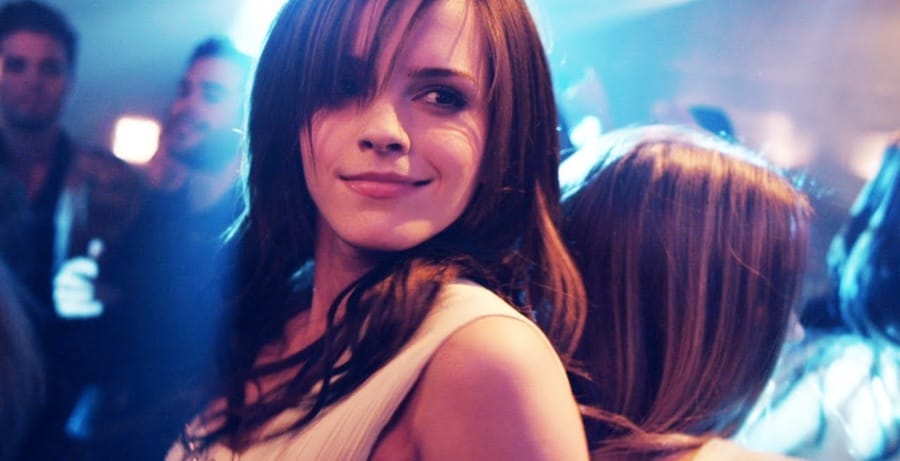 In part due to the nature of the story it's telling, The Bling Ring is about as vapid as its characters. Failing to fully explore the consequences of privilege and gone rogue adolescence depicted through the era of celebrity domination, the film can't quite reach the heights of Coppola's very best. Inspired by real events, the film follows a group of fame-obsessed teenagers who use the internet as a means to trach famous celebrities in order to rob their homes. It's a storyline of the vanity and unsatiable quality of certain adolescent ennui that seems tailor-made for Coppola's touch and yet it flounders. That said, it's perhaps the best usage of Emma Watson as an actress and the soundtrack is phenomenal.
6. The Beguiled (2017)
Handsomely dressed with lavish set design and the softness that often belies an inner darkness in Coppola films, The Beguiled is a visual feast. While it fails to dig deep into some of the intricacies of its story, it's a gorgeously crafted film with patient storytelling. Nicole Kidman, Kirsten Dunst, and Elle Fanning star as women residing in an all-female Southern boarding school whose lives are disrupted by the arrival of an injured Union soldier — played by Colin Farrell. The greatest strengths come through the subtlety of its visual storytelling, the lingering looks between guests and hosts, the shrewd observations of toxic envy, and the female gaze. It doesn't captivate at every beat, and there's a notable, much-debated controversy regarding the whitewashing of the original text by Thomas P. Cullinan. That said, in its finest moment it brandishes claws only barely concealed under the corsets and florals.
5. Somewhere (2010)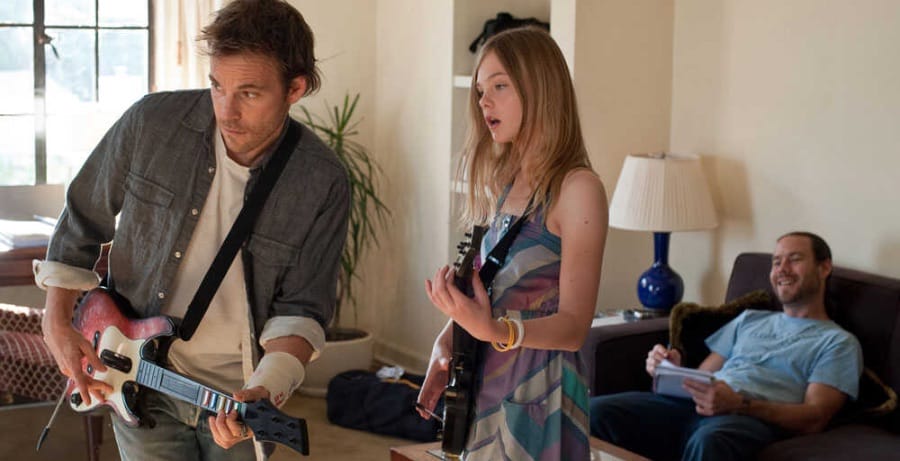 A primer for 2022's Aftersun by Charlotte Wells, Somewhere too tells the story of a wayward father reconnecting with his young daughter on holiday. Stephen Dorff stars as an actor known for his bad boy image as he recuperates from an injury at Beverly Hills' Chateau Marmont. He receives a visit from his young daughter, played by Elle Fanning, as the film goes on to explore shifting expectations in this pool-lit twist on the coming-of-age story. Demonstrative of how change is possible at all stages in life as well as self-enlightenment, the story is as meandering as it is contemplative, capturing the differing points of view of father and daughter that are both charming and devastating. Unlike The Bling Ring, Somewhere manages to bottle the disillusionment with fame and celebrity, as characters, namely Dorff's Johnny, grapple with what happens when what you'd originally thought you wanted isn't enough.
4. Lost in Translation (2003)
The film that made her a mainstream name with an Oscar nomination for Best Original Screenplay, there will be plenty who argue that Lost in Translation is number one on this list. I don't blame them but therein lies the brilliance of Coppola at her best; there are at least four or five of her films that could, feasibly, be argued as her best. In the case of Lost in Translation, it boils down to a few things. On the one hand, the direction and cinematography expertly depict the severity of isolation and the significance of finding another lost soul in a new place to connect with. It's gorgeous, enriching filmmaking that paints a picture with her expected pastel palette. But it hasn't aged well and that, plus the brilliance of her other films, has this sitting in the middle of the pack.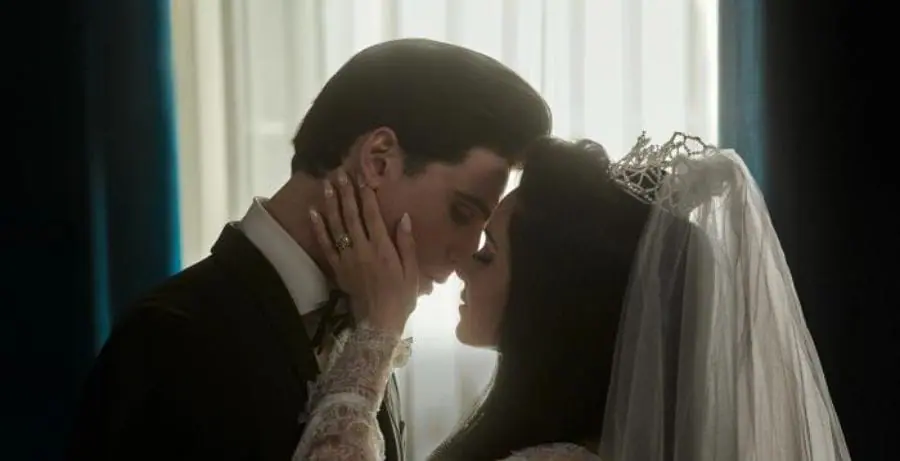 "Priscilla excels in the intimacy it puts on display in quiet moments of our lead alone. Alone in a large room surrounded by beautiful things. Alone on a bed shutting the door to drown out the noise. While some may be underwhelmed by Coppola's measured approach that stands in exact opposition to the loud and glamourous identity prescribed the Presley name, it's the perfect way to interrogate the life of a woman held in place by misogyny as much as love.
Never once does the film feel voyeuristic; instead, it feels as if the audience is living inside Priscilla's head. Watching everything unfold through her perspective, holding onto hope despite the narrative and violent moments of anger that erupt and make you question Priscilla's safety. To do this, we see Elvis shift over the course of the film, becoming more and more unbearable as the charm and glamor fall away. I would say that we watch Priscilla fall out of love with Elvis, but instead, we watch her fall in love with herself, choosing herself instead of him for once in the film's finale."
2. The Virgin Suicides (1999)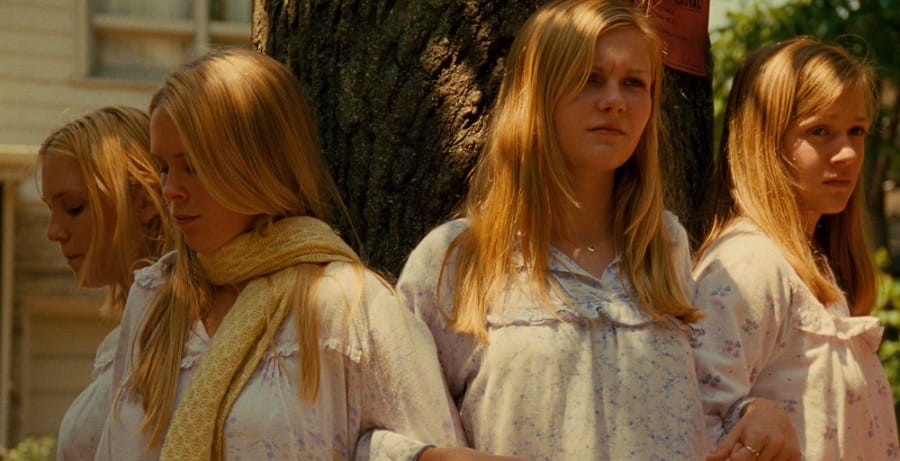 Regular Coppola muse Kirsten Dunst stars in The Virgin Suicides, Coppola's first feature-length film. Based on the novel by Jefferey Eugenides, this pastel nightmare designed as a dream follows a surface-level "ordinary" suburban family in the 1970s. Shot through the eyes of neighborhood boys, the story follows their obsession over the Libson sisters, blonde and shot with deliberate, misleading whimsy, who are all doomed to a troubled fate. Despite the violence at its center and the mystery that surrounds this family who continue to lose their daughters to suicide, the film creates a beguiling atmosphere that skewers the narrators, their male gaze, and the infatuation with troubled, beautiful, dead women. By leaning into the pastel pinks and dreamy lighting, Coppola is able to lambast that type of fetishization with acute precision while maintaining her own defiant girlhood.
1. Marie Antoinette (2006)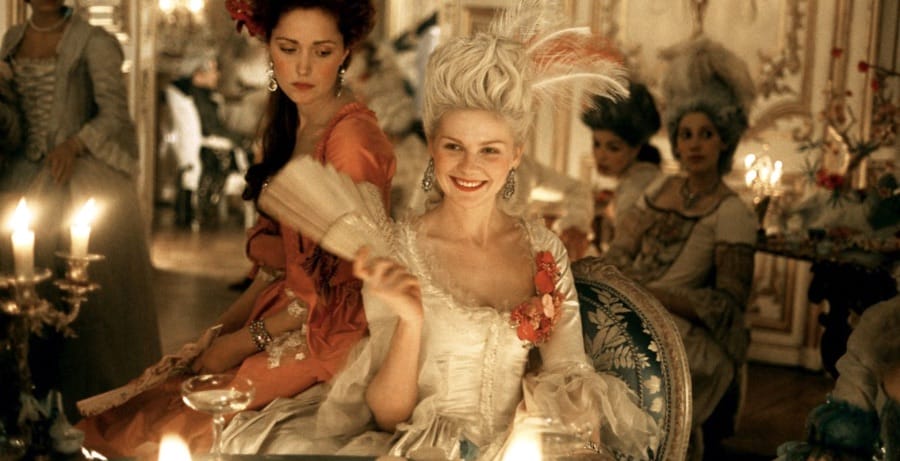 A startling, rebellious recount of history, Marie Antoinette best represents what makes Sofia Coppola such a fascinating and incredible filmmaker. Blending modernism with historical touches in costuming and set design (spot the pair of Chucks in one of the montages) the film tracks the life of Marie Antoinette (played, again, by Kirsten Dunst) as her rise from Austrian teenager to the queen of France. Similarly to this year's Priscilla, the film highlights the gilded cage of the limelight.
More interested in the integrity of this young woman's life than the indelible mark she left on culture, Marie Antoinette is Copola's most textured, exploration of extravagance. Aided by the cinematography by Lance Acord that, paired with Copola's direction, is always able to find pockets of isolation on screen with Dunst's figure backdropped by finery, the film is a study of tactility. The emotional potency is never lost though and, accompanied by another killer soundtrack, beautifully encapsulates what it means to be a young woman in an ever-changing world with all eyes upon you and your triumphs and mistakes.
---
Priscilla is in theaters nationwide now.