In the real world, UFC as an organization has little competition when it comes to producing the best MMA content for fans to enjoy making it the most exciting option but also the only real option. In gaming, it is much of the same with very few MMA games available to compete with EA Vancouver's, EA Sports UFC 5. For EA's latest installment, the question becomes: How do you continue to improve when there are no challengers? EA Vancouver seems to understand this challenge, as UFC 5 demonstrates a commitment to revamping key aspects of the franchise to keep from feeling like just another yearly release of a sports game.
As soon as UFC 5 boots to the main menu, there is no shortage of ways to get into the octagon and mix it up. Players are offered a variety of game modes, including Fight Now, which includes Kumite-style endurance matches, Contract Matches, a career mode, and Fight Week, letting players compete in the matchups for the next live UFC Card. No fighting game would complete, of course, without a standard online mode that puts players in unpredictable battles against human opponents. With the addition of an online career mode, online for the franchise has never been better.
As someone who has played his fair share of EA's Fight Night series to become the heavyweight champion of the world, I was most excited to jump into the career mode. Creating your fighter is a satisfying experience, with options available for both male and female characters. Recently coming off games like Baldur's Gate 3 and Starfield, The level of detail in the character creator is surprising in UFC 5. Nearly every aspect of the fighter's face is customizable and if you spend enough time, you can morph and move the face to put yourself directly into the ring. Before stepping in the Octagon though, the Career Mode takes players through a bit of story.
Your character's journey begins in a backyard brawl, gaining attention on social media, and eventually catching the eye of the UFC. The early stages of the career mode are story-heavy and serve as an excellent introduction to the game mechanics. It's highly recommended for newcomers to the series and provides a great environment to hone your fighting style before trying online or playing against friends in local play. However, as you progress, the career mode settles into a standard loop of signing contracts, choosing opponents, training, and fighting repeatedly. While the early segments are engaging, other elements of the career mode, such as dialogue, feel somewhat recycled from previous titles. The UFC is filled with wonderful underdog stories, but the story put forth in UFC 5 feels bland and lackluster by comparison.
By my 20th fight, I was tired of the weekly repetition of the training camp activities. Sure, players can simulate the training camp to fast forward to the fight, but will also lose out on the chance for extra points to upgrade their fighter. This puts players in an all too realistic situation: train repeatedly or skip ahead and hope your current skills are enough. However, the addition of an online career mode is a welcome feature, allowing players to compete with their created fighters against others. You can upgrade your fighter's attributes, move sets, and appearance, making it akin to NBA 2K's MyCareer mode without the open-world experience. While more authentic to the fighting game online experience, it does assume that the player knows the nuances of the controls in UFC 5, which can be a little daunting for new players, even with balancing changes seen from UFC 4.
In the stand-up game, UFC 5 delivers a mixed experience. While power shots feel impactful and can lead to realistic knockdowns, there's a slight issue with the speed at which fighters can execute fast strikes and combos while moving. Additionally, punch tracking, particularly with overhand punches, may feel a bit overpowered at times, leading to quick stoppages. It is a stark improvement though from being instantly KOed by a spinning back fist, which plagued UFC 4.
The biggest standout feature in the stand-up game is certainly the improvements in the visual damage system. EA's real impact system boasts 64,000 possible combinations of facial damage that can impair vision, make fighters more susceptible to follow-up strikes, and even doctor stoppage. Coupled with the addition of new striking animations and the clear improvements in AI, it makes being strategic in fights more important than ever, especially when across from a known striker.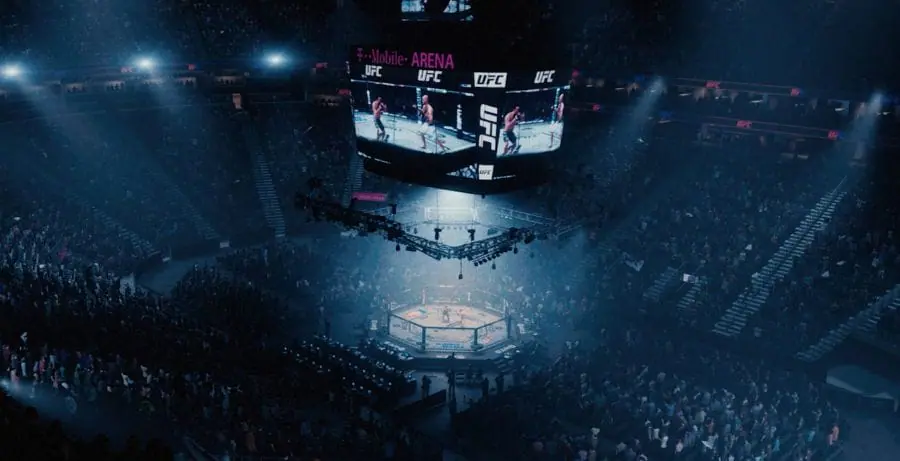 On the ground, EA has made the experience more accessible. Transitions to submission attempts, ground and pound, or standing back up are simplified by using the left stick. This streamlines ground fighting, making it more comfortable for beginners. However, experienced players might yearn for more control and nuance. They can opt to revert to the legacy ground controls from UFC 3 via the menu. It's a great way to bridge the gap between new and old players but still give those veterans the benefit of hours of playtime.
Graphically, UFC 5 shines on the Series X with impressive arena designs and detailed fighter models, especially with the custom fighters from career mode. Damage is depicted realistically, with cuts and bruises accumulating throughout a fight. Animations flow smoothly, but occasional glitches serve as a reminder that it's a video game. One of the standouts in the visuals is the dramatic KO replays powered by Frostbite. As a MMA fan, the replays are some of the most exciting moments of the fight. Often, these moments felt undervalued in previous games. Now, they feel worth the time it takes to watch your character throw the perfect strike that leads to a KO or relish in all the violence you have inflicted.
EA Sports UFC 5 successfully grapples with the challenge of enhancing an already dominant franchise in the MMA gaming world. With a wide range of game modes, improved visuals, and more accessible ground fighting mechanics, it offers a compelling experience for both newcomers and seasoned players. While there's room for further refinement in the career mode to avoid rehashing, the addition of an online career mode is a welcome evolution. EA Vancouver's commitment to revamping key aspects of the game ensures that UFC 5 maintains its position as the undisputed champion in MMA gaming, even if there isn't much competition.
EA Sports UFC 5 is available now on PlayStation 5 and Xbox Series X|S.
EA Sports UFC 5
TL;DR
EA Sports UFC 5 successfully grapples with the challenge of enhancing an already dominant franchise in the MMA gaming world.