Space, the final frontier. At least, it felt like that for the longest time for Bethesda Game Studios. The king of RPGs has long established massive-hit franchises in two of the three biggest RPG settings, fantasy and post-apocalyptic. Starfield, not only the newest franchise for Bethesda but also one of the long-awaited flagship titles for Xbox Series X|S, feels like a breath of fresh air in so many ways. It's not only a new story in a new original universe. Starfield is also a prime example of Xbox and its teams firing on all cylinders to back one of its most anticipated games.
Starfield takes place in the 24th century. Two hundred years prior, Earth suffered a catastrophic scientific realization: the world's atmosphere was quickly leaving the planet. To escape to safety, humanity quickly rushed to the stars, creating the Settled Systems. In the present day, you start off as a miner with a shady mining company. During a normal dig, you stumble upon a mysterious artifact that affects you in ways that seem unimaginable. Universes fly by while orchestras play in your ears. It's like the whole universe has opened up to you. After this discovery, you quickly get whisked to the stars to join the explorer's group, Constellation, to find the source of these artifacts and find the answers to some of the mysteries the vast universe has been hiding from the human race.
From a story perspective, Starfield feels quite unique compared to other more recent Bethesda titles. It's engaging, it's deep, and the turns are surprisingly unexpected, even if there is no big bad setup right from the jump. At its core, Starfield builds on the themes that come from the grand innate ideas established with space RPGs and literature. It's all about the mystery of the great big unknown. While a simple premise, the draw is what exactly these artifacts mean, why they're affecting the main character, and what exactly they could be leading to. Each discovery is jawdropping and keeps expanding the game in fantastic and fantastical ways. Compared to past Bethesda games, where side quests just had much more of an allure to them, the main story keeps drawing you in until the end credits. It's a draw that felt absent in these games until now.
There are also marked improvements with the companions. The members of Constellation, your comrades who found the initial mystery of the artifacts, add much-needed character to many facets of the slower portions of the story. Occasionally, one specific companion will join you to hunt down a new artifact piece. These adventures are great ways to learn more about your allies. For instance, one of the earlier partnerships involves Sam Coe, a guy who seems ripped right from a Western movie traveling the stars with his daughter.
For this adventure, you don't only meet one of the two major factions that control the law of the land, and how Sam is involved with them. You also help Sam rectify his history. Sam is of a lineage that was one of the founders of one of the biggest settlements in the Settled Systems. There is a lot of weight that comes along with being a descendant of someone that impactful to the human race's survival. The results of these missions don't always seem like they carry additional weight after the fact. Yet, at their core, these missions are great peeks behind the curtains to see why exactly that person has joined Constellation and that they aren't just a person you talk to to go on your next mission.
Every area you visit for these missions is also much more fleshed out than the other 900+ planets you can visit. They are more detailed levels with many more options to allow the player to play the way they want to play. Do you want to be a rogue pirate? You can do that. Do you want to be a smooth talker who can get out of most situations? Do you want to face every encounter with guns blazing? You can do that too. There are numerous times during a playthrough where you might save just before a big choice because how you approach it may define the next hour of gameplay.
If you do want to be a run-and-gun player who faces every option with guns pointed first, you will be happy to hear that shooting is the best it's ever been in a Bethesda game. It's not on the levels of the high-end shooters, it just feels fun and not reliant on other systems to make it feel playable. Plus, any gun can be modified to make it even more fun and useful to use later on in the game. On top of that, there is a wide variety of weapons to use, starting with a basic level of ballistic and laser weapons. They each have their own negatives and benefits to use and both are really fun in their own ways. Especially in zero-g moments, you'll find that they actually do affect the gameplay, with ballistics moving you around while lasers don't.
With every level, you get a skill point and can unlock a new talent, starting with a first tier of talents and getting more options as you add more points to each of the five categories. Initially, they don't seem too impactful, with most of the first options adding more damage to weapons and basically unlocking features like hacking, pickpocketing, and persuasion. But boy, do they really affect the moment-to-moment gameplay.
Some talents unlock major features that are just locked behind these initial talent points, like more pinpoint targeting while in a space battle, being able to convince people to betray their allies, or even being able to perform better research. Yet the best change to talents over previous Bethesda RPGs is how they get improved. Each talent has a base level and can then be improved up to three times. To unlock the better version of talents, like being able to pickpocket a holstered weapon off of someone, you need to use that unlocked ability. It all adds to the idea that your character is who you play them as. If you want your spacer to be a master pilot, you need to play with your ship enough to build it up to be a master pilot.
One of the most surprising gameplay moments is when in space. It is such a fun time flying your spaceship around. You can't explore the vastness of space, although you're mostly traveling around the near-orbit of planets and stars in different star systems that you're jumping between. There is always a surprise when jumping to a new planet, though. Arriving at one, you may be scanned in for arrival by some space cops. If you're smuggling, you'll need to find ways to quickly get away or smuggle your goods to the planet before you get arrested. Other planets will have space pirates ready to take you down. Others are peaceful or have random activities to interact with other pilots throughout the universe.
A hilarious one that is as outrageous as it sounds is a space grandma you can come across. She's just a sweet old lady who, instead of retiring like her grandkids want, decided to take to the stars and explore. She still cooks like a loving grandmother, though. So, you get the choice to board her ship, chat with her, and leave with way more food than you can carry, freshly baked. Another moment involves becoming a space tour guide. There are so many different opportunities to come across just by traveling from planet to planet.
If you do get into a fight in space, it's much more skill-based than you may think. When getting into the weeds of space dog fights, on the surface, it feels simplistic. You lock on to an enemy ship and fire weapons until they explode. That works for some of the lower-level ships you come across. Later on, though, that won't cut it. That's when you need to engage the surprisingly deeper combat elements, like using the right weapons to take down shields and ship health, moving the allotted power around to either move faster, have more shields, more ammo/power for weapons, and locking on to specific parts. Plus, with certain talents, you add strafing and additional weapon types into the mix.
As for the surfaces of most planets, they aren't the most detailed locations. Of course, there is a limit to what can be created when most planets are procedurally generated. Yet they are so much fun to explore and almost cathartic in a way. One major feature of planet exploration is collecting data on discovered planets. This involves discovering what resources are abundant and what flora and fauna flourish on the surfaces.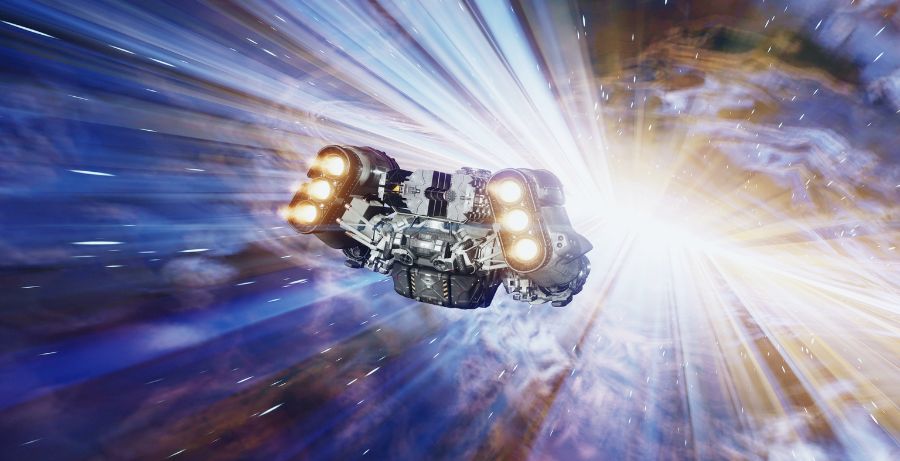 Almost every aspect of a planet is different from on another, from the gravity to atmospheric levels, to locations to be discovered down to even how fast time changes on it. However, there are some downsides to the "limitless" potential. Many of the natural assets don't look great. They look almost like last-gen in quality. And that can occasionally be distracting while going from high-quality spaceships and cities to mundane-looking forests or deserts whose trees and rocks feel 720p. Particularly, with higher quality critters walking around, they make a lot of the locations you find on these planets feel out of place.
There are also a lot of loading screens. It can feel ridiculous at times with how many loading screens you'll experience in a minutes-long window just to get to your next objective. Take for example trying to get to a new planet in a new system. You will have a loading screen for getting onto your ship, taking off, jumping to the new system(s), and then one for landing on the new planet. There are some shortcuts that can be taken to cut that amount down, but it can get annoying — even frustrating at times. Even on planets, there is an inconsistency with some placements of loading zones. Some buildings with bigger interiors are fine. Others you need to get through a loading screen before exploring. Thank goodness for modern hardware cutting the amount of time experienced in these moments down by a significant amount.
Thankfully, there isn't nearly as much jank and glitchiness here as in many recent big Bethesda launches. While there are still odd face zoom-ins for whenever you talk to an NPC, groups of people running around hysterically even hours after a deadly event occurred near them, and odd facial animations, there is a lot of polish in the rest of the game. Weird object collisions are minimal and NPCs running in dumb patterns (like into walls) happens once in a blue moon.
Starfield is Bethesda firing on all cylinders. Just about every aspect of the game is well thought out and gripping. With a New Game+ available at launch and the sheer amount of options to explore the Settled Systems, this will be the new king of Bethesda RPGs for years to come and will quickly become a game that you will lose hours into in the blink of an eye. At its core, Starfield feels like a Bethesda title that takes the RPG elements they are famous for and expands on them in every way to give you a very rare experience of going on your own space journey.
Starfield is available for early access on September 1, 2023 and full release on September 5, 2023 on Xbox Series X/S and PC.
Starfield
TL;DR
Starfield is Bethesda firing on all cylinders.