You Are So Not Invited to My Bat Mitzvah has been hotly anticipated as this generation's potential seminal Jewish coming-of-age movie. Adam Sandler fathers and Idina Menzel mothers in this Sammi Cohen-directed and Alison Peck and Fiona Rosenbloom-written Netflix Original comedy based on the book of the same name by Rosenbloom. When Stacy (Sunny Sandler) gets into a fight with her best friend Lydia (Samantha Lorraine), Stacy uninvites her to her bat mitzvah. And the riff only worsens from there as cute boys and popular girls come between them.
You Are So Not Invited to My Bat Mizvah is trying to sit somewhere in between Dear God, It's Me Margaret, and 13: The Musical. It has a sincere core about the difficulties of being a teenage girl and attempts with difficulty to wrestle with God and religion while making the bat mitzvah of it all into more of a vehicle for obvious comedy than something to be taken seriously. It's a fine line to try and take. It's certainly been driven before, but this movie struggles here and there to stick to its strengths, resulting in a disappointingly uneven experience.
This is less an issue with the movie's main themes and their delivery than it is with the worldbuilding and script. When the movie focuses on bullying, exclusion, mockery, spreading rumors, standing up for yourself and others, crushes, periods, and the other trappings of middle school, it shines. You get a clear sense of not only the righteous morality that these kids are being raised with, most of them anyway, as well as an accurate and visceral experience of 7th-grade social peaks and valleys. Much like director Sammi Cohen's last outing, Crush, You Are So Not Invited to My Bat Mitzvah expertly captures the cringiness of being a teen in the best of ways. You're laughing with the characters when they goof up, not at them. And Cohen is excellent at drawing good performances out of the kids in this movie, especially Sunny Sandler. She deserves some more chances to show off her acting down the line, just maybe next time as a character who isn't so completely mean to everyone for the first half of the movie only to suddenly become kind and caring without much motivation.
But when it comes to the world the You Are So Not Invited to My Bat Mitzvah inhabits, there's a lot to be desired. Particularly, the level of stereotype-mongering in this movie is quite aggravating. The kids are all New Jersey-rich, except of course, for the main character. Matzo balls and Yiddish are in every other sentence. The synagogue has a makeout closet as if it's just a normal and well-promoted thing that American-Jewish youth spaces are over-sexualized. The rabbi and cantor have the whole 7th-grade class watching them sing Bim Bam, a song that, assuredly, literally no 7th-grade class would find themselves excited to sing on account of it being a song for babies.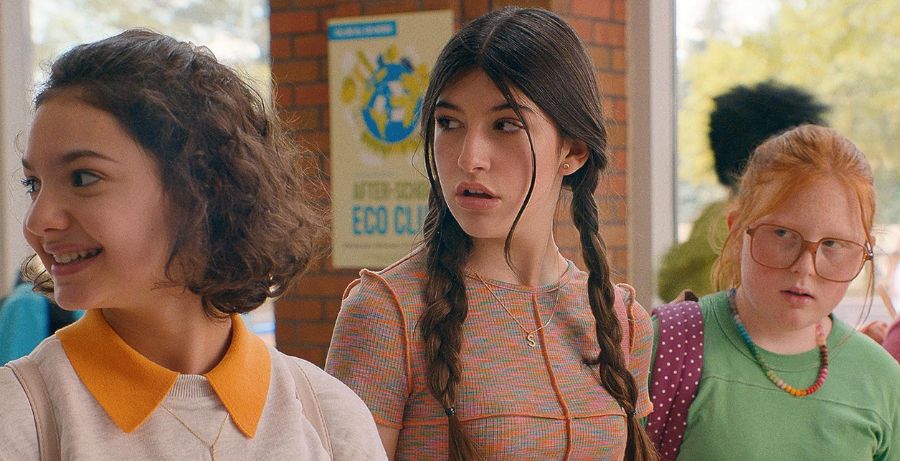 But at the same time, the movie manages to make hilarious moments out of all the stereotypes. The bar and bat mitzvahs are all DJ'd by the stupidly funny DJ Schmully. The makeout closet is occupied so a particularly holy location is used instead, which frankly, is pretty realistic even if it's stemming from something problematic. And Sarah Sherman is constantly on top of her game as the movie's premiere comedian while she plays Rabbi Rebecca, even if it makes no sense why the kids in her Hebrew school class wouldn't be used to her schtick by this point in their lives.
However, Rabbi Rebecca is a pretty bad rabbi. All of her connection with the students at the Hebrew school is superficial and the way she handles a tough situation and difficulties around Stacey's bat mitzvah preparations is unprofessional and unbecoming of a good rabbi. And that's all It lends itself to one of Adam Sandler's few good comedic moments, which itself plays on annoying stereotypes about Jewish parents. Alas, the movie simply does not have nearly enough Sandler or Menzel. They're both stars and Menzel is a prop most of the time and Sandler gets plenty of good lines and physical comedy in, but deserved to play a larger role. Maybe if they were in the movie more they would have acted like the parents who are close friends with their kids' best friends and talked to their child and realized she was acting weird about Lydia the whole time instead of peddling the classic trope that parents have no idea what goes on in their kids' lives they deserved to be depicted as. At least Adam Sandler is in peak form here, wearing schlubby outfits and acting like the goofy dad he was always meant to be.
One of the most aggravating offenses in stereotype peddling is costuming. Why is everyone wearing a kippah all the time? The synagogue they belong to is very Reform-coded with its cantor walking around playing guitar and the school using technology on Shabbat, a heavy emphasis on tikkun olam (repairing the world) in the classroom, and kids who don't have total mastery of all the prayers by a certain age. Yet, everyone's wearing kippot way too big for their heads. You cannot find a Reform synagogue in all the land where that is the case. It screams of either production designers not knowing how to make certain depictions authentic, or other decision-makers deciding that the most obvious visual signifier of Jewishness without being offensive is necessary regardless of whether it makes sense contextually. There are a lot of nice Jewish touches with Stacey practicing her Torah portion and some beloved old Jewish ladies showing up at every party. But lacking authenticity in so many idiosyncratic moments stood out worse than the good in-jokes and depictions.
At least it's nice that everyone in this world is very proudly and nonchalantly Jewish and that their families represent all kinds of interfaith, queer, and non-white identities, just like a real synagogue would. Although the representation is almost all surface level and quite hamfisted in the script or props, it's great that it's there. But in 2023 the movie could certainly be expected to do more than just pay lip service.
Just when the movie becomes oversaturated with its stereotype issues, it lands a truly perfect ending in the subversion of every teen drama. Instead of just immediately evaporating all of the issues between Stacy and Lydia, there's some real work that goes into their reconciliation, which unto itself is the best piece of Judaism the movie imparts. That and some excellent sisterly relationship with Stacy's sister Ronnie (Sadie Sandler) as she mentors her younger sibling.
You Are Not Invited to My Bat Mitzvah is robust in its depiction of the emotional and social intricacies of Jewish teenage girldom. But it peddles so hard in Jewish stereotypes that even when they're innocuous and followed by good comedy they're still quite distracting. Fortunately, the movie sticks the landing and spares itself from becoming the mess it easily could have been. A Jewish teenager or adult can get plenty out of the movie, both as entertainment and as a lesson in morality.
You Are So Not Invited to My Bat Mitzvah is streaming now on Netflix.
You Are So Not Invited to My Bat Mitzvah
TL;DR
You Are So Not Invited to My Bat Mitzvah is robust in its depiction of the emotional and social intricacies of Jewish teenage girldom. But it peddles so hard in Jewish stereotypes that even when they're innocuous and followed by good comedy they're still quite distracting.