Monika (Adrianna Chlebicka) and Enzo (Mateusz Banasiuk) are back in this third installment of the Polish-language Netflix Original romance series. Directed by Filip Zylber, Squared Love Everlasting is written by Natalia Matuszek and Wiktor Piatkowski, and this time around, the happy couple is interrupted pre-nuptials by the priest's insistence that Enzo finds an ex-girlfriend Ewa (Ina Sobala) and make amends with her.
If the last installment was barely a rom-com, Squared Love Everlasting is practically a melodrama. It takes everything that made Square Love All Over Again nearly insufferable — the couple communicating miserably with one another while an aggravating interloper puts their relationship on edge — and just does it again. The only differences are that this time it's Enzo who is the character at the center of the drama instead of Monika, and the audience has perhaps grown a bit attached to these characters by the third time out with them. There is something strangely comforting about joining these characters for a third time, even if the movie isn't particularly good. They're both attractive and pleasant enough.
Having that attachment to the characters makes their banal experience with Ewa less annoying than when they endured Rafal in the previous movie. Plus, she's far less irritating. But the plot she drives between the engaged couple is overplayed and ultimately disinteresting. It's not regressive necessarily, but it's not all that engaging either. Enzo does get the opportunity for a little bit of character development though in a way where the previous movies left him flat.
Unfortunately, that growth feels like it is fully at the expense of Monika. Where she was the main character of the previous two installments, Enzo really is the point of view character here. While Monika does get an entire sub-plot to herself where she becomes the principal of her school and has to make all kinds of difficult decisions, it feels tacked on. The lessons Monika learns might parallel what goes on in other parts of the plot, and it's actually great that Monika continues to have aspirations and experiences of her own, separate from her relationship to Enzo. But because it is so emotionally distant from the rest of the plot and characters, it comes off as a frivolous afterthought.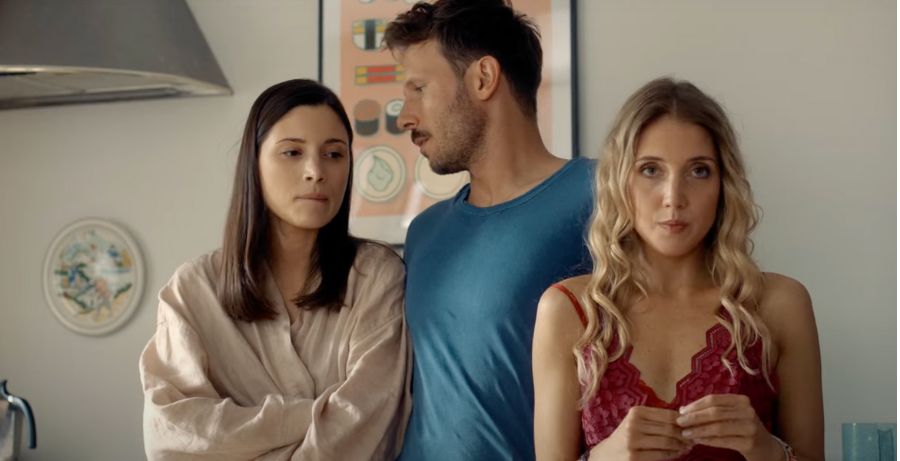 The first two movies in this series were so outlandish in their premises by comparison to Squared Love Everlasting. It's almost hard to remember that the series began as the story of a teacher who doubled as a model and a model who doubled as a genuinely nice person. Or that Monika hosted a whole television show in the Squared Love All Over Again. Squared Love Everlasting, meanwhile, is grounded, for better and worse. It's easier to buy into all of the overly dramatic character dynamics and plot turns when the four walls of Monika and Enzo's house is where most of the action takes place. But it also means that it's harder to spot the spark between these two when their lives are less thrilling. It's kind of the point of the movie in the end, but regardless, it's almost like watching a whole different series. Yet, that familiarity still remains and makes the transition from the extraordinary to the mundane almost negligible, if you just don't think about it too hard.
The best character in the movie remains Monika's father Bayzli (Miroslaw Baka). He gets an entire parallel plot to himself again as well that relies just as much on poor communication as his daughter and son-in-law-to-be. But he's just such a sweet and charming character that it's almost more forgivable than the exact same plot device as it's used in the main story.
By the end, Squared Love Everlasting does remember it's a romance after all and delivers a big romantic conclusion. It doesn't make up for the disjointed pieces that came before it. There are moments when the score would indicate the movie is trying to be funny that don't entirely land but are still innocuous. But at the least, every time Monika is on-screen you can be sure that a really nice dress will follow. Her costuming is always on point.
Squared Love Everlasting does serve as a fair reminder, that a romance movie doesn't have to be groundbreaking to be entertaining. The comfort of a predictable plot with familiar characters carries a lot of weight. Grounding this entry in the series, shaving the rough edges around its new character, and finding a fairly progressive solution to an often poorly-resolved albeit trite plot helps lift this otherwise poor movie into a place of moderate enjoyability.
Squared Love Everlasting is streaming now on Netflix.
Squared Love Everlasting
TL;DR
Squared Love Everlasting does serve as a fair reminder that a romance movie doesn't have to be groundbreaking to be entertaining.