One of the biggest new gay rom-coms, Red, White & Royal Blue is the tale of enemies-to-lovers Alex (Taylor Zakhar Perez), the son of the President of the United States (Uma Thurman), and Henry (Nicholas Galitzine), the grandson of the King of England. Based on the book of the same name this Prime Video Original is written by Casey McQuiston, the movie is written by McQuiston, Matthew López, and Ted Malawer and directed by López.
Big studio queer rom-coms are still shamefully rare, so when we actually get them, expectations can understandably run unreasonably high. But the whole romantic comedy genre is built upon the comfort of predictability, which lends itself to a few corny lines, a certain tempo to the dialogue, or a typical cadre of supporting characters. I, for one, think that can be a good thing in a movie. Not every movie, certainly not every piece of queer cinema needs to be groundbreaking or laden with trauma and guilt. Sometimes, they deserve to just simply be light, fluffy affairs that aren't amazing but still fun to put put on.
Red, White & Royal Blue is exactly that kind of movie. From start to finish I rolled my eyes just as many times as I laughed out loud or swooned, and for that, I commend the movie in its entirety for entertaining me for nearly two hours. The first act was a bit abrasive, certainly. The well-advertised initial meeting between Alex and Henry involves hitting basically every trope in the books and a bunch of them feel almost like they were written just so I could make that declaration. But ultimately, the big setpiece of this scene is pretty funny in its physicality and the final piece of the romantic setup, corny as is completely is, still managed to endear me because of its corniness more so than in spite of it.
Throughout the whole movie, there really are a lot of very funny lines, cute in their cheesiness. There are also a lot of cringy lines that help push the movie into its odd R rating over awkward sexual quips that just feel unbefitting of the genial nature of the movie as a whole. It's not that they feel unrealistic or crude, they just feel out of place with the very carefully curated tone of the movie around it. It's set at a quick pace with tight transitions — frankly, it's too quickly paced to the point where I didn't feel like I had enough time to actually believe the couple's infatuation had evolved into true love. It's a lot of telling and not a lot of showing in the romantic department.
However, the other half of the movie's R rating is on account of its sex scenes, and Red, White & Royal Blue handles them pretty well. I still think it's a bit absurd to rate this movie R given what we really see on screen, and calls to question whether a heterosexual couple involved in the same scene would have warranted the same rating, but nonetheless, I appreciate the kinds of conversations around sex and sexuality Alex and Henry have. They're neither of each other's first male partners, but much of what they're getting into relationship-wise is new for both of them. It's certainly a more earnest and realistic set of conversations than, say, Bros had.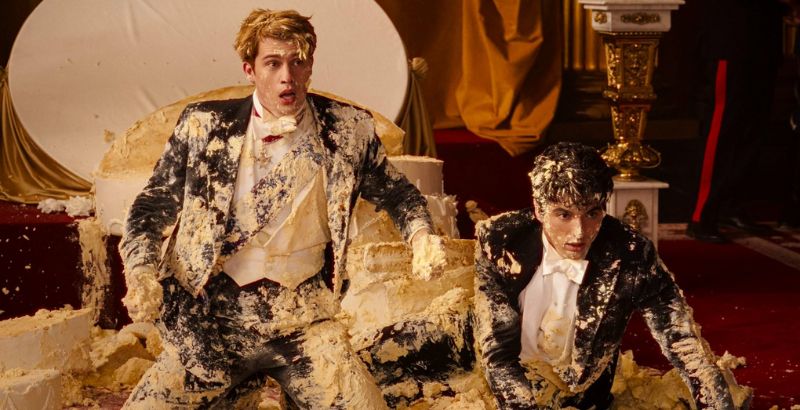 Of course, all of their relationship is set against the backdrop of their families and the positions they hold. The movie strikes a really good balance between having fun with the extraordinary circumstances of either character's birth and the normal person-to-person or small group moments any flourishing couple might enjoy. Alex's mother, the American President, is in the middle of a tight reelection, which Alex really wants to be part of. The movie tries its best to impart some realistic political tension demonstrating how his parents are clearly quite progressive personally and politically but also practical about how public images might affect voters in different states. It's more aspirational than realistic, but Thurman's turn as the president and mother in this situation is disarmingly straightforward with a very silly accent to the point where it ends up working.
Meanwhile, His Royal Highness Henry has to navigate the weight of several hundreds of years of royal history by way of his and Alex's secret relationship. They both fear the repercussions of the world finding out about their queerness, which is frankly fairer than a lot of modern queer stories should get credit for. The factors are refreshingly more external to their public lives than a matter of their close friends or family. A nice little cameo as the King of England does lead into the movie's most utterly corny and most totally swoon-worthy moment that perfectly encapsulates why its fine for Red, White & Royal Blue to be a little more goofy than it is "good."
There are some aggravating aspects, namely the movie's reliance on creating an enormous moment of trauma and the complete lack of consequences for its perpetrator. The whole relationship between the two characters involved exists purely for the sake of creating this awful moment and that doesn't feel especially comfortable in retrospect. I'm also very much not into Rachel Maddow playing herself repeatedly in the movie. It crosses a line of uncanniness to have a real-life figure all over the television when the world of the movie is so clearly not ours. Forget about the American side of the characters, the entire Royal Family is fictional, so why shouldn't the newscaster be fictional too?
Red, White & Royal Blue is a fine enough movie, but it's an especially great gay rom-com because it doesn't rely on gay stereotypes, over-used gay cultural references, or pedal in the harmful tropes that even some prominent attempts in the genre have taken to. But even more so, it's not like you could just swap one of the two men out for a woman and have the same movie. You absolutely couldn't, which is just as important in crafting authentic queer storytelling. Sometimes simple is enough, and even with a complicated premise, Red, White & Royal Blue is quite cute in its simplicity, even if I still was left wanting a little bit more from it.
Red, White & Royal Blue is streaming on Prime Video August 11th.
Red, White & Royal Blue
TL;DR
Red, White & Royal Blue is a fine enough movie, but it's an especially great gay rom-com because it doesn't rely on gay stereotypes, over-used gay cultural references, or pedal in the harmful tropes that even some prominent attempts in the genre have taken to.