Eternights is one of the strangest games to release this year. Developed and published by StudioSai, it tasks players with finding love at the end of the world, implementing dating sim and action RPG elements to create a unique, if unpolished, experience. Unfortunately, the writing ranges wildly in quality, and at its worst, it severely hampers an otherwise enjoyable combat experience.
After a worldwide pharmaceutical incident, most of humanity is infected and transformed into horrific monsters. The player character is given a glowing arm that can turn into a sword, allowing them to defend their best friend, Chani, as well as the rest of the growing group of survivors/love interests. While at first, the party is simply trying to escape the tunnels of their shelter. They soon get swept into a larger quest to save the world. The premise seems fairly simple initially, but it quickly spirals into truly bizarre territory, with gods and dream visitors quickly getting involved. It's not too difficult to follow these developments due to the slow pace of all of Eternights' expositional scenes, but it's odd just how quickly things escalated.
Equipped with a sword hand, the protagonist can battle the various mutated denizens of the world. Combat initially feels lackluster, with a pair of simple combos being your primary tool for dealing damage. Perfectly timed dodges reward players by slowing down time and filling a meter that allows for special attacks. These special shield breakers are a mandatory part of combat when dealing with bosses and other tough enemies.
While they add much-needed variety to the early hours of combat, the dodge timing seems inconsistent, causing an otherwise avoidable death from time to time. Even the shield breaker attack can cause frustrations because it triggers a quick-time event that, if failed, will use up your meter with nothing to show for it – they're not overly complex, but the first few times you use it, you may flub it.
For the first few hours, players don't even have the ability to heal; if checkpoints weren't so generous, it would make Eternights a much more frustrating experience. New abilities are earned as bonds are formed with party members, making combat less repetitive. Parries, combat skills, and magic support from allies can all be interwoven with the starting combos, making fights, and especially boss battles, feel much more dynamic and enjoyable. The unreliable dodging, however, definitely stops Eternights from ever being too fun.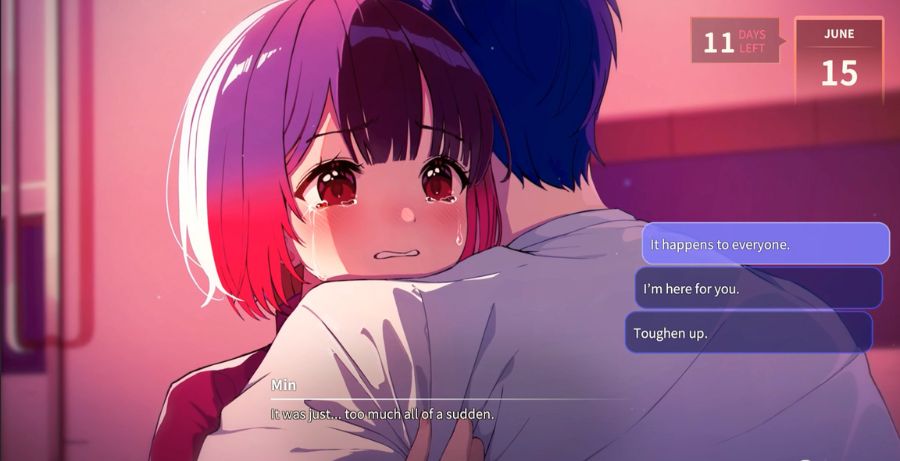 Bosses, naturally, appear at the end of dungeons, which present their own challenges. Dungeons are usually long winding corridors with the occasional split path to find some resources and with a handful of puzzles scattered throughout. The puzzles were fun to solve and typically appropriate for the setting. In contrast, the rest of the dungeon brought a different sort of struggle; the dungeons were very dark, and often, only a glimmer of light was visible to lead the way through. The camera also occasionally took on a mind of its own, getting stuck when walking through a hallway or being a general nuisance.
The story often presents a goal for the party and a time limit by which the goal must be accomplished. Despite the intended challenge, there's nothing to prevent you from finishing the dungeon on the first day. There are checkpoints dotted throughout the dungeon, allowing you to retain progress if you leave for the day, but there's no reason not to brute force it. Dying simply sends you back to the latest checkpoint with fully restored health, allowing you to try again. Once the objective is reached, the rest of the days until the deadline can be spent freely.
When not dungeoneering, players can spend their time bonding with their teammates or training their various social or physical traits, increasing stats like confidence or max health. At night, players can also join a character in a scavenging run, giving them roughly a minute to find whatever specific item they need at the time. There are three locations in all, and there's no way of knowing where an item might be without heading there to check. When time is limited, it's a hassle to commit to searching an area with the possibility that it's not even there. The training activities were forgettable, ranging from sorting items by color to an exact replica of a very specific mini-game from a completely different game. The highlight here is that the bonding activities cannot fail, so your dialogue choices won't ruin your chance at growing closer and stronger.
While the combat and dating sim aspects are inoffensive at worst, the same cannot be said about the writing. The primary plot of stopping the apocalypse is serviceable, but when it comes to the love interests, the quality of the writing is wildly inconsistent, often putting the characters into ridiculous and borderline sexist situations. The protagonist's best friend, Chani, is initially presented as a pervert. Though he never outwardly harasses the female characters, he has a one-track mind at the start of the story. When evacuating and heading for a shelter, he forgoes all other emergency supplies for his stash of lewd magazines. He grows as a person relatively quickly, going from powerless and jealous to doing his best to help the team and atoning for his mistakes.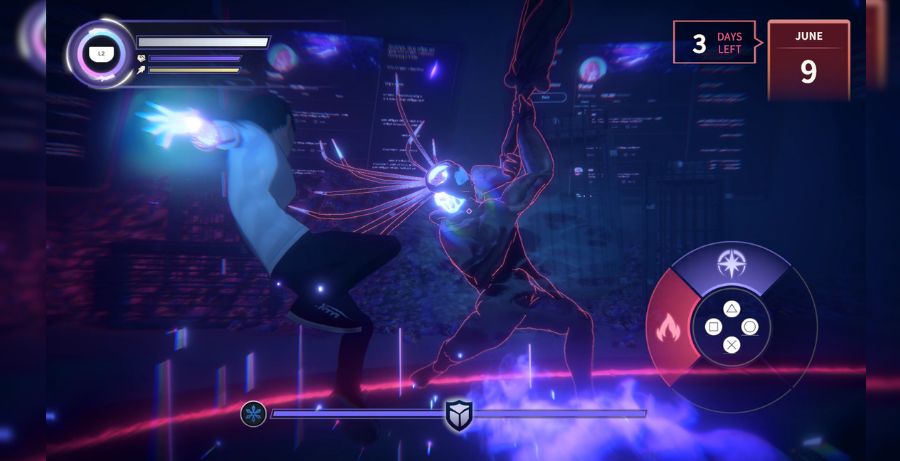 This gave the impression that his initial characterization was simply to showcase growth and that the plot would move away from such humor. Unfortunately, that wasn't the case; every few days, there would be a new interaction between the protagonist and one of the girls that lowered the bar further. In one instance, the entire party is gawking at one of the girls after she gets stuck under her bed in a compromising position. In another, the protagonist is urged to spit repeatedly on a girl due to the healing properties contained within his saliva. These are bizarre misunderstandings that might feel less out of place in a game that was solely a dating sim or in a more light-hearted setting, but with the threat of the apocalypse looming overhead, it feels gross and inappropriate.
Stranger still, there are plenty of scenes with the love interests that are interesting and touching. Learning about their past traumas and helping them to overcome them is thoughtful and a driving force for wanting to bond with them. There are also actually funny moments in the game, such as Chani's poorly altered dating profile picture, and the characters speak to each other like you would expect friends to. One conversation featured the characters joking that the whole dire situation was secretly an ad for a local theme park before breaking down in laughter. There is some genuine, heartfelt writing in Eternights, but it falls to the wayside, and it feels completely at odds with the other scenes described above.
Eternights ultimately get more things wrong than right. It lacks a general sense of polish, and the writing is legitimately baffling at times. The combat feels great more often than not, but it's hard to justify spending too much time on this title.
Eternights launches September 12 on PlayStation 4, PlayStation 5, and PC
TL;DR
Eternights ultimately get more things wrong than right. It lacks a general sense of polish, and the writing is legitimately baffling at times. The combat feels great more often than not, but it's hard to justify spending too much time on this title.