It's been 14 years since the original release of Rune Factory 3 on the Nintendo DS, with the initial version being hailed as one of the best in the farming role-playing game (RPG) franchise. Now, with updated visuals and just a few new additions, Rune Factory 3 Special gives new life to a beloved but more niche game. Developed by Marvelous Inc. and published by XSEED Games, the remade farming game does enough to make it worth taking the time to play.
Rune Factory 3 Special puts players in the shoes of Micah, a half-man half-monster, who wakes up to find he has no memory except for his name. The human population of Sharance and the Univir, their horned neighbors, have been in conflict, and Micah gets thrust right into the middle of it. Since he is half human and half monster, Micah is in a perfect position to help make peace between the two nations so they can face the more significant threat that looms over them all.
The idea of a main character waking up with no memory is an extremely typical RPG trope, and Rune Factory 3 Special does not do much to make its story stand out from the countless others with that same concept. Further progression in the story unlocks new memories of Micah's life, but none of it ever really stands out. It's not that Micah is a bad character, and his story is not necessarily boring, but he just never rises above feeling like a mediocre RPG protagonist.
The crowd of non-playable characters in Rune Factory 3 Special feels a bit more fleshed out, with side quests that help alter the player's relationship with them. These request missions change the way the characters interact with the player, expanding the story in different ways. Completing these requests also helps players build relationships with the 11 romanceable bachelorettes as well as other villagers who will assist you in the dungeons if the relationship is built up enough.
Some interesting relationship dynamics can be explored by helping them out, but some of them can be a bit hit or miss. Part of that comes from this being a story written in the late 2000s, but these character relationships don't quite have the same impact or quality that the ones in more recent games in the franchise have. The newly-added Newlywed Mode does give more story content to each of the 11 marriage options and allows players to explore the relationships in a bit more depth. With that, it does help add more quality to the character relationships and helps it feel a little less outdated than just what exists in the main game.
While the story and characters may feel a bit outdated, the gameplay of Rune Factory 3 Special does not. The core gameplay components include farming crops, tending livestock, and battling through dungeons in action RPG (ARPG) combat. There is always something to do in Rune Factory 3 Special, keeping players from getting bored or standing around waiting for something to happen. There is also enough of a challenge to keep things interesting without being too difficult to push away more casual players.
Farming in Rune Factory 3 Special is easy to learn and quite rewarding. Growing crops helps players earn money to expand their farm as well as buy new equipment to help in the different dungeons. There are crops specific to each season — Spring, Summer, Autumn, and Winter — which gives more variety to the farming process. While this is a farming game, it is possible to progress without devoting all your time to farming. It can't be completely ignored, nor should it, but if the simplistic approach to farming starts to feel rote, it is easy to simply move on to something else without any real negative effect.
Something that helps make farming a bit easier is the use of different monsters to help manage things on the farm. Befriending the various monsters in the game does take some trial and error to figure out what they like, but once you have them on the farm, they make a big difference. However, they do require individual management, needing to be fed and brushed to keep them happy and productive. While that might seem like a bit too much to worry about for a little extra help on the farm, it's important to note that these monsters can also join you in the dungeons to help make the combat sections easier.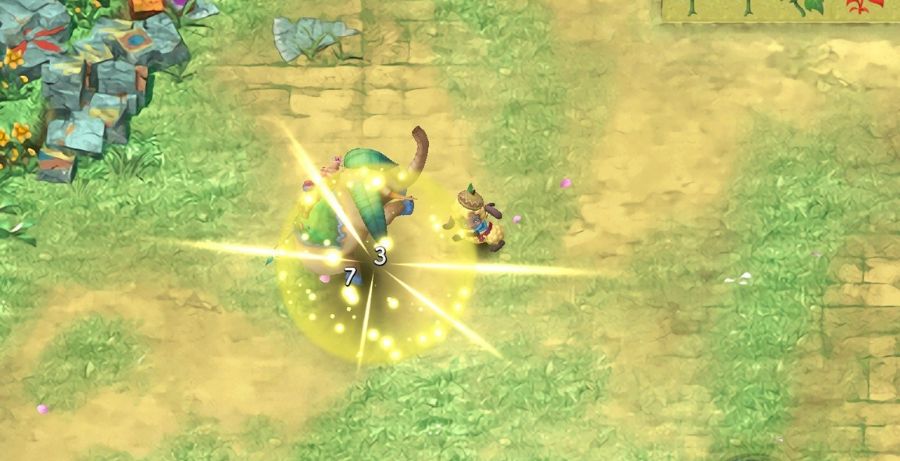 Rune Factory 3 Special isn't just a farming game, and the ARPG combat is not just an afterthought. There are five dungeons to be completed in the story, one for each of the four seasons and one final level that brings the main story to a close. Combat takes place in real-time and is both smooth and easy to get a hang of. The fights are never too challenging and primarily consist of dodging and spamming the attack button. There is a new Hell mode difficulty that increases the challenge for more veteran players, but even at its hardest, Rune Factory 3 Special never feels overwhelming.
A wide variety of weapons, spells, and gear can be mixed and matched to create the best character loadout. Crafting the best loadout is vital and allows more creativity on how to approach a specific dungeon or fight. There is never a "correct" way to approach combat, which gives players more freedom in how they approach it. Equipment can also be changed throughout the dungeon if a certain combination doesn't work. Spending time working on increasing your forging skill is necessary in order to create better gear to set up for success before jumping into the fight.
Leveling up skills is extremely important, and it happens simply by using them, which makes it easier to learn new skills as well as unlock more Rune Points (RP). RP is consumed when doing virtually anything in Rune Factory 3 Special, and running out can be the difference between life and death. It's important to focus on leveling up skills like forging to make better gear and farming to increase the effectiveness and profit of your farm. Thankfully, even unsuccessful attempts at using any of the in-game skills help level them up, meaning it is more than worth it to take a "trial and error" approach to things.
The visual enhancements are where Rune Factory 3 Special really shines. The original Nintendo DS version didn't look bad by any means, but given that it was released 14 years ago, there was plenty to be done to give the entire game a facelift. The 3D character models are well-done and help bring the various characters and monsters to life. Beautifully crafted scenery really popped on my Nintendo Switch OLED as well. It looks and feels like a much more modern game, and it's clear plenty of time and attention to detail was put into revitalizing a game designed for a much less powerful system.
Rune Factory 3 Special is a well-done remaster that gives new life to an older game. While nothing sticks out as entirely revolutionary, that doesn't stop the experience from being an enjoyable one. Newer games in the Rune Factory franchise have built on what Rune Factory 3 Special presents, but that doesn't take away from all the fun there is to be had here.
Rune Factory 3 Special releases September 5th on PC and Nintendo Switch.
Rune Factory 3 Special
TL;DR
Rune Factory 3 Special is a well-done remaster that gives new life to an older game. While nothing sticks out as entirely revolutionary, that doesn't stop the experience from being an enjoyable one.