Super Mario Bros Wonder is the newest entry in the 2D Mario series, and despite years of iteration, it manages to delight and surprise consistently. The platformer, which was developed and published by Nintendo, innovates on the familiar to provide dozens of hours of fun, but more isn't necessarily merrier.
The story opens with the cast visiting the Flower Kingdom. Of course, Bowser attempts to conquer the kingdom and sets Mario and company on a tour around the kingdom, platforming their way to the turtle king and a final showdown. As far as stories go, it isn't very inspired; it provides a simple goal and sets players loose. That said, most Mario games (especially the 2D platformers) aren't necessarily known for their riveting stories. Either way, Nintendo manages to keep things interesting by shaking up nearly every aspect of the formula when it comes to Super Mario Bros Wonder.
Previous entries have followed a fairly standardized sequence of events: complete a few levels to reach a mid-world mini-boss, then a few more levels to reach the area's castle stage. Completing it simply moves you to another world to repeat these steps until you reach the end of the game. Super Mario Bros Wonder changes things up by making each land feel more unique, sometimes completely throwing the old playbook out the window. One world has players completing a series of challenges for a wizened scholar, while another is a rescue operation for a group of trapped miners.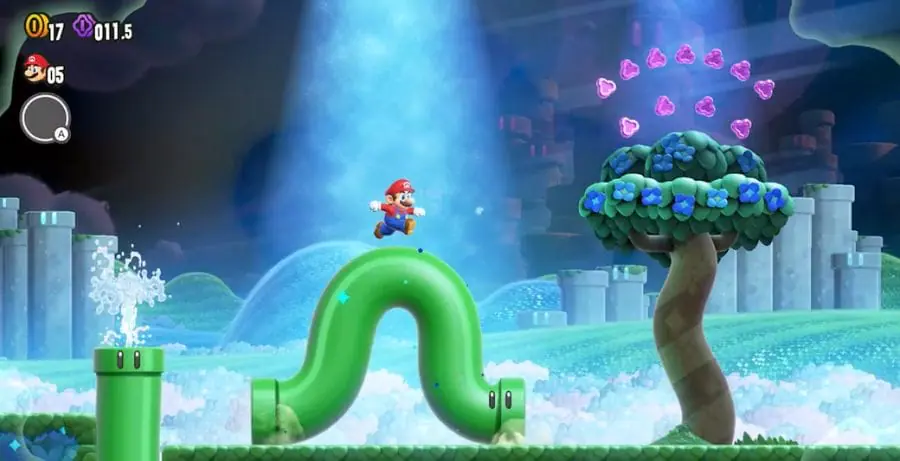 Each world also features semi-open areas, allowing players to explore a section of the overworld to find hidden secrets or simply tackle levels in the order they choose. Since players don't need to beat every level in a world to complete it, this gives players the ability to skip over certain stages if they're too difficult. These deviations from the formula don't reinvent the genre or series by any means, but they're a welcome change of pace as the stages keep coming.
While most stages still require players to jump and maneuver their way to a flagpole at the end, there are various new kinds of stages to participate in. The most enjoyable addition is the new "Break Time!" stages. These smaller levels often feel more like mini-games than proper Mario levels, but they're a fun diversion with lower stakes. They're not the only special stages either. Arena and Race Stages can be found throughout the Flower Kingdom to provide further reprieves from platforming.
The biggest change in the game comes in the form of Wonder Seeds. These can be earned when completing a level, but they're also earned from completing a stage's "Wonder Seed" segment. Part of the way through the course, usually halfway, players will come across a large glowing flower. They might be hidden sometimes, but either way, activating it causes the stage to change in dramatic and unexpected ways. One early example is the stage briefly becomes a musical, while in another, the player is shifted to a top-down perspective, moving their character along what were previously walls in the background. These segments are some of the most wonderful aspects of the game, delivering visually stellar and creative experiences.
Players will be accompanied on their journey by Prince Florian, a small caterpillar that rules over the Flower Kingdom. While he initially only provides general advice, he is eventually the source of another fun novelty: badges. Badges are unique items that can give players an active or passive ability to change their playstyle, and they're able to equip one at a time. They're found all throughout the game, including in stages specifically dedicated to training players in their use.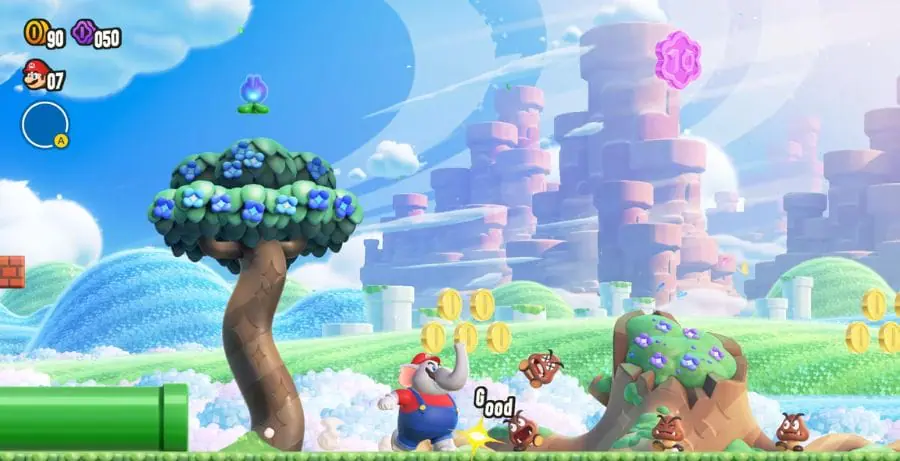 These levels don't take a player's life on death, allowing for a safe training area to ensure you understand your new ability. There are also "expert" badges that more dramatically change your ability, such as being invisible (and therefore ignored by most enemies) or involuntarily dashing at high speeds but gaining the ability to jump shortly after running off a ledge. A surprising instance of convenience comes when dying in a level; you can change your badge without leaving the level or losing your checkpoint before trying again. Badges are great for complementing your playstyle, although a full party of players can only pick one badge to share. It's not the only time playing with others introduces friction to the experience.
With a dozen characters to choose from, Super Mario Bros Wonder seems like the most multiplayer-friendly entry in the franchise, especially now that players can't throw each other into enemies, pits of death, or other hazards. While Mario, Luigi, Princesses Peach and Daisy, and a gaggle of Toads (including Toadette) all play identically, the four different colored Yoshi and the strange Nabbit have some quirks. Yoshi plays as you might expect, with a flutter kick to extend their jump and the ability to eat up enemies and power-ups alike.
The Nabbit plays more like the rest of the cast, but he and Yoshi are both invulnerable, gearing them toward platforming newcomers or younger players. They also cannot utilize the power-ups that appear (Yoshi can only spit them out at another player or ignore them). It's an unfortunate trade-off since people who may need Yoshi or Nabbit will miss out on fun new transformations, like the elephant or bubble forms.
Despite the game inviting you to play multiplayer, even allowing players to be added mid-level, Super Mario Bros Wonder devolves more into havoc with each additional player. Later stages, especially, are visually very busy, and having three other players on screen makes it hard to see what is happening. Since players can't directly interact with each other, it makes it harder to keep track of them and gameplay devolves into a cacophony of accidental deaths. Dying turns you into a ghost, and as long as one character survives, they can come into contact with a ghost to revive them without costing the team a life. If the whole group dies, they lose a life for each person in the group. Chaos can be fun, especially with friends, but with the camera focusing on just one player and off-screen characters being turned into ghosts, it quickly becomes an exercise in futility.
Super Mario Bros. Wonder ultimately offers a delightful and innovative refinement of the genre. If you're looking to explore the stages and find every hidden secret, it may be best to go solo, but even with a friend or three, you're going to have a good time.
Super Mario Bros. Wonder is available now on Nintendo Switch.
Super Mario Bros. Wonder
TL;DR
Super Mario Bros. Wonder ultimately offers a delightful and innovative refinement of the genre. If you're looking to explore the stages and find every hidden secret, it may be best to go solo, but even with a friend or three, you're going to have a good time.