The combination of history and real-time strategy has often been a match made in heaven for the video game industry. Developed by Ashborne Games and published by THQ Nordic, Last Train Home gives players a strategic survival experience set in post-World War I Russia in the midst of a civil war.
Taking place in the brutal region of Siberia, Last Train Home puts players in command of a Czechoslovakian military unit trying to do everything to make it back home. Their home base on this journey is an armored train that can be upgraded on the way through a war-torn country with danger at every turn. There wasn't much to see about the plot in this short preview, but the building blocks for a decent story are there with an intriguing look at a time in history that rarely gets any attention.
Gameplay in Last Train Home is all about keeping the train and crew in tip-top shape. Stopping to scavenge for supplies or pick up new allies is vital if you want to make it home alive. The general gameplay loop of travel, stop, complete missions, and travel again might seem repetitive, but so much effort is taken to make the world feel alive that it never grows stale.
The missions that take place during each stop are the best part of Last Train Home and are what have me most excited for the full game. The preview build showcased the first few missions, which serve as onboarding for new players and explain the different units and their roles in combat as well as mechanics like scouting and foraging for supplies. Each unit has unique abilities that make them vital to a successful mission, so keeping them alive amidst all the dangers you encounter is challenging but rewarding.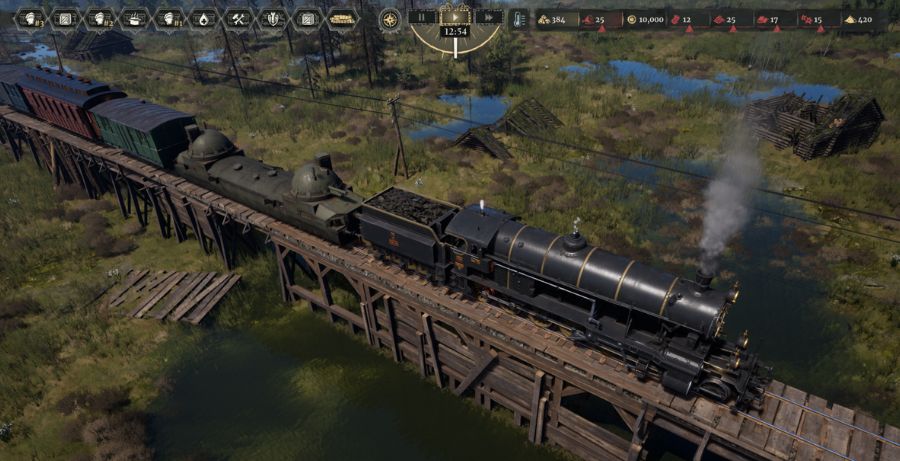 During the course of these missions, the train itself is upgraded alongside the unit members. It's clear that a fairly simple to understand loop of leveling up and upgrading is there beneath the surface that can provide some really interesting options as players get closer and closer to returning their units back home. I'm excited to see how they expand on that in the full game, but what they have shown so far shows quite a bit of promise.
The characters you encounter in Last Train Home help make the world feel more alive too, with voice acting in the characters' native languages that make it more immersive. It can be hard to care as much about individual units in a real-time strategy game whose only real end goal is to survive to the end, but I found myself getting attached to my crew and doing everything I could to keep them alive. This is all because of the small interactions and scenes that take place between and during missions. They bring the world to life and throw players further into the action.
Last Train Home has the potential to be a really great historical survival strategy game if it builds on the promise that this preview build shows. The mechanics are not too difficult to learn but feel rewarding to master and the world is brimming with life that makes it feel like you're in the middle of war-torn Siberia. If these core positives can be expanded on in the full game, there is no reason to think this can't be a special game.
Last Train Home is coming soon on PC.