Drop everything you're doing, log on to Netflix, and watch Forgotten Love (Znachor) right now. Directed by Michal Gazda, this Polish Netflix Original movie is based on a novel by Tadeusz Dołęga-Mostowicz, and it truly has everything. Leszek Lichota stars as Professor Rafal Wilczur, a renowned brain surgeon with a jealous rival in Dr. Jerzy Dobraniecki (Miroslaw Haniszewski), a wife who can no longer stand him, and daughter Marysia (Maria Kowalska), who he loves with every fiber of his being. She is torn away from him when her mother runs away to her lover far away from the city. Wilczur is badly beaten shortly after and loses his memory. When he, now going by Antoni Kosib, and Marysia cross paths again 15 years later, neither remembers the other, but something is clearly clicking beneath the surface for them both as they fall in love with Zoska (Anna Szymanczyk) and Count Leszek Czynski (Ignacy Liss) respectively.
Don't be turned off by the amnesia of it all. It's not played for laughs or represented as corny in the least bit. If anything, it adds to the incredibly endearing nature of Antoni. He's depicted early on as kind, if not a bit aloof, saving children in accidents and scorning the medical and insurance systems that try to prevent him from doing his job. But by the time he emerges again a decade and a half later as a scruffy man wandering the countryside who can't remember what he's been searching for all this time, he's shed the part of him that perhaps drove his wife away. In its stead, we have a sweet man too humble for his own good.
It's no wonder that Zoska falls for him so instantly, and thank goodness she does because she is incredible. She doesn't neatly fit into any caricatures. She's not the homely wife-type at Kosiba's every beck and call, and neither is she the manly Eastern European woman who makes her husband look small. She fits into a perfect space in the middle, standing strong as a character to root for all on her own as well as in relation to Zoska. The same is true of Leszek. He starts off as a completely unlikable rich kid who thinks he can get anything he wants in life. But over a long period of time, he starts to show signs that all his bluster is more an indication of how he was raised and less representative of the kind of person he actually is.
Having two completely distinct romances to become enveloped by in Forgotten Love is quite nice, but it's Antoni and Marysia's unknowing relationship that makes the movie special. She is such an excellent character with so much going on, but no matter which direction the plot goes or where either of the two romances is billowing at any given point in the movie, knowing that eventually, the father and daughter have to realize who they are to each other fills every scene with a deep longing for the characters to be happy.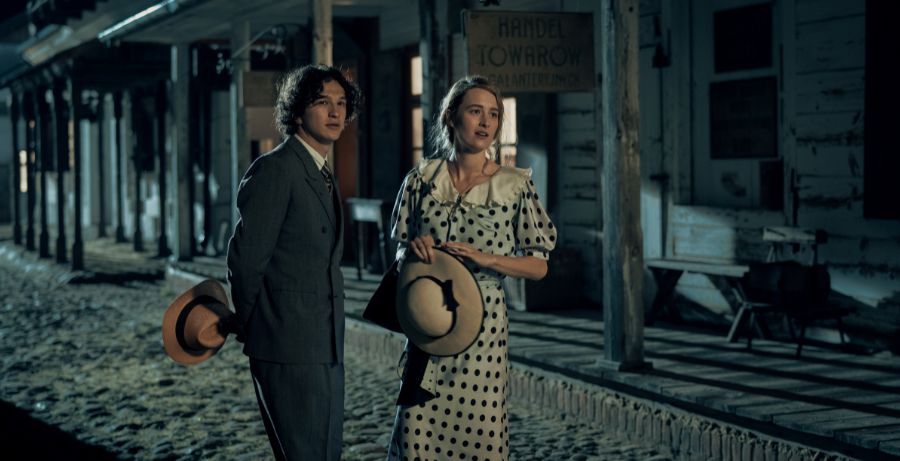 Of course, none of Forgotten Love's success would be possible without the impeccable atmosphere it creates. Pre-war Poland is gorgeous, with beautiful scenery whenever the movie is not taking place in the city, where some CGI backgrounds are painfully unnecessary in the very beginning. But the beautiful cars that adorn the whole movie give a sense of instant classicness to the movie. The hair and makeup are all on point. Marysia's hair is practically a character unto itself, disheveled in just the right ways at the right times or put up intricately.
Lezek, meanwhile, has a look that fits the bill of a modern heartthrob with his long hair but doesn't usually feel out of place accordingly. His outfits can be a bit gaudy sometimes, but they also fit his personality as somebody who was raised to show off but is ultimately terminally awkward. I've never rooted for a man who pesters his love interest as hard as I would up rooting for him so he gets a fashion pass. Marysia doesn't need a pass, though—every single outfit she wears, and there are many, is gorgeous. The cinematography is also impeccable, with creative shot after creative shot that never feels obtuse.
One of my favorite touches though, of course, is the way the community is depicted as integrated with a Jewish community. So often, the shtetls of Eastern Europe are depicted as poor communities where Jews lived in isolation from everyone else, but that was hardly the reality. Jewish communities long resided alongside Christian communities, and I love that Jewish community members are constantly in the background and foreground alike. They even own the bar where a large portion of the movie takes place and never become the butt of jokes or racism. They simply exist within the fabric of society, as they should.
It would be unfair to describe Forgotten Love in further detail. It's a movie that burns nice and slowly over more than 120 minutes. Despite how its premise may sound on paper, it is one of 2023's best romances by a landslide. The four main characters are each deeply realized, and the various types of relationships at hand are all elevated by one another at every turn. The amnesiac doctor of it all, who can't help but keep trying to help people, just makes everything all the more charming.
Forgotten Love is streaming now on Netflix.
Forgotten Love
TL;DR
Forgotten Love burns nice and slowly over more than 120 minutes. Despite how its premise may sound on paper, it is one of 2023's best romances by a landslide.