Is there anything Chris Pine can't do? He's one of the most charismatic actors working today, injecting each role, either lead or supporting, with personality and depth. It's why his dramatic turns are as impactful as his humorous—look no further than his work Dungeons and Dragons: Honor Among Thieves earlier this year. He's a dynamic performer who can do just about do it all. With Poolman, Pine is looking to add a director credit to his budding multi-hyphenate portfolio, a neo-noir comedy about a pool cleaner uncovering a dark, expansive conspiracy.
Yet, the film, which marked its world premiere at the Toronto International Film Festival, might just be one of the worst directorial debuts to ever grace the fest. It's a film that feels like a sketch comedy skit gone awry, left to haphazardly unfold way past its punchline. Poolman sinks almost as soon as it starts, employing the most obvious, cliched music choices along with dialogue so meandering and unfunny that you'll be checking the time. To say the central mystery is convoluted and nonsensical would be an understatement.
It attempts to entwine the seedy intrigue of Chinatown with the quirky character writing of a Coen Brothers' joint—especially The Big Lebowski, which Pine's bearded, hippie of a protagonist is derived from but becomes nothing more than a lifeless riff on "The Dude". In fact, a central component of Poolman is its cinematic influences, incessantly referencing every iconic L.A. crime movie from The Long Goodbye to L.A. Confidential until it ceases to have any identity of its own. Neither a great love letter to the city nor a cinematic homage, Poolman fails to become anything more than its countless stream of references, with the allure of a Chinatown meets The Big Lebowski gimmick quickly wearing off, leaving nothing but an empty, grating shell of a noir. The film is as redundant as it is unoriginal.
Pine's technician, Darren, is introduced while he's cleaning the pool outside of his trailer home as if it were a holy ritual, meticulously checking the PH levels while listening to "Flower Duet" from the opera "Lakme". His world revolves around his job, his friends—who include his sort-of-girlfriend Susan (Jennifer Jason Leigh), his therapist (Annette Benning), and her husband, unsuccessful movie director Jack (Danny DeVito)— and the city of Los Angeles at large. He religiously attends city council meetings to pitch improvements to the public transport system, inspired by Erin Brockovich, whom he routinely writes letters to—one of the film's many shallow narrative devices. Soon after, Darren finds himself embroiled in a familiar plot when a femme fatale (DeWanda Wise) seeks his help in uncovering a conspiracy involving the city council head (Stephen Tobolowsky) and his shady compatriots stealing the city's water.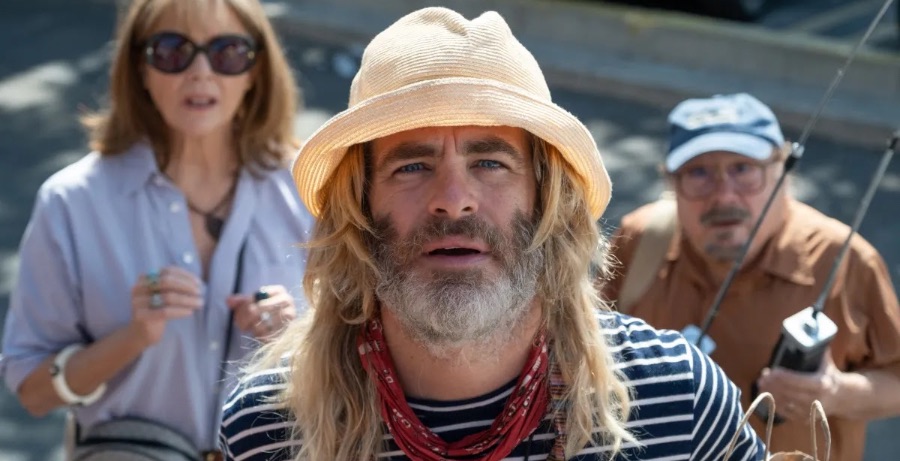 Poolman's mystery is incoherent and shrill from the get-go, due in large part to its disastrous direction. Pine mightily struggles to balance the myriad of tones, unfolding as a screwball comedy one minute and a straight-faced noir the next, with both extremes failing to induce an iota of interest. Such glaring missteps would be easy to overcome if Poolman was an exercise in farce, but each performance, despite how cartoonish they get, is so fiercely committed to Pine's ever-shifting vision that it becomes even more surreal and painful to sit through.
Poolman is also a jarringly overedited experience, constantly cutting back and forth between characters who are sometimes lying face-to-face in the same bed. Most frames feel unfinished and cobbled together, including a key scene where a character is shot from such an impossible angle that it had to have gone through the person sitting in front of them to hit him. It's as if the film was shot on the fly to imbue it with a frazzled, frenetic flair but does nothing other than make it an excruciating 100-minute sit.
Poolman isn't even worth an ironic hate watch. It's best left to sink deep in the recesses of our memories until it's a faded blemish on Pine's otherwise stellar cinematic record.
Poolman screened as part of the 2023 Toronto International Film Festival.
Poolman
TL;DR
Poolman isn't even worth an ironic hate watch. It's best left to sink deep in the recesses of our memories until it's a faded blemish on Pine's otherwise stellar cinematic record.