For more on Richter Belmont, listen to our interview with directors Sam & Adam Deats, and co-showrunner Kevin Kolde here.
One of the stark differences in Casltevania: Nocturne from the original Casltevania series is that the new trio is much younger than the last. While Alucard, Trevor, and Sypha all had their own growth arcs across four seasons, they were dedicated to learning how to soften their hard hearts and connect with each other despite the horrors of the world. They had no problems confronting any number of enemies head-on, even when the odds were against them. In Castlevania: Nocturne, Annette, Richter Belmont, and Maria are on a different path, one that shows them coming of age in a dark world and learning from its violence.
From little boy Belmont to a Belmont fitting the legacy and stronger than those before him, Richter is a powerful testament for allowing your heroes the ability to feel deeply and to run away. By focusing the narrative around this early time in Richter's life, the audience is able to embrace his faults. Fear of failure, fear of grief, just fear of having to fight his past, all of it makes Richter who he is, and it isn't until he stares it down and makes a choice to move forward that we see him as a Belmont, at least in the way we've come to see them thanks to Trevor.
I knew I would recognize parts of myself in Olrox, the unwavering and defiant Aztec vampire. I knew that I could see my own resiliency in Annette. But I didn't know that I would find myself in Richter's youth. As a character, Richter Belmont's shounen arc is compelling and universal. Processing grief, even within the same person, isn't always the same. Where it can build resiliency and harden you, it can also break you in ways you don't realize until you're confronted with reminders of your loss.
It's clear that Castlevania: Nocturne is a coming-of-age story for Richter Belmont, and it's been noted as such by those who worked on it. In that, his arc resembles many shounen protagonists who are forced to confront parts of themselves and grow. Still, even then, that does a disservice to the bold narrative choice that the writing team made by allowing Richter to run away in fear, cry, and break under the weight of his past. Allowing your hero to show a moment of weakness is often characterized as cowardice, and calling it as such between your characters is powerful. Weakness builds resiliency as much as strength does.
By using Annette to call out Richter's weakness, a character who has been harmed by the world through the evils of slavery and having her mother killed in front of her only to see the man responsible escape justice and revolution, we see someone who has objectively had it worse. Still, comparing trauma and the wounds it carves deep in your soul isn't what Castlevania: Nocturne is interested in doing. Instead, it embraces parallels and the different ways grief and trauma cause its characters to react and how they've created armor around them to protect them from future harm.
For Annette, her resiliency and the constant reminders of her past, branded into her hand, is her armor. Nothing will ever be as bad as the plantation or what she has already survived. But for Richter, his arrogance and bravado serve as his coping mechanism. He wore the Belmont crest and the hunters before him as a shield, and with Olrox out of sight, he never had to confront his loss…until he did.
I am well aware that some do not like to use the term broken to describe people. But for me, with my share of trauma and loss, it's how I choose to define myself in those moments. If I didn't break, I wouldn't have been able to build myself new again. For the characters in this story, it's the same. Richter was broken irreparably by watching his mother die, losing his magic in the process.
Despite his one-liners and assertions of being a Belmont in battle, his loss of magic sticks as a reminder of what he lost and his inability to process or move past it. And compared to the hardships we've seen other characters endure, even the safety of his found family with Tera and Maria Renard doesn't offer a reprieve. The new love and safety he finds doesn't flip the magic switch back on. Only when he confronts his vulnerability does that happen.
In shounen fashion, Richter meets an older man to learn about himself through their mistakes, and in his case, this man is his grandfather, Juste Belmont, by hearing Juste's past and how he lost himself. The Belmont line is riddled with broken men learning who they are after loss, but Richter has to experience that sooner. In what stands as my favorite fight of Castlevania: Nocturne, we see Richter forced to confront the possibility that he will lose his family again. That he will have to see Tera, Maria, and even Annette taken from him by vampires, helpless to stop it. Only now, he isn't helpless. Instead of a child conjuring small flames to fight a mighty dragon, he becomes a vision of his mother, a Speaker, and a whip-wielding vampire killer.
At the start, Richter Belmont doesn't know who he is, just what he's afraid of, but by the end, we see him rise to meet the Belmont legacy. In Episode 6, where he finds his magic again, we see a single frame of his back is slightly shadowed, and his stature looks like that of Trevor.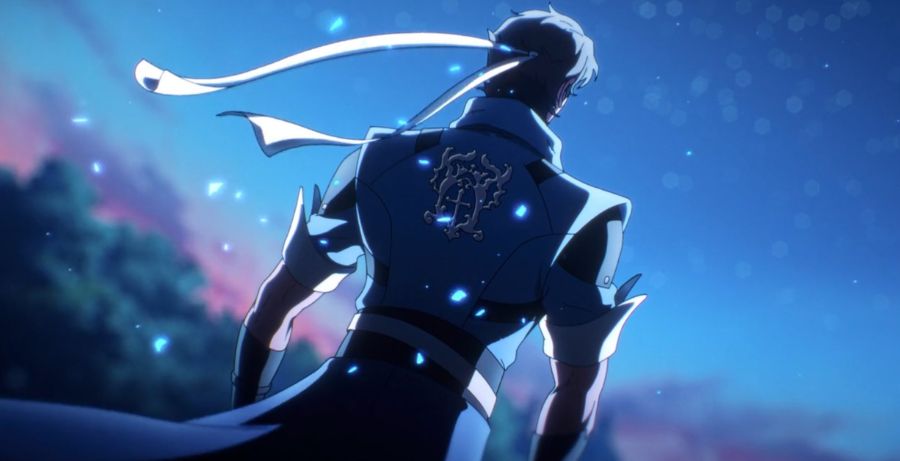 He's changed from a character presented as small in stature to a broad back emblazoned with the Belmont crest. Not only does the script and, more specifically, the dialogue showcase Richter's growth at that moment, but the animators beautifully embrace visual narrative, allowing a single shot to show Richter becoming the embodiment the Belmonts have come to be in the many years since Sypha and Trevor.
Even at the season's end, after a great loss, Richter Belmont isn't defeated. Instead, he's standing tall and ready to keep fighting. As Alucard emerges from the sky, killing Drolta in her tracks, he notices the Belmont, on the edge of utter defeat, but on the edge is still worlds away from the fear he showed seeing Olrox for the first time since his mother's death.
I have watched Castlevania: Nocturne three times, and each time, I questioned why Richter moved me. I mean, he ran away, he cried, he was everything I hate. He was weak. Then, I realized that failing and weakness are just as compelling as strength and success. Embracing your vulnerability and accepting the pain is necessary to learn how to live with it. Richter Belmont is a testament to coming of age and coming to terms with who you are and all the pain that comes with life. Richter doesn't thrive and grow in strength in spite of his weakness but because of it. There's no greater hero than that.
Castlevania: Nocturne is streaming now exclusively on Netflix.