Listen to our interview with directors Sam & Adam Deats, and co-showrunner Kevin Kolde here, to hear more about Castlevania: Nocturne.
The original Castlevania is what broke the video games turned new medium curse. A series from Powerhouse Animation, it brought forward clear elements of the video game while adapting it into a timeless story with characters that had depth and dynamic relationships. By the end of the fourth season, it was, well, perfect. To follow up that success is hard, but that is a burden that Castlevania: Nocturne carries easily. Very different from the first of the series, this sequel series still holds onto elements of the first that made it a success but does so by changing up the formula just enough to stand on its own.
Castlevania: Nocturne is set well after the events of the original series in France, 1792. At the height of the French Revolution, the history in this series has vampires as the aristocracy, still reliant on human connections in the monarchy for survival, and here, they're being overthrown by the French. The series is produced by Powerhouse Animation, directed by Sam and Adam Deats, and written by Clive Bradley, Zodwa Nyoni, Testament, and Temi Oh.
Taking inspiration from Castlevania: Symphony of the Night and Rondo of Blood (as well as other games in the series), the series takes place primarily in a remote part of western France, the counter-revolutionary aristocracy has forged an alliance with a terrifying Vampire Messiah, who promises to 'eat the sun' and unleash an army of vampires and nightcreatures to crush the revolution and enslave humanity both in France and the New World. Annette (Thuso Mbedu), a sorceress from the Caribbean, seeks out Richter Belmont (Edward Bluemel), the last descendant of Trevor Belmont and the long-fabled family of vampire hunters, to lead the resistance against the Messiah, Erzsébet Báthory.
With faith and revolution as the two important narrative anchors this season, Castlevania: Nocturne explores what encourages people to fight and how faith can wax and wane like the moon. The series is about keeping faith in the hardest of times, how faith can be bastardized and weaponized to subjugate and oppress, and how it can give you power and connect you to others.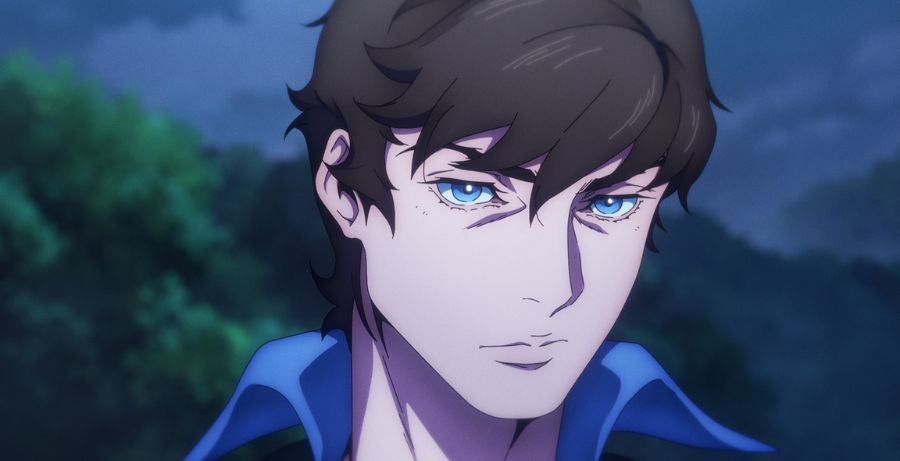 You don't need to have watched the first series at or in its entirety in order to venture into Castlevania: Nocturne. While you do get something out of it for seeing everything before, this series gloriously stands on its own footing in a way that allows it to step out of the shadow of Powerhouse Animation's previous success. But if you have seen the series before, you'll find that everything in Castlevania: Nocturne is just more. More action. More emotion. More history. Just more. And none of this is more true than in the opening episode.
Right from the beginning, Castlevania: Nocturne puts its cards on the table, setting the bar for action and emotion immediately. As we see a young Richter watching as his mother fights Olrox (Zahn McClarnon) only to be murdered in front of him, it's an adrenaline shot to the system that also solidly presents Richter to the audience as a boy. The weight from the opening carries through each episode as we see Richter navigating the world, his relationship to his Belmont legacy, and his found family, Tera (Nastassja Kinski) and her daughter Maria Renard (Pixie Davies).
Richter appears confident on the outside, throwing out insults to the nightcreatures he kills and the vampires he whips. He's skilled, but he doesn't believe in anything. In one of the most powerful lines of the season, he talks to Maria, who is also working as a revolutionary, that he doesn't need to believe in anything; he just needs to stay by her side. His devotion and love for Maria and Tera are central to him, but it's out of fear, not strength. When he comes face to face with his mother's killer, Olrox, he runs. He runs and hides and cries, and he's very decidedly a little boy once again.
Unlike Trevor Belmont or Sypha Belnades, Richter Belmont doesn't know who he is, just what he's afraid of. In here lies the growth that allows him to rise to meet the Belmont legacy. In the last third of the season, when his character has come into himself and chosen to confront the fear, we see him from the back. A single frame of his back, is slightly shadowed, and his stature looks like that of Trevor.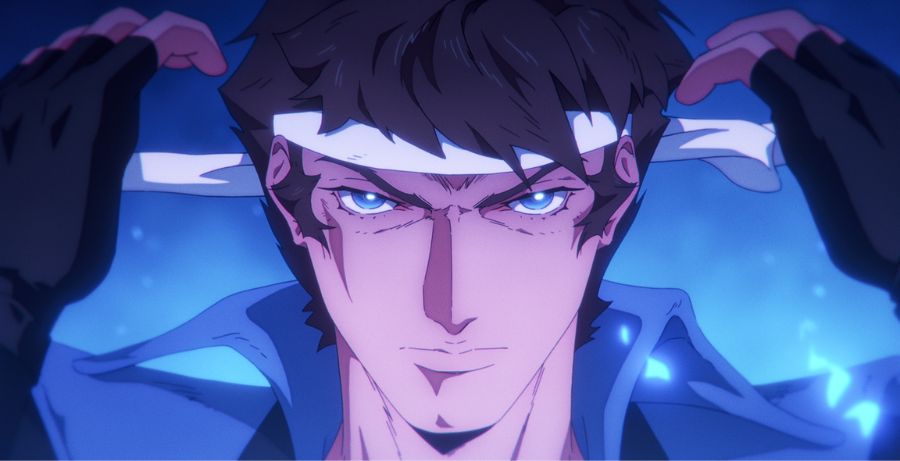 He's changed from a character presented as small in stature to a broad back emblazoned with the Belmont crest. Not only does the script and, more specifically, the dialogue showcase Richter's growth in the moment, but the animators beautifully embrace visual narrative, allowing a single shot to show Richter becoming the embodiment the Belmonts have come to be in the many years since Sypha and Trevor.
But Richter isn't the only nuanced and dynamic character this season. Sticking to a core group, Maria and Annette join Richter in his fight against the Vampire Messiah. While Maria is central in the closing episodes of the season, it's Annette who tells one of the most powerful stories of the season. Powerhouse is no stranger to using religion in its storytelling, with Seis Manos offering a dynamic look at Mexican folk religion and spirituality, using it to inform monsters and identity in the series. The same is true for how the team on Castlevania: Nocturne handled Annette, her Yoruba ancestry and religion, and bringing it to life with as much beauty and power as anything else in the world they've created.
The embodiment of Ogun, the Orisha of War, Annette's power comes from her ancestors, as does her residency. Instead of ignoring the reality of slavery in the Caribbean, Castlevania tells that story and how revolutions and uprisings mean something different to different people. While Maria and Richter fight in France, they are not being sold like animals, they aren't branded by masters for running away, and they don't carry the same trauma that Annette does, losing her family and ancestry at the same time as the slavemaster violently keeps Annette and her mother from singing or praying.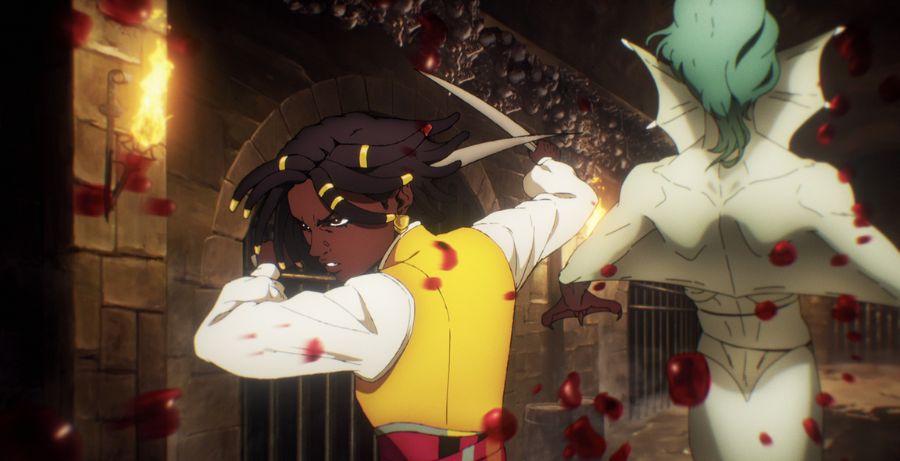 Annette is in conversation with her history, and in a more potent way than we saw explored with Isaac in the first series. But as much as we see Annette reference her past and the horrors of it, Castlevania: Nocturne walks the fine line of using that narrative as a crutch or restricting her to her past. Instead, she's empowered by her faith and history to impact the narrative, a vital member of the core cast.
Annette's story is one that is thoughtfully told and one that leans on the rich history and religions of Africa. While Ogun appears in different African religions, he is referred to as an Orisha in the series. That, coupled with appearances by Papa Legba, makes it clear that the spirituality on display is Yoruba-influence Haitian Vodou, with the animators also including veve in the sequences where Annette attempts to use powerful magic or commune with her ancestors. There is something beautiful watching the Christian god shake under the weight of the Vampire Messiah, molded after the Egyptian god Sekhmet, and seeing Annette fight, a god herself, though her youth means her power isn't fully realized just yet.
Like the original series, it's not just our heroes who feature robust histories and depth. So do our villains, or in this case, our antagonists. The Aztec vampire Olrox stands out as a dynamic vampire with his own morality and motives. While we don't know much about his background, the pieces we get are how others talk about him, and his actions in the series allow us to piece together an enigmatic character.
We see him in bed, just after intimacy with Mizrak (Aaron Neil), the religious knight; we see their conversations, and in this vulnerability of a budding romance, we learn about Orlox's history. His former lover, a Mohican man fighting in the American Revolutionary War, almost made him believe in freedom, but his death changed Olrox.
Olrox is a vampire, yes, but he is more complex than just crony of the new vampire god. He is his own man, with his own love and his own motive, and even when he bows, his eyes remain fixed upward, never lowering himself fully to someone else's power. He's complex and stirs tension on the vampire side, having never forgotten the white vampire settlers who killed his people and destroyed their land.
Castlevania: Nocturne works to create detailed and deep characters with backstories that stretch across time, making them larger than just the single moment that we see them. Part of this is accomplished through dialogue and sequences of animation that flashback to the past, but the other part is done through key visuals, allowing the characters to wear their personalities on their sleeves.
While the series has always found a balance between beauty and horror, this series is on another level. Embracing the bi-shonen style of Ayami Kojima even more this season, the decadence that once appeared in Alucard is now how France is captured wonderfully, as are the characters themselves. Always gorgeous, always powerful, and always straddling concepts of gender. With the final moment of the season offering a beautiful take on Kojima's work.
Truly, the character design for Castlevania: Nocturne is unmatched. Whether it's Drolta's vast wardrobe or the subtle ways that Richter changes over the season, and even still the gaggle of nighcreatures we see throughout the series as well, every character holds layers of story in their designs. But with these new designs and details, the striking animation changes in Castlevania: Nocturne also becomes a highlight.
In a more simplified style, the action sequences resemble a style closer to what was used in the big fight sequences of Castlevania Season 4 than any other work done by Powerhouse Animation. Showcasing the range of the animators themselves, there is a balance of fine details in single-frame shots of nobility or faces or bodies laying still that shifts away once battle begins. This transition has an artistry that fans of studio MAPPA will notice, and I mean that with the highest compliment attached.
The action sequences in Castlevania: Nocturne are many, and they each capture a diversity of style that is fit to those fighting, which, when brought together in the climactic fight at the end of the season, is rewarding beyond description. There is truly no Western animation studio bringing this amount of talent to action sequences nor embracing the ugly elements of characters with unflattering angles to tell story points as much as knowing how to create desire on screen. Everything about the animation in this series is striking.
Castlevania: Nocturne is an exquisite take on revolution, freedom, and cycles of violence without losing its video game roots or dark fantasy action. Balancing these two elements against each other and creating characters that clearly exist well beyond our time with them on screen, this series is a triumph and lives decidedly outside the shadow of the past. Here's to a second season, may Netflix confirm it soon.
Castlevania: Nocturne is streaming now, exclusively on Netflix.
Castlevania: Nocturne
TL;DR
Castlevania: Nocturne is an exquisite take on revolution, freedom, and cycles of violence without losing its video game roots or dark fantasy action. This series is a triumph and lives decidedly outside the shadow of the past.