The original Castlevania animated series did a lot of work adapting the video game's larger themes while taking secondary and tertiary characters from the video games and building them out to something larger. And with Annette, Castlevania: Nocturne expands on a character that was nothing more than a romantic footnote.
As we dive into who Olrox is and why he carries so much power in the story, here is your obligatory spoiler warning for Castlevania: Nocturne Season 1.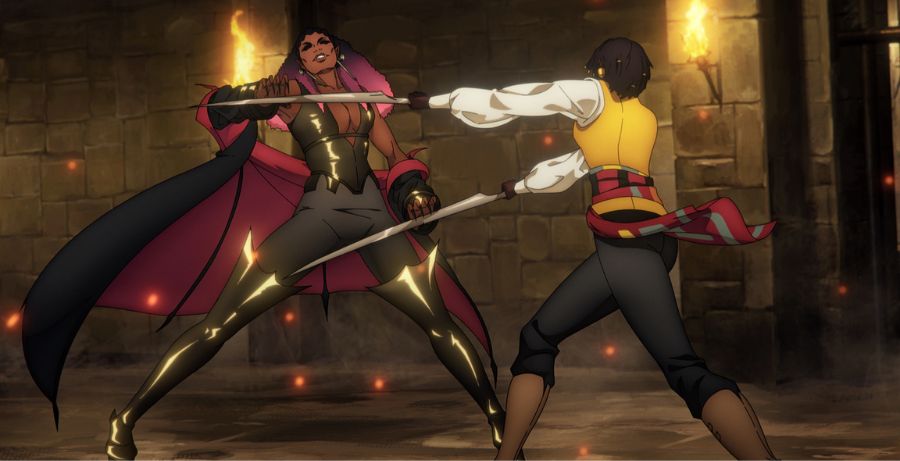 Yes, and well, no. A version of Annette exists in video games, specifically starting in 1993 with Castlevania: Rondo of Blood. Her contributions to the lore of Castlevania purely exist in how she relates to Richter Belmont as her girlfriend and nothing else, appearing in Castlevania: Dracula X, Castlevania: The Dracula X Chronicles, and Castlevania: Grimoire of Souls. After Dracula is resurrected, he takes the inhabitants of the town prisoner, and Annette is one of them, propelling Richter to save her.
Who is Annette in Castlevania: Nocturne?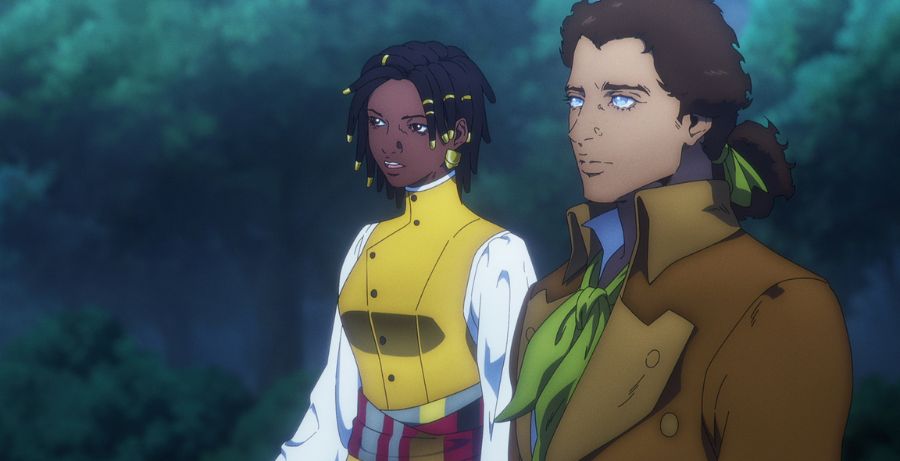 A far departure from her damsel in distress trope in the games, the version of Annette in Castlevania: Nocturne, voiced by Thuso Mbedu, is billed as a sorceress from the Caribbean. But she is so much more. After fighting in the Haitian revolution against the French, Annette came to France with her best friend Edouard (Sydney James Harcourt). She is the living embodiment of Ogun, an ancestry passed down to her through her father.
Escaping slavery in Haiti after being saved by Edouard, a free-born Black opera singer, she fought for freedom using her godly powers, eventually winding up in France to take down the vampire aristocracy who once made up the slaveholders on the island.
Resilient but branded as a runaway, she wears the fleur de lis on her hand as a reminder that she had the courage to escape. In her words, "If I let my past terrify me, I'd never be free of it." While her past doesn't define Annette, her deep connection to her ancestors is clear if she chooses to listen to them. Having helped burn Saint Domingue to the ground in a rebellion, the slavemaster vampire responsible for her mother's death, Vaublanc, made an escape.
Annette's place in Castlevania: Nocturne is one of the strongest, rounding out our new trio with Maria Renard (Pixie Davies) and Richter Belmont (Edward Bluemel). In Episode 3 of the series, Annette mobilizes the people of France, delivered against the Abbot (Richard Dormer), who is in a church evoking god while calling on nightcreatures to fight the revolutionaries. It's an interesting moment that firmly places Catholicism as an ill and an upholder of oppression, a common theme throughout this new series (which isn't disparate from the representation of religion in the original series).
Annette, like Olrox, is a masterclass in expanding on a small character in the game series and bringing them into a new light with a strong impact. While there is always the loud minority that is enraged by changing the race of a character, Powerhouse Animation has shown how they do so with care. Annette's identity is central to how she fits into the larger Castlevania: Nocturne series.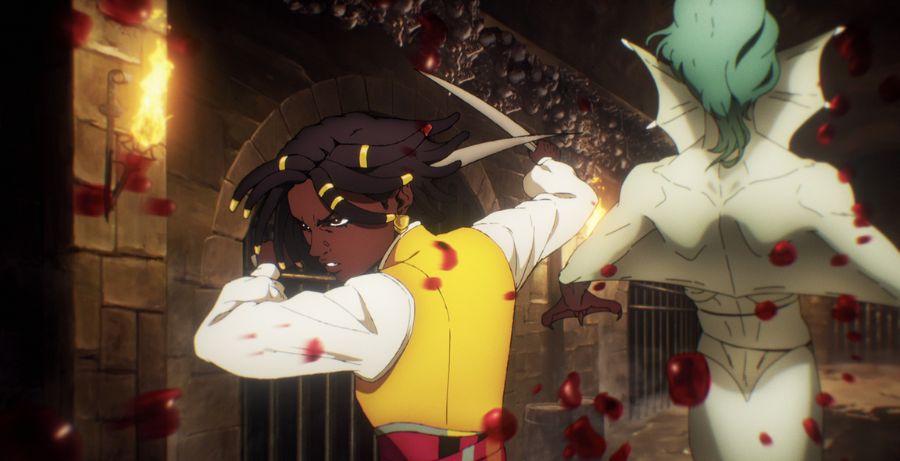 Informed by trauma but not defined by it, Annette embodies the messages that the series aims to send the audience. Freedom above all else. Resiliency is key. And the importance of connections to others for both. She also pushes the characters around her further, not just as a catalyst in their story but as something more. Where Annette's stories touch others, greatness happens narratively.
When she confronts Richter and his cowardice, we see her resiliency put against the way that Richter breaks. What seems like a critique of Richter soon shows to be a connection. In reality, they both ran. It's the choice that they make to confront their tormentor that defines their characters and their roles in the series.
Moved form damsel to a living god still learning how to harness powers, Annette's future is a strong one. One of the important elements of this current Castlevania series is that all of the protagonists are young. They are still discovering how they are in relation to their powers and forwing within them as well. This means that so long as we see season two, her path forward is bright. What better way to fight a goddess than with a god?
What are Annette's powers in the series?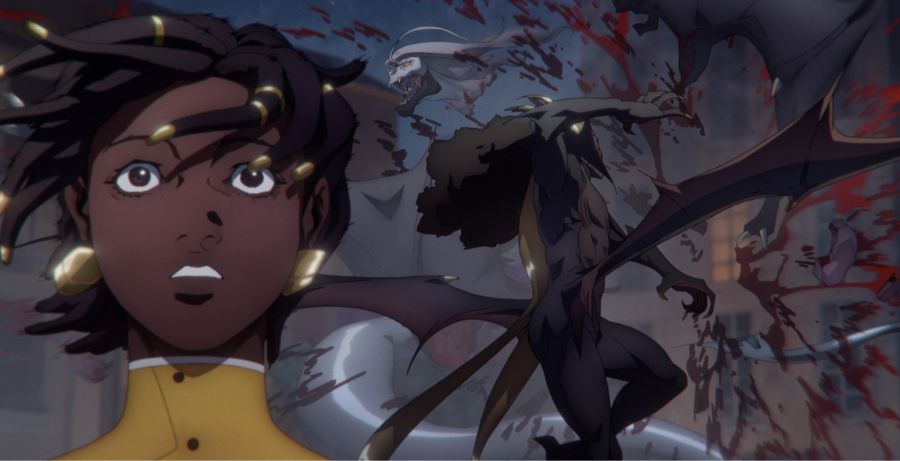 A strong character with the ability to hold her own in physical combat, Annette is one of the best parts of Castlevania: Nocturne. But physical combat isn't the only thing that makes her a force to be reckoned with. Annette is embodiment of Ogun, the god of war and iron. She sings the ancestral calls that connect her to the gods beyond the sea and the plantation. When she needs him the most, Ogun answers, and her powers awaken.
With her powers firmly rooted in Yoruba-influenced Haitian vodou, Annette can manipulate the iron in the earth as well as forged iron. She routinely changes the iron around her into two blades, which she wields in her hands or manipulates in the air. Additionally, she moves the earth strategically for both defense and attack. When she's feeling an intense emotion, she moves the elements around her, having to quiet her mind before it stops.
That's not all, though. She can also use a veve drawn on the floor to call Papa Legba to help gain more power, a skill taught to her by Cecile, a high priestess. She uses the veve to open spiritual crossroads and can use them to tap into greater power and visit the astral plane of her ancestors and teacher.
Are Annette and Richter in love in Castlevania: Nocturne?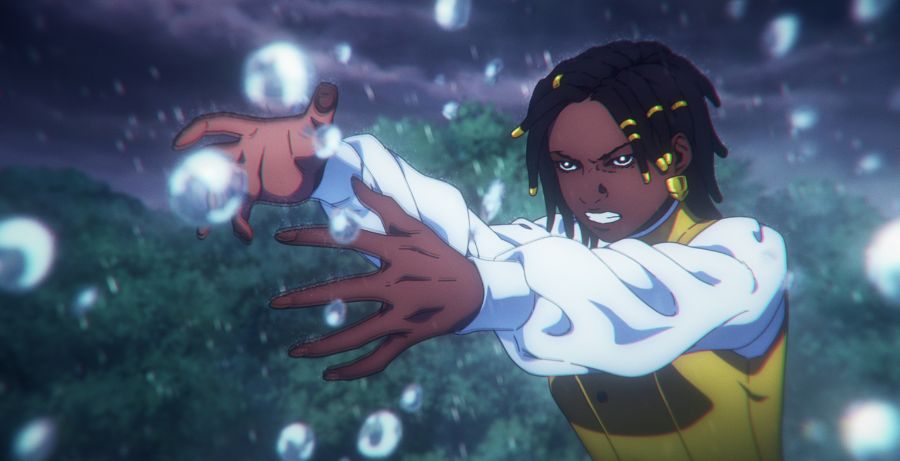 Like Richter, Annette's mother was killed in front of her by Vaublanc. It creates a bond between the two of them, though they occupy two very different positions. While Richter could run away, Annette couldn't—not immediately. This causes tension between the two in the series as Annette continually tries to hold her ground. She sees Richter as a coward for fleeing his mother's killer, especially when she is running towards the same vampire who killed her mother, meeting him head-on.
By the end of the season, Richter and Annette are closer, understanding each other's trauma and positions in the world, but romance hasn't been revealed yet. However, as we wait for a second season and beyond, they're young and growing into their powers and relationships with each other, so there is an open path for a ship to sail.
---
Castlevania: Nocturne is streaming now, exclusively on Netflix.