Castlevania: Nocturne has a shocking amount of characters for its first season compared to the first seasons of the original Castlevania series. Set during the French Revolution, we follow a young Richter Belmont, Maria, and Annette as this group of young vampire hunters attempts to save the world from the sun-eating Vampire Messiah. To help you keep them all organized, here is a list of the Castlevania: Nocturne characters with large story impact, the roles they play this season, and where they've appeared before. Beware, this Castlevania: Nocturne characters list contains spoilers for Season 1 of the Netflix and Powerhouse Animation series. And for a spin-off series, the depth of these characters rival the original.
Richter Belmont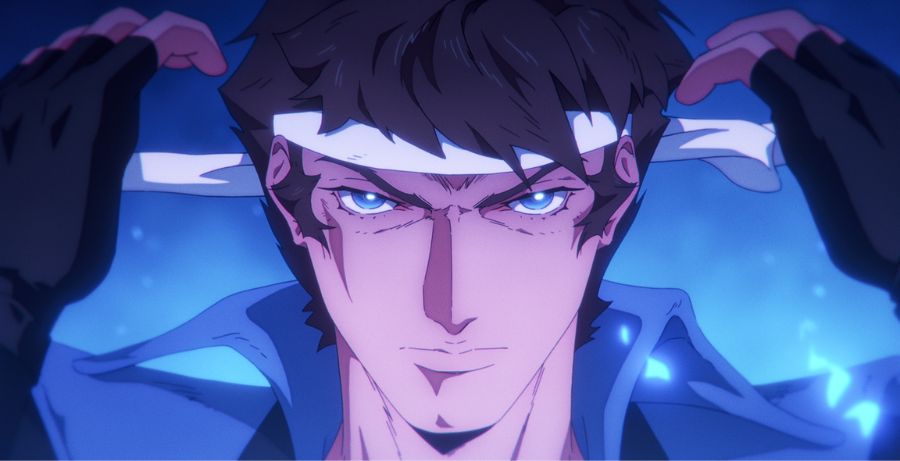 Little boy Belmont, Richter is one of our two focal points this season. Along with Annette, Richter's grief and tragedy shape the story and propel him to growth. The last of the Belmonts (again), he lost his magic when Olrox killed his mother in front of him but didn't think about it given that generations of Belmonts killed with the Vampire Killer whip and knives alone before Sypha Belnades and Trevor Belmont had children. But his magic is a physical manifestation of his inability to process his mother's death and confront his fear of Olrox.
But when he's called to fight the Vampire Messiah directly and faces the threat of losing the only remaining family he has, his "aunt" (well, more like a distant relative) Tera and his cousin (but more like his little sister) Maria, he changes. Growing from a child who—as Annette said—hasn't had to make the tough choices that come with a hard life to a man ready to wear the Belmont crest and fight his demons, Richter isn't just an interesting character but a strong one. Strong in his physical power when he unlocks his magic again in a blaze of blue-flamed glory, but even stronger in the way that he confronts his vulnerabilities, Castlevania: Nocturne is better with him at the center of it. Complicated and undergoing growth in a way we haven't seen in Castlevania characters before, only Castlevania Season 2 can complete this compelling arc.
Constantly confronting his own inexperience and trauma, especially when confronted by Olrox, Richter is a stunning example of writing a male character in a multifaceted way that showcases the importance of both strength and recognizing one's weaknesses, particularly where relationships are concerned.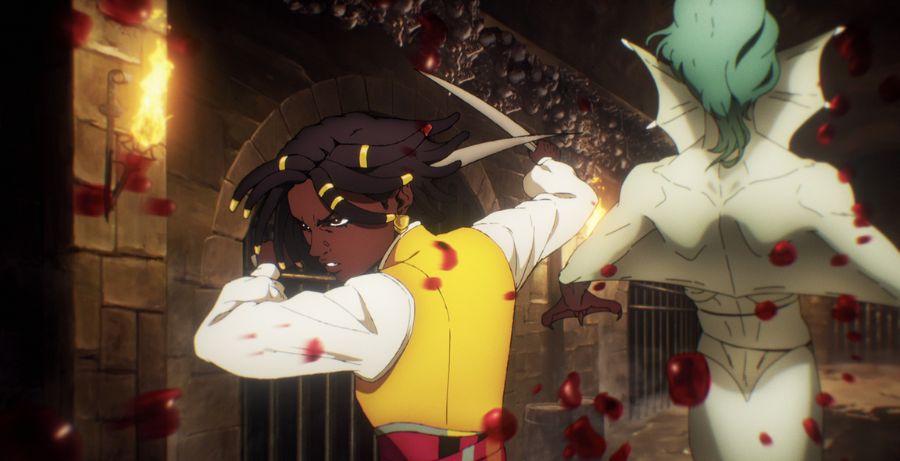 Initially, just Richter's love interest to be saved in Castlevania: Rondo of Blood, Annette in Castlevania: Nocturne is one of the most dynamic characters in the series. A former slave from Haiti, she's also the embodiment of the orisha Ogun, a god of war and steel.
A far departure from her damsel in distress trope in the games, the version of Annette in Castlevania: Nocturne, voiced by Thuso Mbedu, is billed as a being a sorceress from the Caribbean. But she is so much more. After fighting in the Haitian revolution against the French, Annette came to France with her best friend Edouard (Sydney James Harcourt). She is the living embodiment of Ogun, an ancestry passed down to her through her father. Escaping slavery in Haiti after being saved by Edouard, she fought for freedom in the Haitian Revolution, using her godly powers, eventually winding up in France to take down the vampire aristocracy who once made up the slaveholders on the island.
Annette's place in Castlevania: Nocturne is one of the strongest, rounding out our new trio with Maria Renard (Pixie Davies) and Richter Belmont (Edward Bluemel). In Episode 3 of the series, Annette mobilizes the people of France, delivered against the Abbot (Richard Dormer) who is in a church evoking god while calling on nightcreatures to fight the revolutionaries. It's an interesting moment that firmly places Catholicism as an ill and an upholder of oppression, a common theme throughout this new series (which isn't disparate from the representation of religion in the original series).
Edouard
Born a free man in Haiti, Edouard was an opera singer. When Annette ran into his opera house one night, he saved her and showed her the network that he had been working for to protect and rescue escaped slaves. Connecting Annette to her Mamba (mentor) in order to grow her power, Edouard fought alongside Annette in the revolution. He travels with her to France, leaving behind his boyfriend in Haiti, with the hope of returning. With the ability to read auras and the voice of an angel, his time with Richter, Maria, and Annette in France is cut short when he is killed by a group of vampires. But his story doesn't end there.
Turned into a nightcreature by the Abbot, Edouard is able to retain his soul and his song. When he saves Annette from other nightcreatures, she tries to make him free by killing him, only to realize that Edouard sees his new life, with little memories of his old one, as one with purpose. He sings to free the souls of the other nightcreatures around him, and his character is one of the largest reasons for survival in the last episodes of the season.
Maria Renard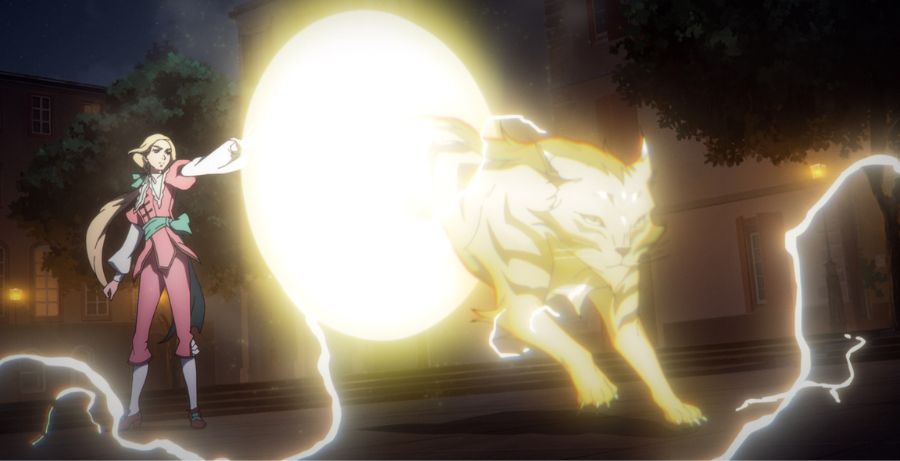 Featured in Castlevania: Rondo of Blood & The Dracula X Chronicles, Symphony of the Night, and Nocturne of Recollection, Maria Renard's design is the most faithful to the way she's presented in the games, primarily in her appearance in the Dracula X Chronicles. A Speaker like her mother, she is Richter Belmont's cousin and has the power to use magic like we've seen in the past, as well as summon animals from portals she creates, commanding them to fight for her, scout for her, and assist in moving through the world. Extensions of her being, she feels deeply when they're killed and does her best to heal and protect them.
The youngest of the new trio with Richter and Annette, Maria is also the most idealistic, giving inspirational monologues to revolutionaries. Stronger even than what we see in the games at this age, she is a vampire huntress who is pulled into the events of Castlevania: Nocturne because of her relationships with the other characters.
In the last couple of episodes, her importance grows when her lineage is revealed to her, and she directly confronts the Abbot in an attempt to stop him from creating nightcreatures and to turn away from the vampires. With three games of power and character development, I can't wait to see how she develops in the series, especially now that she's lost her mother.
Tera Renard
Based on the character of the same name in Castlevania: Rondo of Blood, Tera Renard is Richter Belmont's aunt and is a Russian Speaker who escaped her homeland with the evil of Erzsabet Bathory at her back. When she lost her sister to Bathory's brutality, she was forced to put her out of her misery once she turned into a vampire. A powerful Speaker, Tera's spells come in handy consistently as she adds valuable support to the core trio we have this season, which includes her equally as magically talented daughter Maria.
Still in love with the church Abbot, who is tasked with making nightcreatures for the Vampire Messiah, she is forced to confront her past and protect her future when she sacrifices herself for her daughter on Bathory's altar. Turned into a vampire by Seaosn's end, it's clear that this isn't the last we've seen of Tera, and given her strength in life, I'm curious to see how it will grow in death.
A Boss in Castlevania: Symphony of the Night, Olrox has been reimagined. With the same powers on display in the game, the best adaption in his character is that in his reptile form, he becomes the Aztec god Quetzalcoatl, a winged serpent—which keeps in line with the game version but fits his true form to his Aztec identity. O
lrox is the opening villain of Castlevania: Nocturne, killing Richter Belmont's mother, Julia Belmont (Sophie Skelton), moments into the start of the series. Played by Zahn McClarnon, Olrox is beautiful but has a level of intimidation that is palpable, crystalized in his final threat to Richter. There is something more sinister in allowing the child of the woman you just killed to live and letting your shadow infect his life from that moment on, a specter of death on the horizon.
Like other villains and antagonists in the original Castlevania series, Olrox is more than meets the murderous green serpent's eyes. Over the course of the series, audiences get small glimpses into who he is, and the love he had in his life, which, by his account, has only occurred once in his 250 years of being a vampire. With background elements shared in the intimate moments with Mizrak, his lover, this season, the writers have chosen to give Olrox a twinge of vulnerability.
Unlike the other vampires this season, Olrox is stalwart in his personal ideals and has a long memory of vampire history and oppression that adds a new flair to vampire society that we haven't seen before. More importantly, we haven't seen Olrox regret his power or his standing, only the way in which he has seen the world unfold.
Drolta is the Vampire Messiah's righthand woman and her biggest follower. A skilled fighter, Drolta led her human life as a priestess of Sekhmet, the Egyptian god of war and vengeance. Based on Drolta Tzuentes in Castlevania: Bloodlines, the Drolta we see in Castlevania: Nocturne is easily one of the most visually beautiful characters in the entire series. She is one of the only characters whose costume and hairstyle change in nearly all of her scenes. As gorgeous as she is, she's moved from crone in Bloodlines to beautiful disciple.
With the ability to grow wings and fly through the sky, her hand-to-hand combat is unmatched, and her demonic look is one of the best designs we've seen for an enemy in the franchise so far. Unyielding in her devotion to Erzsabet Bathory, she's bringing together followers from the vampire aristocracy in France and standing guard against anyone who would attempt to cause conflict with her Goddess.
Erzsabet Bathory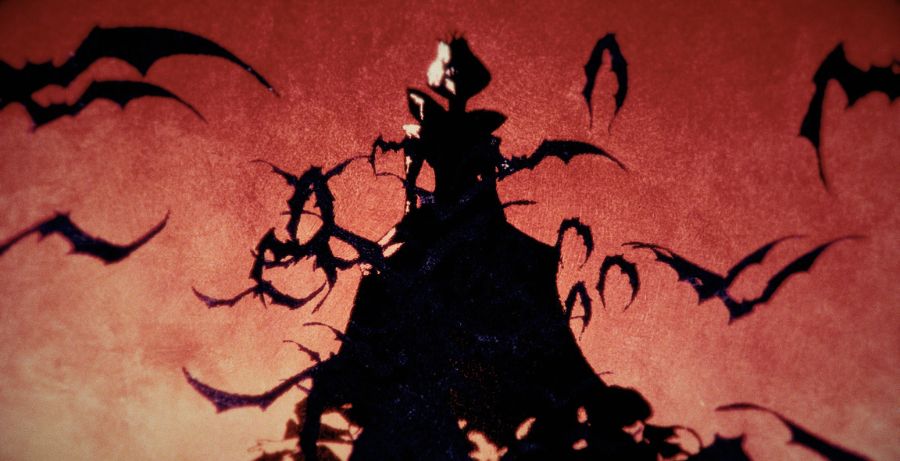 The Vampire Messiah, the Vampire Queen, Erzsabet Bathory (or Elizabeth Bartley in Symphony of the Night) comes from Eastern Europe, where she terrorized legions of young girls. Inspired by the vampire countess of history, she also steals away young women from their homes and transforms them into new life. But Erzsabet's promise to "eat the sun" as the Vampire Messiah isn't grounded in her power as a vampire, but rather from her powers as the Lioness, Sekhmet.
Drolta's servitude comes not only from believing in the Messiah's promise to bring a new world where vampires don't bow to humans, it also comes from the fact that Erzsabet drank the blood of Sekhmet. A goddess and not a vampire, her power is frightening. For most of the season, she stands as a shadow across our characters, the impending doom. Then she appears in all of her regal glory, eating the sun and transforming into the Lioness of myth.
Unscathed by even Richter's strongest attacks, Erzsabet Bathory's story isn't done. Like Dracula before her, it's clear she will be the focus for most if the entirety of Castlevania: Nocturne.
---
Other Castlevania: Nocturne characters this season include: The religious knight Mizrak who is also Olrox's lover; The Abbot, Maria's father and the creator of the nightcreatures; Vaublanc, the slavemaster in Haiti who killed Annette's mother and is now one of the Messiah's disciples; Juste Belmont, Richet's grandfather who helps awaken his magic; and one more old face made new in the series' final moments.
Castlevania: Nocturne is streaming now, exclusively on Netflix.