One of the strongest points of the original Castlevania series wasn't just what it was able to do with secondary and tertiary characters, taking them from footnotes to dynamic story drivers, but that it was able to do that with antagonists. While the heroes of the series were stellar, the writing team on the series stretched their narrative muscles by giving the audience villains adapted from bosses in the Castlevania franchise and making them more than one note. In fact, between Carmilla and Isaac, audiences got a masterclass in giving antagonists reasons without apologetics. Olrox is that character in Castlevania: Nocturne.
As we dive into who Olrox is and why he carries so much power in the story, here is your obligatory spoiler warning for Castlevania: Nocturne Season 1.
Is Olrox in the Castlevania video games?
Yes, and absolutely in the way that we see Olrox in Castlevania: Nocturne. A boss in Castlevania: Symphony of the Night, Olrox rules the upper part of Dracula's castle and wears a suit of armor, with his primary power being fire. And that's it. Appearing dressed in purple and a true form that looks like an anthropomorphic reptile.
Who is Olrox in Castlevania: Nocturne?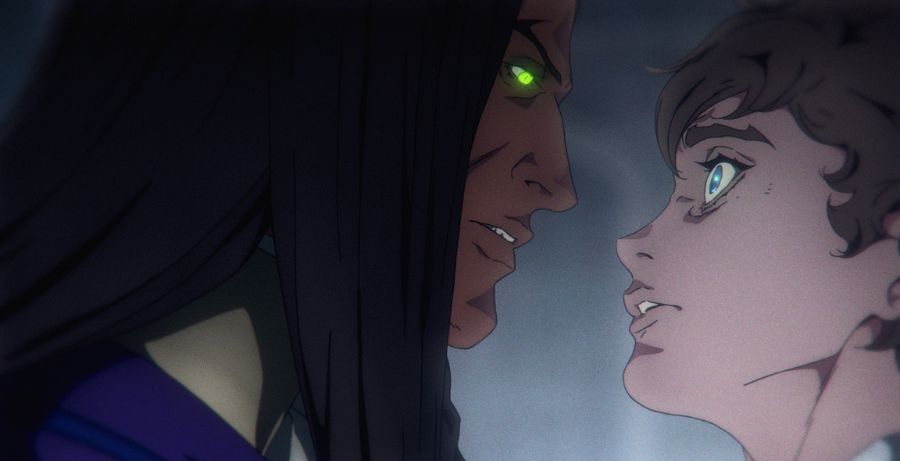 Olrox is the opening villain of Castlevania: Nocturne, killing Richter Belmont's mother, Julia Belmont (Sophie Skelton), moments into the start of the series. Played by Zahn McClarnon, Olrox is beautiful but has a level of intimidation that is palpable, crystalized in his final threat to Richter. There is something more sinister in allowing the child of the woman you just killed to live and letting your shadow infect his life from that moment on, a specter of death on the horizon.
Like other villains and antagonists in the original Castlevania series, Olrox is more than meets the murderous green serpent eyes. Over the course of the series, audiences get small glimpses into who he is, and the love he had in his life, which by his account, has only occured once in his 250 years of being a vampire. With background elements shared in the intimate moments with Mizrak, his lover this season, the writers have chosen to give Olrox a twinge of vulnerability.
In two conversations, Olrox lays his position toward the Vampire Messiah, Erzsébet Bathory, on the table. He is here to commune with the Messiah, not worship her. He is here to speak with her, not to be told what to do. While the vampire aristocracy is ready to bow to the bloody goddess, Olrox is not. He takes time explaining how his one and only love was a proud Mohican man who fought with the Americans in the Revolution, despite knowing that these white men would never grant him freedom. Olrox, in his love was moved by the call for revolution but that ended when Julia Belmont killed his lover, who he had turned into a vampire.
Despite claiming not to understand the need for rebellion, Olrox embodies it, and as such the core message if the series. When asked to subject himself to Erzsébet he refuses twice, until finally bowing to her. Only, the animators have illustrated that bow by panning in close to his face, his eyes looking up and directly at the Messiah, not to the ground subjecting to her power.
Olrox is a vampire that is heavily informed by his understanding what other vampires do and have done. Similarly to Annette he has witnessed their cruelty and subjectation first hand as he notes to Mizrak in an other exchange after their intimacy. Olrox's background is identifiable by three things this season. The first is when he transforms into a winged serpant, a Mesoamerican diety. The second is when Drolta calls him the Aztec. And the third is when he talks about watching vampires come with white colonizers onto his shore and decimate his people and their land.
His identity as an indigenous man isn't something that leaves him now that he is a powerful vampire. On the contrary, it's why he moves alone and why he will not subjugate his power to someone else. This is where he shifts from villain of the series, to an antagonist moved by his ideals and vengeance, not the wonton violence or belief that vampires are superior.
Even his choice to kill Richter's mother wasn't just from a need to take out a vampire hunter or cause pain. Instead, he is moved by his grief and pain, like others in the series. He was seeking revenge for losing the man he loved, and in that way, Olrox becomes someone you can understand, like Dracula, who moved to end humanity because he lost his wife. Olrox is a man of emotion as much as he is a violent vampire.
With his turn to helping Richter (Edward Bluemel), Annette (Thuso Mbedu), and Maria (Pixie Davies) in the final episode of the season, Olrox stands to be a big influence on Castlevania Season 2. Even more so when you factor in that he went against his words to Mizrak and, through his actions, has shown his love for him.
Unlike the other vampires this season, Olrox is stalwart in his personal ideals and has a long memory of vampire history and oppression that adds a new flair to vampire society that we haven't seen before. More importantly, we haven't seen Olrox regret his power or his standing, only the way in which he has seen the world unfold.
What are Orlox's powers in Castlevania: Nocturne?
Orlox has got to be one of my favorite adaptations of a Castlevania boss across both Powerhouse Animation series. In Castlevania: Symphony of the Night, Orlox is wearing purple and what has been described as a suit of armor. In the series, Orlox wears a purple 18th-century nobleman outfit equipped with gold and green jewelry that highlights his green serpent eyes.
In Castlevania: Nocturne, Orlox's powers are brought wonderfully to the screen with quite a bit of faithfulness to what we see in the game. First, he's able to fly, leaving silhouettes of himself behind faintly. This is exactly how we see him in the game, dodging your attacks with a purple outline of himself trailing behind him. Then there is his large attack in which he opens a black portal and summons blue firey skulls from it.
This attack is illustrated immediately within the series' first seven minutes as he fights Julia Belmont. Orlox as a fighter is defined in his fullest in his fight with Julia, kicking off the series with a big bang and letting his influence stretch over the series without actually needing to see his full power again.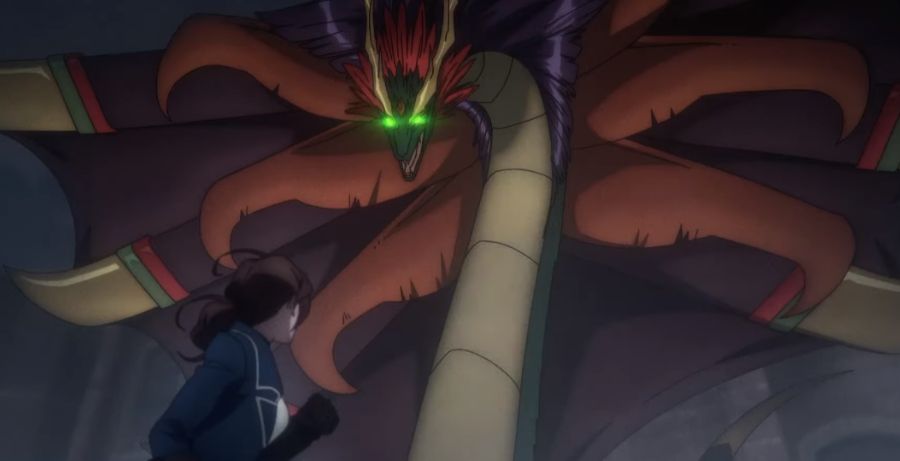 Finally, we see Orlox's true form, which in the game is an anthropomorphic reptile that spits fire and alight beam. In Castlevania: Nocturne, Orlox still transforms into a reptile, only this time it's a serpent with wings, more specifically Quetzalcoatl, the Aztec deity of creation who existed to create humanity.
In the series, he uses lightning to trap Julia before finally taking his life. Larger than life, the rendering of his reptile form is gorgeous to behold and the attention given in this adaptation of his powers in animation rivals anything we've ever seen. With Annette embodying the god Ogun, and the Vampire Messiah representing the lioness Sekhmet, the choice to make Olrox a god as well is striking.
---
Castlevania: Nocturne Season 2 can't come soon enough and that's because with his short amount of screentime, Olrox already has a significant presence in the series. This article clocks in at around 1200 words without this closing section and that's a testament to the layered design of his character that encompasses dialogue and visual storytelling. With so much more to give and with Mizrak on his side and the Vampire Messiah against him, Olrox can be one of the best characters the franchise has brought forth, and if his journey so far in Castlevania: Nocturne is anything to judge him by, he will be.
Castlevania: Nocturne is streaming now, exclusively on Netflix.