Have you ever watched a romance movie and hated the choice the lead made? There were better options onscreen. Why did she have to choose the boring option? What if she selected someone more exciting? Less safe? Someone who might know her and understand her better? Well, now you can in Netflix's first interactive romance movie, Choose Love. The team gives the viewers the reins in determining which path its leading lady takes, giving this otherwise standard romance story a little extra fun for the viewer.
In Choose Love, we follow Cami Conway (Laura Marono). She has a successful career as a recording engineer and a hardworking loving partner, Paul (Scott Michael Foster). Everything seems to be looking good, yet something is missing. She can't place it. Is she unsure of her relationship with Paul? Is she happy with her career? In desperation, she goes to a psychic who lets her know that someone (really, multiple people) is coming to shake things up. And boy, do they.
Two new contenders slide into her purview – Jack Menna (Jordi Webber), Cami's first love and savior of the world, and Rex Galier (Avan Jogia), the silly goose British rockstar that could potentially give her the singing career she's always wanted. You, the viewer, can decide which one she ends up with. Should she choose the stable lawyer, the Earth-saving first love, or the rocker with a slight edge?
As a story, Choose Love is a by-the-numbers romance. Marono is incredibly talented and this manifests itself well in her Cami Conway. With Conway's bubbly personality, it's no wonder potential suitors have mysteriously cropped up at this pivotal crossroads moment in her life. She is the prototypical romantic heroine. Breaking the fourth wall on occasion to talk to the viewer, this is the only time where that gimmick doesn't annoy. The option to choose for the viewer makes the otherwise run-of-the-mill plot at least a tad bit exciting.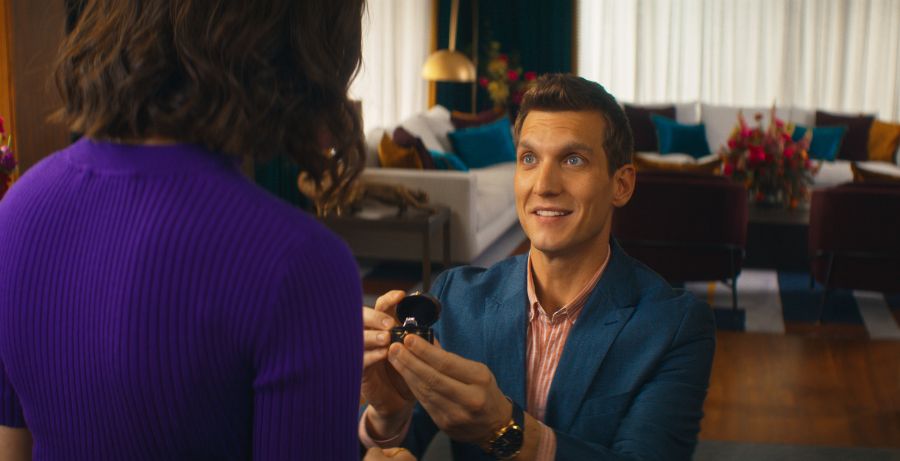 As for the suitors, they fulfill their respective romantic suitor archetypes. Foster's Paul is the caring workaholic. He is the safe, responsible choice and, while his personality doesn't exactly pop, you can see how much he loves Cami in each scene that he's in. On a surface level, Webber's Jack Menna is incredibly hard to resist. Look at that smile! He re-surfaces in Cami's life suddenly and rightfully shakes things up with how much he immediately cares for her.
The most subjectively hilarious suitor is Jogia's Rex. His accent reminds me a bit of Russell Brand, so it's a little silly-sounding at times. However, Jogia has a blast channeling his inner rocker. It's not his first time stepping into his singing shoes. Victorious fans will remember him as Beck Oliver from back in the day.
From a characterization and writing standpoint, it should be mentioned how the male suitors generally back off when Cami does make a choice. There's no real flipping out or anything. There's a respect built in that helps reinforce the fact that each choice is valid, whether or not that was intended.
The viewers have the option to choose or not to choose. Yes, you can also choose not to choose Choose Love. Each time the viewer is granted a moment to make a choice, there's a silent countdown so there is time to make a decision. However, if no choice is made, one of the options will be auto-selected. So, viewers technically can watch the film play out with no change.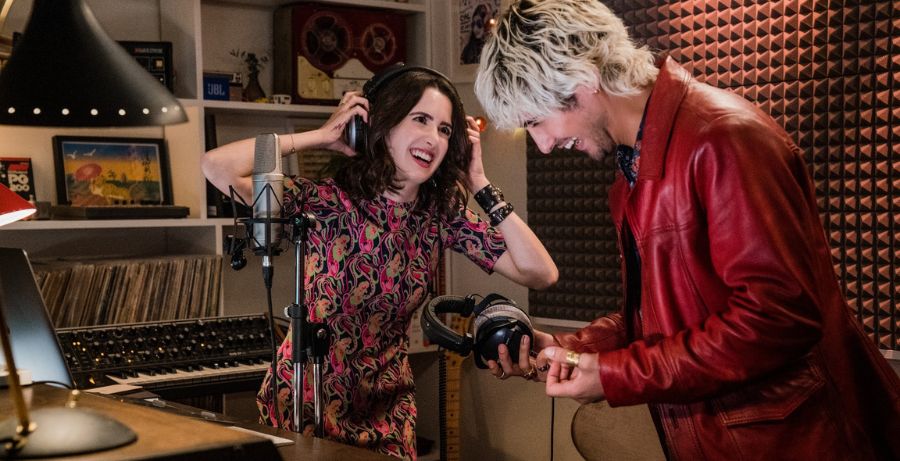 What if the viewer made a decision and regretted the result? Don't worry. The team has also given the audience the ability to undo a choice. This isn't a one-and-done kind of deal. Viewers can reverse decisions throughout the movie to check out other outcomes. This ability was particularly fun because you could see how scenes played out differently if you selected the other option.
As Choose Love has a PG rating, things are kept pretty chaste and buttoned-up in this romantic tale. So, for any parents with older kids (think 8 years old or older) who like playing Choose-Your-Own-Adventure scenarios, Choose Love is a safer visual option that will entertain both you and your children if you want a safe romantic film to watch.
The ability to make choices for Cami in Choose Love gives a particular level of excitement to this otherwise cliched tale. Clocking in at 1 hour and 17 minutes, even with all its cliches, it's a breeze of a movie viewing experience. Keeping things glued together is how incredibly magnetic Marono is as Cami, with the rest of the cast all game to take on their respective romantic archetypes. A simple, yet fun romantic story to add to your list. If you want a less cliched romance, you might want to skip out.
Choose Love is now playing on Netflix.
Choose Love
TL;DR
The ability to make choices for Cami in Choose Love gives a particular level of excitement to this otherwise cliched tale. Clocking in at 1 hour and 17 minutes, even with all its cliches, it is a breeze of a movie viewing experience.