Now that we've wrapped up the big reunion arc, Strong Girl Nam-soon has transitioned fully into its drug mystery storyline. Nam-soon (Lee Yoo-Mi) is not-so-subtly uncover over at one of Doogo's warehouses. Partnered up with Lieutenant Gang Hee-sik (Ong Seong-wu), their goal in Strong Girl Nam-soon Episodes 5-6 is to find any evidence of drugs within Doogo's merchandise. With one of Hee-sik's colleagues buckling under the strain of the drug, the clock is ticking to find the contraband fast.
At the beginning of Strong Girl Nam-soon Episode 5, Nam-soon and Hee-sik have five minutes max to try to locate some masks for testing. Here we see Nam-soon perform some more physically-defying feats. While watching her work, Hee-sik sees further how overly confident she is becoming in her skills, especially in the field. But she has yet to face adversaries that pose a true threat to her. With the growing emergence of ultra-villain-coded Ryu Shi-O (Byeon Woo-seok) and Lee Hwa-ja (Choi Hee-jin) working under the same roof as her, Nam-soon is going to have more than her hands full.
While Nam-soon and Hee-sik are working undercover, Hwang Geum-joo (Kim Jung-eun) receives a message from Opulentia. In a previous episode, we saw her receive a card advertising this mysterious organization. Ever curious, she ventures out on her snazzy motorcycle only to be followed. Picking up on being tailed, she confronts the cyclist to discover it's the guy who gave her the card in the first place. He takes her to meet the Vice Chairman of Opulentia, who explains to her why it is they have recruited her. With Geum-joo ascending to recognition amidst the wealthy circles, she may soon be in the crosshairs of some nefarious folks. But that's just how these strong ladies roll.
Geum-joo's sights in Strong Girl Nam-soon Episode 5 shift to another power player, the ridiculous Bread Song (Kim Ki-bum). The moneymaker in HSC Finance Group, Bread talks the talk but Geum-joo can see through his shenanigans. When she suggests she has dirty money, he launches into tips on how she can hide it. This gives her a further idea of how seedy he is and maybe a link that can connect her to the trail leading to who is behind the rapidly growing drug trade in Gangnam.
In the background of Strong Girl Nam-soon Episodes 5-6, the potency of the new drug that is sweeping through Gangnam is leading to further fatalities. Both detectives and the audience are learning more about the drug together. With many overdoses occurring near sources of water, the dots start to be connected towards the drug activating with water. Hee-sik and his colleagues, upon learning this particular tidbit, realize that their captain, Ha Dong-sik (Jung Seung-gil), has been downing bottles of water, they work to try to sequester him.
Piecing these bits together, it makes one question the end game of Ryu Shi-O if such a drug is activated with a necessity that human beings need to survive. In Strong Girl Nam-soon Episode 5, Shi-O is mostly under the influence of the drug. He's gaining temporary super strength. This is easily seen by his encounter with Nam-soon when she sneaks into this warehouse later in the episode and she tries to check in on him while he's in a state of withdrawal. Easily, he pushes her far away from him, indicating that this drug is at least close to matching the capability of Nam-soon and her family. But at what cost?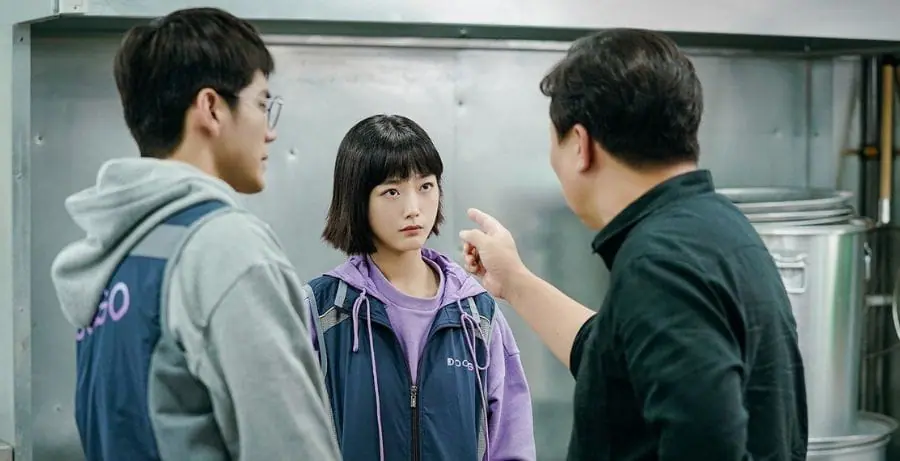 For Nam-soon, Shi-O's continued fascination with her strength may cost her more in the future. With his employees keeping tabs on her while she effortlessly moves things around the warehouse, his focus veers into obsession. And he is not the only one obsessed.
While she's not as featured in Strong Girl Nam-soon Episodes 5-6, Hwa-ja's hatred and bitterness towards Nam-soon grows. Geum-joo is the closest Hwa-ja has experienced to having a mother. Having been raised in a gang that recruits orphans and exposed to the worst of society, her bitterness is clear. And now that Nam-soon is working in the same warehouse as her, the seed of bitterness is spreading its roots, prompting her to take explosive action that culminates in a massive cliffhanger by the end of Episode 6. In a series that chooses to remain hopeful despite the ugliness in the world, Hwa-ja may be the stark reality Nam-soon needs to face to understand her own mortality.
Strong Girl Nam-soon Episode 6 starts off with an adorably yet awkwardly inserted animation explaining the origins of Nam-soon's powers. This is something that should have been done in the first episode. Putting this at the beginning of Episode 6 is too awkward and distracting at this point in the series. However, it's our lead-in to understand the development of what will be the romance between Hee-sik and Nam-soon later on in the series most likely.
As Episode 6 continues onward, Nam-soon is still looking for anything that can be tested by Hee-sik's department for signs of drugs without much progress. On Geum-joo's end, she's making strides not only in breaking Bread Song but also in attracting further attention from The Heritage Club. After more signs point to Shi-O, she's starting to use her connections at Opulentia to learn more. This will eventually lead to her meeting Shi-O one-on-one towards the end of the episode.
On Shi-O's end, his drug is continuing to make strides, sweeping through various individuals and wearing them down. Hee-sik's Captain develops Hulk-worthy strength while detoxing. He's so afraid of losing his job that he refuses to go to the hospital. Instead, he is left to detox in his apartment mostly by himself. As it seems, this is the fate of many who are exposed to the drug. We learn that the drug impacts the pituitary gland, basically destroying its function. The only antidote keeping someone from overdosing is the blood from sea bunnies. Yeah, didn't think that was what that was going to be either, and yet, here we are.
The biggest development that is unrelated to Nam-soon in Strong Girl Nam-soon Episode 6 is the development of Nam-in (Han Sang-jo), Nam-soon's twin brother. Little time has been spent on dissecting the psychological impact of his sister's disappearance on his psyche, but it is clear that all his parents have cared about since she disappeared has been her. Neglected and invisible, Nam-in has been left to figure things out for himself. But his frustrations towards his mother reach a breaking point in this episode, culminating in a blow-up at breakfast with him rightfully calling her out for her behavior and declaring that he's going to move out. Honestly, good for him.
Strong Girl Nam-soon Episodes 5-6 narrows in on the drug storyline in a way that captures focus but also makes it nigh impossible to focus too much on the little side plots that pop up. This helps with pacing but does make one question whether or not something has been missed with the drug storyline taking much attention. That being said, there are some standouts – for better or worse.
One sideplot that has been lovely to watch develop since Episode 4 is Nam-soon's grandmother, Gil Joong-gan's (Kim Hae-sook) feelings for the cafe worker, Seo Jun-hee (Jung Bo-suk). In Episodes 5-6, we dive a bit more into this older gentleman. Widowed and with a young daughter he's helping support, Jun-hee is perfectly sweet and handsome – just Joong-gan's type. Her feelings are obvious to everyone around her except for Jun-hee. It's up in the air whether or not he will eventually reciprocate. But to see a romance surrounding an age group that doesn't get a whole lot of focus is sweet and I hope it's not just all for laughs.
Another element that frankly just grinds my gears is the fat-shaming focus on Nam-in. His feelings of joy surrounding food are mentioned in these latest episodes, but all his father and mother seem to do is poke repeatedly at his eating habits and weight. There is an attempt in Episode 6 to start infusing more meaning behind his appearance, with people making comments and even giving him unsolicited drugs to help him.
Knowing how image and weight-conscious South Korean society is, it's easy to see how Nam-in would buckle a bit with the scrutiny that has started at home. From a personal place, when you have your body commented on by strangers, peers, and family members, it almost creates a self-perpetuating cycle. Ideally, I'm just hoping that his character doesn't just exist to repeatedly kick down, though, for his appearance. Keeping my fingers crossed for now.
With Strong Girl Nam-soon Episodes 5-6 maintaining a strong throughline with its drug-related mystery, things are moving along at a smooth pace. While the exploits of Nam-soon and her mother are highlighting their superhero skills, the series isn't shying away from focusing on their faults either. With Nam-soon's fate left up in the air end of Episode 6, and Geum-joo's ambitions and cold nature being rightfully scrutinized by her loved ones, these strong women may have their vulnerabilities after all.
Strong Girl Nam-soon Episodes 1-6 are now available on Netflix, with new episodes airing on Saturdays and Sundays.
Strong Girl Nam-soon Episodes 5-6
TL;DR
With Strong Girl Nam-soon Episodes 5-6 maintaining a strong throughline with its drug-related mystery, things are moving along at a smooth pace.