Succession Season 4 saw no one winning. Honestly, the wins in HBO's Succession have never been clean, wholesome, or wanted especially for the Roy family. Being at the top of late Logan Roy's food chain is distinguished by whether you could be a killer for Ken, a boy for Shiv, and competent for Roman Roy (Kieran Culkin). The three Roy siblings discover that their abusive father promised the crown of Waystar Royco to all three of them. Always pitting these children against one another fosters power struggles and more importantly an environment of neverending in-fighting, scheming, and dysfunction.
Season 4 was invested in showing how that ecosystem implodes when the central force is no longer alive. Shiv Roy (Sarah Snook) wins the game of Succession but at the cost of all of her losses. Succession Season 4 knew that it wasn't going to be Ken. It was never going to be any of them as Logan (Brian Cox) said to the siblings, "I love you, but you're not serious people."
I've noted in past reviews that Kendall (Jeremy Strong) seemed to have been sidelined this season. He lurked and appeared indifferent to how the Siblings could work together to take down their father. They finally were able to come together to beat Logan at the end of season 3 but no one's heart is really in it. The wavering has always been from Shiv. Ken might be drafting up plans to make moves but Shiv actually makes them. It makes sense that in a world of misogyny, Shiv learns to harden and align herself with whoever holds power. Past seasons of Succession had Logan telling Shiv it could maybe be her but she's a woman and how does that look to America? She cannot escape the power she is born into by being a Roy but she can never be more than just her father's daughter.
Tom (Matthew Macfadyen) and Shiv's turbulent relationship consistently had Shiv put in three different positions as a daughter, a wife, and a capitalist. She wants power and she knows she can have it if she pulls the right strings. She's the only Roy child to consistently tell her siblings that they're "idiots" to "get real" and "c'mon." She has self-awareness but Season 4 showcases Shiv as she learns to accept the monster she is. She gets betrayed by every man in her life, including her husband, and wonders why she can't hold on to power.
In one of the few moments of raw honesty from Shiv who has consistently belittled and pushed Tom away from her, she admits that she's scared. She wants to exert power over him because she can't in other places. In her most tender moment, she cries on the phone to Tom to tell him that now that they've said the worst things to each other they can finally be real. At that moment, I knew it would be Tom and Shiv on top. Season 4 showcased the process of abuse, the ups and downs of people, and relationships. It's the cycle of winning, abuse, and loss that's being broken and recycled. We ended at the beginning with all the familial division and existential angst that entails.
Roman, in the very first episode, "The Munsters," didn't want to be CEO and thought that the idea of the Roys running Waystar was a joke and they were all bullshit. It felt cocky and goofy then but this season shows how ruinous living up to your abusive father's vision was to Roman. He seeks cruelty. He's unsure of himself. He can't be taken seriously and doesn't want the pressure to be serious.
He's viewed as weak for crying at his father's funeral, the father who was physically abusive with him. Without Logan's abuse, Roman is a ball of unbridled, sordid poison and he doesn't want to be hurt anymore. Ken was promised to be CEO at the age of 7. He was taught that being a corporate ghoul for his father was all he would ever amount to. His drug use and sensitivity made him a target for their father. I will never forgive Logan for spearheading a media campaign to get his son to relapse in season one. Even then, when fighting for his life against his father, Ken loses every time trying to be the better man of the family. Every season finale had Ken lose, why would season 4 be any different?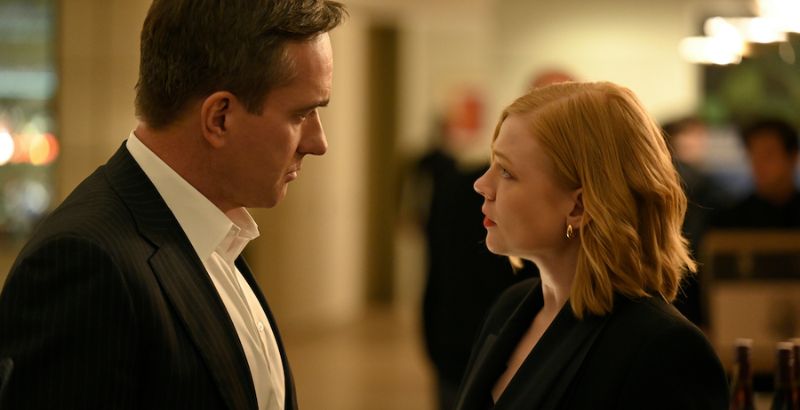 Then, there's Shiv. Going into Season 4, she already had an identity outside of her father in politics and ATN. Logan thought that made her unable to hold the mantle but it shows a clear path from writer Jesse Armstrong. When their father dies in Episode 3, "Connor's Wedding", she's heartbroken and acknowledges that her father's death hurts her. She only throws herself into the ring because her brothers do. What does she get for aligning with the CE-Bros? She gets snuffed out because the board of Waystar Royco won't think it would be a legitimate move if Shiv, a woman was in the room. People view her scheming behind her brothers with Lukas Matsson (Alexander Skarsgård) for the GoJo deal as a "girlboss" move.
Succession Season 4 isn't interested in showing Shiv's eventual rise to power as this epic feat of empowerment. Instead, it poses the central conflict of power as a tool of tragedy through the Matsson deal. Matsson has the capability of prying the company out of the Roy's hands. If Shiv can keep up the lies, she wins a slice of the corporate pie either way. Make no mistake though, Shiv's power with Matsson extends from his desire to sleep with her. In the last episode, "With Open Eyes," Matsson tells Tom this and says that he doesn't need Shiv to give her input.
Misogyny is rooted in every turn Shiv, and she knows it. The difference between her and her brothers is that Shiv figures out how to survive. In the wake of her pregnancy with Tom's child, she opens herself up to emotional vulnerability. Tom says she never wants to fail a test, and while her motivations are never altruistic, Shiv is not one to f**k around and find out. Her world has been destabilized without Logan. She'll never bask in the light of his occasional praise again. What she does do in Season 4 is figure out how to make life bearable even if it's not a happy one. She doesn't want to get mom'd by her vicious husband, who only sided with her father because of her cruelty. Tom and Shiv's dynamics have been explosive and some of the best storytelling in all of Succession. Shiv tells Tom she's pregnant in Episode 8, "America Decides," and he asks her if it's a play. It's brutal.
Ken doesn't have this dynamic or nuanced story plot spanning over the course of Season 4, and it works. He's a simmering ball of energy, ready to go when someone says to, and the embodiment of making plans to break plans. He asks Shiv if the poison drips through about his poor parenting. It's clear that he did, considering he threatens to take custody of his children out of spite to his ex-wife. Ken is never seen dealing with his emotions despite being a huge aspect of Succession's emotional core.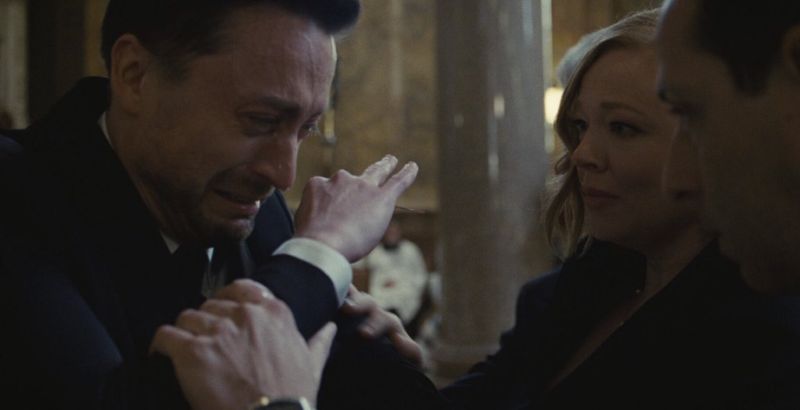 He wears sad as well as he wears his signature Tom Fords. If there is poison in the bloodline, if grief turns him further into his father, why should either Shiv or Rome enable him to that fate? Shiv's reasoning for turning on her brother is the fact that he is a killer and despite loving him, he makes her sick. Ken killed a kid. Roman is a Nazi sympathizer. Shiv silences victims of sexual assault. They're all monsters running towards a finish line that ruins all of them.
People have been saying that Shiv siding with Tom when she gets shafted for becoming the US CEO of Waystar is not within her character. I'd argue that Succession Season 4 has laid the path for Shiv to choose herself in any way that aligns with power. Her attempts to reconcile with Tom were initially born out of not wanting to be seen as weak for not trying. She doesn't want to be a bitter mother like her own mom is. That's the reason why Logan's funeral in Episode 9, "Church and State," is heartbreaking. Her mother doesn't congratulate her on her pregnancy but does congratulate Tom. Shiv is damned either way and out of spite, chooses to align with her husband.
Shiv isn't trying to save Ken from himself. She's not even looking out for Roman either. She knows that Ken will falter, unable to stand on his own two feet without the consistent chase of scheming. It's a shame Ken feels like his existence is his work. He lays his hands on her at the climax of the series finale because she's willing to vocalize that she won't vote for him as CEO. It's another gut punch in a mountain of pain.
That said, Shiv gets to inadvertently force Ken to be free of Logan. Succession is frequently compared to Shakespeare and pulls much of its inspiration from King Lear, the tale of a king trying to divide his kingdom among his three children. Cordelia is the loving daughter of this story who acts as a martyr who dies to showcase the injustices of the world. Shiv is like Cordelia in that she's the only one who sacrifices the most for the love of her father. Shiv aligning herself with her husband, who was her father's best boy, encapsulates the pain of never being able to attain power but always circling it.
Succession Season 4 will forever stay with me. No character will sit in the uncomfortable cracks of my body quite like Kendall Roy did but no one will ever play the game better than Shiv did as the only one who accepts herself as a monster, a wife, a mother, and a daughter. She grieved, fought, and consistently was betrayed time and time again by the men in her life. When it's all said a done, Shiv wins because she lost the hardest and that's why Succession excels at being a well-executed tragedy.
Succession Season 4 is available now to stream on MAX.
Succession Season 4
TL;DR
Succession Season 4 knew that it wasn't going to be Ken. It was never going to be any of them as Logan said to the siblings, "I love you but you're not serious people."