HBO's Succession Season 4 Episode 10 isn't just the last episode of this season and the final episode of the series. Like Roman in the previous episode, I didn't "pre-grieve" about the fate of the Roy siblings. This season has been so heavy hitting in all departments, from characterization to shot composition. Expectations in TV haven't felt this high to me before, a game of power and wealth finally ending. Between other journalists and fans, no one could even begin to figure out where Succession will go in its final seconds, and it stuns in its tragic glory.
With a hard opening on the morning before the Waystar-Gojo deal, we see the camera tracking Ken (Jeremy Strong ), and it seems like everything is going his way. Directed by Mark Mylod, there is so much emphasis on showcasing the highs and lows of each character through visual imagery. While we may be tricked into thinking that the initial camera focus on Ken showcases his power, it's a clever way to continue to keep us on our toes. As the certified Ken stan of my friend group, I watch with a nihilistic optimism about who is the winner. This show pivots and makes you sympathetic to monsters at any given moment. A strength that propels its narrative forward and binds fans together about, let's face it… a show that could have easily alienated so many due to its complicated business language and relatively complicated in-group fighting. As Succession Season 4 Episode 10 continues its opening, it's anxiety-inducing to think about how these three siblings will gnaw at each other until some time is the victor.
Shiv (Sarah Snook) thinks that she has won already with how she has maneuvered the Waystar sale. Confident, brash, unapologetic, and it's deserving. The show has invested so much time in showcasing that this could very well be her game. The intricate plot line about her complicated marriage has been an absolute scene-stealer. Those arguments always boil down to could Shiv ever play the game with Tom (Matthew Macfadyen ), who is also fighting for his chance at the crown. With Matsson, Shiv thinks she can do it, but the tone and atmosphere of Shiv's confidence is undercut by the lingering camera on Lukas Matsson. Alexander Skarsgård has brought a cool aloofness to Matsson, a caricature of sorts to Elon Musk. His aloofness is tied to his goofiness, never wanting things to be too serious. All of that character builds up to an obvious tension that suggests Shiv is being promised too much.
It's fascinating to explore Shiv as a powerful woman in an atmosphere so hostile toward her. She can handle the punches and continues to march on to her goals. She wants to win and is kicked down. Logan (Brian Cox), her father, always sidelined her. She finally has someone she thinks is at her side, and it blows up in just one of the many plot twists of Succession Season 4 Episode 10.
This is a marathon of an episode that starts fast, slows down, and then sprints towards its finish line while the Roy family spins. The emotional glue falls onto Roman played by Kieran Culkin. He is the third sibling despite appearing as the youngest. No one lets him forget that. In a huge role reversal, since Roman needs aid, Shiv and Ken go to find him. In previous seasons, it's always been Ken who needed his siblings. Season 3 was an absolute gut-punch because of Strong's extraordinary emotional resonance. Good writing can make you hate your favorite character in a heartbeat and make you go to bat for them the next.
That's why this episode is so good. We are pillared by the in-fighting between three siblings stunted by their fathers emotional abuse. Kendall Roy thinks he is deserving of the crown because their father promised the company to him when he was 7. He says in this episode that if he can't have the crown, he might die. Shiv Roy is a woman who is smart, capable, and cruel but cannot let anyone into her walls if it means they hold more power than her. Roman Roy is still a broken child on the inside looking for someone to physically abuse him because he's been taught to be a punching bag and makes it everyone else's fault. They're so beyond damaged that assessing their wrongs feels not only counterproductive but also disgusting. This season finale reminds viewers of that and puts a spotlight on their opposing interests.
The game was always about the siblings, yes. However, the yearning for power is desired by many, and at the crux of it is Shiv's relationship to Tom. This man loves Shiv like no other despite her immense brutality to his heart. He told Shiv that he's not from her world a few episodes ago, laying down how for regular people, there's no choice but to climb those ladders and to take the bullets. As much as Succession is about the Roys, it's inadvertently focused on those who aren't. All of these ideas are wrapped up into Shiv and Tom and it's brilliant.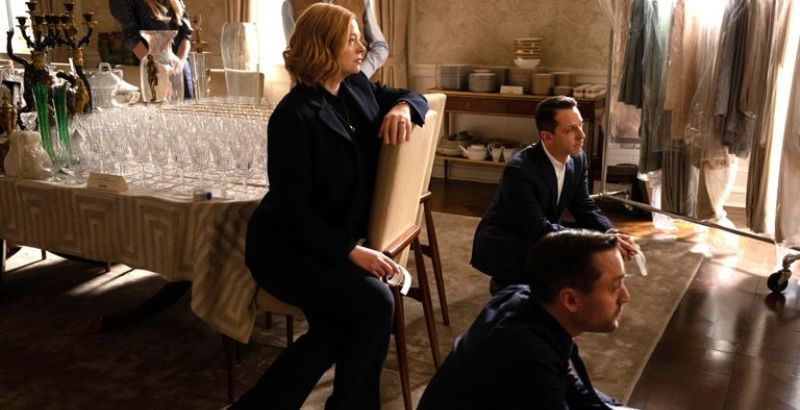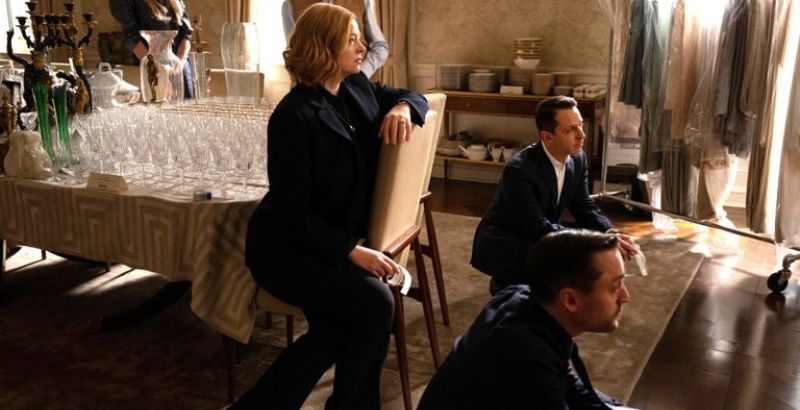 Mylod's direction on their relationships feels so methodical. Bring back motifs from past seasons, such as their various betrayals to one another, their apologies, and their willingness to fight one another tooth and nail. In a shocking moment, truly unexpected if I'm being honest, Shiv reaches out to Tom over the phone. They aren't in the room with one another, and the cuts, close-ups of their awkward phone-holding positions, the clenched jaws while Shiv spits out the only real apology she can to Tom. She has a 'real' conversation where she admits she's scared, the only time a Succession character really talks about their motivations for being horrible. She's scared of feeling powerless in her most intimate relationship and it makes you align with Shiv and Tom and makes Waystar Royco fall away.
As Shiv becomes more relatable, Ken becomes more monstrous. It's fascinating to write grief as a tool for power. It affects all the siblings differently but it turns Ken into the most unapologetic character, and it's awful to witness. I texted a friend that I felt like throwing up because the Succession series finale genuinely made me feel sick. What Jesse Armstrong has done with his character writing is immaculate and expertly crafted. The show used to feel like it was Ken, but he was deliberately more sidelined up until these last two episodes.
There's a fire in Kendall that is charismatic and explosive. He lives, breathes, and sells the nightmarish corporate clog his father raised him to be and it drives him to be the worst version of himself. He is abrasive to his brother, who cried at their father's funeral. He intimates both of his siblings. He throws caution to the window in hopes that he'll finally win. But who is he without winning? That question heavily weighs down this episode. Who Kendall is affected all of his relationships and comes out on 'top.' If he is a loving brother, does telling Roman that he fucked up forgivable? If he is a strong older brother, does laying his hands on Shiv make him just like his abusive father? He can't win, and he never will, and that's the tragedy of Succession.
This was a bombastic series finale. One that poses many questions about how far a show can push a character, how sympathetic you can be toward a monster, and how power alienates you from humanity. The screen faded to black, and I knew I watched something wholly special because of a stellar team of writers, directors, and actors. Succession Season 4 Episode 10 was the tragic send-off for my favorite sad man, and I will never be the same. Astonishing and ruinous, this episode delivers a tragic ending that surprises and supersedes every expectation.
Succession Season 4 is available now to stream on MAX.
Succession Season 4 Episode 10 — "With Open Eyes"
TL;DR
Succession Season 4 Episode 10 was the tragic send-off for my favorite sad man, and I will never be the same. Astonishing and ruinous, this episode delivers a tragic ending that surprises and supersedes every expectation.