Navigating the expansive galaxy of Star Wars content, especially when dealing with characters and concepts from the Legends material, can be a daunting task. However, for those well-versed in the comics, books, and television series, "The Jedi, the Witch, and the Warlord", directed by Rick Famuyiwa, emerges as a crowning achievement. Ahsoka Episode 8 fearlessly delves into the deepest narratives and concepts, not merely bringing animated characters to the live-action realm but also introducing an entirely new genre of Star Wars unexplored on the live-action stage. By boldly incorporating elements of horror, it serves as the ideal kickoff to the spooky season, making it a standout television episode all the while staying true to the heart of the franchise: the master and apprentice relationship.
Ahsoka Episode 8 begins with Thrawn meticulously preparing to depart the system, anticipating his triumphant return. The revelation of Ahsoka's apprenticeship under Anakin Skywalker has undeniably left him on edge, an unusual state for someone as enigmatic as Thrawn. His unique connection to Anakin Skywalker places him among the select few in the galaxy who knew of Anakin's transformation into Darth Vader, a secret borne from their previous encounters chronicled in Timothy Zahn's Thrawn: Alliances.
Thrawn is taking no chances when it comes to allowing any descendant of Anakin's to persist in disrupting the Empire, to which he has unwaveringly dedicated his life. He is fully prepared to deploy all available resources against Ahsoka, Sabine, and Ezra, having learned from past experiences not to underestimate Jedi and determined not to repeat that same mistake.
In the midst of this, our heroes have finally reunited and reached a point of relative safety, allowing Ezra to embark on the task of constructing a new lightsaber using the resources available in Huyang's workshop. Ezra stands out as one of the very few Jedi of his time who never received training at the Jedi Temple, making his competence, despite Huyang's initial doubts, all the more commendable. Their engaging exchange, with Sabine as an attentive listener, delves into Ezra's profound connection to his late master, Kanan Jarrus, a figure briefly mentioned throughout the season.
Even for those unfamiliar with Star Wars Rebels, the depth of their bond is unmistakable as Ezra models his lightsaber after his fallen mentor, resulting in a truly poignant moment for fans of the animated series. Their conversation serves as a stark contrast to the state of Ahsoka's and Sabine's master-apprentice relationship at the beginning of the season, and they have yet to address Sabine's decision, which threatens to further strain their connection.
Fortunately, Ahsoka seems to have completed a full circle in acknowledging her master and apprentice connection with Anakin Skywalker. Fans of Star Wars: The Clone Wars will recall the heart-wrenching departure Ahsoka made from the Jedi Order. In that trying moment, when even the wisest Jedi Masters turned away, Anakin stood unwaveringly by her side. Now, it's Ahsoka's turn to reciprocate that commitment by standing with and supporting her padawan.
This touching moment cements their reunion, aligning with Huyang's early-season wish to see them together again. However, before they can savor this reunion, a TIE Fighter attack orchestrated by Thrawn disrupts their moment, reminding them that there are larger forces at play than simply reconciling their own relationship. With their ship damaged, it appears they may not reach Thrawn in time, but Thrawn, especially when dealing with Jedi, leaves nothing to chance.
Ahsoka, Sabine, and Ezra embark on a perilous journey toward Thrawn's Star Destroyer, encountering various obstacles along the way, from relentless laser fire to the newly Dathomir magic-empowered Morgan Elsebeth. However, the most chilling threat comes from reanimated Night Troopers, under the influence of the Great Mother's magic. Throughout these intense sequences, the choreography seamlessly intertwines with the soundtrack, delivering some of the most thrilling action moments witnessed in live-action Star Wars shows.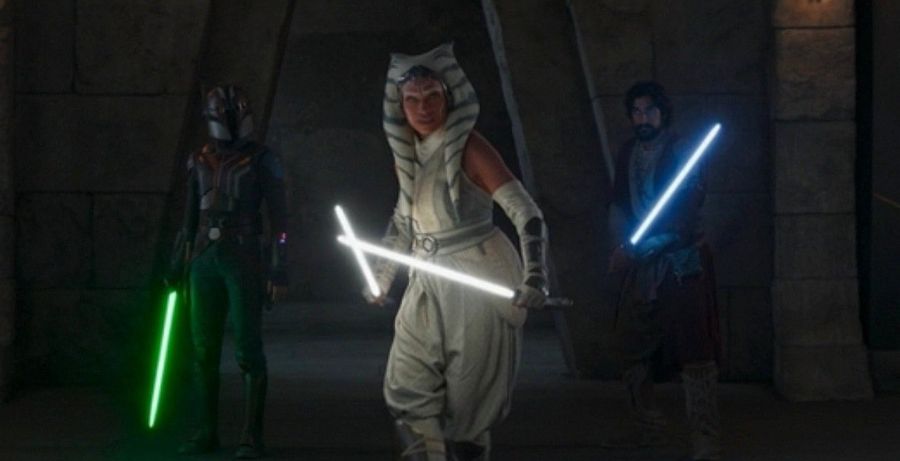 While undead troopers are not a novel concept in the Star Wars universe, harking back to Joe Schreiber's Death Troopers and more recent canon appearances in the 2016 Doctor Aphra series, the reanimated beings featured in Ahsoka Episode 8 bring a refreshingly terrifying element of horror to the live-action realm. This inclusion showcases the franchise's versatility, as it has explored similar themes in its printed materials for decades within the comics and novels. This expansion highlights the franchise's versatility, as demonstrated in its decades of printed material, spanning comics and novels. Furthermore, it ignites hope that one day we might witness the story of the Drengir, the plant-like, sentient, amorphous carnivores featured in The High Republic era of Star Wars.
In these intense encounters, Sabine truly shines. There are multiple moments during these confrontations where Sabine's confidence in her newly unlocked abilities steadily grows, reinforcing the notion that the show is just as much about Sabine's personal development as it is about Ahsoka's journey. While Sabine may not wield the same level of power as Ahsoka or even Ezra, her distinctive abilities enable her to master lightsaber stances typically reserved for Jedi in video games and comics utilizing her blaster and lightsaber reminiscent of the early concept art for Luke Skywalker.
What's most significant is Sabine's unwavering commitment to staying by Ahsoka's side, even if it means sacrificing her chance to escape Peridea alongside Ezra and Thrawn. Witnessing their relationship evolve throughout this season has undeniably been one of the highlights, showcasing how Anakin's legacy continues to shape the Star Wars universe in multifaceted ways. This kind of relationship stands in stark contrast to Baylon and Shin's tragic separation, which persists after their defeat in the previous episode.
As the episode approaches its conclusion, Ahsoka Episode 8 ventures into the intriguing realms that fans have speculated about ever since Baylon hinted at his quest for something calling to him. It's now clearer than ever that Baylon is on a profound quest to uncover the origins of the Force itself, as statues of the Father, the Son, and a fractured Daughter emerge in all their majestic glory.
These are mighty beings in the Star Wars universe. If you're unfamiliar with these characters, I highly recommend watching the Mortis arc from Star Wars: The Clone Wars, where Anakin, Ahsoka, and Obi-Wan Kenobi found themselves entangled in the eternal struggle for Force balance. The Father once summoned Anakin to Mortis, and it's conceivable that the same call is beckoning Baylon. Moreover, with Ahsoka's close proximity to this enigmatic revelation, the possibilities of what Dave Filoni might introduce to live-action Star Wars next are boundless.
Amidst all the gripping events in Ahsoka Episode 8, it's impossible not to emphasize how the show's score masterfully underscores every single moment of the episode. While it's a daunting task to follow in the footsteps of the legendary John Williams in the Star Wars universe, after this season of Ahsoka, it's evident that the torch has been confidently passed to Kevin Kiner. He seamlessly integrates familiar themes from the live-action series and adds his own unique touch, drawing on themes from the animated Star Wars series, which he has proudly contributed to for decades. Just as Star Wars remains in excellent hands with Dave Filoni, the franchise's musical score is undeniably in great hands with Kevin Kiner.
Ahsoka's debut season has been a thrilling journey through the Star Wars canon. Directed by Rick Famuyiwa, "The Jedi, the Witch, and the Warlord" serves as a compelling culmination of themes explored throughout the season and brings back the kind of mystery for what the feature holds that will have fans speculating all the way until Dave Filoni's next project is released. Ahsoka Episode 8 not only delivered thrilling moments but also delved into the heart of what makes Star Wars enduring: its complex characters, profound relationships, and the eternal mysteries of the Force. It's a masterclass in storytelling that bodes well for the future of the franchise.
Ahsoka Episode 8 is available now on Disney+.
Star Wars: Ahsoka Episode 8 — "The Jedi, the Witch, and the Warlord"
TL;DR
Ahsoka Episode 8 not only delivered thrilling moments but also delved into the heart of what makes Star Wars enduring: its complex characters, profound relationships, and the eternal mysteries of the Force. It's a masterclass in storytelling that bodes well for the future of the franchise.