In Ahsoka Episode 7, titled "Dreams and Madness" directed by Geeta Vasant Patel, the series continues its enthralling narrative in far away galaxy, delving into the unwavering commitment of its characters while hinting at hidden agendas. With Grand Admiral Thrawn's looming threat and calculated maneuvers, the heroes' survival hangs in the balance, leaving audiences eager to see how this captivating tale unfolds.
Ahsoka Episode 7 opens with Hera Syndula facing a hearing for her insubordination, highlighting her unwavering dedication as a soldier to her convictions. Even when Senator Hamato Xiono openly berates and questions her, Hera maintains her candid responses, echoing her behavior earlier in the season. Considering the recent history of the Empire's defeat by Luke Skywalker and company, Xiono's disbelief in her claims, dismissing them as mere fairytales, is puzzling. This skepticism hints at potential affiliations with the fallen Empire or the First Order, suggesting a hidden agenda.
For fans of Star Wars Resistance, Senator Hamato Xiono's dubious character may feel familiar, as he had a critical stance on his son Kaz's decision to join the Resistance. Alternatively, Xiono's comments could be a subtle way of reflecting the critical nature of the Star Wars fanbase, which might struggle with the significant changes introduced by new shows like Ahsoka. Regardless, it's evident that Senator Hamato Xiono's role in the story is far from over, as he seems to favor the status quo that benefits him personally.
Before Hamato can further berate Hera, C-3PO makes a surprise appearance, interrupting the hearing. He represents Senator Leia Organa, who expresses her support for Hera's mission, which Hamato initially voted down. C-3PO even identifies her as the Leader of the Defense Council, reaffirming her backing for Hera. Leia's absence in such situations is noticeable, given her prominent role in the franchise as a whole.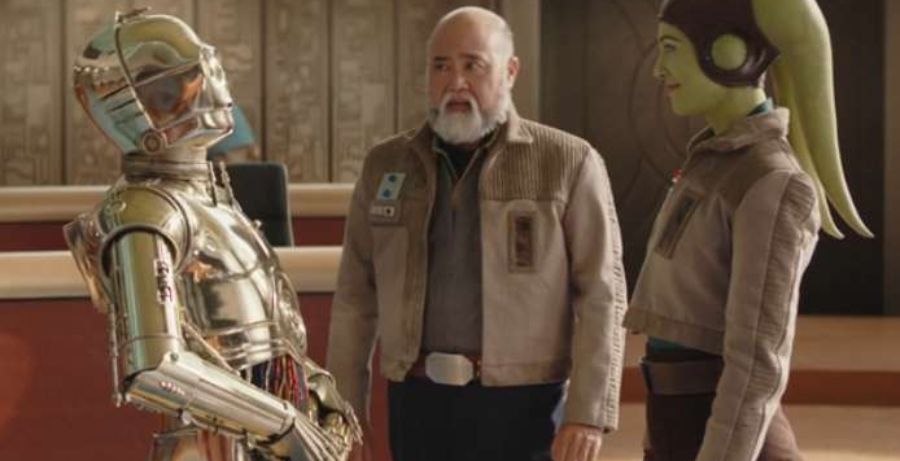 Having C-3PO speak for Leia feels like an appropriate way to honor Carrie Fisher without resorting to CGI or recasting the beloved character. Further, although Hera's court-martial has been stopped, the looming threat of Grand Admiral Thrawn remains. Senator Mon Mothma seems to believe in Hera's claims, and her demeanor changes in a way that suggests genuine concern about Thrawn's return. Genevieve O'Reilly's performance, as Hera talks about preparing for the worst and hoping for the best, creates palpable tension that continues to build, intensifying as the episode's title sequence begins.
As Ahsoka Episode 7 transitions to Ahsoka's training on her way to Sabine's location within the purrgill's mouth, another familiar face appears – a holographic Anakin Skywalker, donning his iconic Clone Wars armor. Outside of name drops that will undoubtedly bring a smile to Clone Wars fans' faces, the key message of this holographic training session centers on preparing Ahsoka to be self-sufficient in case of separation. This theme resonates deeply, as Huyang has emphasized its importance throughout the season.
Star Wars history is rife with examples of the dire consequences of master and apprentice separations: Qui-Gon Jinn and Obi-Wan's separation in The Phantom Menace, Obi-Wan and Anakin's split during their duel with Count Dooku in Attack of the Clones, and, most significantly for the series, Anakin and Ahsoka's parting before the events of Revenge of the Sith. This training holds particular poignancy for Ahsoka, given her strong desire to reunite with Sabine after their early-season separation.
As the purrgil exit hyperspace, the episode's pace and action intensify. They arrive at Peridea, the ancient graveyard of the purrgil, just as Ahsoka had hoped. However, Thrawn's foresight becomes evident as the planet is now surrounded by a formidable minefield, preventing the purrgil from approaching. The purrgil's hasty retreat adds an ominous tone to the ensuing dogfights with Thrawn's Imperial pilots. Now the pressing question arise: How could they hope to defeat Thrawn without the assistance of the purrgil, who played a pivotal role in Thrawn's defeat in Star Wars Rebels? More importantly, how would Ahsoka and her companions find their way back home without the aid of the purrgil?
As Thrawn becomes aware of Ahsoka's arrival and starts reading the report about Anakin Skywalker, the connection between them, well-known to readers of Timothy Zahn's book Thrawn: Alliances, adds depth to the narrative. Lars Mikkelsen continues to expertly embody Thrawn's character, displaying his composed, calculated, and candid nature. During this moment, there is a subtle shift in Thrawn's demeanor hinting at the likely inner monologue happening, a hallmark of the books that feature him.
Thrawn's patience and calculated approach are highlighted, especially when Morgan Elsebeth serves as the voice of the audience, questioning his strategies. His calculations are typically spot-on, except when dealing with Force users who often introduce unexpected variables. Thrawn's readiness to accept losses and regroup, in contrast to earlier Imperial officers like Grand Moff Tarkin, who succumbed to overconfidence in the Death Star's power despite his subordinates' warnings, emphasizes the theme of avoiding overconfidence.
Ahsoka Episode 7 transitions to focus on Sabine and Ezra. Sabine catches up with Ezra off-screen, discussing the events of the last ten years. However, she struggles to reveal the truth about how they managed to locate Ezra, and the possibility of them being stranded in this place seems quite high. It does feel a bit strange that she would withhold this information for so long, especially considering their shared experiences in Rebels and their ten-year separation.
One would hope that Sabine would have been more forthcoming but it is evident that revealing the truth will be harder than any Mandalorian or Jedi training she has had to endure in the past. Before they can dwell on this, Ahsoka reaches out through the Force in an attempt to locate Sabine. This act serves as a testament to their strong connection and showcases Sabine's continually growing Force abilities. Unfortunately for Ahsoka, the Great Mothers have their own unique methods for finding individuals, and they manage to locate both Ahsoka and Huyang within the purrgil graveyard.
Once their locations are determined, Thrawn launches his attack on our heroes, brimming with confidence that, with the help of his Night Troopers, the natives, and the Force-wielding mercenaries, he can achieve victory. However, Shin Hati and Baylon Skol decide to split up, mirroring the master-apprentice dynamic we saw with Ahsoka earlier in the episode. Shin is sent to engage Ezra and Sabine, while Baylon pursues a different course of action, still following the mysterious calls he alluded to in the previous episode. It's somewhat frustrating that Baylon continues to be vague about his intentions, failing to explain the reasons behind his separation from his apprentice. Star Wars has long emphasized that such separations are unwise.
Shin isn't completely alone in this endeavor, as she is accompanied by the native mercenaries introduced in the previous episode. Thrawn further reinforces his assault by deploying Rebels-era gunships, spelling a likely doom for our heroes. However, the armored shells of the Noti's mobile home prove more than capable of repelling the raiders, drawing parallels to the Ewoks' resourceful defense against the Empire during the Battle of Endor.
Despite being isolated from his home galaxy for a decade, Ezra remains a proficient Force user and maintains his lighthearted demeanor, which is brilliantly portrayed by Eman Esfandi, right down to the subtlest facial expressions. Meanwhile, Sabine continues to showcase her growth as a warrior by effectively utilizing both her lightsaber and Mandalorian blasters, a testament to her extensive experience as a Mandalorian.
Once their locations are found, Thrawn launches his attack on our heroes, fully confident that with the help of his Night Troopers, the natives and her Force-wielding mercenaries can get the job done. However, Shin Hati and Baylon Skol split up as the master gives a lesson to his apprentice, similar to Ahsoka receiving a lesson at the start of the episode. Shin attacks Ezra and Sabine while Baylon goes to do something else, continuing to feel the calls that he alluded to in the last episode. Almost frustratingly, Baylon continues to skimp on the details, wondering what caused him to split up from his apprentice, something that Star Wars has long since established is a bad idea.
Shin isn't truly alone and is joined by the native mercenaries featured in the previous episode. Thrawn sends the Rebels-era gunships to assist. The armored shells of the Noti's mobile homes make them more than capable of fighting off the raiders, akin to the way the Ewoks are able to fend off the Empire during the Battle of Endor. Ezra still very much a capable Force user and maintains his joking demeanor even as he fights Shin alone without a lightsaber. Further, Eman Esfandi absolutely nails the lighthearted personality, even down to the most subtle facial expressions, despite the ten years of isolation from his home galaxy. Sabine for her part seems to use both her lightsaber and her Mandalorian blasters, demonstrating her evolution as a fighter, even considering her extensive history as a Mandalorian.
The rematch between Baylon and Ahsoka is notably different this time in Ahsoka Episode 7 with Ahsoka displaying greater confidence than in their previous encounter. Ahsoka utilizes her speed effectively, preventing herself from being pushed onto the defensive. Even as their rematch comes to a close, tt's evident that there's more to come in terms of battles between these two, especially with the finale approaching. Following their fight, Baylon seems to be contemplating his next move, adding an air of mystery to his character. Even Shin, who had been closely aligned with Baylon, appears to be growing weary of his cryptic behavior.
While it would be beneficial for Baylon's motivations to be clearer, especially with only one episode remaining in the season, the overarching goal appears to be setting up Dave Filoni's film. This uncertainty leaves viewers wondering whether this season will provide a conclusive ending to the story or not. Given the unfortunate passing of Ray Stevenson earlier this year, there's hope that his performance will be honored with a compelling finale.
The episode pays homage to iconic characters like Leia Organa and Anakin Skywalker, seamlessly blending nostalgia with new challenges. As Grand Admiral Thrawn's calculated strategies intensify, the tension mounts, leaving us eagerly anticipating the resolution of this thrilling story. With only one episode remaining in the season, the mysteries surrounding characters like Baylon Skol and their motivations add an extra layer of intrigue, promising an exciting finale that honors the legacy of Ahsoka.
Ahsoka Episode 7, under the adept direction of Geeta Vasant Patel, delivers another captivating installment in the series. While not the strongest episode of the season, it balances moments of unwavering commitment and dedication to keeping some agendas hidden, drawing viewers deeper into the narrative.
Ahsoka Episode 7 is available now on Disney+ with new episodes every Tuesday.
Star Wars: Ahsoka Episode 7 — "Dreams and Madness"
TL;DR
Ahsoka Episode 7, under the adept direction of Geeta Vasant Patel, delivers another captivating installment in the series. While not the strongest episode of the season, it balances moments of unwavering commitment and dedication to keeping some agendas hidden, drawing viewers deeper into the narrative.