Ahsoka Season 1 has proven to be a captivating journey through the expansive Star Wars canon, marked by its cinematic pacing and unwavering commitment to expanding the franchise's horizons. The series deftly balances cinematic pacing with a bold exploration of characters and themes from the animated and expanded material. It's a testament to Dave Filoni's storytelling prowess and his commitment to expanding the Star Wars mythos. The season, comprised of eight episodes, felt like a masterclass in storytelling, offering a level of storytelling depth that left fans speculating until the next project helmed by Filoni graces our screens.
From the beginning, it's evident that Ahsoka Season 1 is charting new territory within the Star Wars galaxy. The show refuses to shy away from its rich animated history, embracing beloved characters from Star Wars: The Clone Wars and Star Wars Rebels. Theses reunions bring immense joy to long-time fans, while newcomers are thoughtfully provided with enough context to grasp the intricacies of the character relationships at play. As the season crescendos towards its finale, it fearlessly introduces elements of the horror genre into the Star Wars tapestry.
While horror has found its place in written material and animation, witnessing these spine-tingling moments translated into live-action is a remarkable and unexpected development. Yet, the series' unwavering commitment to embracing the multifaceted nature of Star Wars renders these occurrences seamless and, hopefully, paves the way for the incorporation of even more diverse elements in the future. Ahsoka Season 1 firmly establishes that Star Wars has transcended the confines of the silver screen, thriving in the realm of television and streaming while profoundly shaping the franchise's canonical narrative.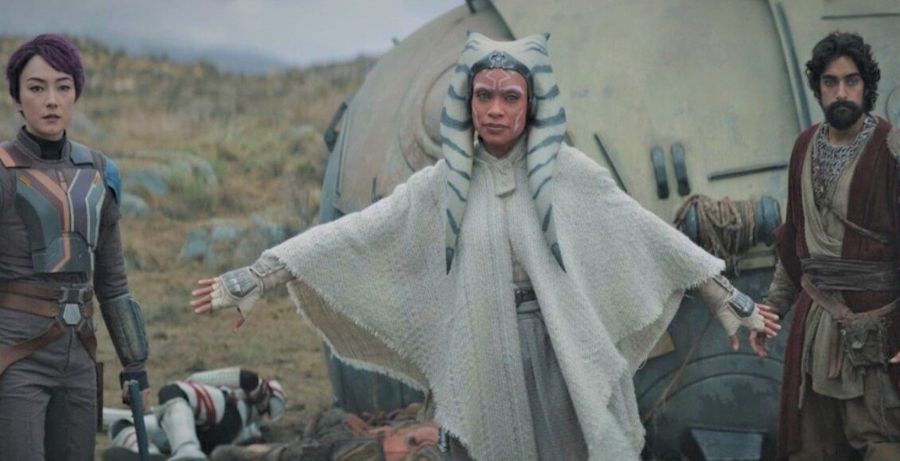 The transition of beloved animated characters to the live-action realm is nothing short of impressive. Lars Mikkelsen's portrayal of Thrawn exudes a chilling, collected demeanor, making him a formidable threat to the New Republic. Meanwhile, Hera, Sabine, and Ezra from Star Wars Rebels seamlessly transition into live-action, capturing the essence of their characters.
Hera's unwavering determination, Sabine's journey to harness her power, and Ezra's charismatic resilience are expertly portrayed by Eman Esfandi, capturing the essence of these beloved characters. Even after not seeing these characters for nearly 10 years, it feel like picking up where we left off as the years have not changed the core aspects of their character making their choices feel authentic while still leaving room for growth throughout Ahsoka Season 1.
Central to the Ahsoka Season 1's narrative is Ahsoka's own growth as a character. For fans who have followed her journey from a young Jedi apprentice to a seasoned master, witnessing her complete her training, guided by none other than Hayden Christensen, adds depth to not only Ahsoka but Anakin Skywalker as well. The master-apprentice dynamic takes center stage throughout the season, offering a profound exploration of character development and the enduring theme of mentorship.
It is this commitment to this dynamic that allows the series to feel just as much about Sabine as it does Ahsoka as Ahsoka finds her place as a master in her own right, guiding Sabine to release her true potential. In a galaxy shattered by the Jedi Purge, the show emphasizes the importance of these bonds, serving as a poignant reminder of their pivotal role in the Star Wars saga.
However, not every aspect of the master-apprentice dynamic in Ahsoka Season 1 shines equally. While intriguing, the enigmatic duo of Baylon Skroll and Shin Hati never fully realizes their potential. Their past and motivations remain largely shrouded in mystery, leaving us yearning for more insight into their characters. Baylon's ambitious pursuit, driven by an unidentifiable calling, comes at the cost of his apprentice; Shin Hati's tragic arc takes center stage.
In contrast, Baylon's ambitious pursuits leave his apprentice in the shadows, leaving Hati's character somewhat underutilized, especially considering Ivanna Sakhno's deft performance. While the rest of the cast seems to have a direction following the season finale, Hati's feels like an afterthought, considering the series' clear grand machinations for the future.
While their relationship may not have received the depth I had hoped for, it's indisputable that this duo plays a pivotal role in some of Ahsoka Season 1's most gripping action sequences. It's a testament to the team's unwavering commitment to fight choreography, resulting in breathtaking duels that elevate the series. These saber clashes transcend mere displays of power; they carry profound subtext and significance.
Whether it's the clash of Baylon's crusader knight style against Ahsoka's samurai finesse, Sabine's struggle to harmonize her Mandalorian skills with her newfound Jedi abilities, or Ezra's reliance on the Force in his inaugural on-screen combat, the choreography imbues each battle with distinctiveness, contributing just as much to character development as the dialogue itself.
Kevin Kiner's composition is nothing short of a triumph, seamlessly transposing beloved animated themes into the live-action domain, much like the series' translation of animated characters. Kiner's music assumes a character of its own, imbuing every moment with profound emotional depth. It's a challenging task to consider improvements to the already magnificent musical legacy of the franchise.
Still, Kiner's incorporation of instruments like the piano infuses his score with a distinctive quality, introducing a fresh layer of grandeur to a franchise renowned for its brilliant composers. Just as the Star Wars universe remains in capable hands under the stewardship of Dave Filoni, the involvement of Kevin Kiner assures that the musical score will continue to be nothing short of extraordinary.
As the credits roll on Ahsoka Season 1, the future appears both promising and unpredictable. The show's embrace of mystical elements previously confined to Star Wars animation and expanded material signals the dawn of a new era in live-action Star Wars. Throughout the season, it consistently defied expectations, offering a tantalizing experience of speculating what might come next.
Among all the Disney+ live-action series, Ahsoka stands out as the most adventurous, pushing the boundaries of what Star Wars can achieve in this format. It conjures the same kind of magic that George Lucas might have envisioned if he had today's technological resources at his disposal. With the looming presence of Force deities on the horizon, this thrilling ride is far from reaching its conclusion.
Ahsoka's debut season is a resounding success that celebrates the complexities of the Star Wars universe. It deftly marries cinematic pacing with intricate storytelling, ushering in an era where the franchise's horizons are limitless under Dave Filoni's guidance. As the master-apprentice relationships takes that spotlight, we are reminded of the narrative richness that made Star Wars a cultural phenomenon. With its masterful character adaptations, evocative score, impeccable choreography, and fearless exploration of new horizons, Ahsoka secures its place as a pivotal cornerstone in the Star Wars canon. The future of the galaxy far, far away shines brilliantly under Filoni's stewardship, and we eagerly await the next chapter in this extraordinary journey.
Ahsoka is streaming now, exclusively on Disney+.
Star Wars: Ahsoka
TL:DR
Ahsoka's debut season is a resounding success that celebrates the complexities of the Star Wars universe. It deftly marries cinematic pacing with intricate storytelling, ushering in an era where the franchise's horizons are limitless under Dave Filoni's guidance.