Behind every great Jedi is an even greater master who led them along the way. For Ezra Bridger, that man is Kanan Jarrus. Yes, that same Kanan Jarrus that Huyang mentioned is Jacen Syndulla's father. Unfortunately, if you haven't seen Star Wars Rebels, Ahsoka doesn't provide any other context for who his character is. Even after Ezra Bridgers's fantastic display of Force abilities in Ahsoka's penultimate episode, fans still may have questions about this Order 66 survivor.
Kanan Jarrus, voiced by Freddie Prinze Jr., stands as a character whose journey from Padawan to Rebel hero is a captivating tale of growth, redemption, and self-discovery. While he may not be as widely known as some of the franchise's iconic figures, Kanan's role in Star Wars Rebels showcased his evolution as a Jedi, mentor, and, ultimately, a father in more ways than one. While it is unclear if we will see Kanan in live action, his impact on the characters in Ahsoka is undoubtedly important.
Surviving Order 66
Kanan Jarrus was not always known by this name. He was born Caleb Dume, and his journey to becoming a Jedi was shaped by his apprenticeship to Jedi Master Depa Billaba, part of the Mace Windu Jedi lineage, during the turbulent Clone Wars era. Caleb was on the planet Kaller when the devastating Order 66 was executed. Master Billaba valiantly sacrificed herself to protect him from the clone troopers turned executioners.
Caleb found himself pursued by a specialized clone commando group known as the Bad Batch. However, these clones' enhanced abilities meant that their inhibitor chips did not activate, leaving them seemingly immune to the chip's influence to kill their Jedi companions. Hunter, their leader, allowed the young Jedi to escape, and he went into hiding, adopting the name Kanan Jarrus. This marked the beginning of Kanan's arduous journey into hiding with no family to turn to.
Joining the Rebellion
To survive the galaxy's dark times, Kanan was forced to abandon his Jedi teachings as a means of survival in a galaxy where the Empire's oppressive regime left little room for Jedi. He turned to a life of crime, working as a thief and smuggler before crossing paths with a rebel named Hera Syndulla nearly eight years after the fall of the Republic. Drawn to her cause and inspired by her determination, Kanan decided to join the fight against the Empire. Their shared vision of opposing the Empire ignited a spark between them, though they refrained from entering into a full-fledged relationship, prioritizing their fight against tyranny.
Kanan and Hera's dedication to the Rebel Alliance led them to form a group of like-minded individuals aboard the ship known as the Ghost. Aboard the Ghost, the crew expanded to include the brash and ever-sarcastic C1-10P aka Chopper, the formidable Lasat named Garazeb "Zeb" Orrelios, featured briefly in The Mandalorian, and the talented artist and Mandalorian explosives expert, Sabine Wren. Kanan remained cautious about revealing his Jedi identity, haunted by the past and wary of becoming embroiled in another galactic conflict.
Despite his fears, Kanan would go on to make a substantial contribution in the early days of the Rebellion, long before the events of The Orginal Trilogy. During the four seasons of Star Wars Rebels, Kanan embarked on missions across the galaxy that saw him coming to the aid of Twi'leks, Wookies, Force-sensitive children, Mandalorians, and most importantly, the people of Lothal. In a time where the Jedi were nothing more than a fleeting memory, Kanan stood as a pinnacle of what the Jedi Order set out to be as they fought tooth and nail against the Empire.
Mentor to Ezra Bridger and Sabine Wren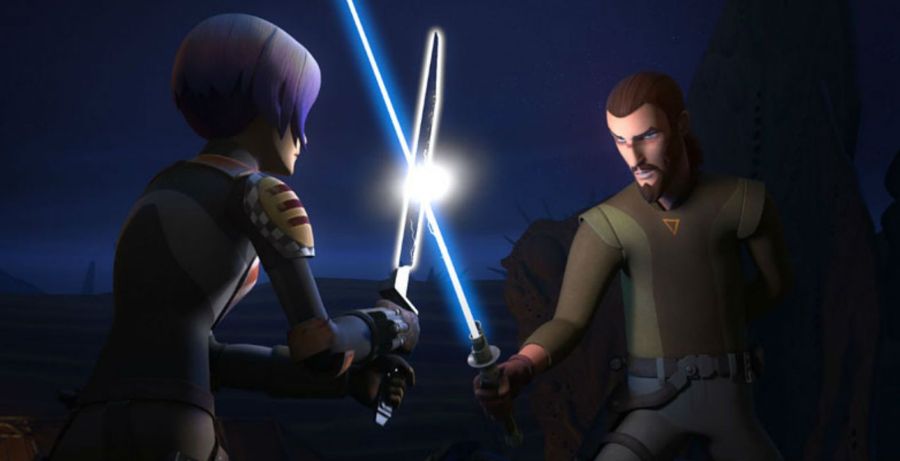 Kanan's path took a significant turn when he encountered a Force-sensitive young orphan named Ezra Bridger on the planet Lothal. Recognizing Ezra's untapped potential in the Force, Kanan made the life-altering decision to train him as a Jedi. However, their activities drew the Empire's attention, leading to confrontations with the sinister Inquisitors, hellbent on hunting down the remaining Jedi under the command of the Sith Lord Darth Vader.
The Inquisitors were not the only Force-wielding foes that Kanan had to contend with Star Wars Rebels. The journey of Kanan and his crew took them to the mysterious planet Malachor. Here, they crossed paths with the dreaded Maul and faced the ultimate adversary, Darth Vader. While Kanan and the crew of the Ghost were able to escape, it wasn't without great cost to Kanan, who lost his eyesight at the hands of Maul. Thankfully, though, he did not lose his apprentice Ezra Bridger, whom Maul so desperately wanted to turn to the Dark Side of the Force.
Despite his blindness, Kanan found guidance and strength through a mystical being known as the Bendu. Kanan eventually was able to overcome his loss of sight and continued to train and guide Ezra on his path to be a Jedi, which was fraught with temptations from the Dark Side. The two would go on to forge an unbreakable bond, putting them both in the upper echelon of Master and Apprentice duos in the Star Wars universe. Ezra wasn't Kanan's only student, though. Before she was taught by Ahsoka Tano, Sabine Wren learned about the cosmic Force from Kanan.
Kanan Jarrus passionately believed that the Force resided within all living beings, not just those naturally gifted in controlling it. This belief resonated with the crew and exemplified his commitment to the Jedi way leading the newly minted Jedi Knight to teach Sabine Wren to wield the Dark Saber, the ancient Mandalorian lightsaber. Much of his teachings during that time echo what Ahsoka can be seen telling Sabine in Ahsoka. As a Mandalorian, Sabine was already a skilled fighter, but Kanan's Jedi training added a unique dimension to her abilities creating the base for what fans see of Wren's Jedi journey in Ahsoka.
Taking the Fight to Grand Admiral Thrawn
The Empire's relentless pursuit of the Ghost crew led them to confront the brilliant tactician Grand Admiral Thrawn. On the planet, Adelon, Kanan's leadership and determination played a pivotal role in thwarting Thrawn's schemes as his connection to the Force proved to be invaluable. However, Thrawn eventually deduced that Kanan Jarrus was a Jedi Knight. Armed with the knowledge of Kanan's Jedi identity, Thrawn devised strategies specifically targeting the Jedi making for numerous close calls for the crew of the Ghost.
Thrawn's schemes eventually led to the capture of Hera Syndulla, now closer to Kanan than ever as their relationship continued to blossom through Star Wars Rebels. Kanan would eventually lead the mission to not only save Hera but also destroy the fuel depot for Thrawn's TIE Defender project. In one of the most heartbreaking moments in the entirety of Star Wars, Kanan made the ultimate sacrifice to save Hera, Ezra, and Sabine. The moment is made even more tragic as fans finally got the kiss between Hera and Kanan that they had been waiting four seasons for. Further, the appearance of a baby Jacen Syndulla in the series finale only adds to the ever-growing thought of what could have been for the Jedi Knight.
Kanan Jarrus' Legacy After Death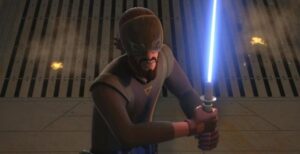 Kanan's legacy lives on not only in the memories of his friends and allies but also in the form of his son, Jacen Syndulla whose Force sensitivity was a testament to Kanan's enduring spirit. While the exact timing of Jason's conception remains a question, the deep emotional connection between Kanan and Hera is evident throughout their shared adventures.
While it is unclear if Kanan will make an appearance in live-action now that Jacen has displayed his Force-sensitivity in Ahsoka, fans may not know they have been closer to the former Jedi Knight than they think. In the climactic Battle of Exegol in The Rise of Skywalker, Kanan Jarrus' voice resounded among a chorus of ancient Jedi spirits who lent their support to Rey in her monumental struggle against the resurrected Darth Sidious. Kanan's words echoed with reassurance as he conveyed the profound message that Rey was not alone and that the true strength of a Jedi resided within their heart.
Following Kanan's reassuring presence, the voice of Luke Skywalker, Rey's mentor during his lifetime, seamlessly joined in. Luke's words of wisdom emphasized that the Force would forever remain at Rey's side, evoking a poignant parallel to a moment in which Kanan, after his own extraordinary journey within the enigmatic World Between Worlds, offered similar solace to his unconscious apprentice, Ezra. One can only hope that this won't be the last time we hear his voice now that the World Between Worlds has unlocked boundless possibilities.
---
Kanan Jarrus, from his harrowing survival of Order 66 to his profound influence as a Jedi mentor in Star Wars Rebels, remains a compelling Jedi whose legacy endures. While his past appearances were primarily in animation, the reunion of Ezra Bridger, Sabine Wren, and Ahsoka in Ahsoka opens up thrilling possibilities. As we revisit Kanan's legacy and the enduring impact of his teachings, fans can't help but wonder if his presence will manifest in this new era.
With the mysterious World Between Worlds now a part of the narrative in live action, the prospect of Kanan's return, even if in a spectral form, brings a tantalizing dimension to the interconnected destinies of these beloved characters and the ever-expanding Star Wars saga.