Among all the Disney+ projects, there's none I anticipated more eagerly than Ahsoka. Ever since the animated movie The Clone Wars, I was captivated by this Jedi padawan who resembled Anakin yet possessed a distinctness, unlike any other Jedi we'd encountered. As she matured across various Star Wars productions under Dave Filoni's watchful eye, Ahsoka finally takes center stage in her own series. However, the question remains: can the show meet the high expectations, especially considering the mixed responses to previous live-action Star Wars series? The Ahsoka premiere, which features Episode 1 and 2, sets out to answer this, launching the earnest quest for Ezra Bridger.
Ahsoka Episode 1 and 2 resonate as a direct sequel to Rebels, transitioning into live-action, even mirroring the visual composition of the final scenes of the show's fourth season. The series wastes no time delving into characters like Sabine, Hera, and Ryder Azadi. While it doesn't offer a comprehensive background on the significance of these characters, or even the planet Lothal, where much of the premiere unfolds, the storytelling delivers a quick immersion into the Rebels' current circumstances to catch viewers up on the characters' journeys. For devoted Rebels fans, this reunion feels like a return to familiar companions who've laughed, fought, and evolved across the animated series' four seasons.
The essence of Rebels comes alive as we witness the powerful women from the original show leading the episodes, Chopper being his lovable troublemaking self, and expansive shots of Lothal evoking nostalgia for significant moments on that planet. Those unfamiliar with these characters might find them slightly disorienting, yet the dynamics remain fairly transparent. In wordless scenes, viewers get a chance to embrace the initial moments we have with these characters, establishing the tone for their eventual arcs. I hope Ahsoka Episode 1 and 2 resonate, much like how The Sequel Trilogy introduced fresh characters, giving newcomers the chance to create their own bonds with these characters.
Fortunately, Rebels and The Clone Wars are accessible on Disney+, providing a path to deeper understanding. Nonetheless, for those who just want to join the journey, the first two episodes, crafted by Dave Filoni himself, offer a welcoming embrace to all fans. That being said, with minimal exposition, Ahsoka plunges right into its narrative. Ever since the series was announced, speculation swirled around its focus on the search for Ezra Bridger and Grand Admiral Thrawn. True to expectations, that's the journey that the Ahsoka premiere sets up. For the Empire, locating Thrawn aims to fill the void left by the Emperor's downfall, his strategic acumen crucial for their resurgence.
The New Republic is poised to exploit the lead on Thrawn's whereabouts in their quest to find Ezra. Sabine's (Natasha Liu Bordizzo) determination to locate Ezra stems from her promise in Rebels' poignant finale, intending to reunite him with their crew. Ahsoka (Rosario Dawson), though equally eager to find Ezra, recognizes her role in the greater galactic conflict and understands that thwarting the Empire's pursuit of Thrawn holds immense significance. The disparity in priorities between Ahsoka and Sabine foreshadows an impending clash.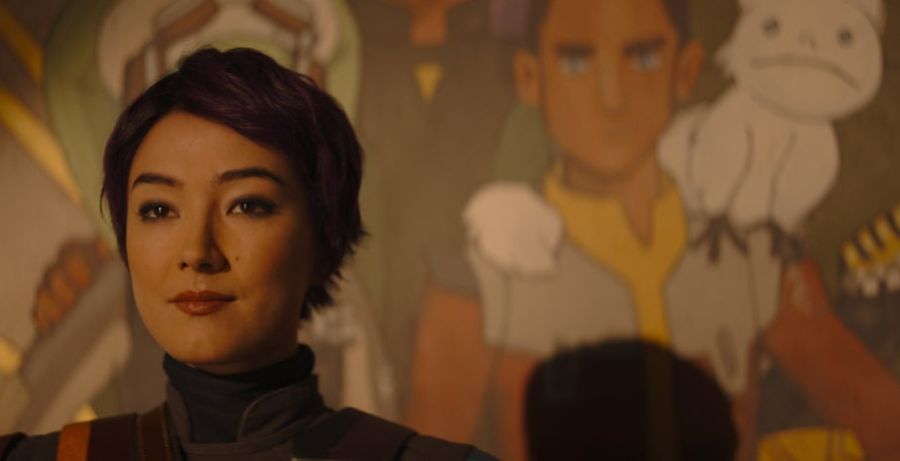 While the Ahsoka premiere episodes serve as a refresher for Rebels fans and a doorway for newcomers, they offer plenty of intriguing details for all viewers. Ahsoka's role in Sabine's training, despite her detachment from the Jedi Order, raises compelling questions. It also prompts inquiries into her decision not to train Grogu in The Mandalorian.
Did Sabine's training outcome sow seeds of doubt in Ahsoka? Were Anakin's teachings inadequate for instructing someone like Sabine, reminiscent of Ahsoka during the early Clone Wars years but inherently distinct? Alternatively, did Ahsoka's disillusionment with the Jedi's teachings hinder her?
These questions, coupled with the introduction of the Force-wielding Baylan Skoll (Ray Stevenson) and Shin Hati (Ivanna Sakhno), who seemingly abandoned the Order's revival, kindle intrigue. While their motives remain veiled, their combat prowess guarantees they'll be formidable adversaries for both Ahsoka and Sabine before the tale concludes. For fans unacquainted with Star Wars animations, the re-emergence of Morgan Elsbeth (Diana Lee Inosanto) from The Mandalorian's Chapter 13: The Jedi offers a sense of familiarity for live-action enthusiasts.
Elsbeth, alongside Baylan Skoll and Shin Hati, craft a compelling trifecta of antagonists as they pursue Grand Admiral Thrawn. Additionally, the enigma surrounding the two orange-bladed Force wielders adds an extra layer of allure. In the wake of the Jedi Order's demise and the Empire's fall, more Force-sensitive individuals are emerging. Even Elsbeth, despite her single Mandalorian appearance, brims with intrigue as revelations about her past prompted me to pause the episode and get up out of my chair to contemplate. With that said, personally, I don't mind that the villains haven't instantly ascended to the pantheon of Star Wars antagonists within Ahsoka Episodes 1-2.
The motives behind the enigmatic Force users remain shrouded, and while conflict with the trio is likely, the show seems set on gradually unraveling their past, inviting exploration in tandem with Ahsoka, Sabine, and company. In contrast to other Star Wars live-action shows, Ahsoka harmonizes most aptly with the cinematic Star Wars experience. It amalgamates the adventurous spirit of The Mandalorian, the gravity of the situation at hand akin to Andor, and the intrigue enveloping post-Order 66 Force wielders reminiscent of Obi-Wan Kenobi, while also revering long-time enthusiasts similar to The Book of Boba Fett.
Ahsoka diverges through its characters' relationships, anticipated to be pivotal to the series' development. More than any prior live-action Star Wars show, Ahsoka's characters share an intricate history that audiences can tap into. Even newcomers can recognize the formidable bonds within the Rebels crew, evident in the mural commemorating their exploits showcased in the episode and echoed across real-life global conventions. However, fractures have emerged since we last encountered them, notably between Ahsoka and Sabine. Hera's (Mary Elizabeth Winstead) brief but impressive appearance further hints at concealed depths as she continues playing the role of a surrogate mother, often overlooking her own needs.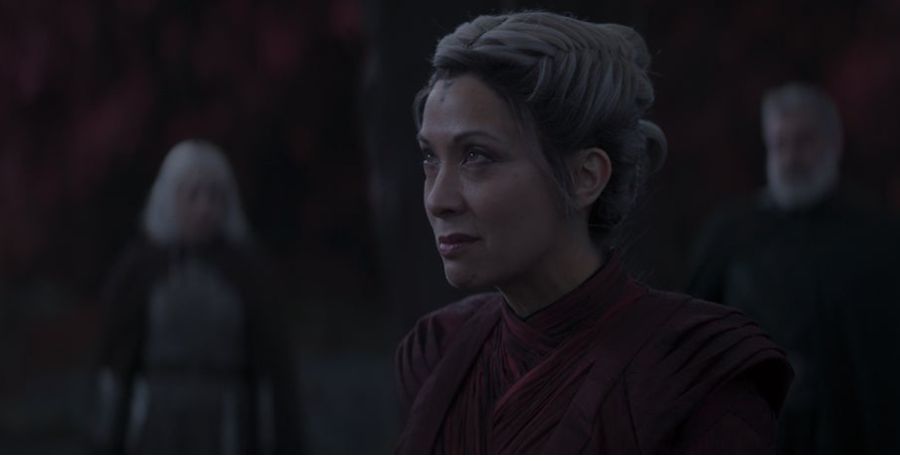 For me, the Ahsoka premiere's most poignant moments revolved around Ahsoka and Sabine's strained dynamic. Rosario Dawson continues to excel as Ahsoka, embodying her serene disposition established in The Clone Wars' conclusion. The impulsive Snips who began as a fledgling padawan has evolved into a "wandering samurai-like Jedi," as Filoni alludes. She strives to maximize her contributions within her capabilities, but an underlying melancholy reflects her awareness of untapped potential.
Natasha Liu Bordizzo expertly portrays Sabine's spirited nature, the wit, and sarcasm masking the unresolved pain of unfulfilled promises to Ezra. Even without an exhaustive backstory, her Mandalorian heritage and training with Ezra's lightsaber articulate an internal conflict transcending dialogue. Their divergent approaches evoke echoes of Anakin and Ahsoka's early dynamic during the Clone Wars. Whether this recreates the past dynamic between Anakin and Ahsoka in The Clone Wars or forges a novel dynamic remains uncertain, but their complex interactions promise profound character moments.
Amid Ahsoka Episode 1 and 2's richness, Kevin Kiner's music stands out and will likely give fans something they can all agree on. Kiner, acclaimed for his contributions to Star Wars animation, excels anew with Ahsoka. The score interweaves decades of Star Wars music while still distinguishing itself by spotlighting instruments like the piano that aren't as prominent in John Williams's scores. With his first steps into Star Wars live-action, Kiner will undoubtedly capture the hearts of fans across the board. His work alone stands as a reason for more people to engage with Star Wars animation. As the series progresses, I anxiously await Kiner's music to supplement the series' biggest moments to come. Ahsoka Episode 1 and 2 stand as a homage to the Star Wars animation faithful.
Unlike its predecessors, it seems that the series won't embark on episodic escapades or detours before reaching its climactic finale. Instead, the Ahsoka premiere lays the foundation for an odyssey transcending the known Star Wars galaxy. With much of the footage from the trailers already exposed in these first two episodes, there are so many directions for the series to go from here.
Regardless, embarking on this journey with beloved animated figures only adds to my excitement, as the narrative's twists and turns have already commenced, leaving me eagerly anticipating the ensuing discussions. If there has ever been a time to do your extended universe homework for Star Wars, now is the time. Ahsoka premiered episodes one and two, currently streaming exclusively on Disney+ with new episodes every Tuesday.
Ahsoka
TL;DR
The Ahsoka premiere lays the foundation for an odyssey transcending the known Star Wars galaxy.