As Star Wars expands its universe with exciting new live-action shows, nothing has been more awe-inspiring than seeing characters who got their start in animation brought to life on Disney+. From Bo-Katan Kryse in The Mandalorian to Cad Bane in The Book of Boba Fett and even Ahsoka Tano in her very own show, seeing these characters who have garnered such a following in their animated forms see their stories continued has been nothing short of fantastic over the last few years. One character though fans have anxiously been awaiting his return to the franchise, Ezra Bridger.
Now in Ahsoka, Ezra Bridger makes his live-action debut played by Eman Esfandi. But who is Ezra and why is finding him so important to our heroes? Introduced in the animated series Star Wars Rebels," Ezra's journey from a street-smart orphan to a powerful Jedi Padawan is a captivating tale of growth, courage, and the enduring fight against the Galactic Empire. Now front and center in Ahsoka, it might be time to brush up on this unconventional yet loveable Jedi.
Orphan to Rebel
Ezra Bridger's story begins on the Outer Rim planet of Lothal which is featured in the premiere episodes of Ahsoka. Born on Empire Day, the day celebrating Sheev Palpatine's rise to Emperor, Ezra's life has always been connected to the Empire. Like other heroes in the Star Wars universe, fans meet Ezra after he has lost his parents who both were involved in the early days of the Rebellion. As an orphaned street rat, he relied on his wit and resourcefulness to survive on a planet oppressed by Imperial rule. Little did he know that his life would change forever when he encountered a group of rebels known as the Spectres led by Kanan Jarrus and Hera Syndulla.
While Ezra's primary motivations were to free Lothal from Imperial rule, his work with the crew of the Ghost placed him on missions across the galaxy in the early days of the Rebellion. Ezra's background as a former street-smart orphan made him an excellent scout and infiltrator. He often used his agility and resourcefulness to sneak into Imperial facilities, gather intelligence, and sabotage their operations. His ability to blend in and adapt to various situations was invaluable to the team.
Ezra's compassion and ability to relate to individuals from diverse backgrounds made him an effective diplomat and negotiator. He often defused tense situations and forged alliances with various rebel cells, Mandalorian clans, and even smugglers to strengthen the Rebel Alliance's network. Ezra participated in numerous daring rescue missions to free captured rebels and allies. In fact, one of Ezra Bridger's earliest missions with the Ghost crew was a daring rescue to free Kanan Jarrus from Imperial captivity. His Jedi abilities and quick thinking were essential in planning and executing these operations. Whether it was rescuing Hondo Ohnaka or freeing Kanan Jarrus, Ezra's contributions saved lives and bolstered the Rebellion even if his contributions aren't known to the larger Star Wars audience.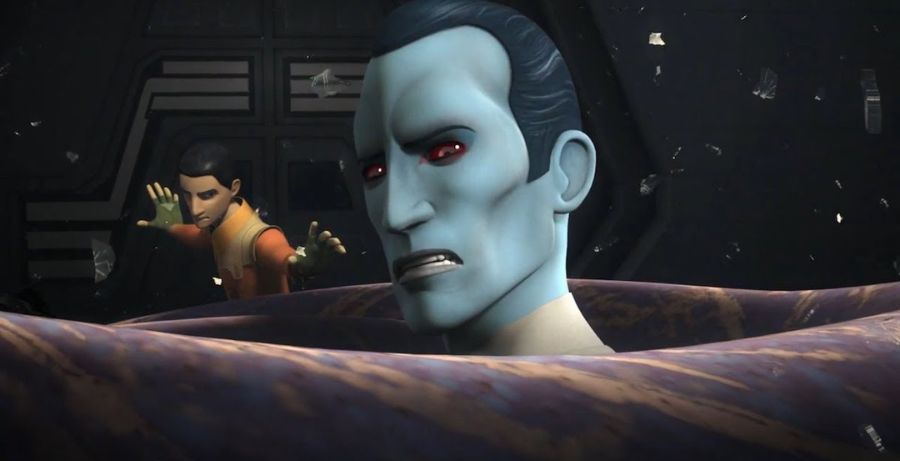 While his connection with people is commendable, it is his connections to the creatures of Star Wars that set him apart in the franchise. Ezra's character often exhibited an affinity for nature and a deep respect for all living creatures. His understanding that the Force was present in all living beings, not just Jedi, was a recurring theme in the series. One of the most notable connections Ezra had with animals was with the enigmatic Loth-Wolves on the planet Lothal.
These mystical creatures were highly Force-sensitive and played a significant role in the series. Ezra's ability to communicate with them showcased his growing attunement to the Force and the eventual discovery of the World Between Worlds. Ezra's connection to animals extended beyond Lothal. In a memorable episode, he encountered the purrgil, giant space-faring creatures capable of traveling through hyperspace. His ability to communicate with these creatures not only saved his friends but also showcased his innate connection to the Force and his understanding of the natural world.
Most importantly though, Ezra's strong connection to Lothal led him to take a leadership role in the local resistance movement against the Empire. He inspired fellow Lothal citizens to stand up against Imperial oppression. Ezra's ultimate sacrifice occurred in the series finale which required all that he had learned to that point to accomplish his mission. To protect Lothal and its people from Imperial devastation, he made the difficult decision to voluntarily enter hyperspace with Grand Admiral Thrawn aboard the Chimaera, with the help of the same purrgil he connected with earlier in the series, disappearing into the Unknown Regions. This selfless act saved his friends and his homeworld which can be seen thriving in the opening episodes of Ahsoka.
Becoming a Jedi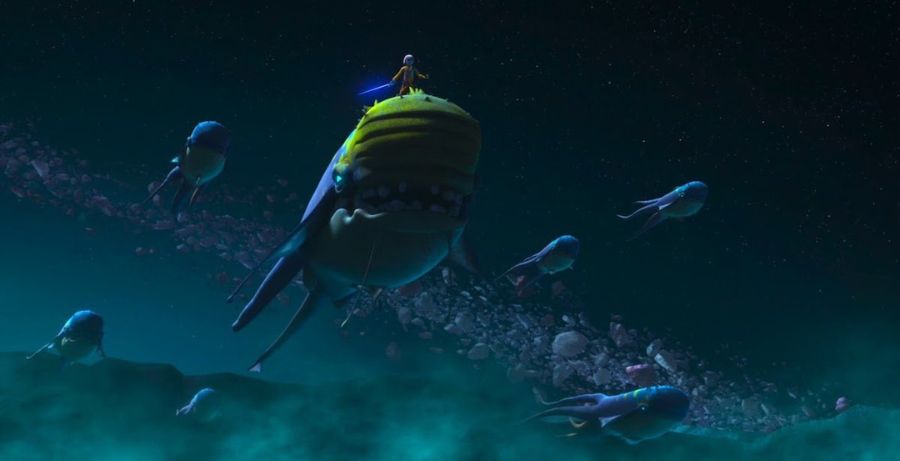 Early on in Star Wars Rebels, Kanan recognized Ezra's latent Force abilities. Ezra initially struggled to embrace his role as a Jedi. His street-smart attitude clashed with the discipline and philosophy of the Jedi Order. However, under Kanan's guidance, Ezra embarked on a journey to become a true Jedi. While untrained initially, Ezra's connection to the Force grew steadily throughout Star Wars Rebels. He learned the ways of the Jedi, trained with a lightsaber, and honed his skills in using the Force to aid his friends and allies becoming a valuable member of the Spectres and the crew of the Ghost.
Throughout his journey in Star Wars Rebels, Ezra Bridger faced numerous challenges that tested his allegiance to the light side of the Force. Like many Jedi, Ezra Bridger's emotions occasionally got the better of him. His fear and anger over the Empire's cruelty and the suffering he witnessed often threatened to overwhelm him. One of the most significant dark side influences in Ezra's life was his interactions with the former Sith Lord, Darth Maul. Maul recognized Ezra's potential and attempted to manipulate him, tempting him with promises of power and revenge against the Empire which led to several intense confrontations and moments where Ezra was tempted by the power Maul offered and almost took it.
Ezra's curiosity led him to discover a Sith Holocron, a device of Dark Side knowledge. His interactions with the holocron exposed him to dangerous Sith teachings and challenged his commitment to the light side as well as straining his relationship with the members of the Ghost. Further, throughout the series Ezra faced off against the Imperial Inquisitors, Force-sensitive agents of the Dark Side tasked with hunting down Jedi. These battles pushed Ezra to harness his anger and aggression, posing a constant risk of slipping toward the dark side.
Despite these temptations, Ezra Bridger leaned heavily on Kanan who was determined to prevent his young Padawan from falling to the Dark Side when he did complete his training himself. Kanan's lessons and his unwavering belief in Ezra were crucial in helping him resist the Dark Side's allure. Even Ahsoka Tano did her part to help the aspiring Jedi. Drawing from her own experiences as a former Jedi, she offered wisdom and guidance, reminding him of the dangers of succumbing to the temptations of the Dark Side, and even protected Ezra from the dreaded Darth Vader.
Ezra & Sabine Wren's Relationship
Force users and Rebellion Generals are not the only people who influenced Ezra's development throughout Star Wars Rebels. His connection with the Sabine Wren was strong from the start as their dynamic evolved over the course of the series and showcased the deep bonds that formed within the Ghost crew. Over the course of Ahsoka, Sabine's primary goal has been to find Ezra following his heroics in the season four finale of Rebels. However, viewers who have not seen the animated series may not know why she is making the choice to save him, but a look into their evolving relationship more than tells the story.
Ezra Bridger, as a Jedi with growing Force abilities, and Sabine, as an explosives expert and artist, had complementary skills that made them an effective team. They often paired up on missions, utilizing their unique talents to overcome obstacles and adversaries. Sabine's artistic creativity and Ezra's Force-enhanced perception occasionally resulted in innovative solutions to problems, showcasing their ability to inspire each other's creativity.
Further, one of the fascinating aspects of their relationship was the parallel journeys of Ezra Bridger and Sabine Wren as they underwent training and growth in their respective areas of expertise. Ezra's path as a Jedi and Sabine's journey with the Darksaber showcased their commitment to self-improvement and their shared goal of defeating the Empire.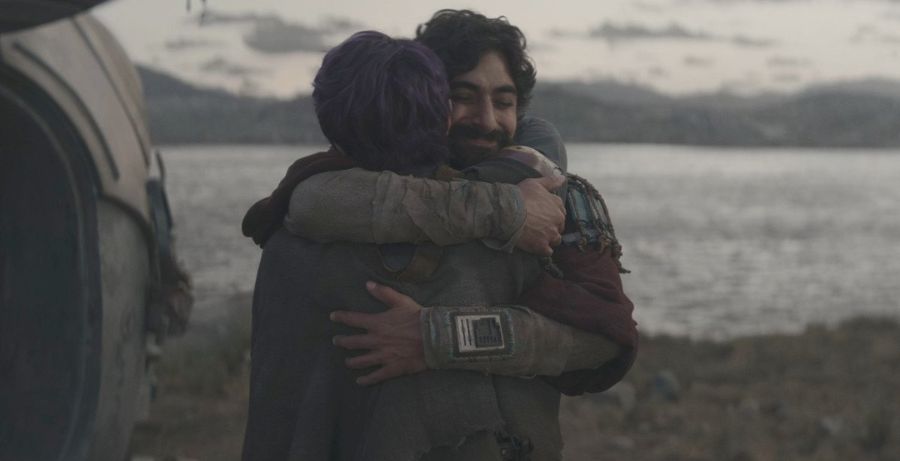 Over time, their friendship deepened, and they became each other's sources of emotional support. They confided in one another about their fears, doubts, and past traumas, creating a strong bond of trust. Ezra's struggles with the dark side and Sabine's painful history as a former Imperial cadet provided opportunities for them to comfort and encourage each other. They shared a unique understanding of the burdens they carried as members of the Rebellion providing one of the closest relationships on the show. Eventually, Ezra Bridger would give Sabine his lightsaber before embarking on his mission to stop Thrawn, solidifying their relationship forever.
Throughout the series, there were moments that hinted at a deeper emotional connection between Ezra and Sabine. Their shared adventures, moments of vulnerability, and expressions of mutual admiration suggested a romantic undertone to their relationship. While the series did not explicitly confirm a romantic relationship, their emotional connection added depth to their characters and resonated with many fans giving hope to see their relationship bloom into something more now that they are reunited in Ahsoka.
---
Now, as Ezra Bridger returns in Ahsoka fans have the opportunity to see how his journey continues and what new challenges he faces. Ezra Bridger's story serves as a testament to the enduring spirit of hope and resilience in the Star Wars universe, reminding us that even in the darkest times, heroes can emerge and make a difference. His adventures in "Star Wars Rebels" showcased his growth, unwavering commitment to the light side of the Force, and his ability to forge deep connections with both beings and creatures alike.
As Ezra Bridger's story continues his importance to the Star Wars universe becomes increasingly evident for those who may not have seen Star Wars Rebels. His return holds the promise of further exploration into his character's evolution, the potential for new alliances and challenges, and the enduring legacy of a beloved Jedi who inspired many.