At San Diego Comic-Con 2023, Battle Island's electrifying panel in Hall H left fans buzzing with excitement as they delved into the details of their highly-anticipated animated series, Ghosts of Ruin. The innovative series explores the neural reality battle royal tournament called Ruin, where gamers can immerse themselves deeply, but an unexpected twist turns their virtual paradise into a living nightmare. Following the panel, the cast and crew including co-creator PJ Accetturo, showrunner Michael Ryan, and K-Pop star AleXa spoke with us to delve deeper into the creation of this ambitious project. Here's everything we learned.
A Gripping Dystopian Setting
Ghosts of Ruin is set in a gritty dystopian future and takes place in the vibrant city of San Francisco. Co-creators PJ Accetturo and Ryan Ramsey were inspired to craft this unique world through their personal experiences. PJ Accetturo, a seasoned streamer of battle royale games, and Ryan Ramsey, who had worked at a mental health institution, were driven by the idea of exploring the psychological impact when games become virtually indistinguishable from reality. Their focus on PTSD (Post-Traumatic Stress Disorder) and the blurred lines between reality and virtual gaming became pivotal aspects of the series.
PJ Accetturo expressed, "We really want to have a PTSD-focused aspect of this because we just feel like it's our duty to share when games become indistinguishable from reality, and that's gonna be a not-too-distant future with Neuralink, what happens to trauma in the game? So, that's what I think gives the show a lot of depth and nuance. It's trauma-informed."
A Star-Studded Cast
The cast of Ghosts of Ruin is impressive ensemble of talent, including some big names from the entertainment industry. Notably, KPop star AleXa makes her voice acting debut in the series, adding her charisma to the character of Juggernaut. Joining AleXa are prominent figures like Rosario Dawson (Ahsoka Tano in The Mandalorian and Ahsoka), Justin Long (Tusk), Nathalie Emmanuel (Game of Thrones), John Keaton (The Spectacular Spider-Man), Tony Revolori (Spider-Man: No Way Home), JB Blanc (Arcane), Karen Strassman (World of Warcraft), John Bentley (Transformers: Revenge of the Fallen), Cherise Boothe (Diablo IV), Michael Longfellow (Saturday Night Live), and Harron Atkins (Red Dead Redemption II).
AleXa shared her excitement about her first voice acting role, stating, "Voice acting has always been something I wanted to dabble into because I love acting and theatrical things in general, just self-expression through the arts."
Executive Producer Michael Ramey highlighted their approach to securing such stellar talent, saying, "we're competent people, that's a little bit of trust. And then, once Michael Ryan came on, with that pedigree, now we're able to go to the Rosario Dossi, the Justins, the Natalie Emmanuels, the even the talent that's here."
Empowering Community Interaction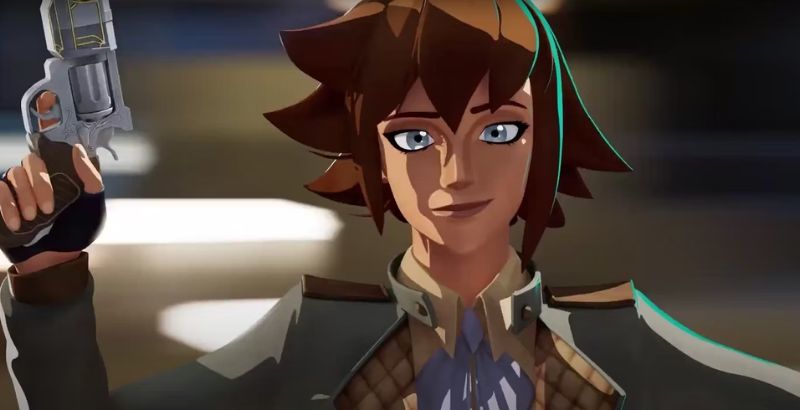 One of the unique aspects of Ghosts of Ruin lies in its commitment to involving the community and fan base in the production process of this virtual world. Battle Island actively encourages fans to become a part of the show by allowing them to be animated into the series through wanted posters and "death drops." Community members have the opportunity to submit their photos and art, with selected entries appearing as various background characters, including dead bodies or background art. Additionally, fans can vote on which voice lines make it into the series. At the panel, attendees in Hall H even had the chance to pick which voice line from Rosario Dawson that would make the final cut.
Showrunner Michael Ryan elaborated on the community aspect, " The idea is that community members can submit photos to us of themselves. There are certain tiers sort of being involved and the higher tiers actually get to have their faces put into the show on dead bodies or during the death moments. Also, there are other versions of wanted posters, and the death drops are the favorite ones because it's like, 'I'm on the dead body, you know. I'm on the dead body. Kill me, Mike Ryan. Yeah, kill me.'"
Innovative Music Collaboration
The series promises an exceptional musical experience with the collaboration of renowned composer Hans Zimmer's Bleeding Fingers and Battle Island's studio CEO Russell Emanuel. Composers Giovanni Rios and Hendrick Buenck are also part of the creative team. The combination of these creative minds is set to deliver a score that will captivate the audience, with Russell Emanuel teasing that they are trying out unconventional methods to create music.
The collaboration between Zimmer's team and the show's creators promises a breathtaking score that pushes creative boundaries. There are even hints from the panel that AleXa, with her musical background, may contribute to the show's music, adding another layer of excitement for fans. Russell Emanuel expressed excitement about the project's musical score, promising it to be an innovative and audacious endeavor, incorporating unique sounds that challenge traditional musical boundaries.
As the anticipation builds, Ghosts of Ruin promises to be a groundbreaking animated series that not only pushes the boundaries of storytelling and technology but also embraces its dedicated community as integral participants in its creation. With its star-studded cast and innovative approach to fan engagement, the series is already generating considerable buzz among fans and industry insiders alike. As the show's limited release approaches, fans can immerse themselves in this dystopian adventure by visiting the Gala Film platform and becoming part of the dystopian world of Ghosts of Ruin.
No release date for Ghosts of Ruin was given at this time.