As I said in my review of House of the Dragon Episode 1, I didn't know what to expect from the series. While I didn't let the ending of Game of Thrones sour the franchise for me, I went into this new prequel series guarded. However, I was excited to be pulled into the world of George R.R. Martin again, hoping that these new showrunners Ryan J. Condal and Miguel Sapochnik, could right the ship. To start off this review, I want to say that with House of the Dragon Season 1 they did just that.
If you've been waiting to catch up on the series until the last episode aired, Hosue of the Dragon is based on Martin's Fire & Blood and set 200 years before the events of Game of Thrones. While fans knew that it would tell the story of the Targaryen Civil War (the Dance of Dragons), that was all we could see going in. But what came out of this one season was a series that is embracing family drama, political intrigue, and tense pacing more fit for thrillers than fantasy. And it works, even with some stumbles.
From "The Heirs of the Dragon" to the final episode, "The Black Queen," House of the Dragon maps out a family dynamic across the Targaryen lines. Rhaenyra (Milly Alcock/Emma D'Arcy), the appointed heir to the Iron Throne and daughter of King Viserys is one line, with her sons from Laenor Velaryon and Daemon Targaryen (Matt Smith)—yes, he's her uncle.
All of that said, despite the hyper-condenses timeline and what stands as essentially two pilot episodes, House of the Dragon Season 1 still managed to deliver on its investigation of patriarchal structures and the ways that women are forced to move within or how they choose to rebuild it. This is showcased in Episodes 9 and 10, the penultimate and season finale, which work in tandem to outline Alicent and Rhaenyra's response to the same event, the death of King Viserys, and the power play they choose.
With Alicent, we see a woman who is fighting for her family, but doing so because she misunderstood her husband's dying wish. Surrounded by men who have been scheming, Alicent is their chess piece, even if she tries not to be. She silences women who are raped by her son, and maneuvers that same rapist and drunkard of a son to ascend the throne, never once even contemplating that she could be queen.
The comparisons to Cersei are misguided at best because Alicent isn't the kind of scheming power-hungry woman who uses the patriarchy to step on her opponents. Instead, she's an active participant guided by what she believes is god and morality to do her duty to her sons, and ultimately under every intention of honoring her husband, even if the men around her think otherwise. She is there for them, serving their motives, strong, yes, but a strength given to her by the men she props up.
But Raenyra is her own woman, moving for her own claim and her own wishes. But while it would be easy to detach Rhaenyra from her motherhood and thus her femininity to make her dedication to duty take on a reductionist feminist plot point, we see the mother and sovereign joined as one. While she refused to end up with her battlefield a birthing bed, she has become a mother, and that motherhood is what makes her measured in her responses. That is until the fiery anger in her final look at the audience this season. Rhaenyra (Emma D'Arcy) isn't just one kind of woman, she contains every step she's taken and has learned. She is dynamic and thoughtful without bowing to the men around her, even if it means facing abuse.
As the two anchor points of House of the Dragon Season 1, Alicent (Olivia Cooke) and Rhaenyra are in their own dance, the story moving around them and their children. Once friends, the two mothers stand in stark contrast, but both move with purpose, succeeding in their goals. Here, the patriarchy has shaped their paths, and both have found their way through it. Whether that is right or wrong, ambition comes in different forms for how people access it. By using Princess Rhaenys (Eve Best), The Queen Who Never Was, the first woman who was supposed to command from the Iron Throne, as the window into both women we see the ultimate goal of the season.
While Rhaenys initially condemns Rhaenyra and what seems to be the way that the young queen-in-waiting throws away the baggage of womanhood, she ultimately comes to accept her and respect her. For Rhaenys, Alicent is beholden to men – the son, the father, the husband – and looking to make a window in a prison. But what we see in the season finale is that Rhaenyra, despite any righteous anger she may have, commands the warmongering men around her to calm and measured reactions. Rhaenyra isn't strong because she is vicious, or because she is like a man, she is strong because the path she has carved is outside of the prison the patriarchy of the Iron Throne sets up.
Rhaenys's House and husband are also standouts this season, with Steve Toussaint as Corlys Velaryon absolutely stealing every scene he is in. While the wigs should have been better, House Velaryon's stark defiance and pushes for respect make them some of the best characters this season. My only sadness is in that we lost so many of them. However, with more seasons already mapped out, I hope we see one return to the screen.
Additionally, Corlys and Rhaenys represent one of the best couples I have seen in the franchise and in fantasy. They respect as much as they love, and that is built on their ambition as much as their grief in a way that keeps them grounded. Rhaenys is not just a wife, but a trusted partner, and even when they disagree, Corlys holds himself with respect instead of contempt, which can't be said for the other men on the show.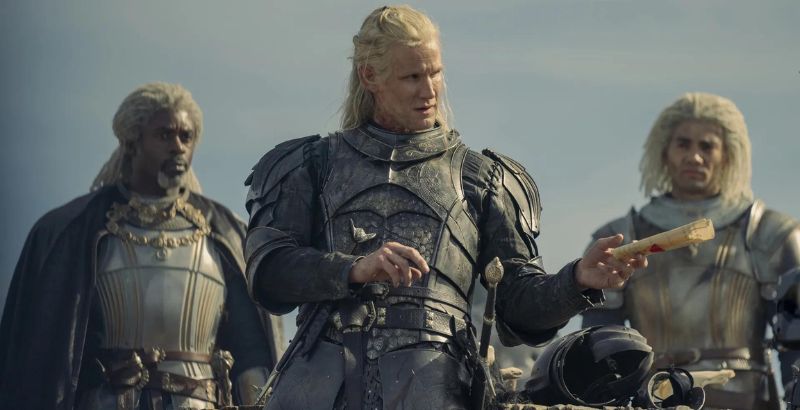 In contrast to Corlys, we have Daemon. While he beings the series as Rhaenyra's competition, he becomes her husband. But his wild nature and anger towards any slight against him propel him to fight everything, including his wife in the final episode of the season. He has no respect for anyone than those he deems worthy, and for Daemon that waxes and wanes like the moon. In fact, power is the only language he speaks. A man who rather feed his sons to dragons instead of having them bow to Aegon, a wish that is granted sadly, there is callous power-hungry chaos that Smith brings to the role that makes him hold your attention every moment he's on screen.
Despite its well-executed themes, however, House of the Dragon Season 1 doesn't earn a perfect score. Yes, House of the Dragon delivers everything I loved about the original Game of Thrones series, but it also makes some of the same mistakes. Namely, in Episode 7, the cinematic choices make the episode nearly unwatchable. Too dark to make any sense of the characters' emotional reactions or moments, it's a blotch on the season. Additionally, the accelerated timeline, though it pays off, created two separate shows within one season, when it could have just jumped into the meat.
Even with those critiques, however, House of the Dragon Season 1 delivers everything we were promised. Politics, drama, action, and shocking moments that have you stoked to jump back in. Plot armor seemed to exist at the beginning of the season, but it's gone now. On top of that, the cast we have now is the best of the season with D'Arcy giving a triumphant and powerful performance as Rhaenyra. They bring power and kindness in equal measure, and intelligence and rage too.
House of the Dragon Season 1 is a strong return to form for Game of Thrones as a franchise. Let's hope it remains on the right course into the rest of the series. Here's to more dragons, more fire, and more mothers riding to war.
House of the Dragon Season 1 is available now on HBOMax.
House of the Dragon Season 1
TL;DR
House of the Dragon Season 1 is a strong return to form for Game of Thrones as a franchise. Let's hope it remains on the right course into the rest of the series. Here's to more dragons, more fire, and more mothers riding to war.