Horror anthologies are beautiful. A Good one has parts as equal as the whole and never loses site of the tether that holds them together. Doing this without an all-encompassing wrap-around can be difficult, but when executed, it gives us the greats like Creepshow, Tales from the Crypt, and The Twilight Zone. Connected by a character pulling together the stories, each one presents itself as a peak into a collection. Cabinet of Curiosities features eight stories hand-picked by Guillermo del Toro with their directors into one stunningly creepy, magical, and terror-filled anthology that explores greed, love, grief, bodily autonomy, death, life, and everything that lies beyond the world that we see, experience, and know.
Del Toro serves as the anthology's creator, executive producer, and co-showrunner, but more importantly he also the series' Rod Sterling. This is both in his creative control over curating the collection and how he introduces each episode, beginning first at the cabinet and then pulling out pieces from the story to build the mystery before it begins. In this role, it feels like we're getting a moment with del Toro, in his house, as he prepares us for a story. Additionally, the anthology is made up of stories meant to push audiences' expectations of the horror genre. Sometimes this is with a story twisting instead of turning, at others, it's by turning tropes on their heads, and other stills it's bucking expectation of twist and being as simple and straightforward as possible to highlight emotion first.
To capture the collective nature of the stories, Netflix is releasing two episodes each day beginning Tuesday, October 25th. While I'm still a fan of a binge-release model, this choice has a purpose, pairing each episode with one that compliments the last. We move from greed to the body, to the darkness laying outside our reach beyond the human world, and then finally to high-concept explorations of the choices we make and the grief and pain they can reap. When you look at the roster of directors, it's clear why del Toro has assembled each and every one of them.
The anthology begins a look at greed and entitlement with "Lot 36," directed by Guillermo Navarro and written by Regina Corrado, based on an original story by Guillermo del Toro. Here, a man debilitated by debt acquires a storage unit filled with mysterious objects he hopes to sell, only to discover the sinister nature lurking inside. "Lot 36" is cathartic, and I'll leave it at that. Next, we enter the graveyard with "Graveyard Rats," directed by Vincenzo Natali and written and based on a story by Henry Kuttner. Thriving on claustrophobia, a grave robber sets his eyes on a rich man's treasure, with only rats and a power standing in his way. Together, these two stories accent each other with the way the protagonists express their selfish and callous nature.
From there we see two episodes that explore the concept of the body, what makes them tick, and our acceptance of them. The first is "The Autopsy," which is made perfect by a stunning performance by F. Murray Abraham, written by David S. Goyer (based on a short story by Michael Shea) and directed by David Prior. The second is "The Outside," written by Haley Z. Boston (based on the short story by Emily Carroll) and directed by the iconic Ana Lily Amirpour. A vibrant contrast to the episode before, these two episodes are the highlights of the anthology. Gorgeous in their simplicities and use of practical effects, these standouts are better left unspoiled.
Next, del Toro brings audiences into a world of witches, demons, and the old gods with "Pickman's Model" and "Dreams in the Witch House." The former is written by Lee Patterson (based on the story by H.P. Lovecraft) and directed by Keith Thomas and centers on an art student named Bill who meets an introveted new student whose paintings uncover the ugly darkness in the world. Unnerving and bleak, "Pickman's Model" is some of Ben Barne's best acting and the most unnerving of the episodes in Cabinet of Curiosities.
"Dreams in the Witch House," also originally a story by H.P. Lovecraft, is written by Mika Watkins and directed by Catherine Hardwicke. This episode centers on a man who years after losing his twin sister is still riddled with grief and uses a drug to venture into a world beyond to see her again. The weakest of the anthology, the strong performance by Rupert Grint can't outweigh the fact that Hardwicke has learned nothing about representing Indigenous or Latino cultures since Twilight and Miss Bala. That said, it's one of the most technically beautiful in the collection, even if it stumbles. So when I say weak, it's because of how strong everything else is.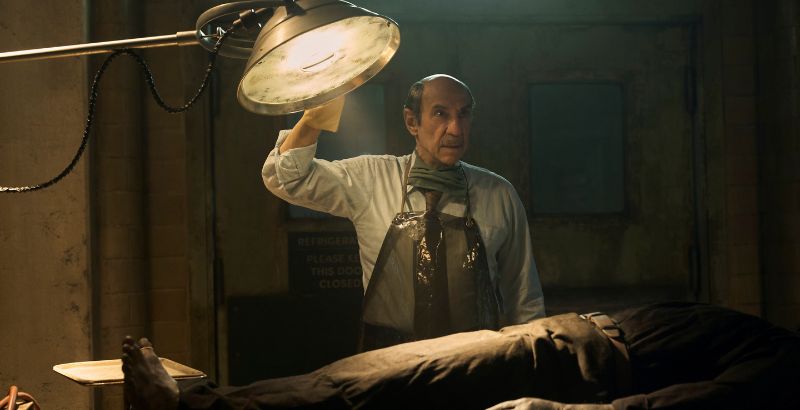 The last pair in Guillermo del Toro's Cabinet of Curiosities are about choices made in the past and the trauma that comes with them and grief too. First, there is "The Viewing," an almost dystopian version of House on Haunted Hill in ways, this one is directed by Panos Cosmatos and holds his signature neon style with delightful violence-that offsets a slow-building beginning. It's co-written by Cosmatos and Aaron Stewart-Ahn and is one hell of a fever dream. Another episode better left entered with little information, it has the most stacked cast of the anthology series, "The Viewing" tells the story of a rich man calling a dinner with four seemingly unconnected but accomplished guests that plunge into terror.
And finally, we have "The Murmuring," directed by Jennifer Kent and written by del Toro, based on one of his original stories. Like Kent's other work, this one also involves mourning a major loss, as ornithologists Nancy and Edger move to a secluded home to study birds only to uncover more heartbreaking horror.
Cabinet of Curiosities is beautiful and terrifying, it's the stuff that nightmares are made of and that is why it shines so brightly. With eight fantastic episodes, Guillermo del Toro has collected stellar horror stories that never explore the same thing, in the same way twice. Additionally, it's a phenomenal look at practical effects work for monsters, the body, and more. Every creature, big and small in Cabinet of Curiosities is absolutely stunning and created by effects teams that know exactly when to use computer-generated effects and practical. Working in perfect symmetry, they complement each other. Even with my gripes about "Dreams in the Witch House," this is a perfect collection of stories.
On their own, each episode feels refreshing and original but together, they help each story thrive. Covering such a wide array of subgenres, it would be easy for these eight stories to feel disjointed, but somehow, they all fit neatly into one collection. They all belong, and they each explore a different theme with at least one of the pair causing a heavy impact on the audience. Pairing lightness and almost camp with bleak and meaner stories is how Cabinet of Curiosities sets itself apart. These aren't just stories, collected. These are stories curated with wonder and love as well. I hope we get many, many more seasons with many more stories in the future.
Guillermo del Toro's Cabinet of Curiosities is streaming exclusively on Netflix beginning October 25, 2022.
Guillermo del Toro's Cabinet of Curiosities
TL;DR
Cabinet of Curiosities is beautiful and terrifying, it's the stuff that nightmares are made of and that is why it shines so brightly. With eight fantastic episodes, Guillermo del Toro has collected fantastic stories that never explore the same thing twice.