Blizzard Entertainment was, for the longest time, a beacon for great games. Just about every game they put out was polished, fun, and maintained for years. Recently, and with the revelations of many systemic issues, that magic has seemed to have disappeared. Even more recent games were fine. They just were never living up to that gold early 2000s standard from the same company. Diablo IV has broken that curse. It isn't just a fantastically made hack-and-slash dungeon crawler, it shows exactly what a Blizzard game is in the modern age of gaming.
If you haven't played any Diablo game since its original release back in 1997, the story is simple. All games take place in a war-torn world. It's not like any war you've really played through, though. This war involves the neverending battle between the angels of the High Heavens, the demons of the Burning Hells, and the mortals of Sanctuary. Each story is about champions of the world of Sanctuary standing up to defeat the Great Evils of Hell before they completely take over Sanctuary to gain the upper hand on the angels.
Diablo IV is well past the story of the first three games and almost feels like a reset after the many battles against the Prime Evil, Diablo. This story involves the demon, Lilith. In her wake, corruption and death follow but not on the levels of the other Great Evils who've graced Sanctuary with their presence in the past. She's intelligent, secretive, and is clearly plotting something that will plunge Sanctuary into chaos once again. To stop her, a traveler, saved during a blizzard by a wolf, finds out that they have a greater destiny to play. Through their travels that quickly get plunged into being intertwined with Lilith, they must discover who among the other denizens of Sanctuary can help them on their quest put an end to Lilith's corruption while finding out what exactly she is trying to achieve.
It's been over ten years since the last major Diablo release, and the sheer quality of the gameplay is evident. Diablo IV is beautiful while also looking grimmer than ever. There were times were I just wanted to marvel at the scenery because some areas are simply breathtaking. To add to this, the level of detail is unmatched in unsuspecting areas like the rock structures, the environmental storytelling, and the dilapidation. They didn't have to build the world like this, seeing as how you're just going to be slaying tons of demons constantly, but it is well appreciated.
To top it all off, they make it clear how aged Sanctuary is. Diablo IV is the latest game in the Diablo timeline, and it shows. But what really adds to this case is how they didn't just make Diablo IV a massive world; they incorporated past areas that were focused on in past games as subtle locations here. Like the base camp for Diablo III's Act 2 is just a place you can go to now. It's also abandoned and shows more evidence of not only how much further into the future we are but that Sanctuary hasn't stopped progressing (or getting its teeth kicked in by demons) since the Nephilim defeated Diablo.
As for the gameplay, Diablo has never felt better. For context, I played through the campaign as the Barbarian class and played along with friends who were played rouges, a sorcerer, and a necromancer. The fact that they all felt distinct more than ever is quite impressive. Not only in how they played but how they each have their own benefits and skill caps that don't seem evident right away. Each class has a specialization that unlocks at level 15. For the Barbarian, this meant my character became proficient with different weapons, and each weapon gave different bonuses. Eventually, a specific proficiency can be applied to all weapons used.
With talents and ability customization being way more fleshed out, the possibilities of what my Barbarian could be were endless. That specialization was different for every class. So my experience differed wildly from my friends. But the fact that there was more to the game besides just what abilities were selected and how legendaries modified those abilities is greatly appreciated. Most abilities could be altered in two different ways on top of being enhanced by a talent. Like the Barbarian's Rupture ability, which causes an enemy's bleed damage to apply all at once, could be upgraded to increase the attack speed or even heal a percentage of the user's life. With EVERY ability having this, the amount of different builds possible makes changing talents for every situation or even finding and experimenting with difficult situations much easier than before.
If there was a boss that was overly difficult, talents could be changed to cause more stun or health regeneration. If there were more enemies spawning, more AOE damage could be applied to the same toolset. If you wanted to make a glass cannon Barbarian that also killed enemies in one hit and each hit, making them subsequently stronger, you could do that too! This isn't to say that legendaries have lost importance, but to take some customization and modifications from gear is a welcome addition.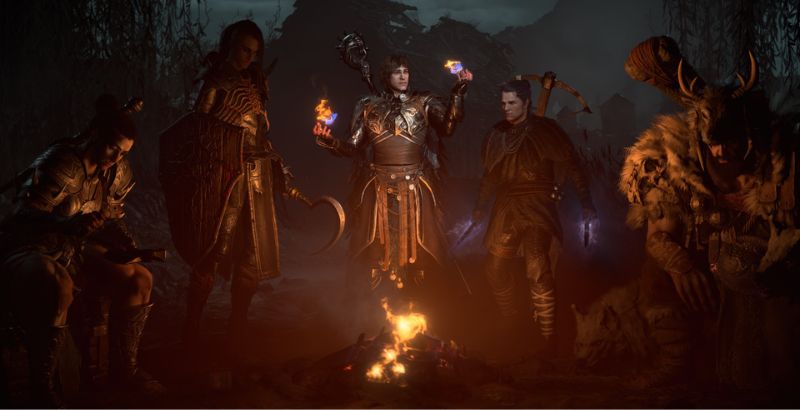 Diablo IV doesn't only have the best Diablo story, it has the best post-game too. Unlike past games, where after beating the game, the post-game was to play it again but on a harder world tier, Diablo IV's post-game lets you continue to explore the world. Sanctuary is full of side quests, dungeons that reward affixes for gear (which basically add legendary modifications that you want to your gear for a price), and area levels which reward more potions, extra skill points, and more.
That's all factored in before the post-game content (or world tier 3+ content) comes into play. Every now and then, demons invade an area. You need to slay enemies to get cinders that unlock chests scattered around the area. These chests reward higher-powered gear and unique cosmetics. Then there are whisper quests that must be cleared to access nightmare dungeons. The amount of post-game content feels endless without feeling nearly as repetitive as before.
Even bosses have improved immensely. Just about every boss has more phases, feels more involved, and requires much more attention to conquer them. While some felt harder than others for certain classes, they all go back to having to change talents to find what works best. There weren't as many cinematic bosses, like Baal in III, but the ways they felt epic were impressive.
The final boss of Act 2 involved fighting a giant fire dog in a run-down portion of a city. As you took out its health, it moved to a new area of the city to continue its rampage. Another, in a later chapter, slowly lost portions of its body until its carapace exploded and forced it to go on a high-damage rampage. Even some of the fortresses, or areas that were overrun by certain enemies that had to be cleared out with a multi-chain quest had unique and difficult encounters that weren't repeated elsewhere. In other words, not only were bosses and elites varied by modifiers, but their ability set, arenas, and phases varied quite a bit to make each encounter feel unique from the last.
Diablo IV has set the golden standard for what a modern Blizzard game should be. It is not only a fantastic Diablo game but gives us a glimpse that the once-beloved publisher still has that magic that it was most well-known for in years past. Just about every portion of the game feels fantastic. From the character customization to the story to post-game content, there is much more replayability than ever before. Even some lacking areas, like the more simplified inventory system, rarely got in the way of the overall gameplay experience. If this is the baseline for modern Diablo, I can't wait to see how they can only improve an already fantastic experience. Now excuse me. I'm going back to putting an obscene amount of hours into demon-slaying fun.
Diablo IV is available on Xbox Series X/S, Xbox One, PlayStation 4, PlayStation 5, and PC
Diablo IV
TL;DR
Diablo IV has set the golden standard for what a modern Blizzard game should be. It is not only a fantastic Diablo game but gives us a glimpse that the once-beloved publisher still has that magic that it was most well-known for in years past.